Who says wallpaper is outdated? There are so many gorgeous patterns available now, and even if you're not ready to commit to a whole room, try applying it to furniture for a stunning wow factor. Today for Furniture Fixer Uppers day, I'll show you how to paint a china cabinet and then apply stylish wallpaper to the back.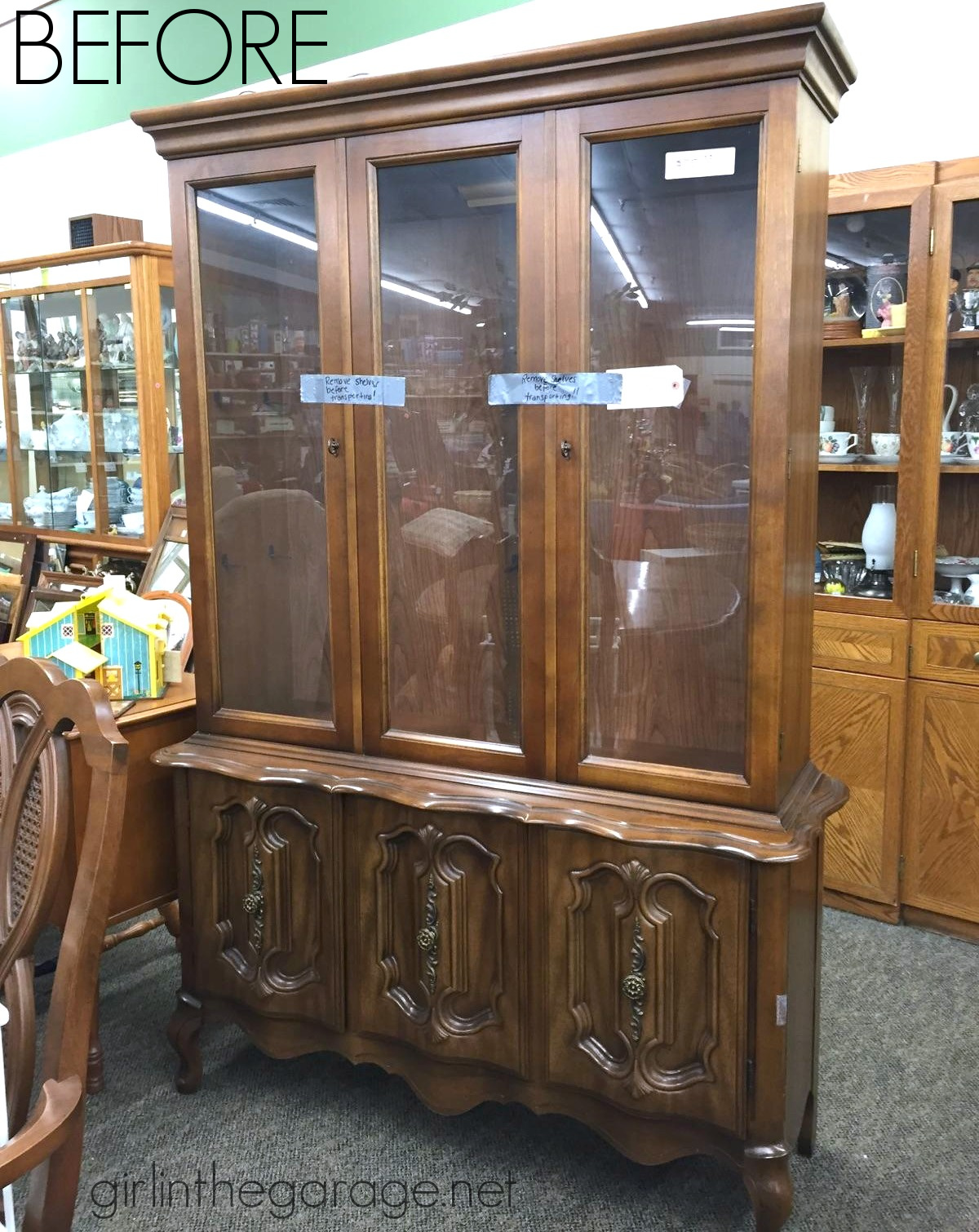 The photo above was dated November 6, 2014… yikes! I bought this cabinet to update and sell, but it ended up "temporarily" in my dining area, and since there was nothing actually wrong with it, it has stayed there for 8 years. I think it cost around $40. It once housed my vintage turquoise glass collection, and then later stacks of fabric when I was making adorable animal dolls. Now since we're moving in a couple months, it's time to tie up loose ends and finally complete this project.
*This post contains some affiliate links so you can easily find the products I use and recommend. Discover all my favorite brands and tools for doing DIY makeovers here.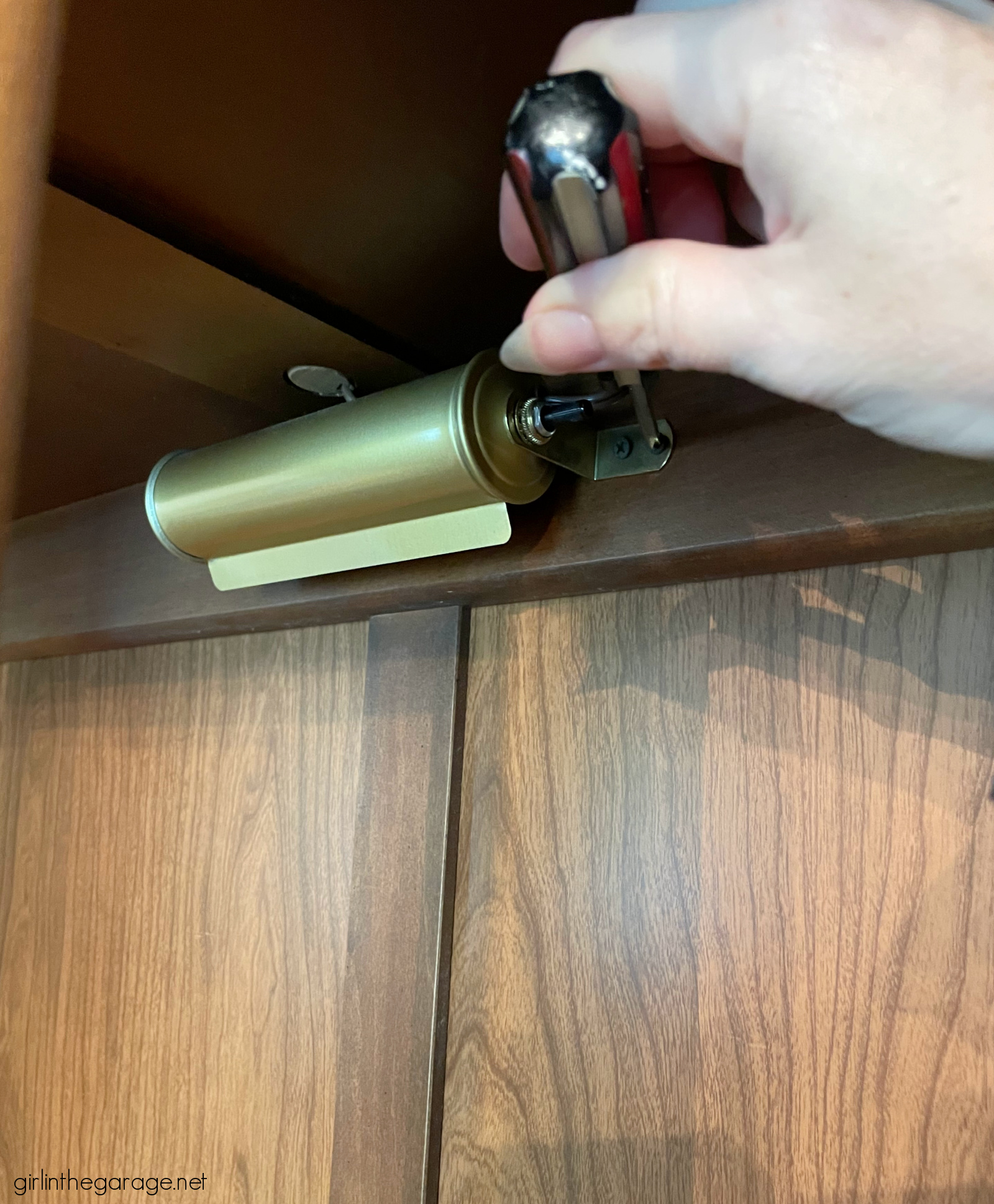 This first thing I did was remove the two glass shelves and the long pieces of decorative hardware from the bottom doors. Then I removed the interior light by unscrewing it from the inside and using wire cutters on the cord. Then I applied wood filler into the holes, let dry, and sanded it smooth.
Next I gave the cabinet a light scuff-sanding all over. This piece was partly real wood and part fake wood, and I wanted to give the primer something to grip onto. Grab my free guide for how to properly prep furniture for painting here.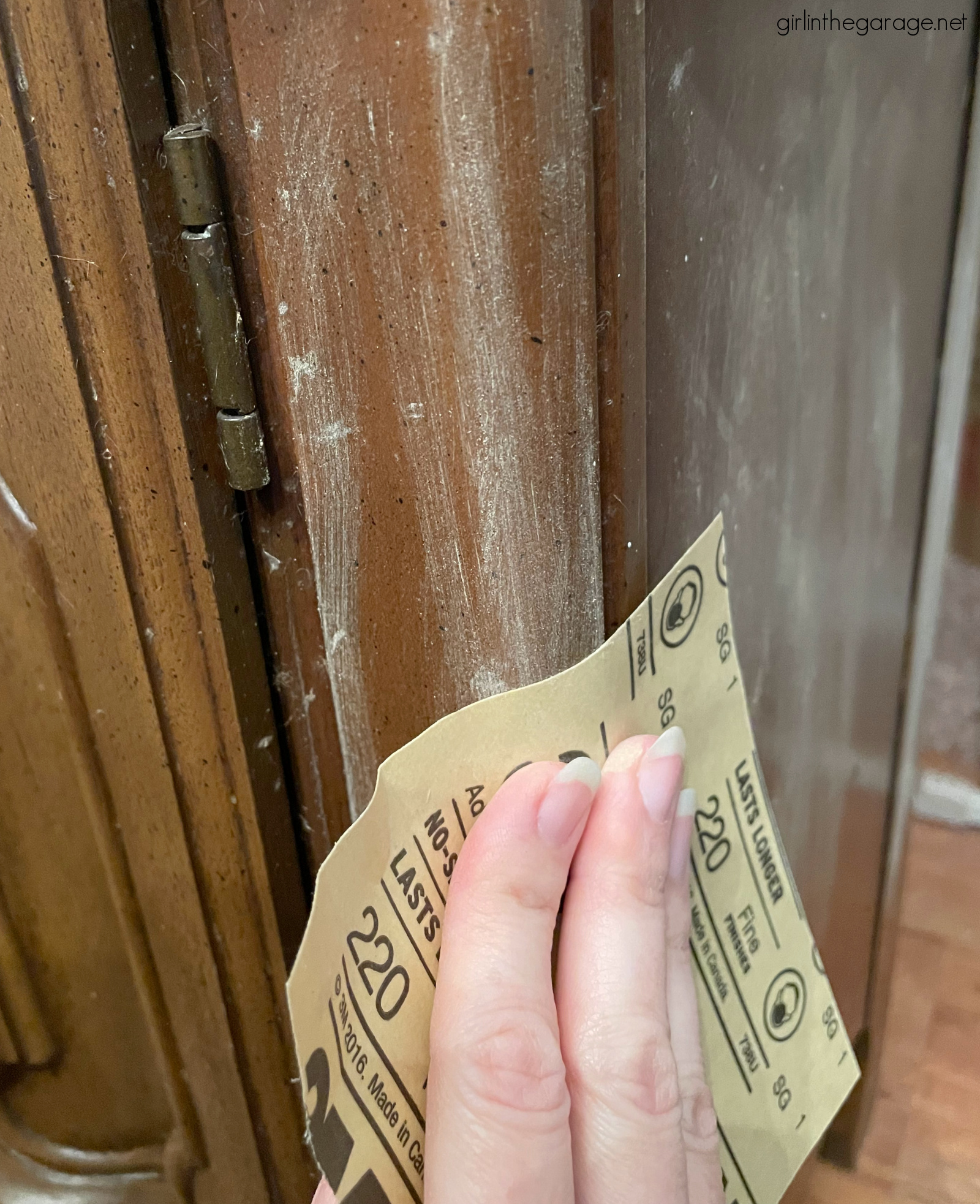 Then I used FrogTape to tape around all the glass – outside and inside. This step takes some patience, but it must be done.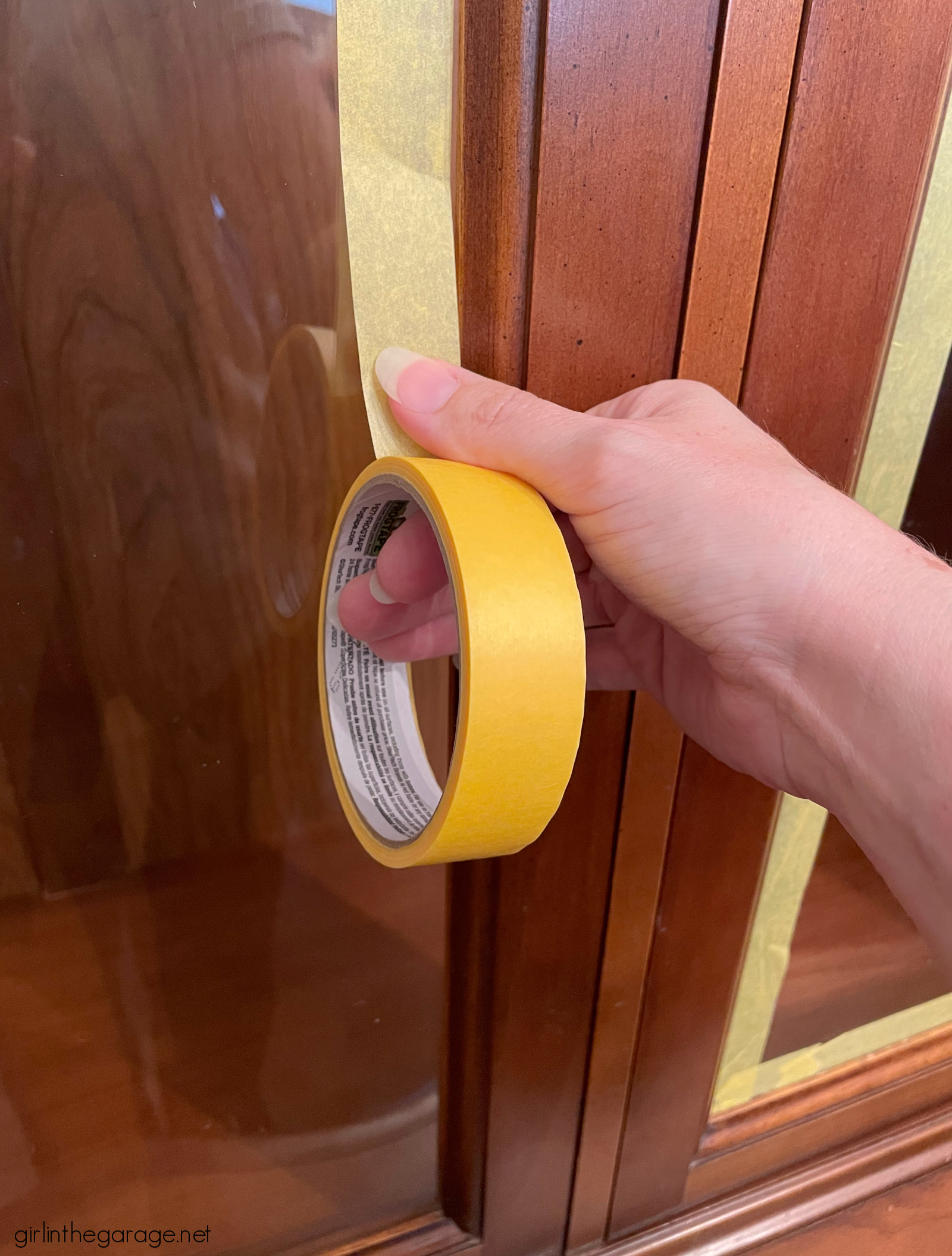 Finally it was time for primer. I used my favorite shellac-based primer since I planned to paint this china cabinet white. I applied two full coats and let it dry.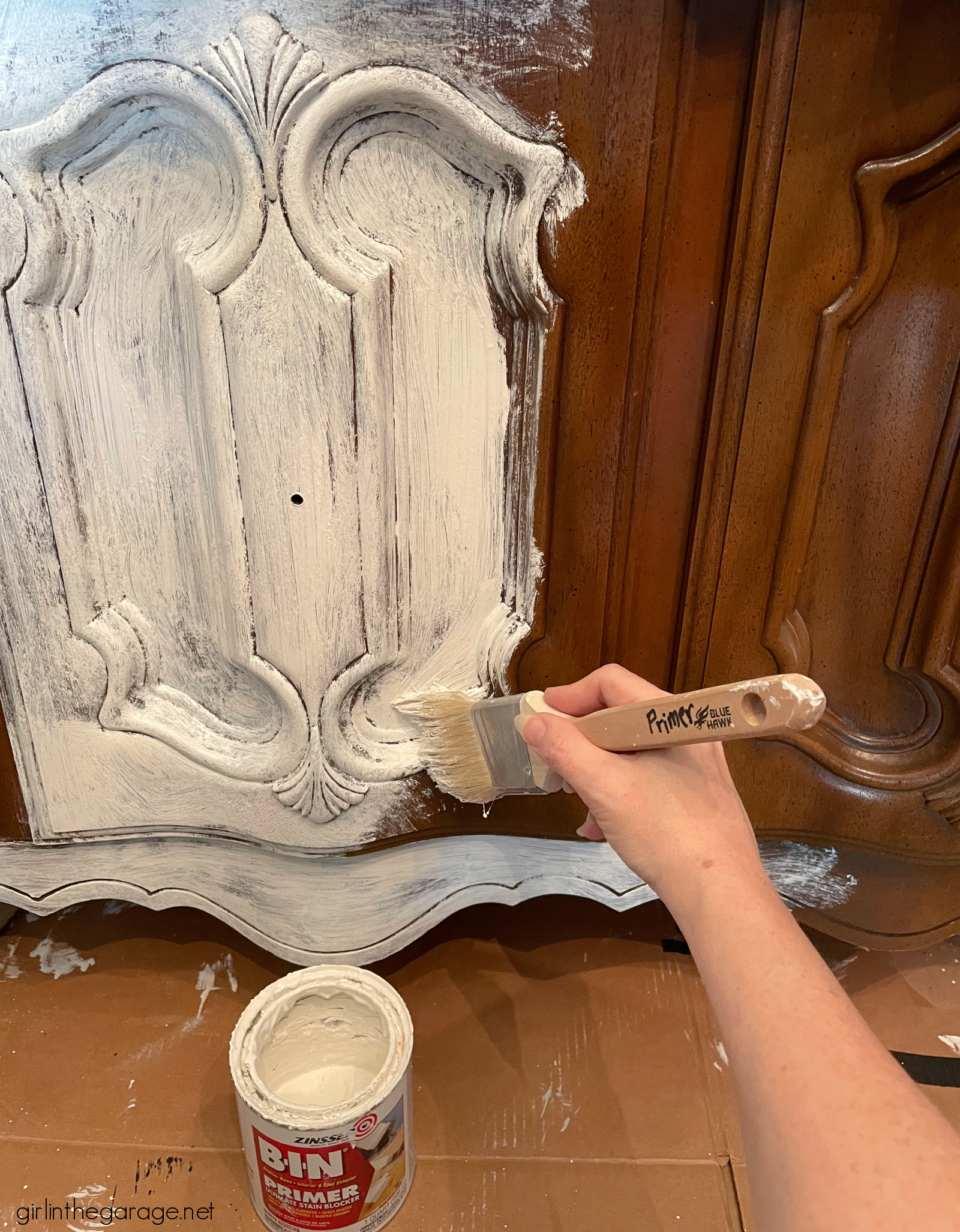 Here it is all primed below – kind of scary looking at this step!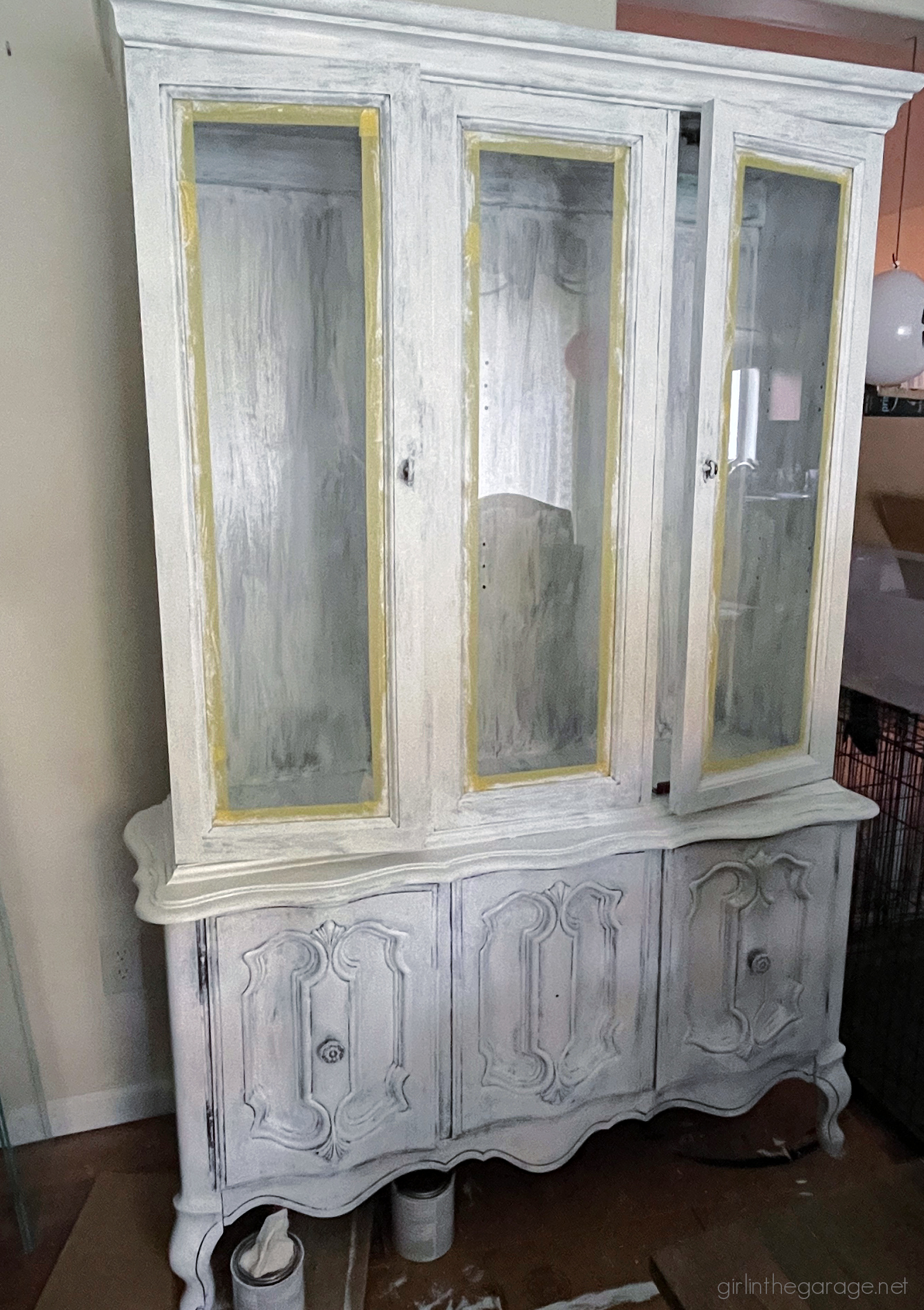 Then I brushed on one coat of Rustoleum Chalked Paint in Linen White with a Purdy paint brush and let it dry.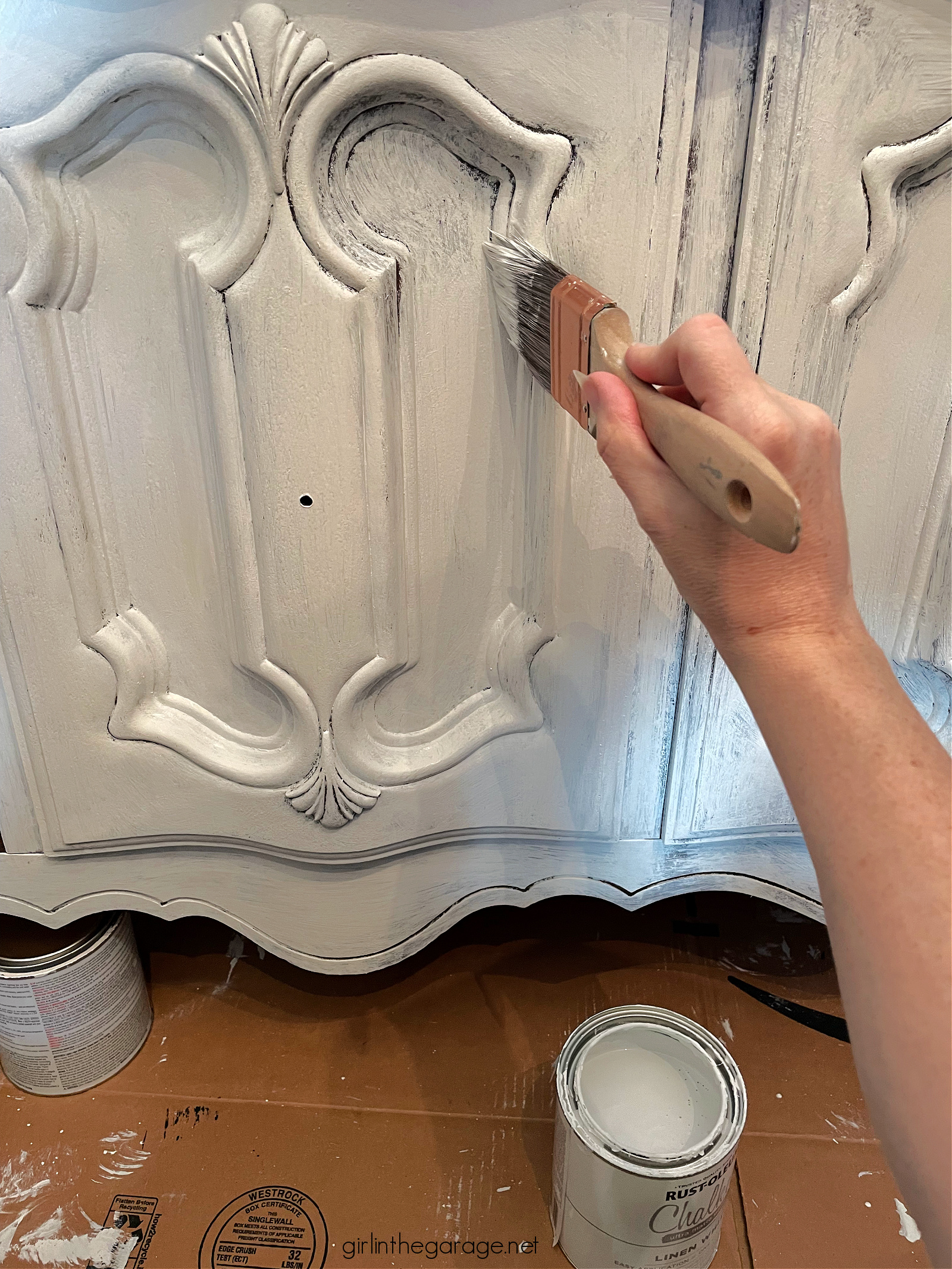 I wanted to test for bleed-through and sure enough, there was some on the bottom doors. You can see it in the photo below. No big deal, I brushed on some more primer in a few areas and then gave the cabinet about 2 more coats of white paint.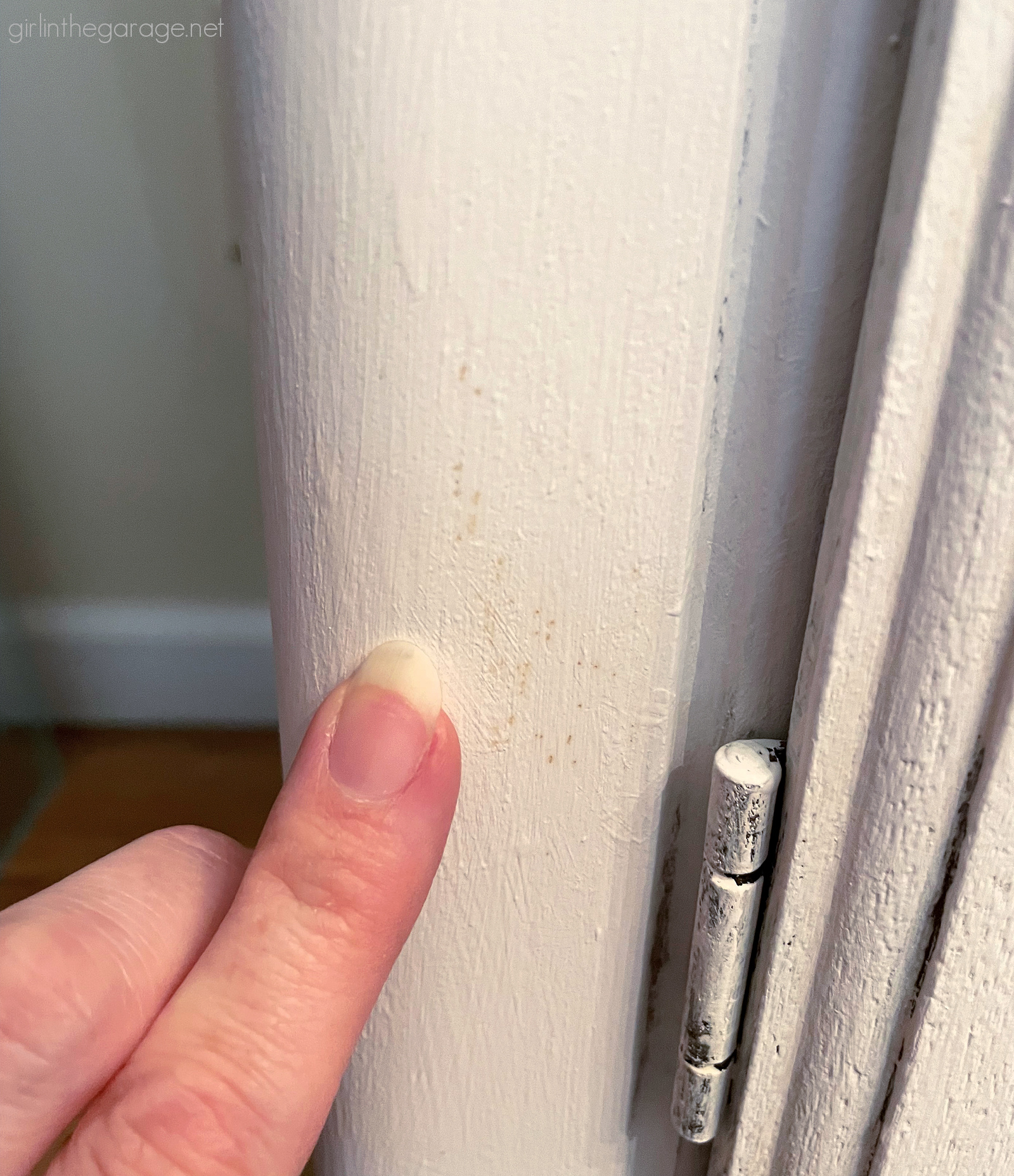 Finally I sanded all over with 320-grit sandpaper and made a huge mess (it's part of the job!). I applied clear furniture wax with a lint-free cloth for protection and then removed the painter's tape.
Normally it's best to remove the tape while the paint is still wet, but since there are so many steps to this project, there's no way to do that. If some of the paint sticks and the tape rips (which mine did in a few places), pry it out with your fingernail or use a small knife.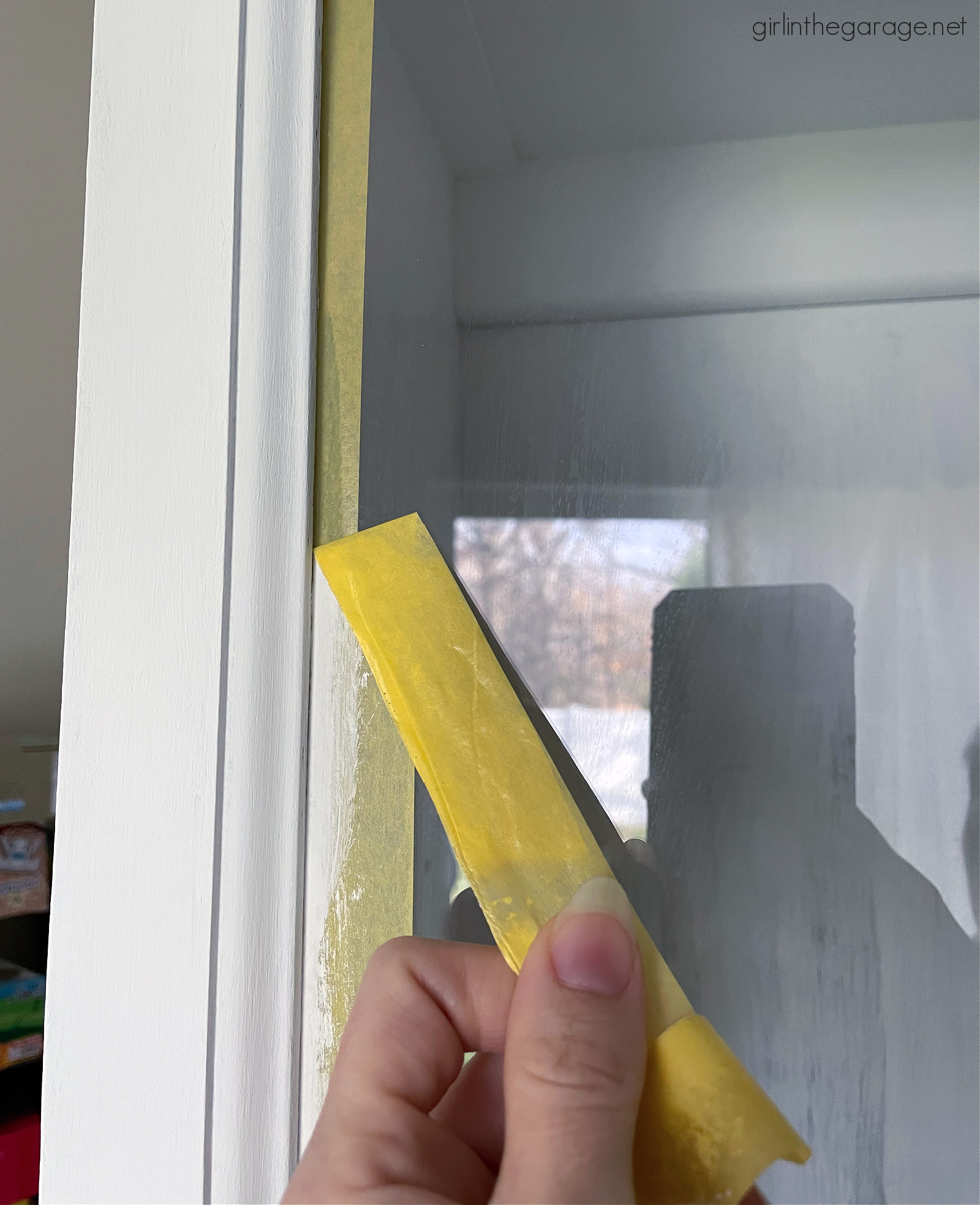 Now it's time for wallpaper! I found this gorgeous wallpaper print on Amazon here and it was very reasonably priced. I used one roll and a small part of a second roll.
This paper has a sticky backing which was perfect for this project – and it also has a little give which makes it repositionable. That is a great feature especially when you're starting out and keep trying to get the paper to line up correctly!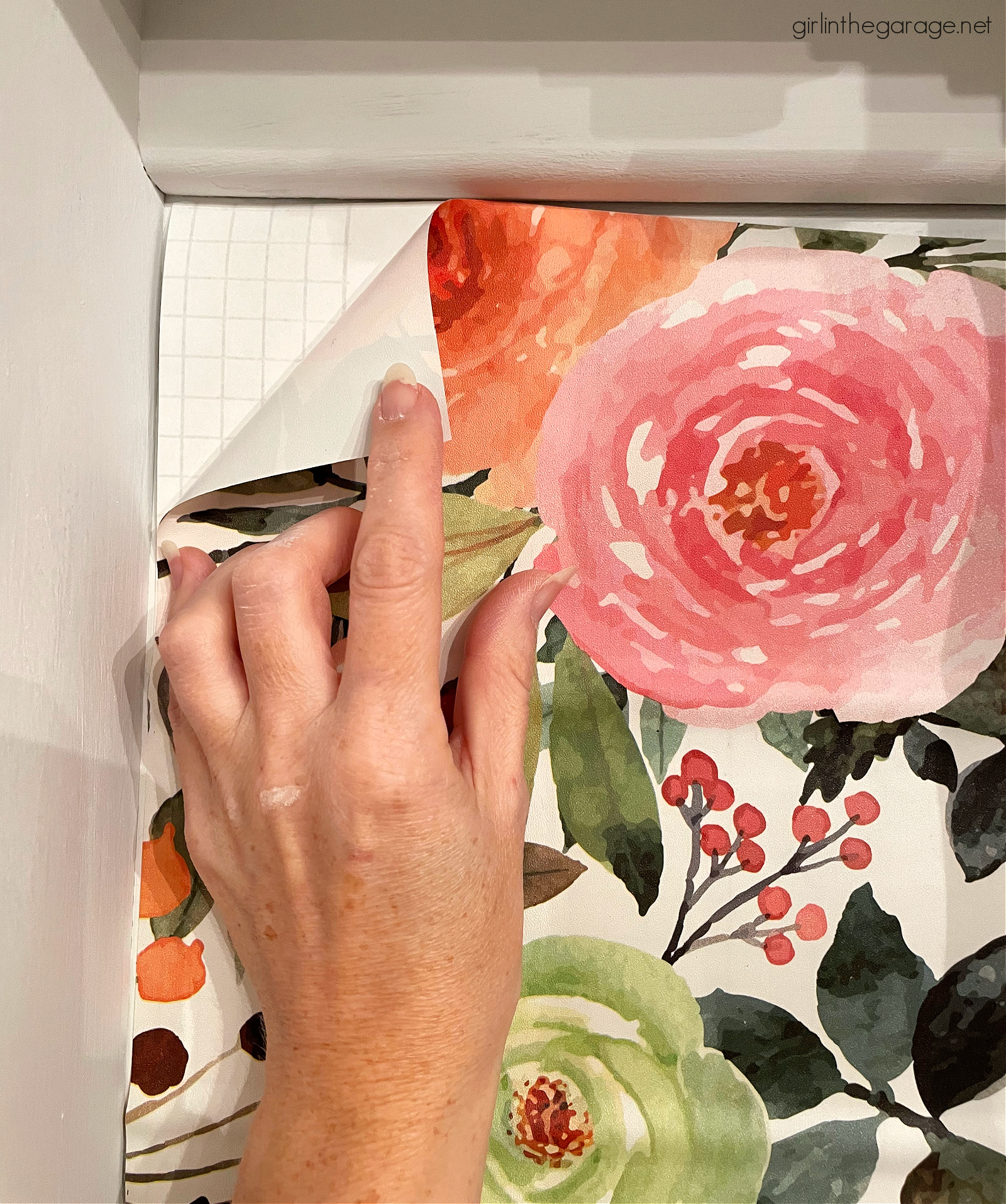 Remove some of the backing a little at a time and keep pressing as you go, to smooth out any wrinkles. My application isn't perfect but the busy pattern of the paper definitely helps hide any flaws.
Run an X-ACTO knife along the bottom edge when you're done with the first column.
Here's the first part finished: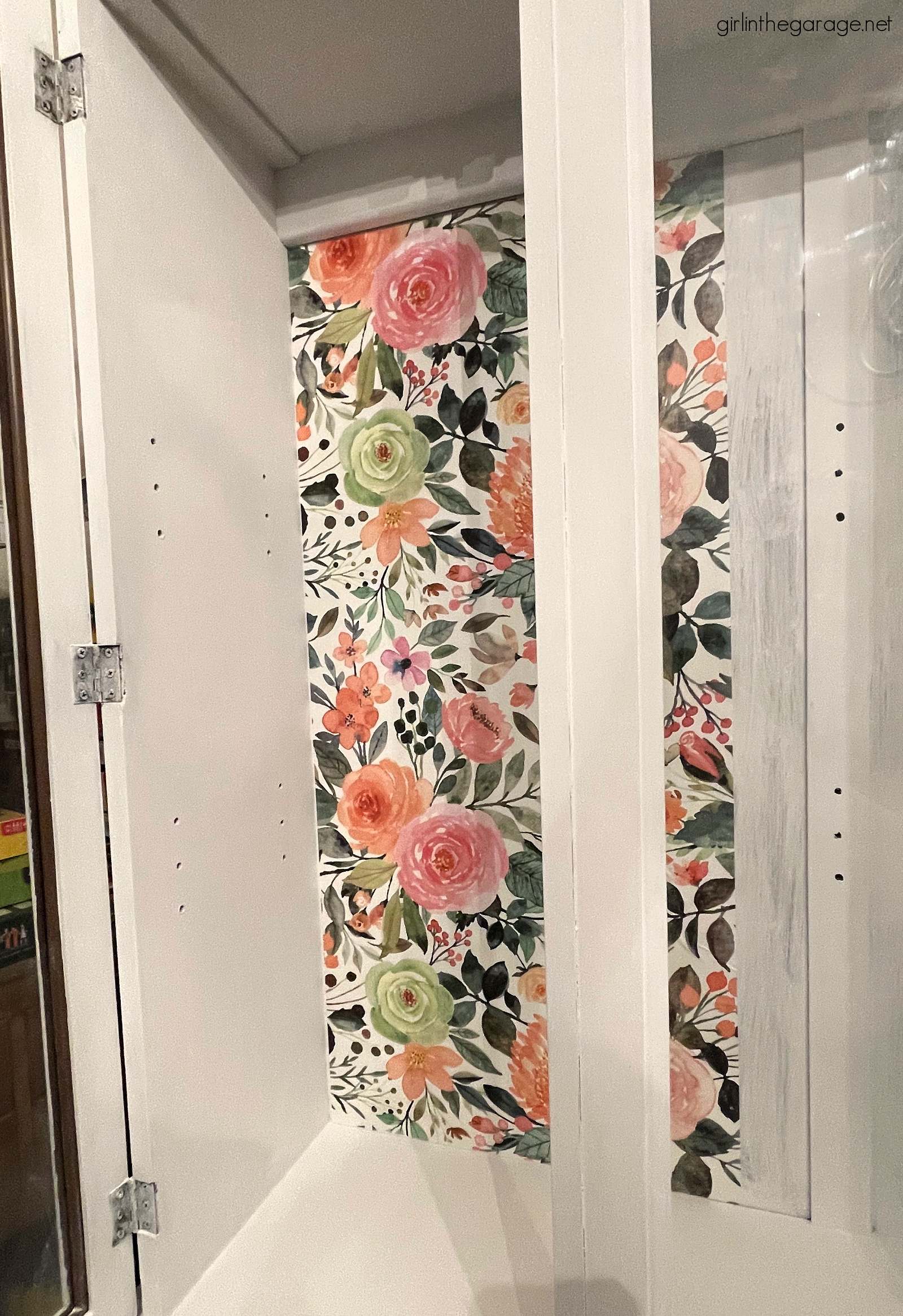 This wallpaper has a repeating pattern, so you just need to look and find the match for where you're starting the next column. I had to cut a little bit off to be in the right spot, and the grid lines on the back definitely helped keep my cuts straight.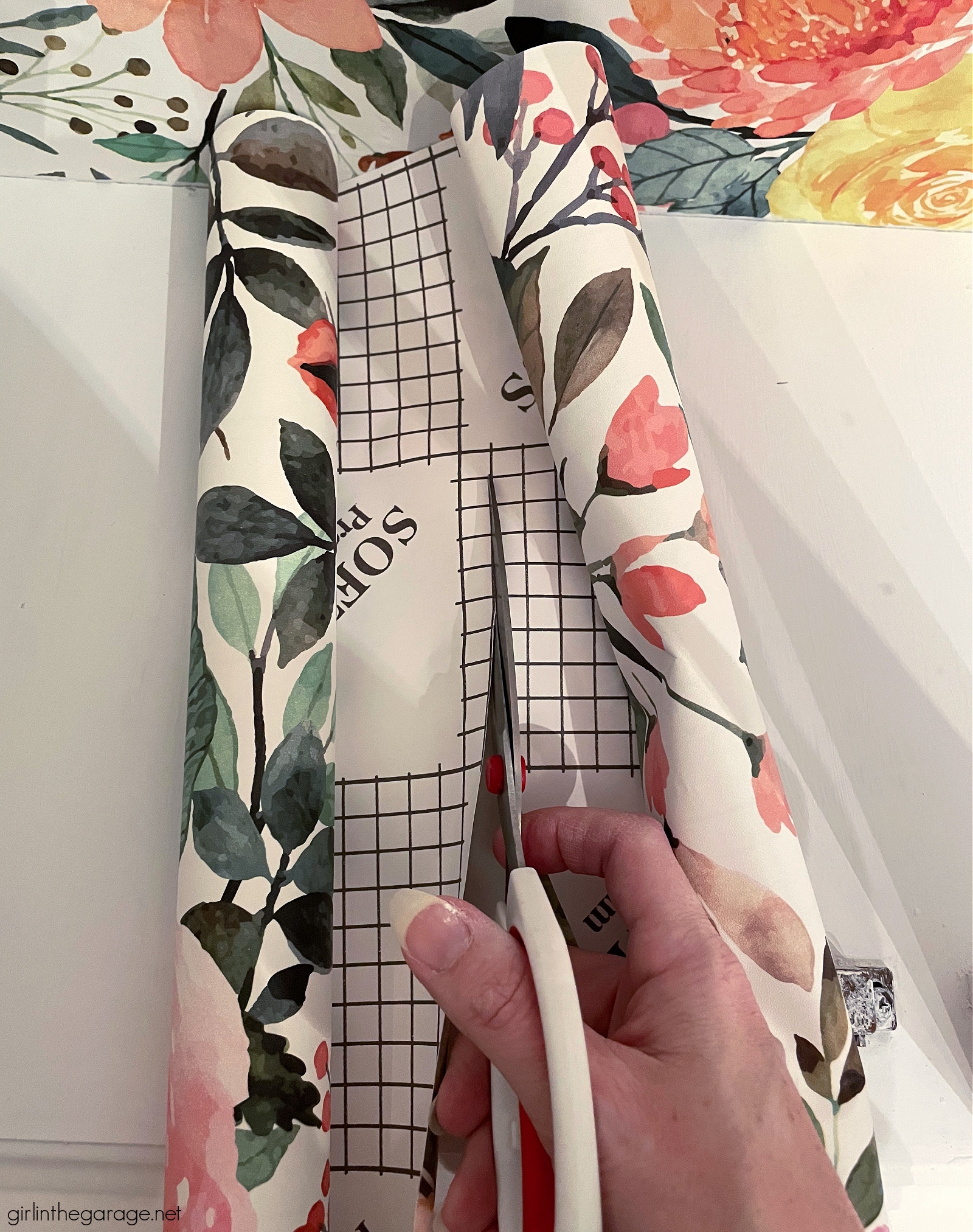 Keep repeating these steps as you go along and when you get to the right side, cut that piece a little bigger than needed and then you can cut a straight line with the X-ACTO again.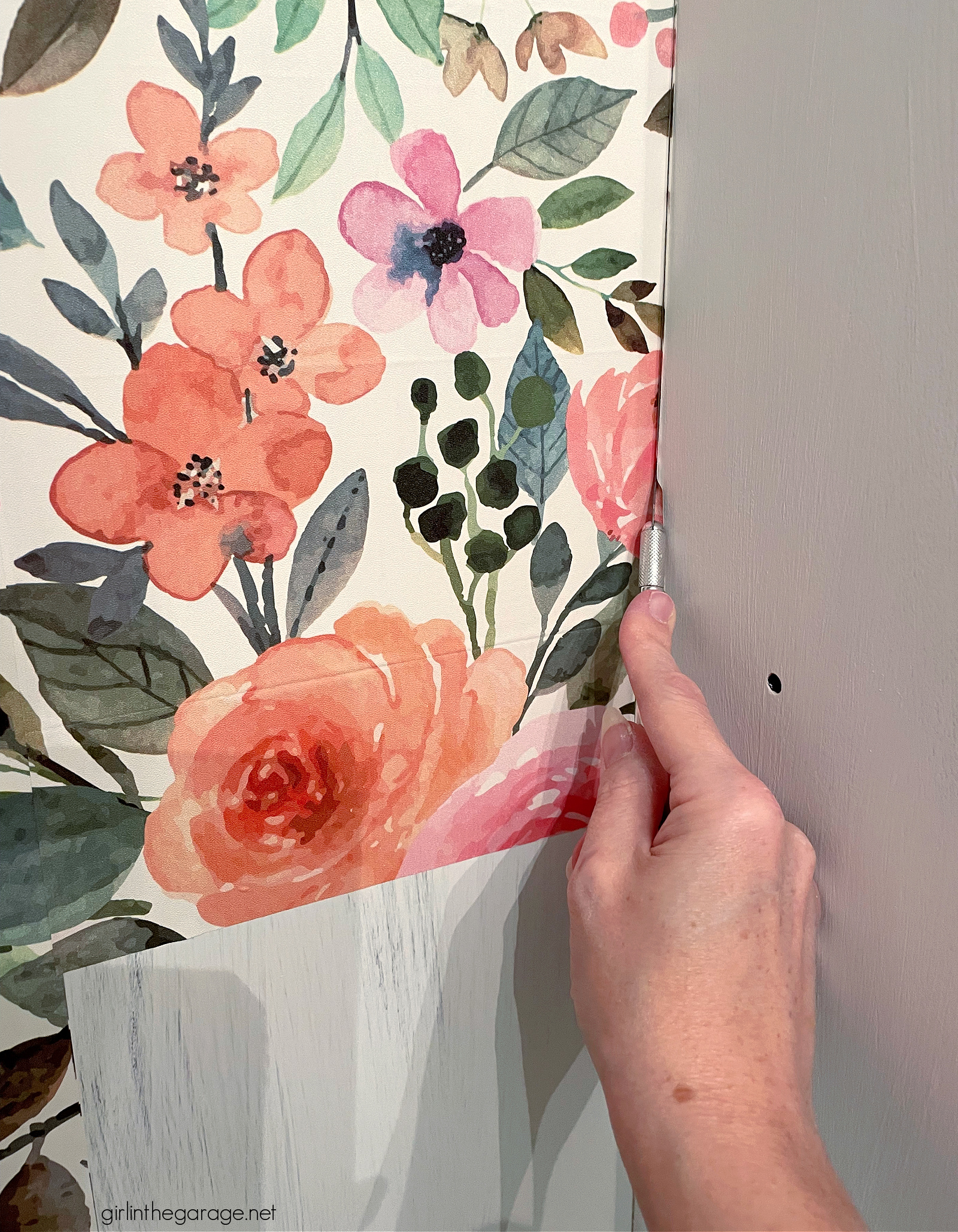 Friends, I usually rely on natural daylight for my photos and I have to admit it was dark and snowy yesterday when I needed to take these photos. So the After pics definitely aren't my best, and I plan to retake them as soon as I'm able. But here's a look at this painted china cabinet makeover with floral wallpaper back: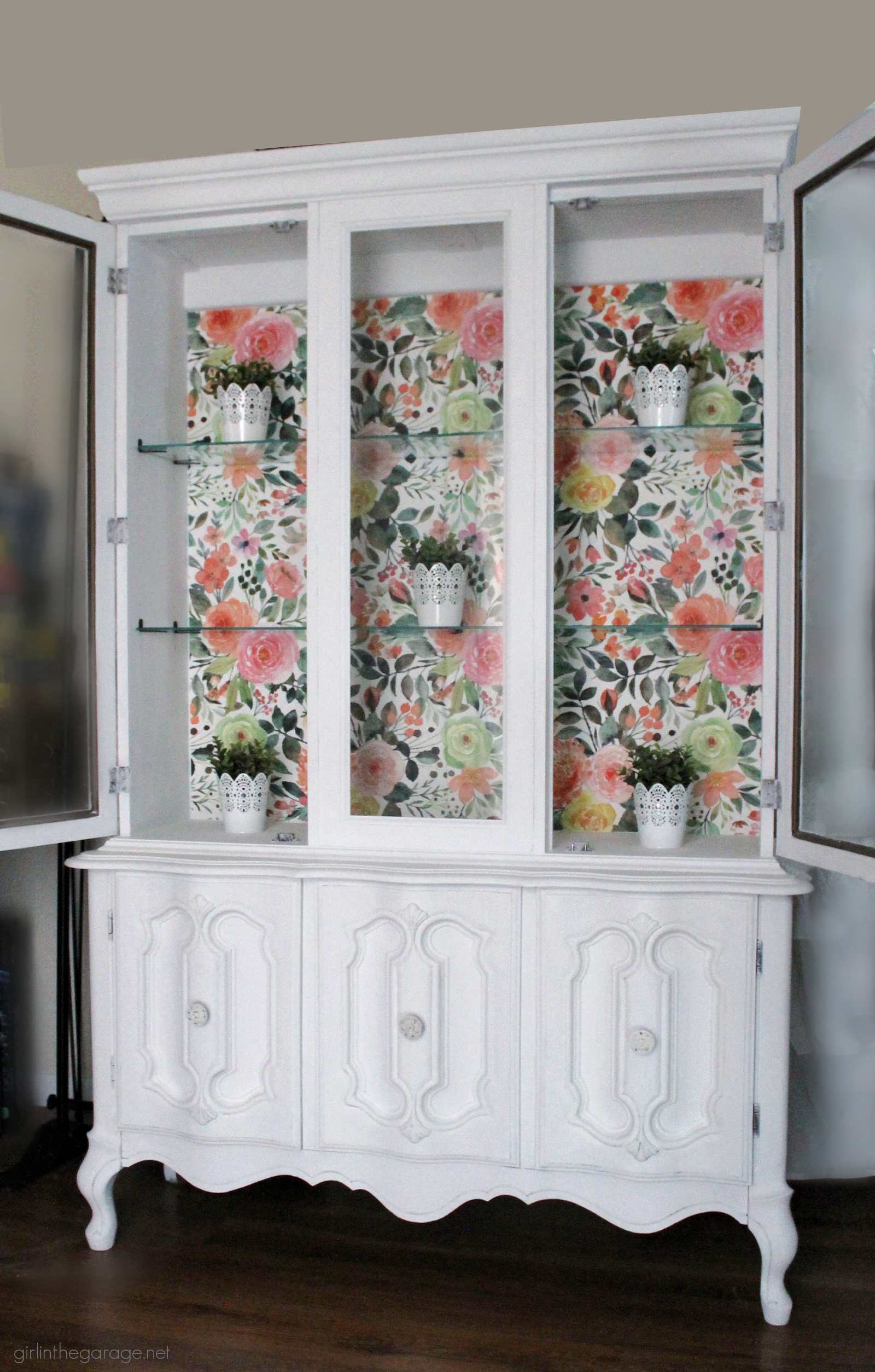 I absolutely love this wallpaper and I'm happy to have some leftover for another project! The colors are so vibrant.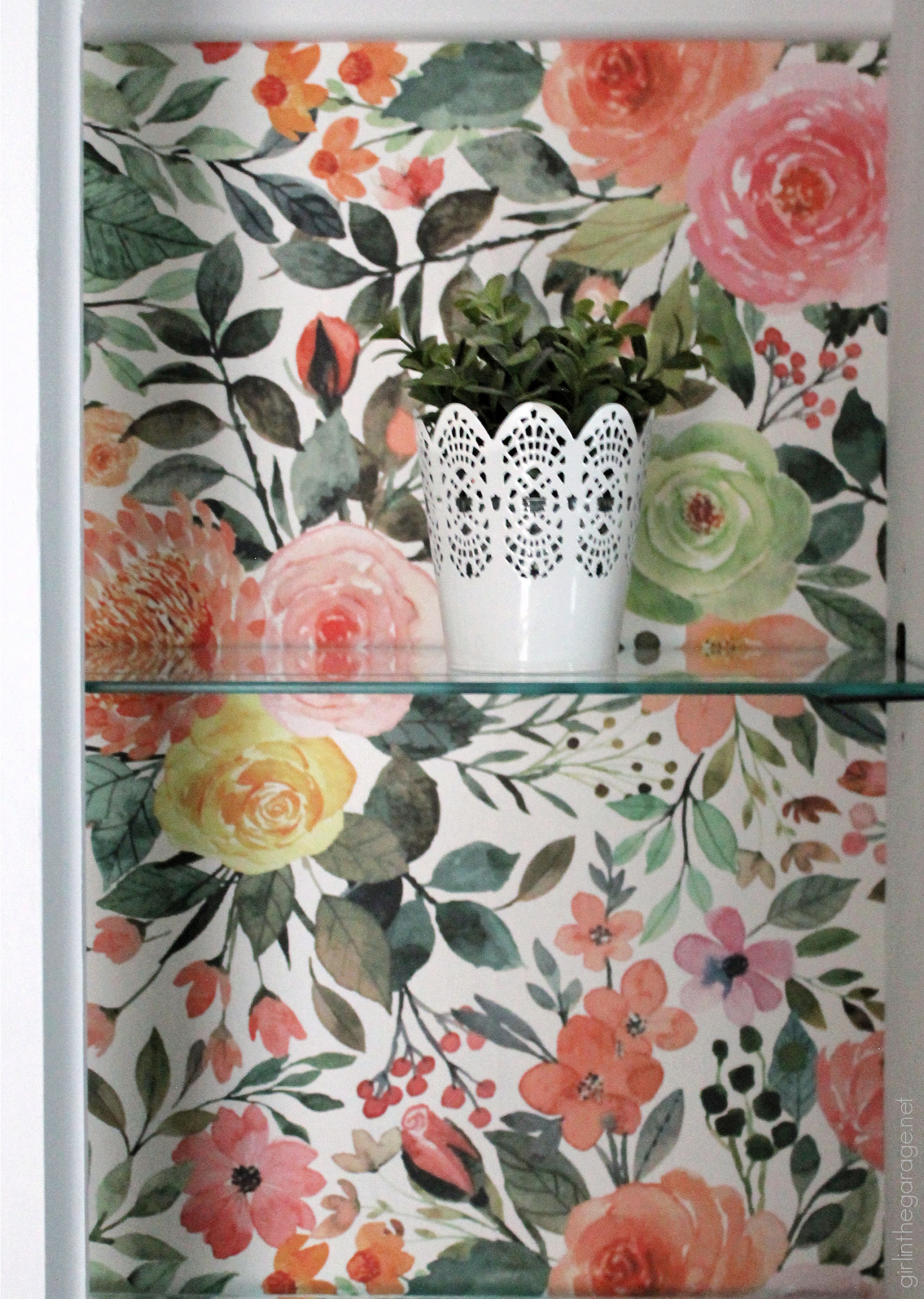 You may notice that I just dry brushed over the existing hardware instead of buying new. I think that worked out fine for this piece.
Also – normally I would remove the back of a china cabinet before applying a treatment, but the back of this cabinet is actually three separate pieces, and I knew I could possibly screw it up somehow. Thankfully it wasn't too awful adding the wallpaper with the back still attached.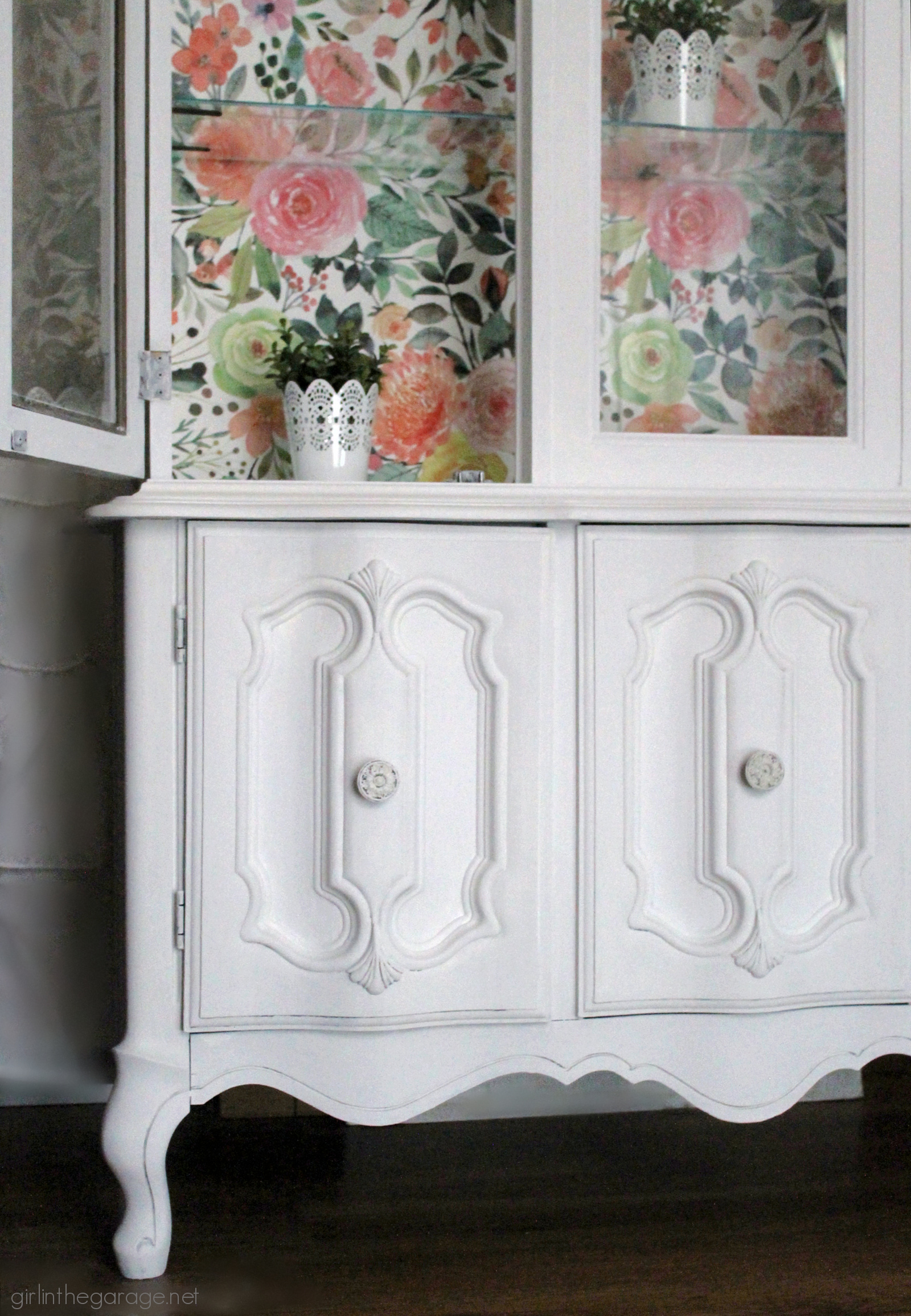 I hope you love this painted china cabinet makeover as much as I do, and that it has inspired you for a future project. Please share this makeover with a friend or Pin it to easily find again later.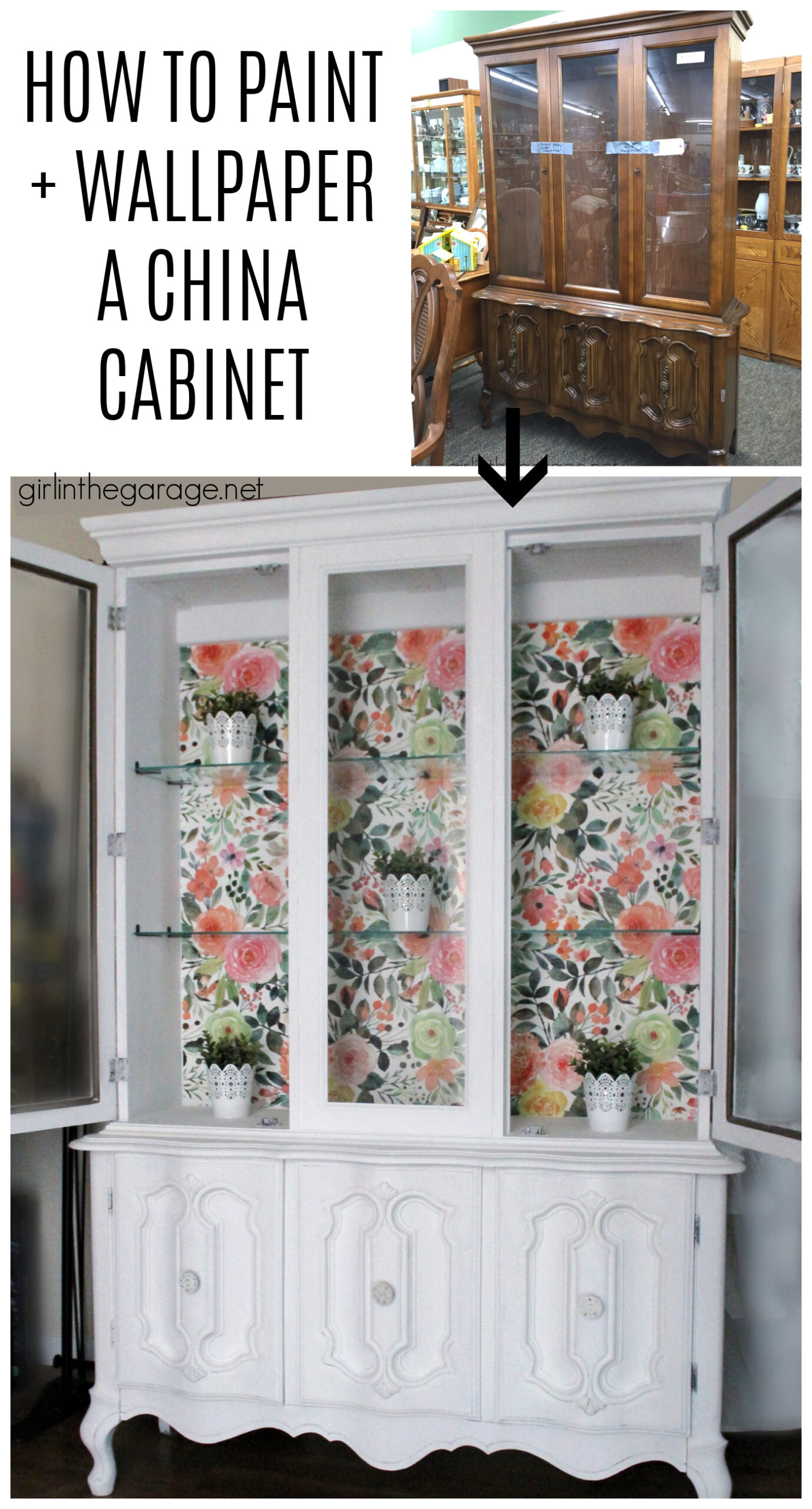 Now it's Furniture Fixer Uppers time with my friends; let's see what they're up to this month!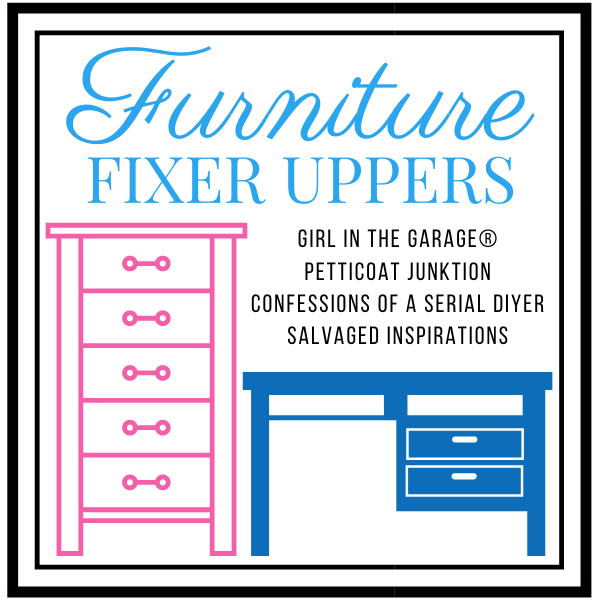 Below are the Before photos – visit the links underneath to see the amazing Afters and to learn how they did it: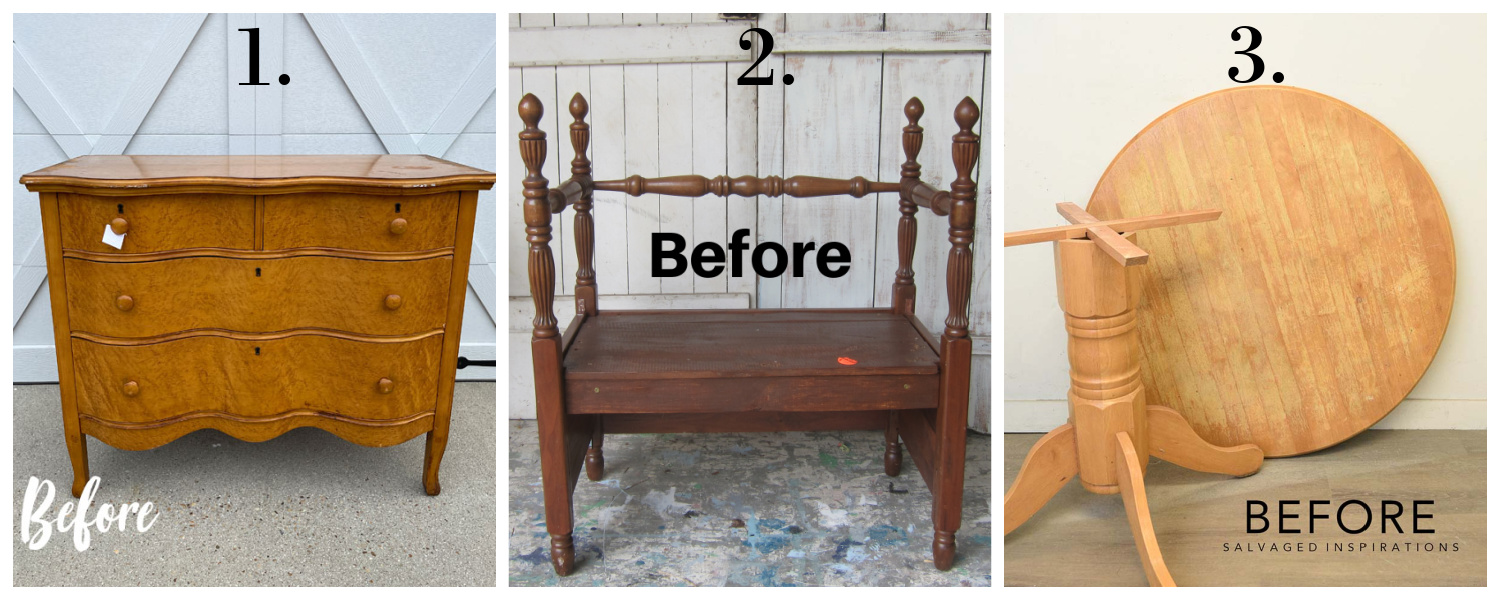 1. Confessions of a Serial DIYer
2. Petticoat Junktion
3. Salvaged Inspirations