Happy Trash to Treasure Day, friend! Today I've got a brand new makeover for you along with four more makeovers from my blogging friends at the bottom of this post. This project started as $4.99 artwork from Goodwill. The "art" was so poorly done, it looks like a pixelated photocopy and you can't hardly even read the quote (especially the bottom portion).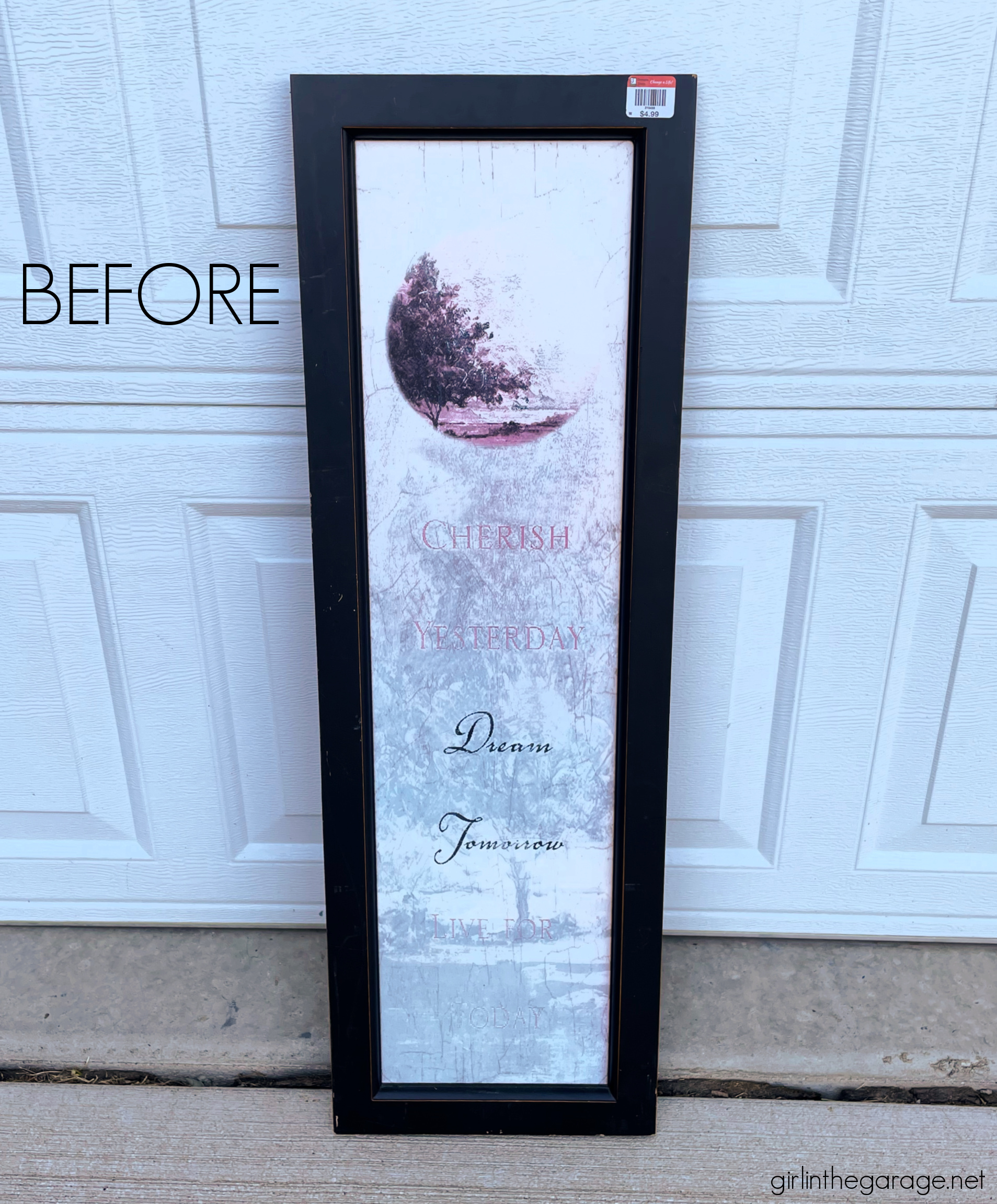 This post contains some affiliate links so you can easily find the products I use and recommend. Discover all my favorite brands and tools for doing DIY makeovers here.
It's perfect for a new Repurposed Goodwill Art makeover. First I removed the price tag and had to deal with some sticky residue. In this situation I dab a little Goo Gone on a paper towel and rub for a minute or two, and then all the residue is gone. (Wipe the area with a little water afterward to remove any leftover Goo Gone – you want it completely clean before painting.) So easy!
I also removed the hanger hook on the back since I'm changing the orientation of the artwork, and I'll reattach it to the wider side. (Here's a mini screwdriver set just like mine – the pieces are all stored conveniently in a compartment inside.)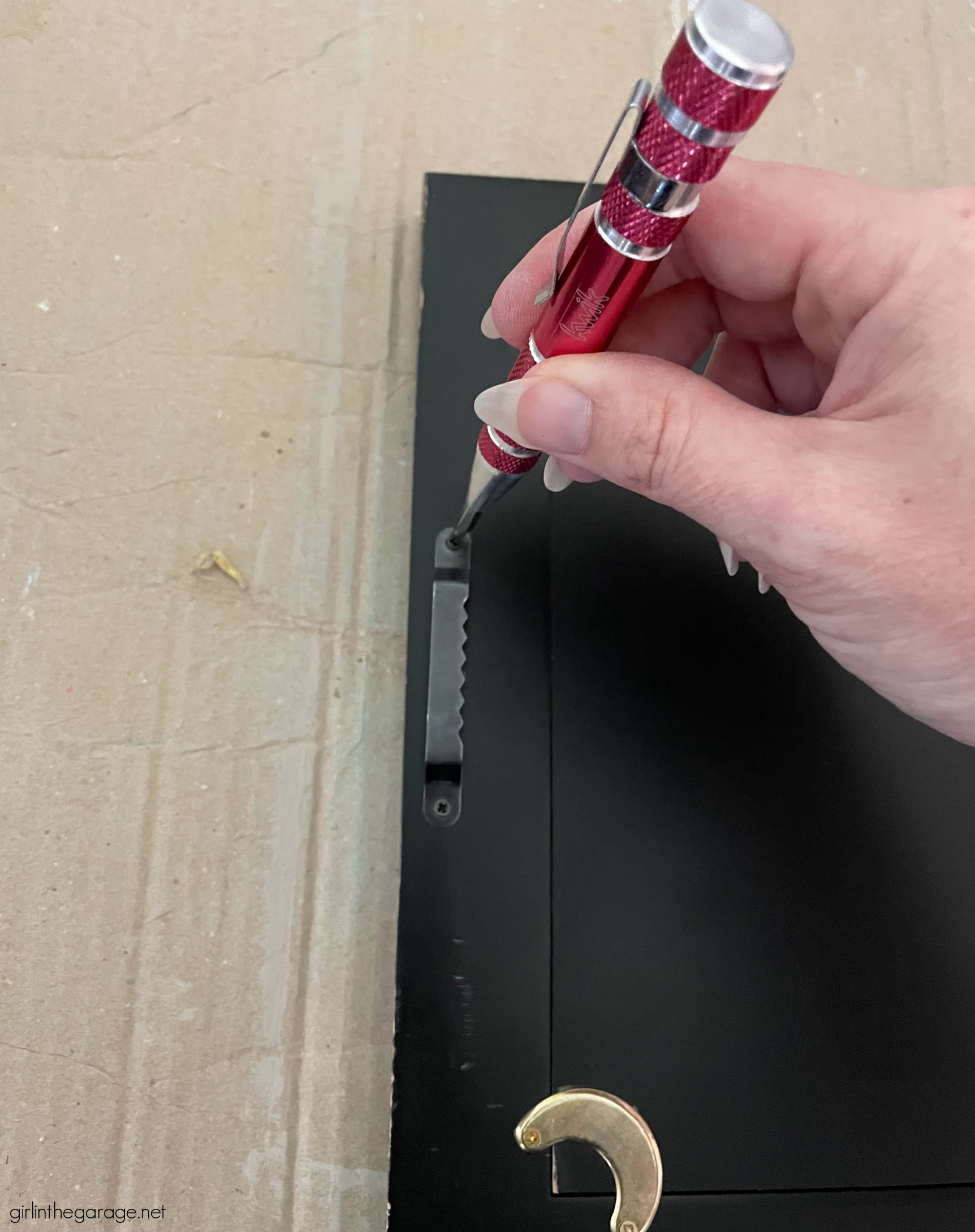 The front was painted over with Rustoleum Chalked Paint in Linen White using one of my favorite Purdy paint brushes. At first I was going to paint the frame itself a different color, but I decided to make it all white and then just sand/distress the frame later.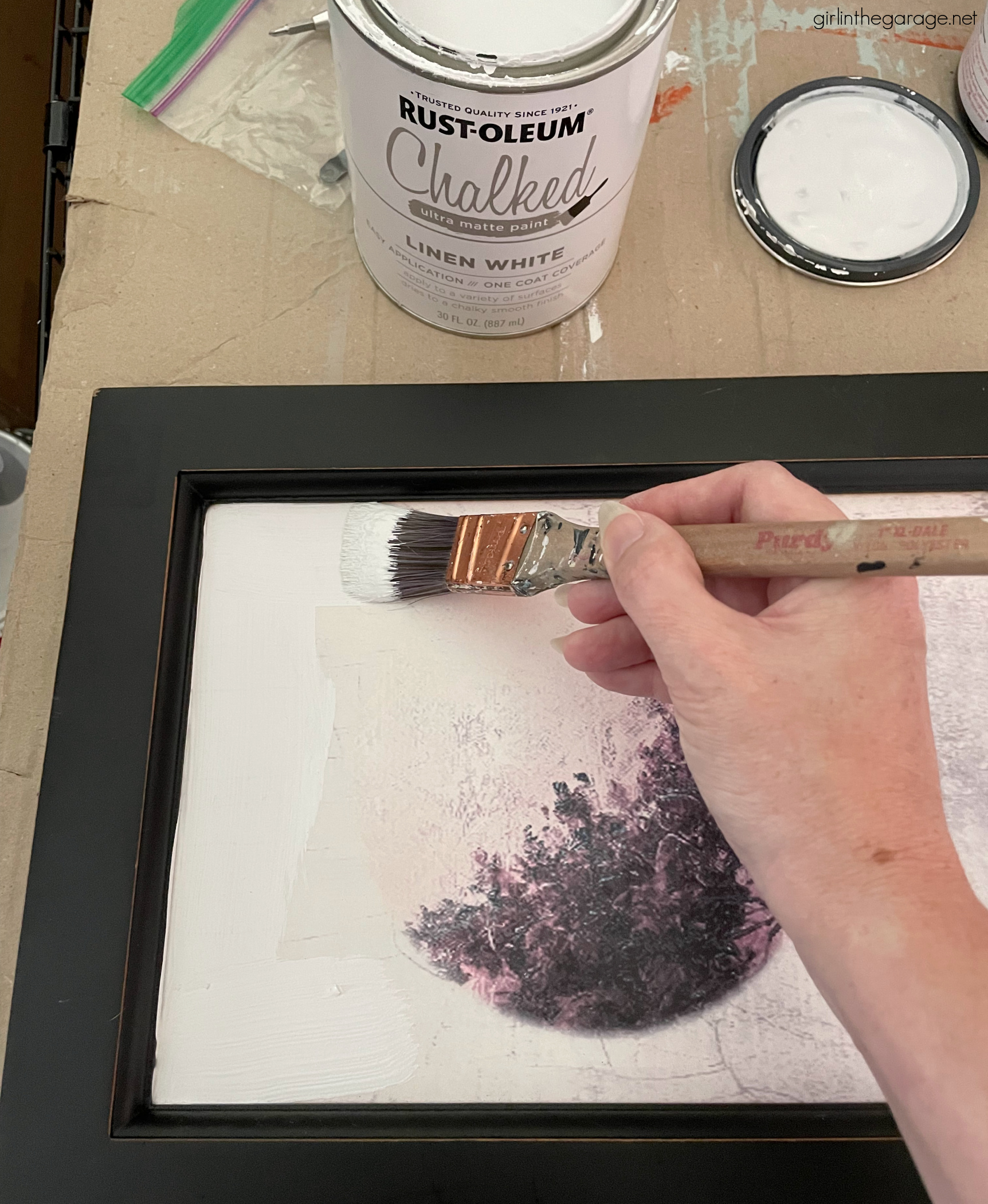 I painted about 2.5 coats of white paint.
While that was drying, I grabbed this wood-cut "Homemade" word that I bought from Etsy a long time ago (bought the same time as "Wash & Dry" for the DIY laundry sign I made). I painted it black (Liquorice by Country Chic Paint).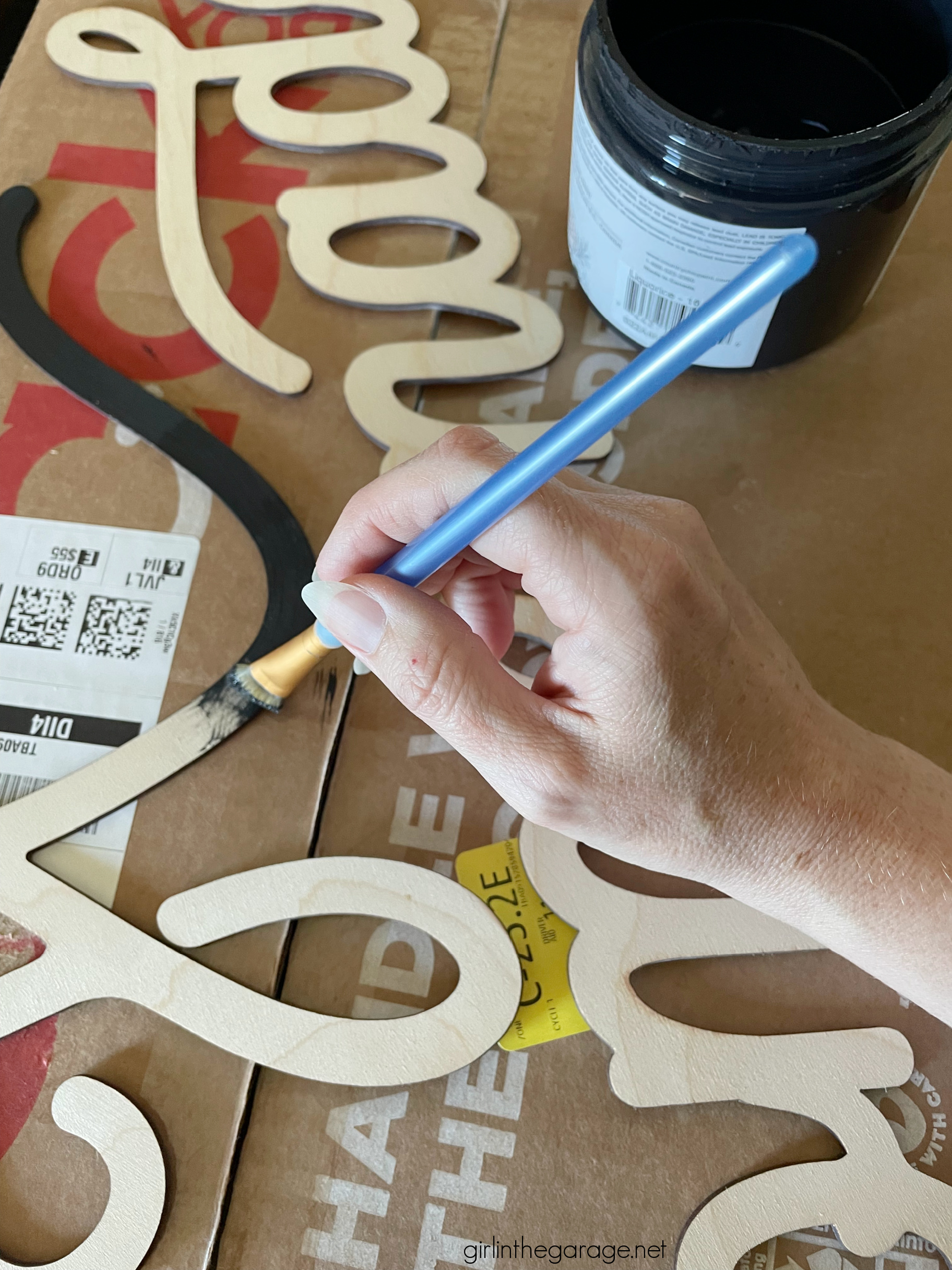 Then I sanded the white painted areas with 320-grit sandpaper (I always cut the big sheet into fourths), distressing the frame edges to let the black peek through.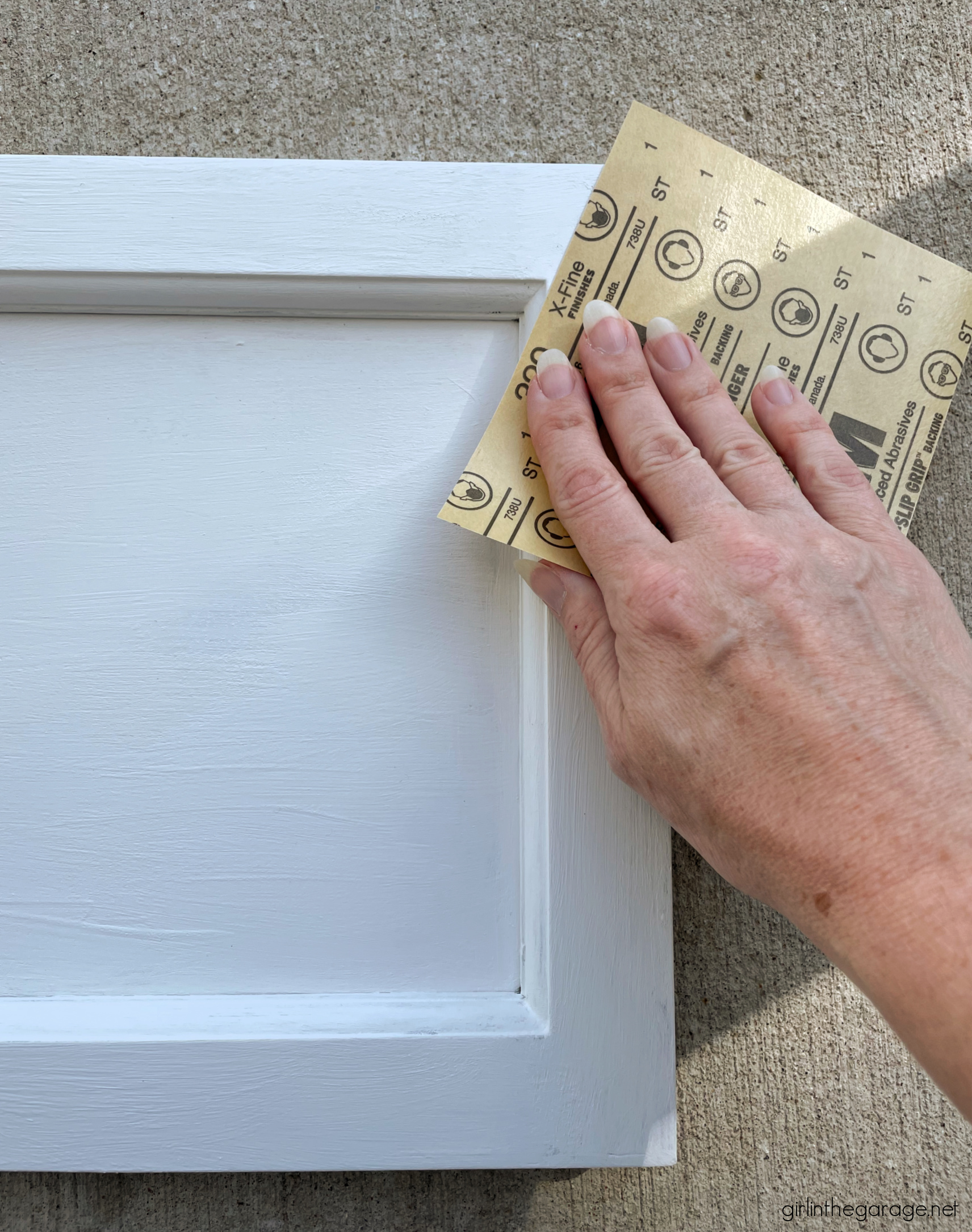 For a little contrast, I measured and drew lines with a Sharpie to mimic the look of wood planks or thin shiplap. (I have added real wood planks as a background for upcycled art here.)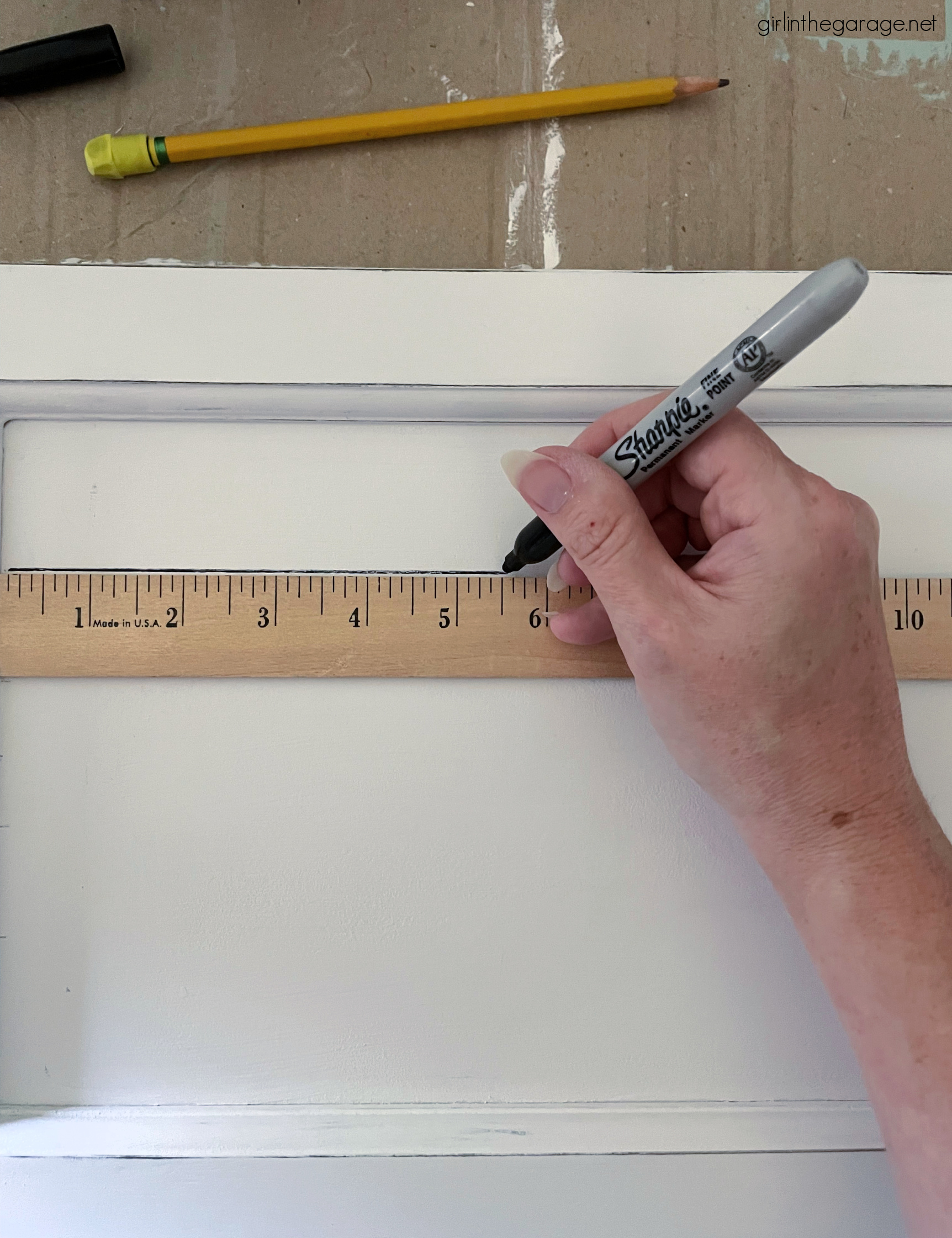 Finally, I glued the "Homemade" on by dabbing E6000 onto the back. I set a little bit of weight on top overnight while it dried.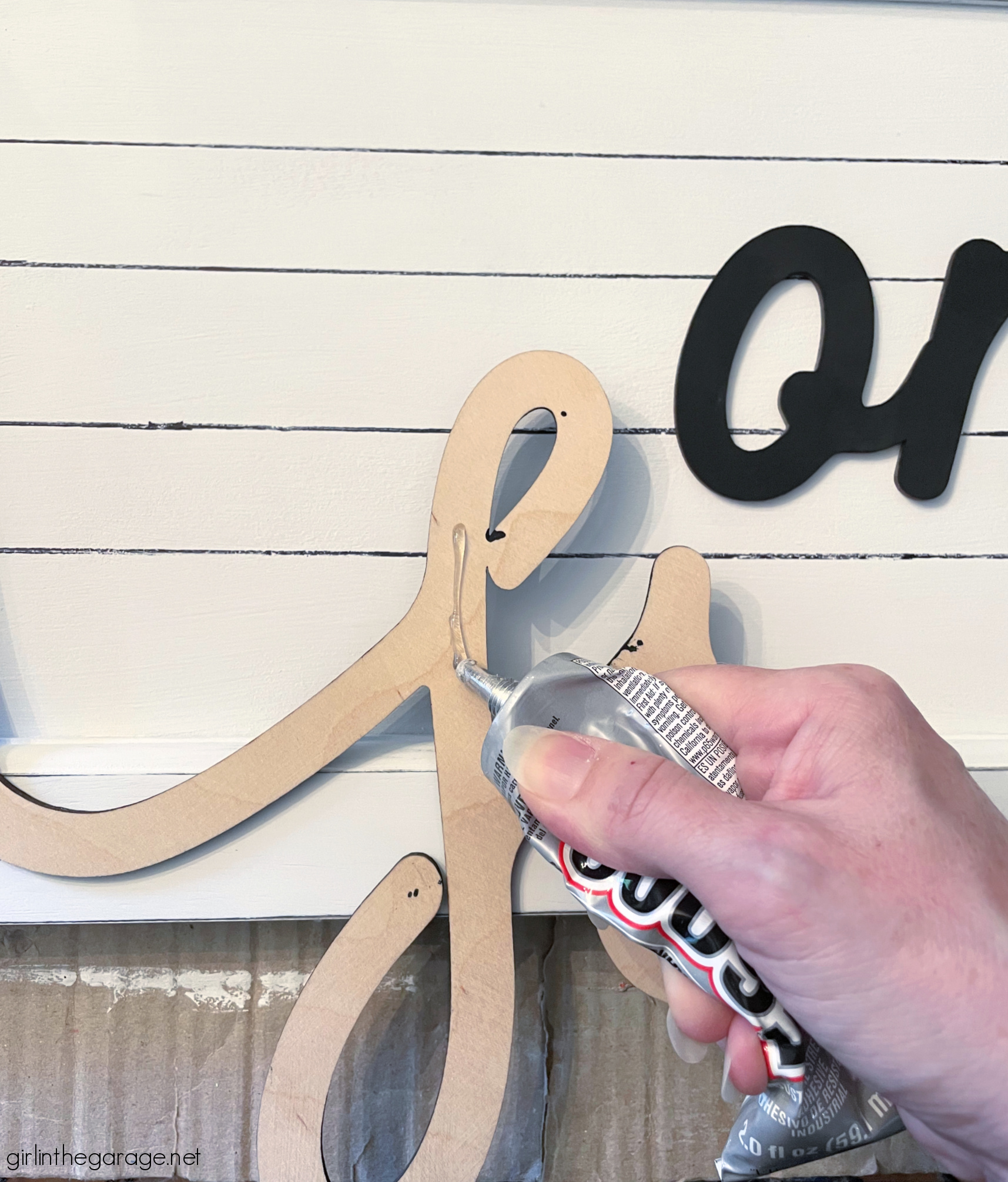 I still have to reattach the hanging hardware on the back, but here's the final result of my repurposed Goodwill art: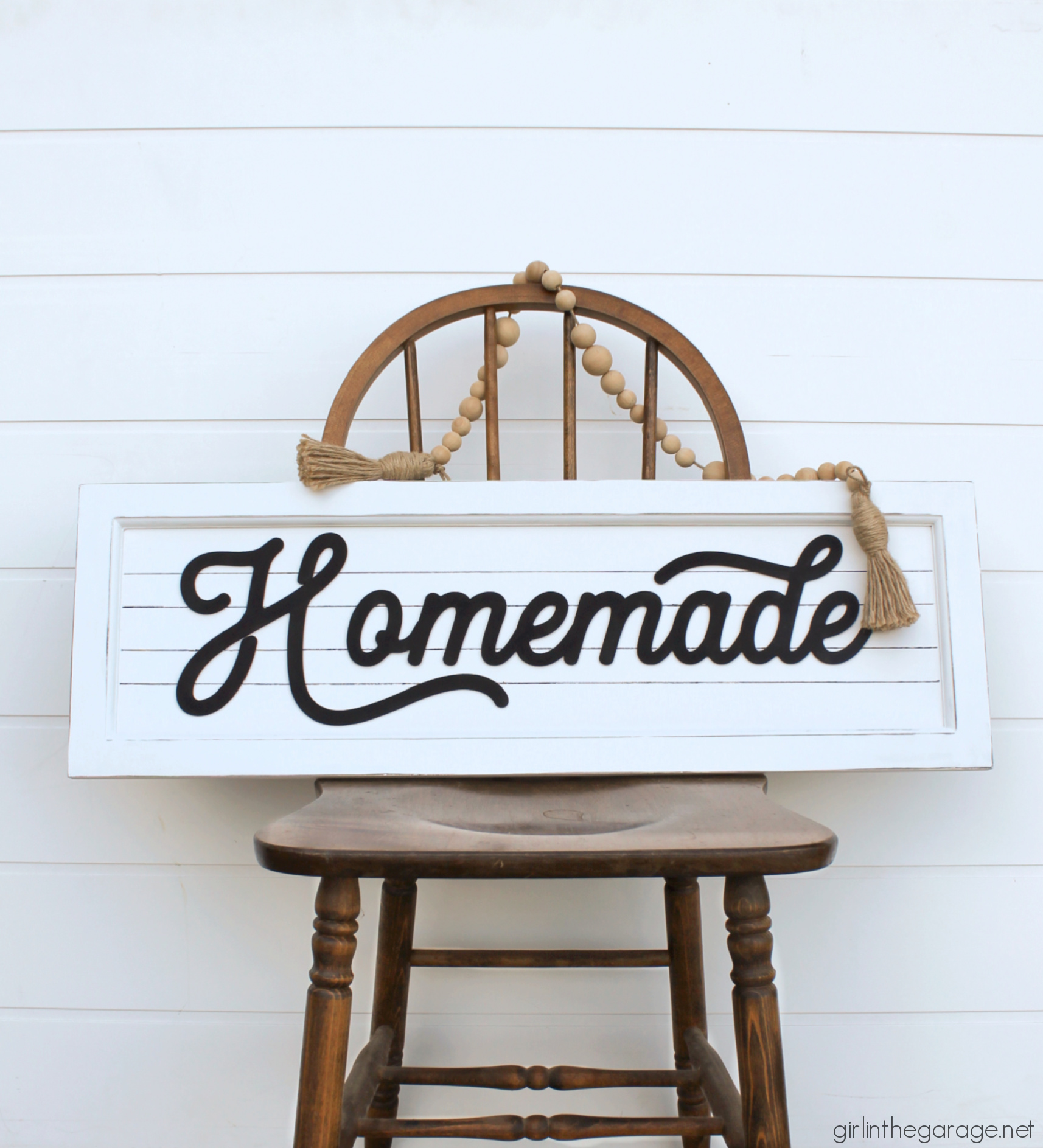 Below you can see how well the original black frame color peeks out where it was distressed.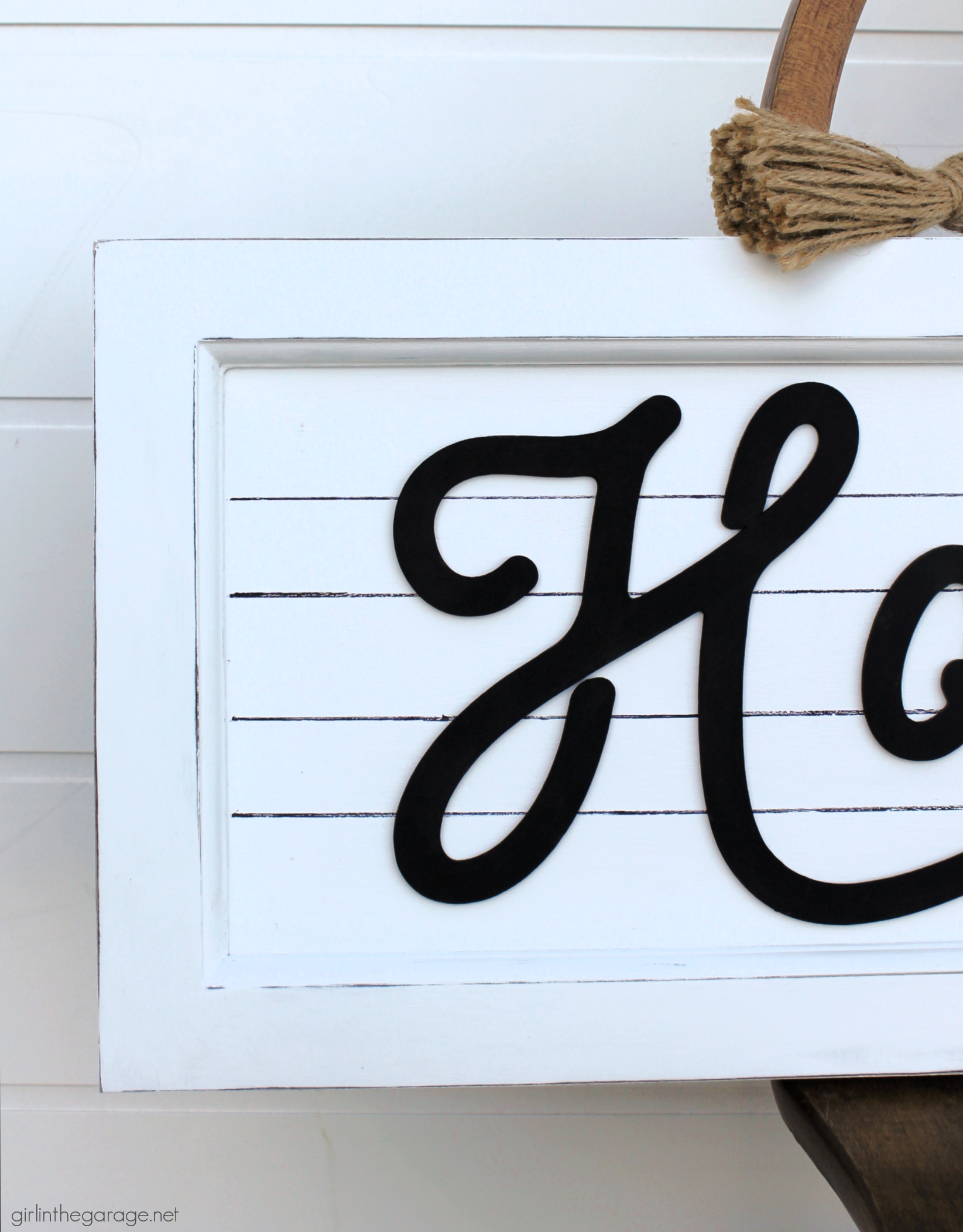 The Sharpie lines add a little contrast so there's not so much white. And you can't tell it's just marker unless you're right close in front of it.
This sign would look perfect in a farmhouse-style kitchen or even a craft room, don't you think?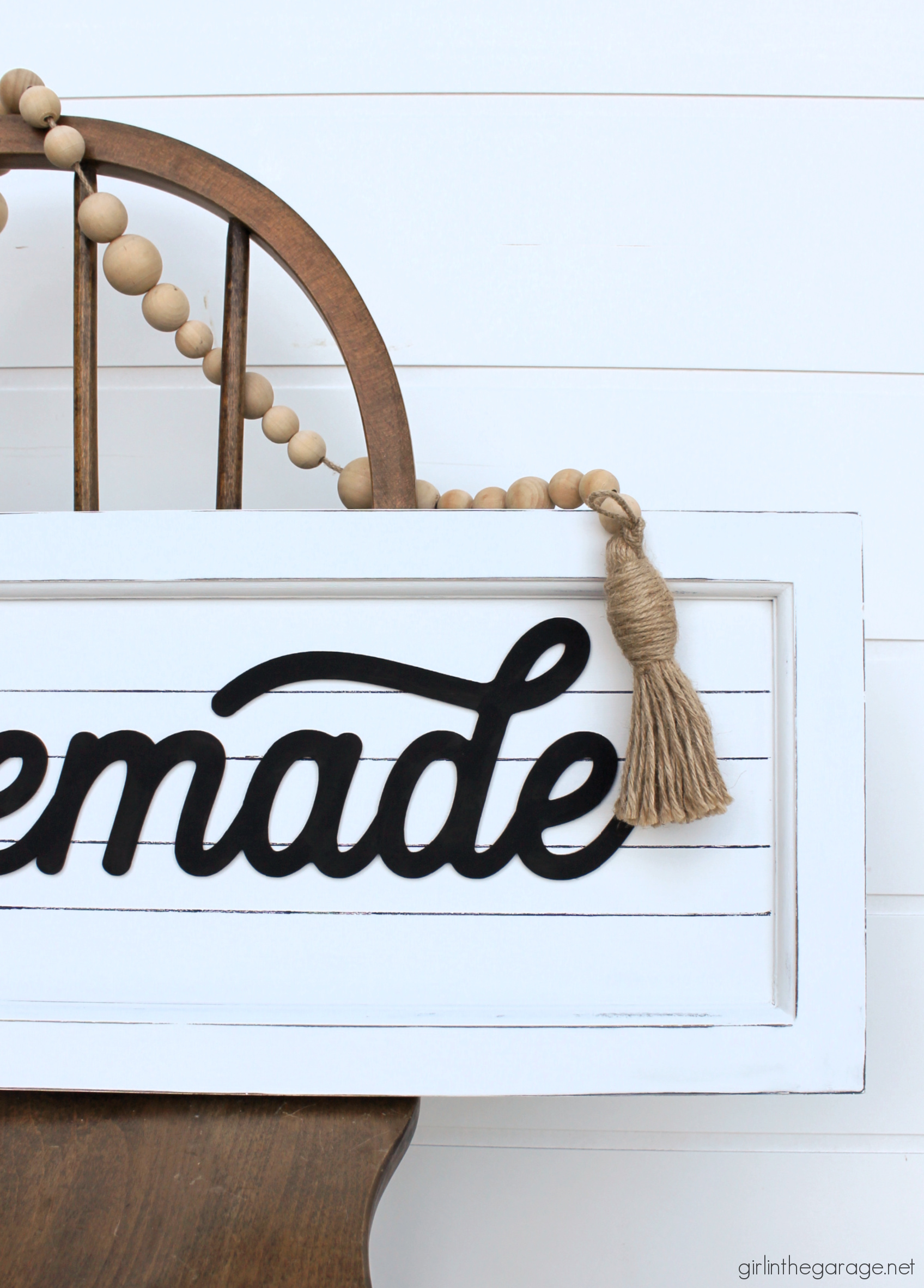 Truth be told, I've had this "Homemade" wood cutout for so long, I thought I'd never find a thrifted frame to use for it! PTL.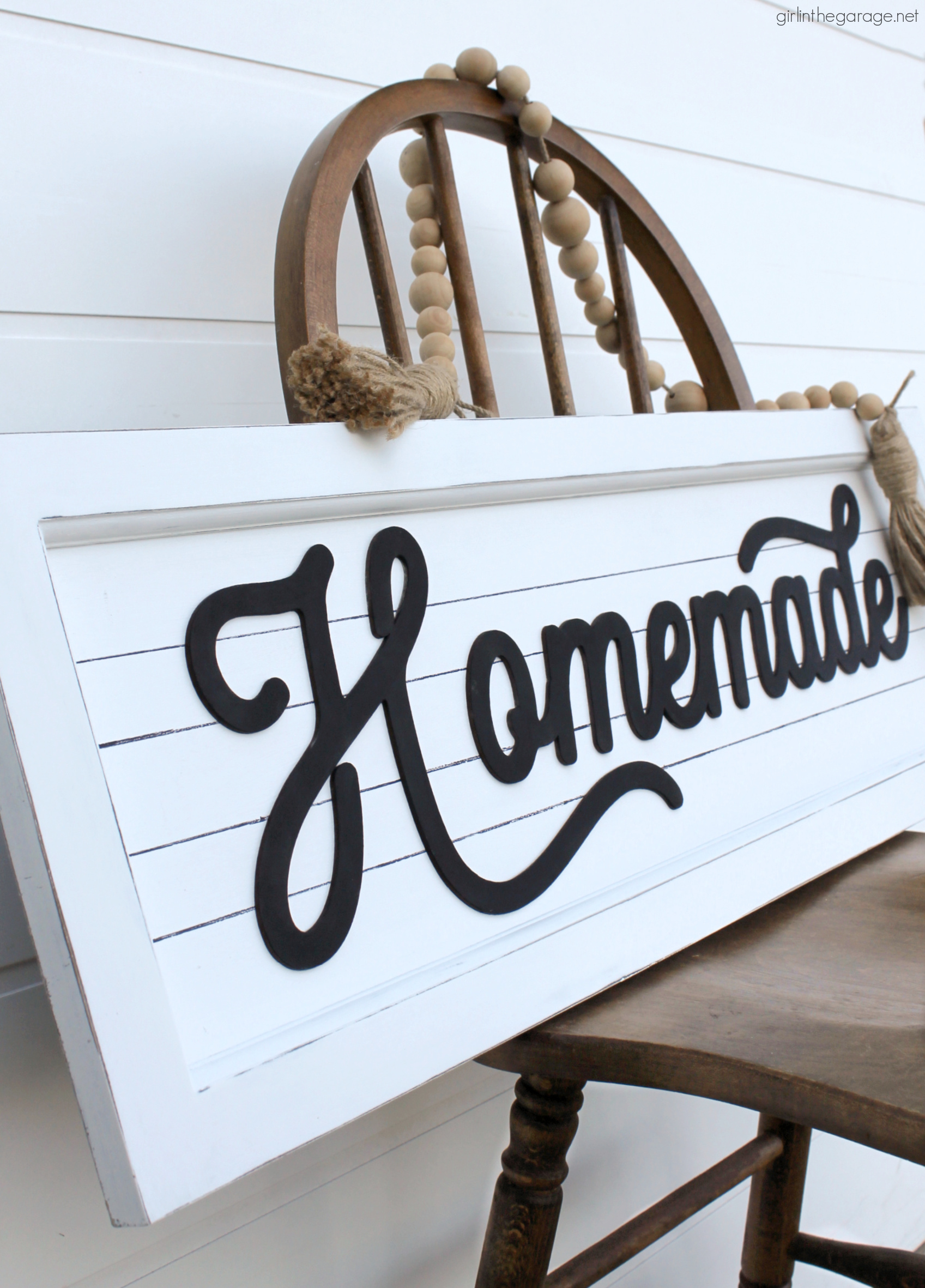 Friend, even $4.99 art from Goodwill can be turned into something custom and beautiful. I hope this idea inspires you! Please feel free to share this project with a friend or Pin it to easily find it again later.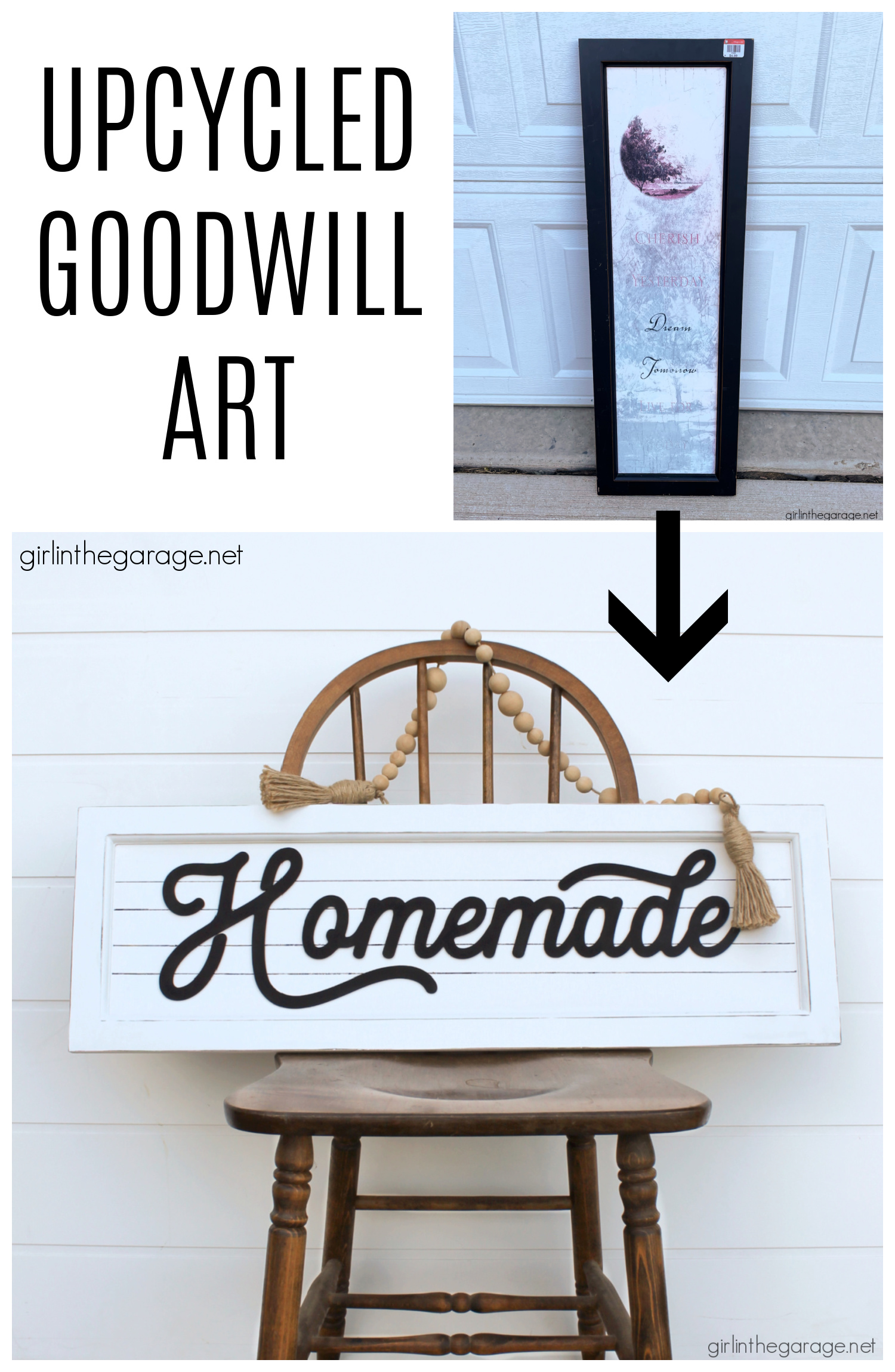 Now it's Trash to Treasure time again with my blogging friends!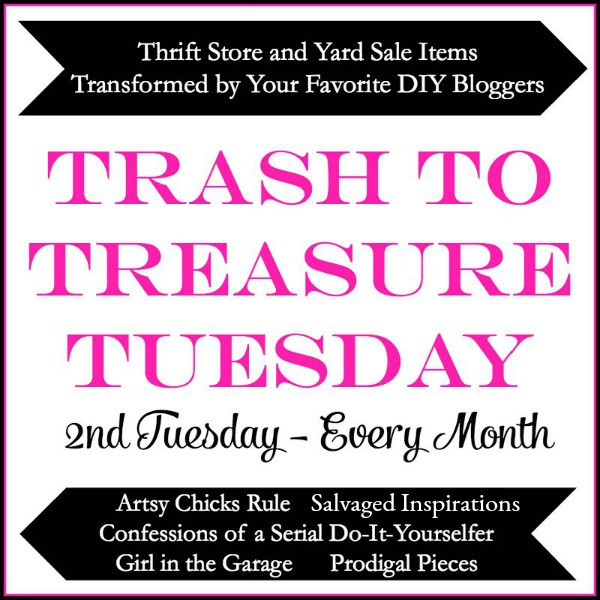 Below are their Before photos – visit the links underneath to see the amazing Afters and to learn how they did it: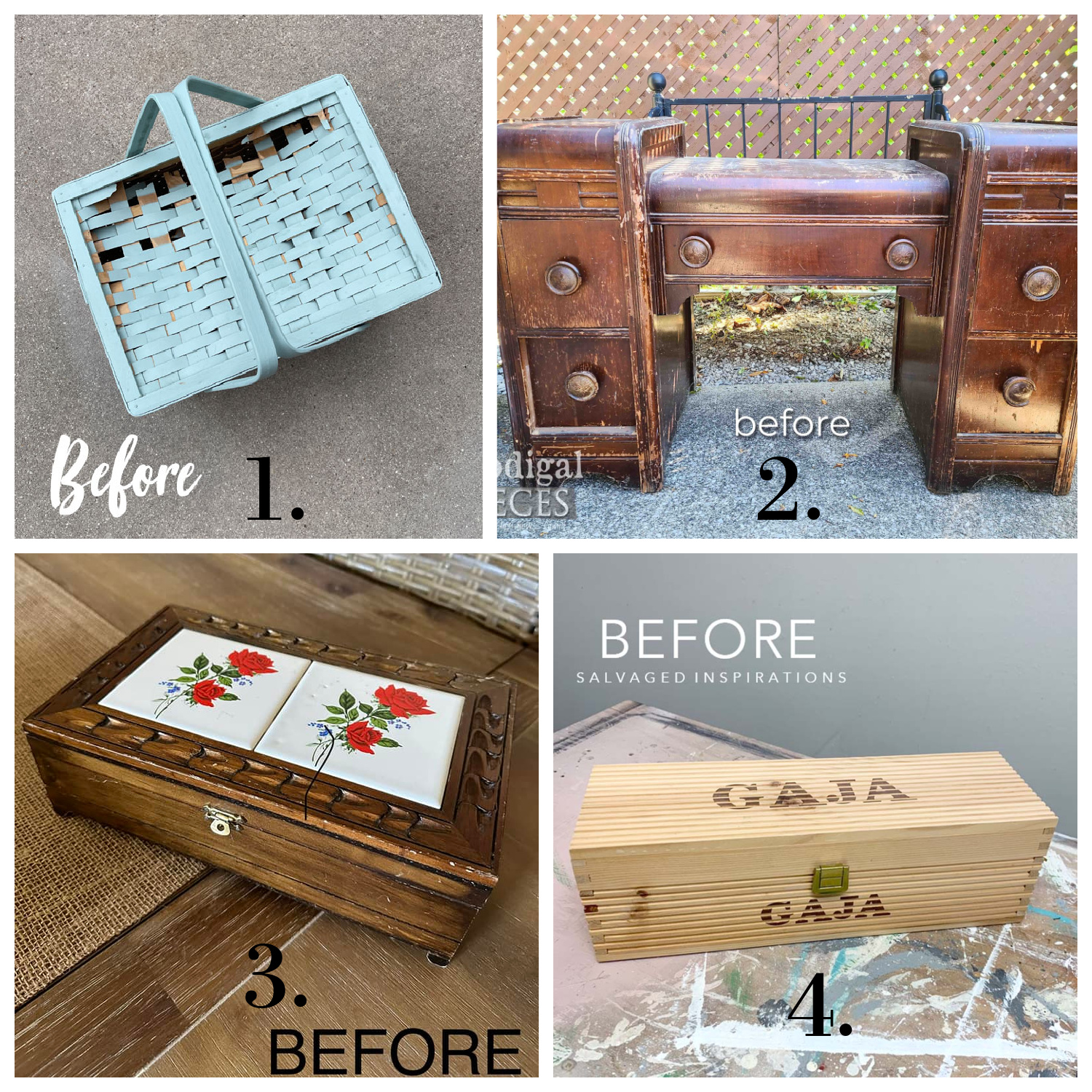 1. Confessions of a Serial DIYer
2. Prodigal Pieces
3. Artsy Chicks Rule
4. Salvaged Inspirations