Hi sweet friend! Today I'm sharing an Indian Inlay stenciled table makeover that almost kicked my butt, even though I've done quite a few stenciling projects before.
This table was a yard sale castaway (they practically gave it to me) with high-gloss spray paint and plenty of chips and bumps.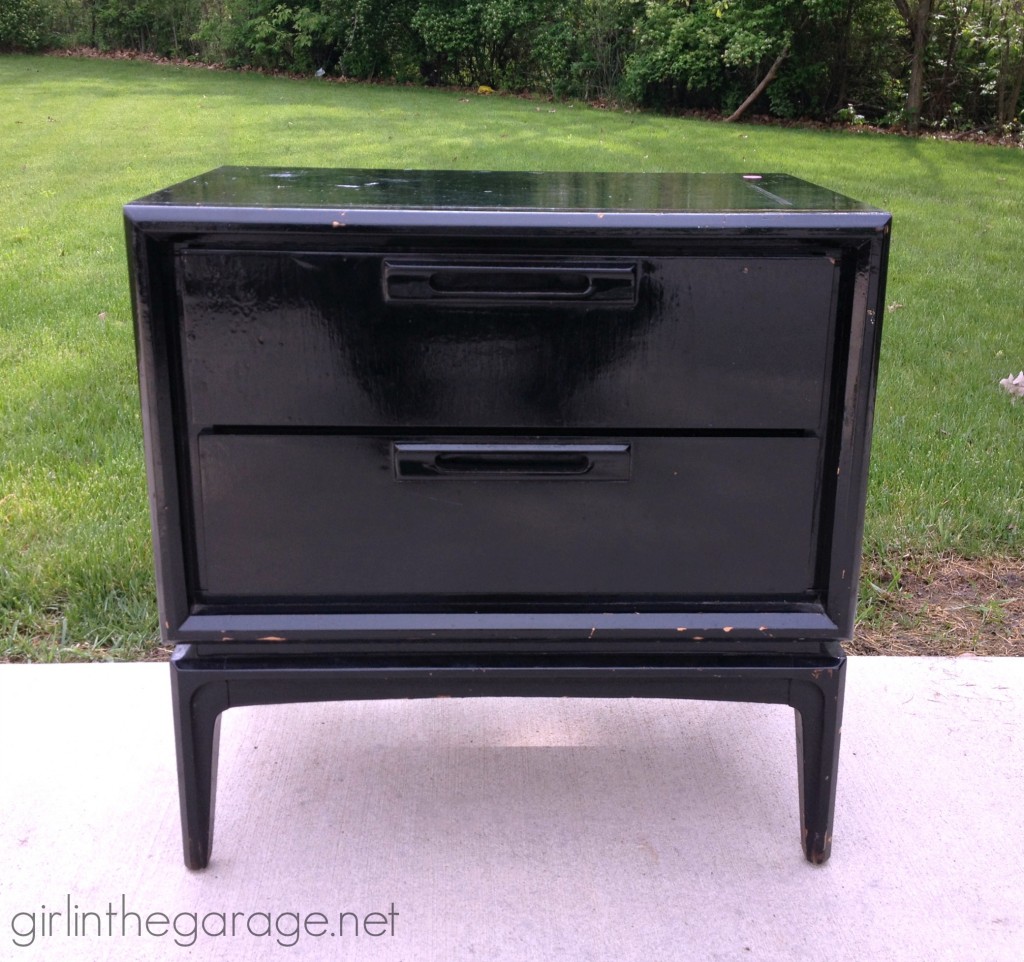 This post contains some affiliate links so you can easily find the products I use and recommend. Discover all my favorite brands and tools for doing furniture makeovers Here.
But I really liked the shape of it, and I knew it would be perfect for the Indian Inlay furniture stencil from Cutting Edge Stencils – which I've wanted to try for ages!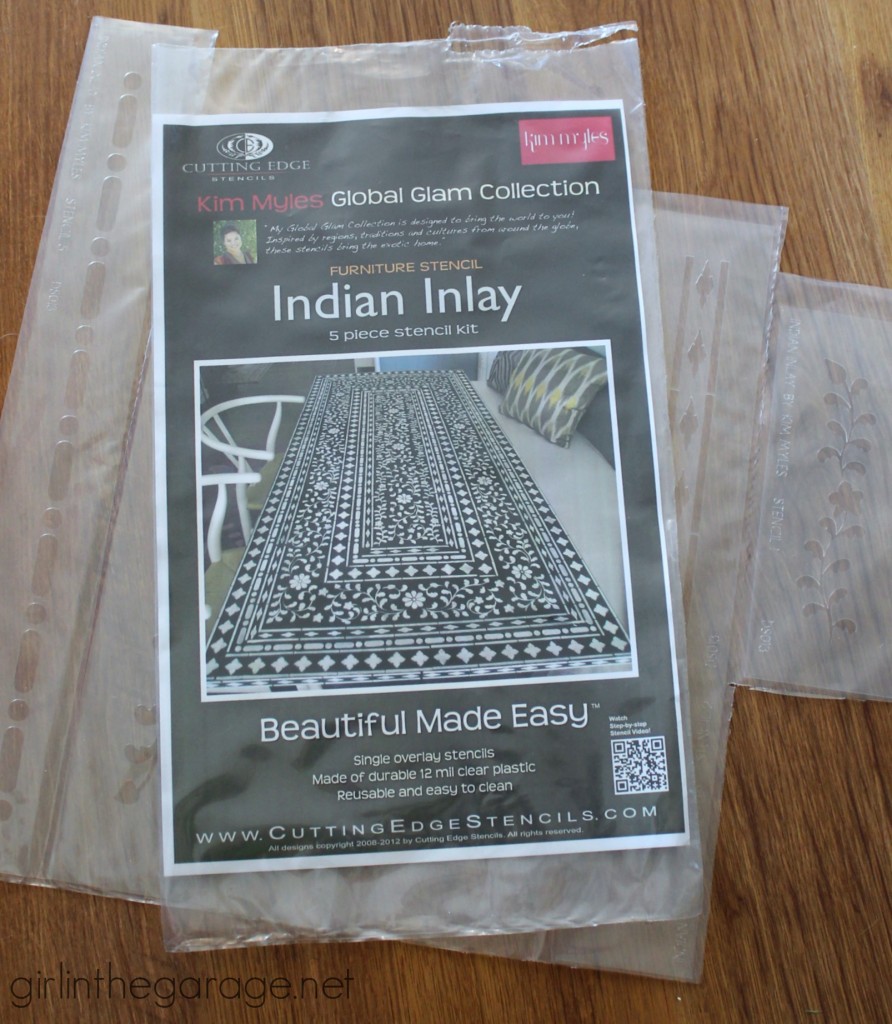 I hand sanded the table to get rid of the gloss and the bumps and painted it all in Annie Sloan Chalk Paint in Graphite. For the stencil, I used Country Grey (I mixed in a bunch of pearl metallic paint but sadly you can't even tell).
Then I started stenciling…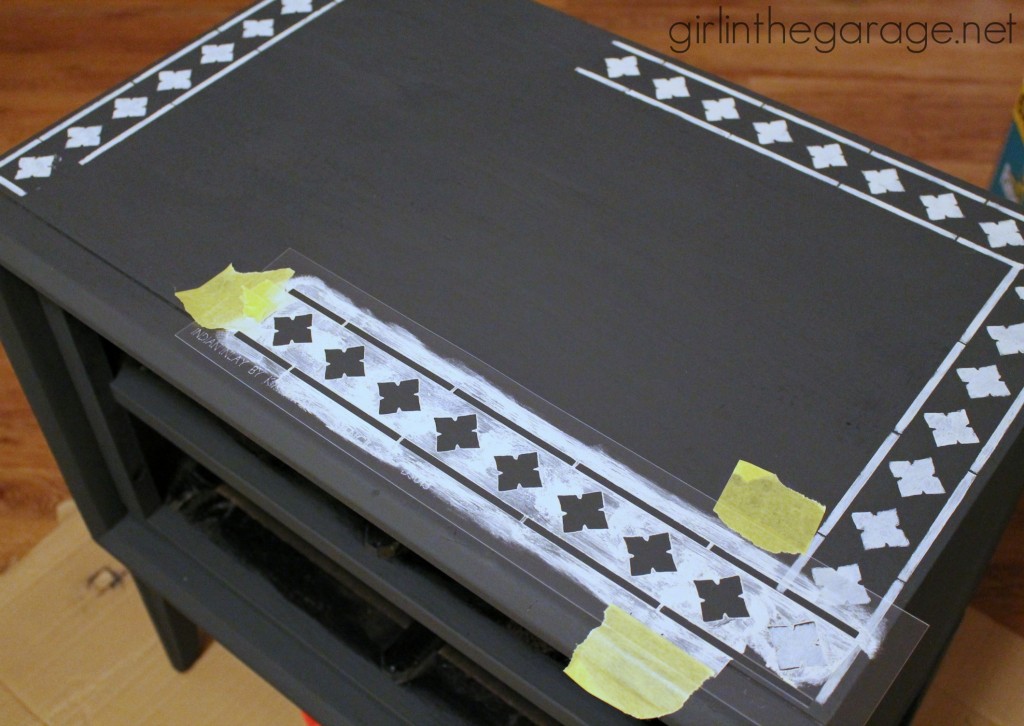 and stenciling… (the kit comes with 5 different stencils- it helps to lay out the order you want first and use Frogtape to keep the stencil in place)…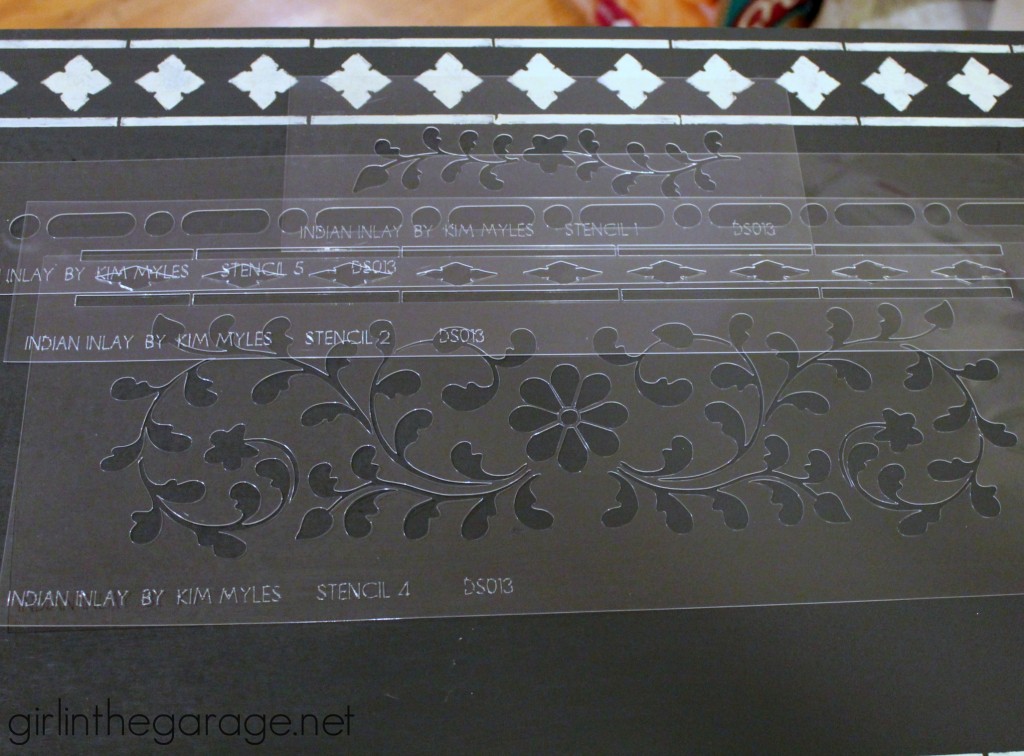 and stenciling… until my arms almost fell off. (Haha) Then I finished up with clear wax. In hindsight I really should've split the job into 2 or 3 days, but I was in a groove and wanted to get most of it all finished at once.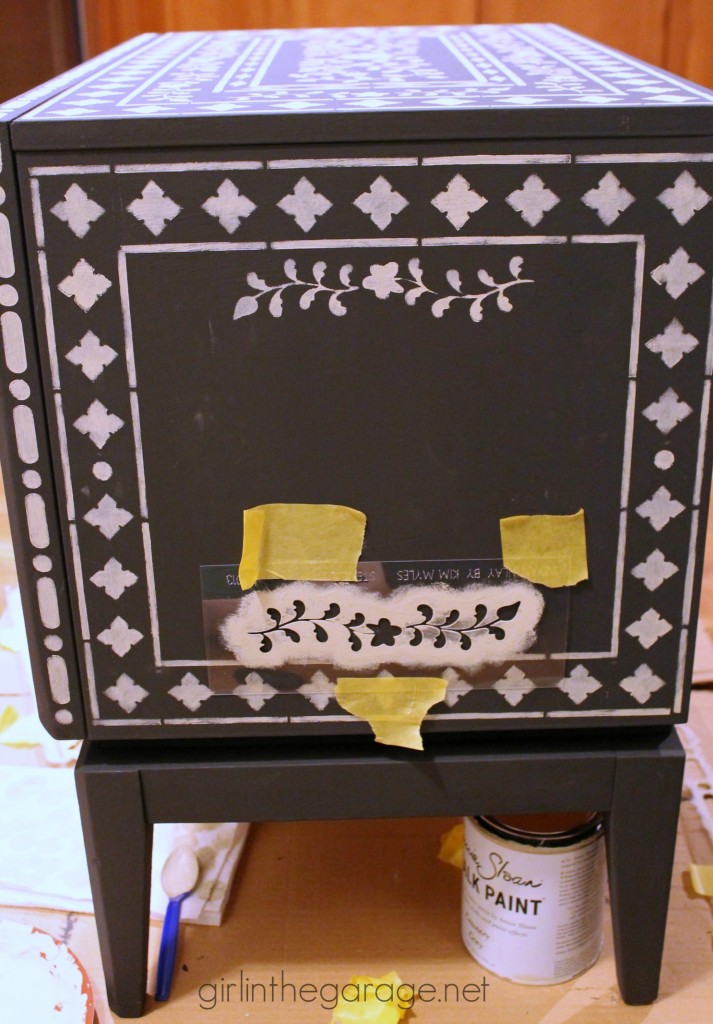 And here's the beautiful result…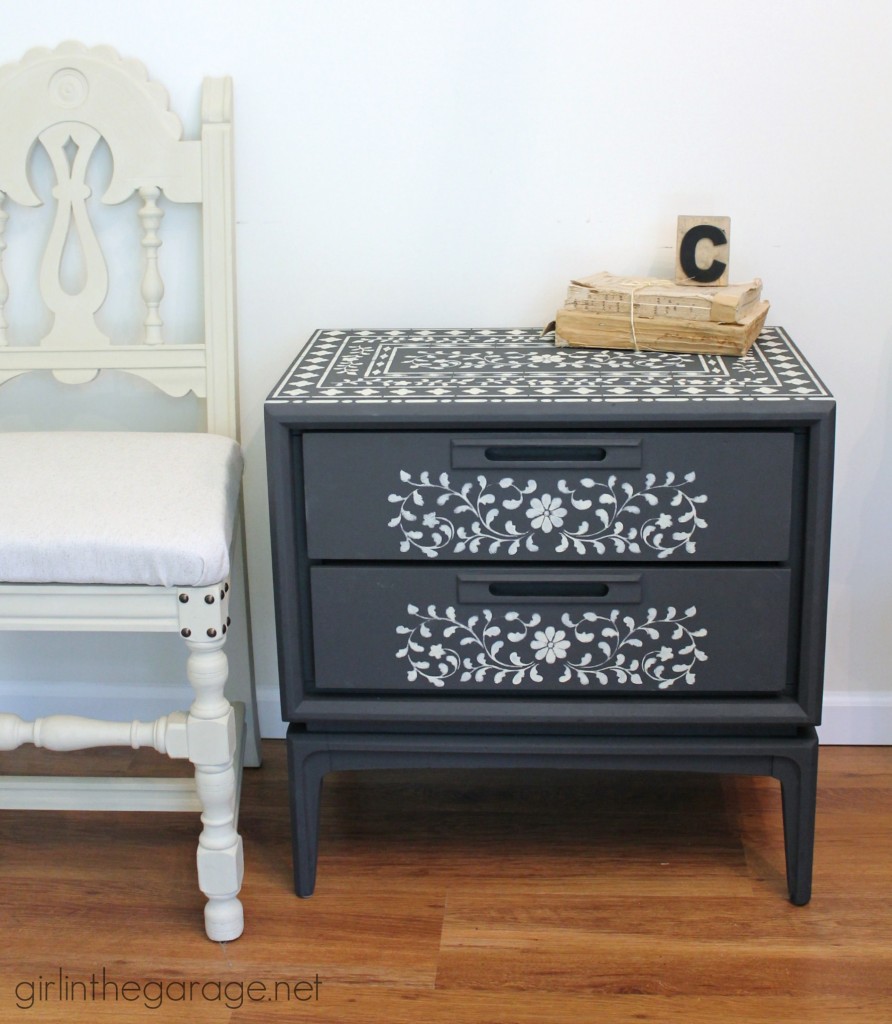 It was SO worth it. <3
The hardest part is measuring and making sure everything is lined up just right.
I did have a couple mistakes that I had to go back and fix!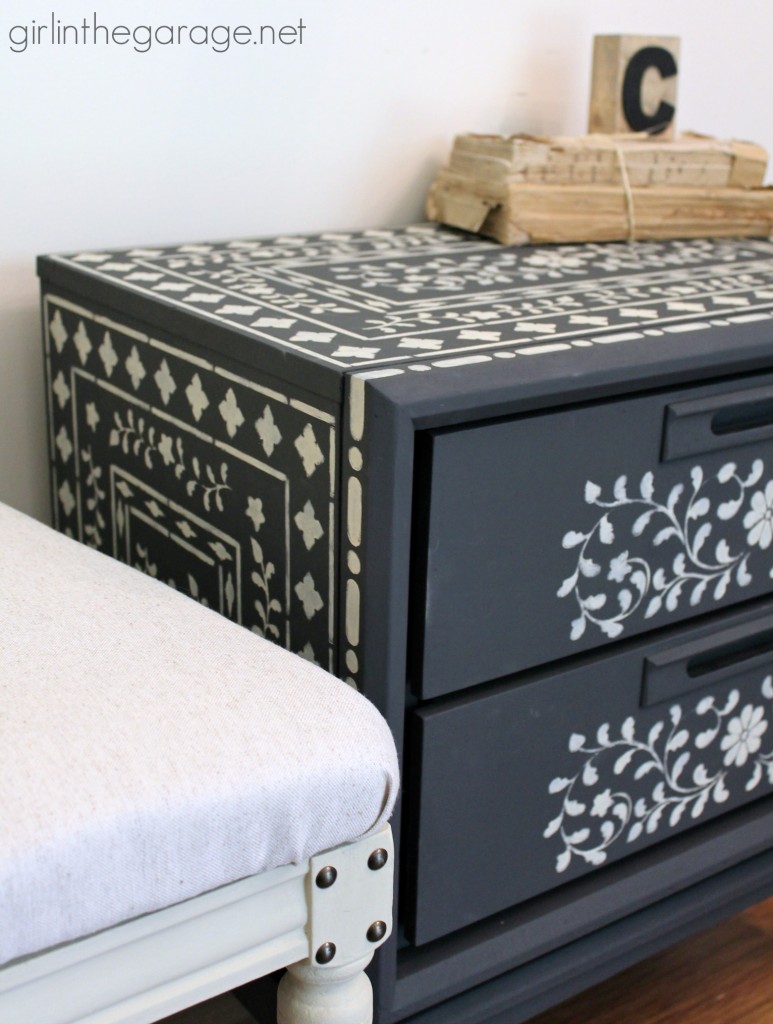 I really love that with this stencil anyone can make Indian Inlay style furniture for a fraction of the cost of the super expensive furniture made with real bones.
Also, you can create a different look on every piece you paint just by rearranging the stencils. I have another example of a buffet I stenciled at the bottom of this post (and there's a video in that tutorial too!).
Here's a peek at the drawers…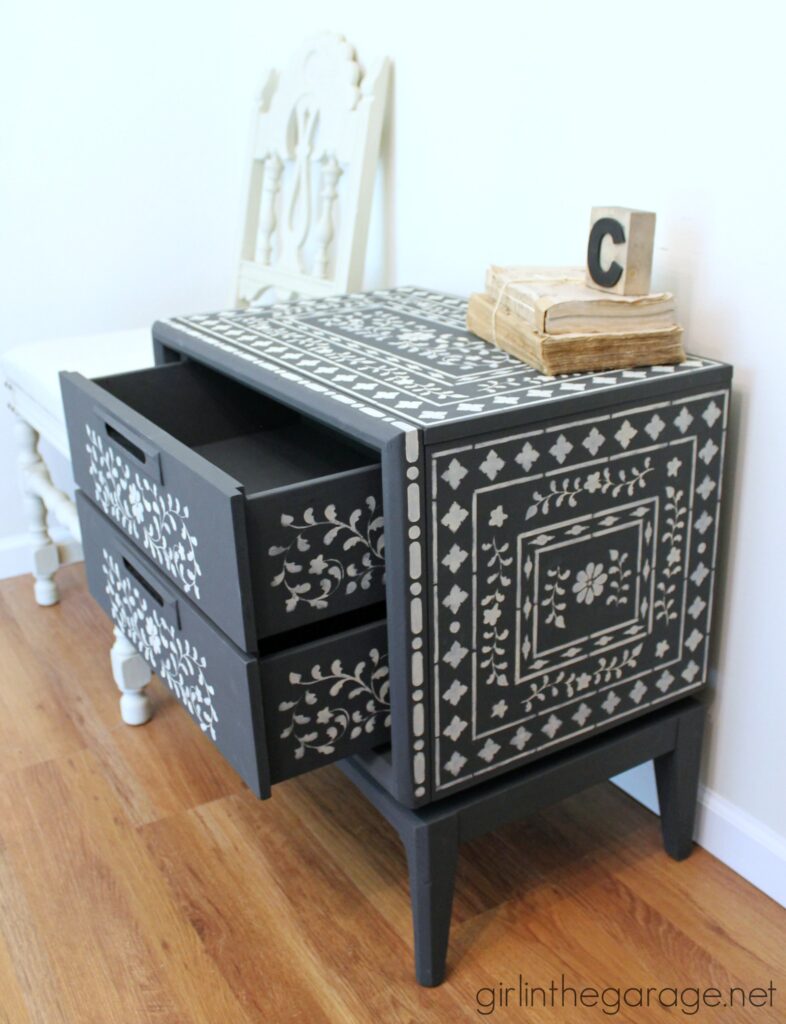 And here's another Before and After of this Indian Inlay stenciled table makeover that you can Pin for easy access later:
I'd love to know your thoughts in a comment below.
Have a fabulous and safe weekend, friends!
Jen
Here's another gorgeous furniture makeover that I used the Indian Inlay stencil on (with video tutorial):