One thing that I love about fall is that I get to wear boots, and one thing that I like about having a fall birthday is getting *new* boots!  Which is exactly what happened this year. (Thanks, honey!  xo)
Along with all my boots, I have quite a few knee socks- I can never understand how some women can wear boots with no socks (with the exception of Uggs).  (You know who you are!)  So of course when I got these new riding boots I decided I needed some new socks.  I found a couple of pairs but I wanted something kind of girly and fun, so I decided to perform some simple DIY magic on a plain beige pair.  I found some matching beige lace in my stash from going to yard sales over the summer and some thread and starting sewing near the top of the socks.  Yes I do have a sewing machine but since I assumed this was a quick and simple task, I decided to use the old sew-by-hand method.  However it didn't end up being quite as quick and easy as I thought.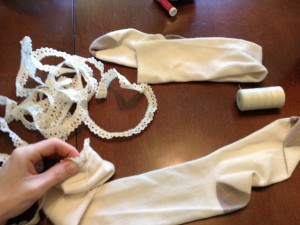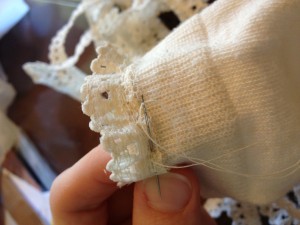 I finished one entire sock before I tried it on and then I couldn't even get it over my foot! DUH!  I forgot to stretch out the sock while I was sewing, since the lace I was using didn't have any elastic in it.  So I had to rip out all the seams and start over…. blah.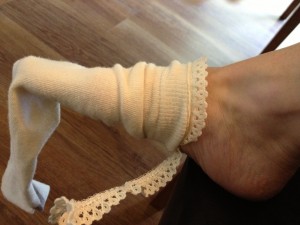 So what's the best way to make sure it would fit?  I figured I should wear the sock while I was sewing the lace on…. LOL.  Not the worst idea but definitely not the most pain-free option, either!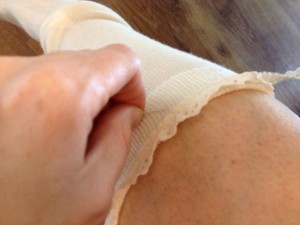 After I poked myself a couple times I realized I could use something else that was similar to the circumference of my calf to make this sewing job easier.  I found a package of twine that worked just fine.  I also decided to sew two rows of lace instead of one… and in a way it reminds me of the fancy socks I wore to church as a little girl with my mary janes- but more grown up of course!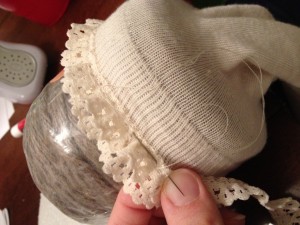 Here is the final result with my new birthday boots… they might be simple but I think it's the little details that sometimes make the biggest differences.
Jen