Hello again, sweet friend! A few months ago I got a new crafty book and I've been really excited to try a new-to-me project: felt embroidery art. I've admired beautiful embroidered designs for years, but sadly I don't think my fingers have the skills (or patience) for all those lovely intricate details.
The designs in the book Whimsical Felt Embroidery by Meghan Thompson (see book image further below) range in difficulty, but are probably much easier than you might expect. The designs use mostly felt and some stitches to create fun and playful creatures, household items and quotes, even food and retro campers.
Note: This is not a sponsored post – I purchased this book because the projects looked easy enough and perfect for someone like me who wants to create "cheater" embroidery projects.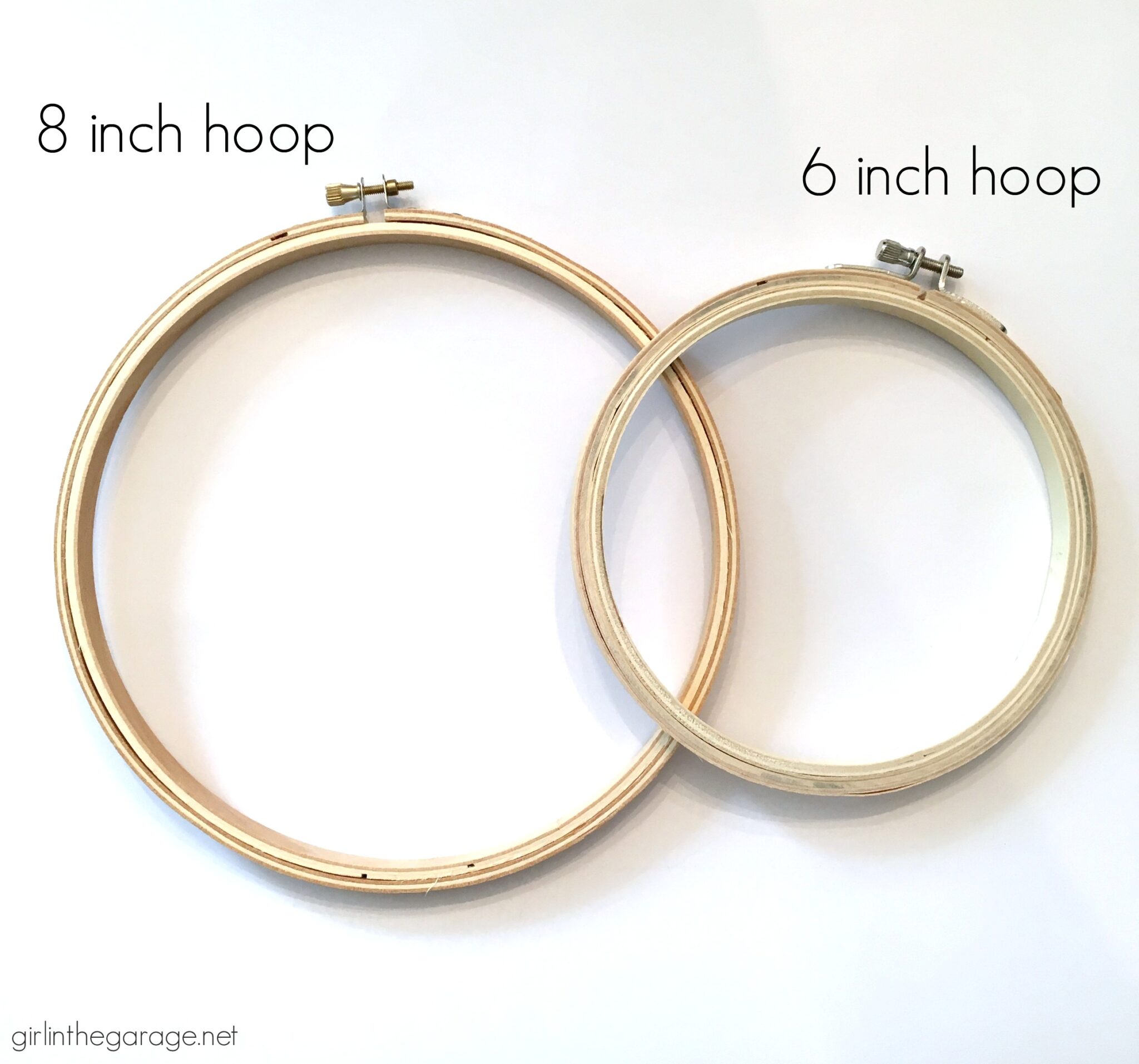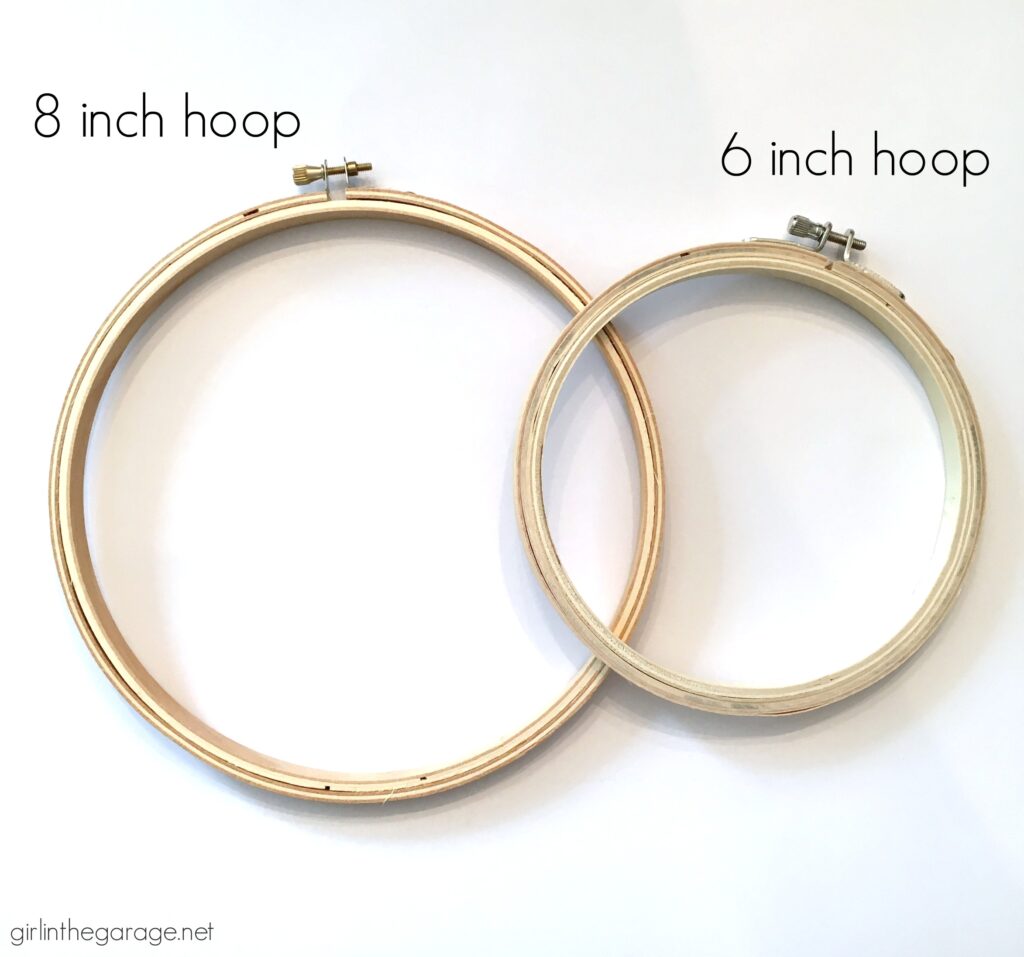 *This post contains some affiliate links so you can conveniently find the products I use and recommend. Discover all my favorite brands and tools for doing creative DIY projects here.
For the projects below, I used supplies I already had at home, like wood embroidery hoops. I'll link to similar products so that you can order them online if you want to try these yourself.
First, I chose two different projects from Whimsical Felt Embroidery and used a 6-inch wood embroidery hoop for the pink pig.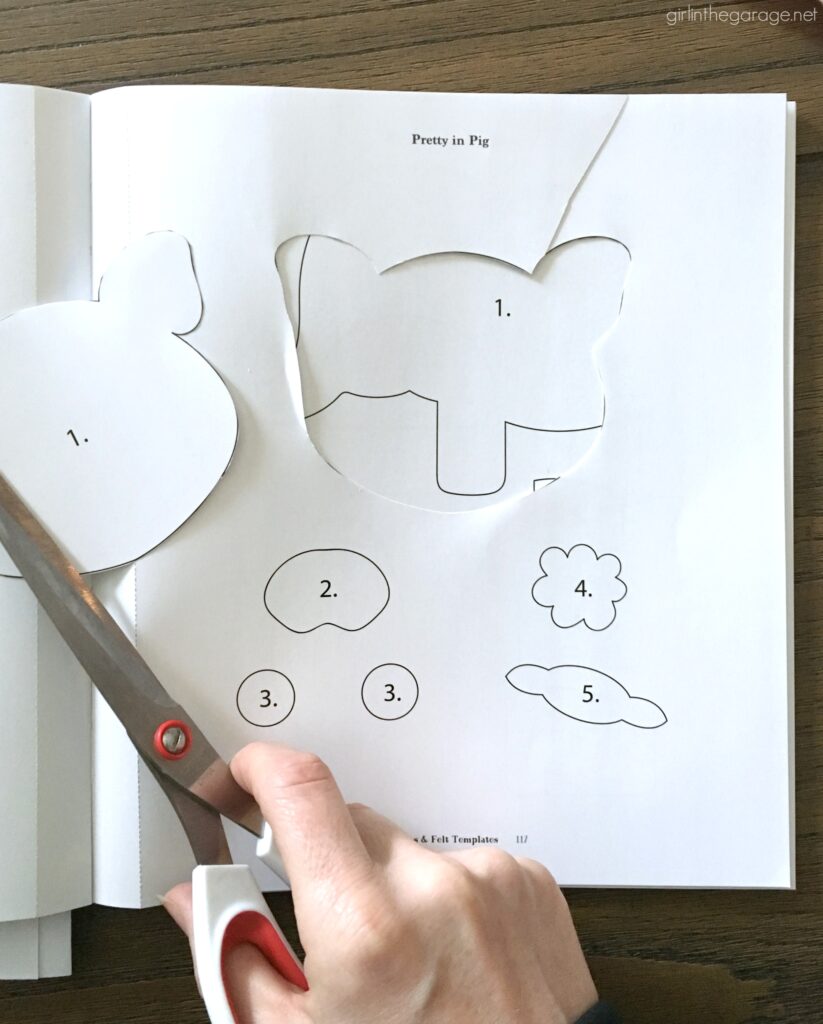 Besides step-by-step directions and tips, the book includes patterns for every design, so you can cut the pieces right out of the pages.
How to make a cute felt embroidery pig
For the background, I chose this denim-looking blue fabric with white flowers and polka dots. I wanted a nice contrast against the light pink pig.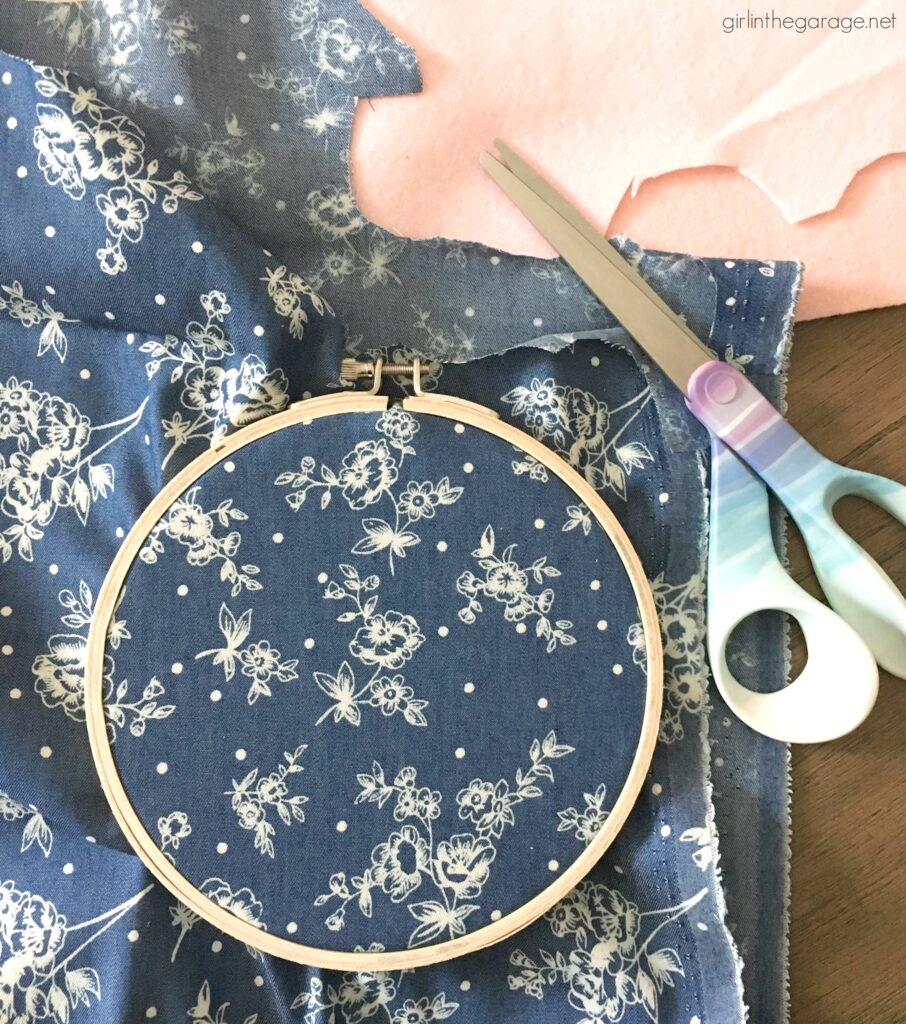 Iron the fabric and then secure it tightly into the hoop. Cut around the edges, leaving an extra 1.5-2 inches around the sides. (There are way more tips and instructions in the book, but I'm not going to give away every detail here.)
Thankfully I had two light pink felt sheets in my stash. I pinned the face onto the lighter pink and the cheeks and nose onto the other pink with straight pins.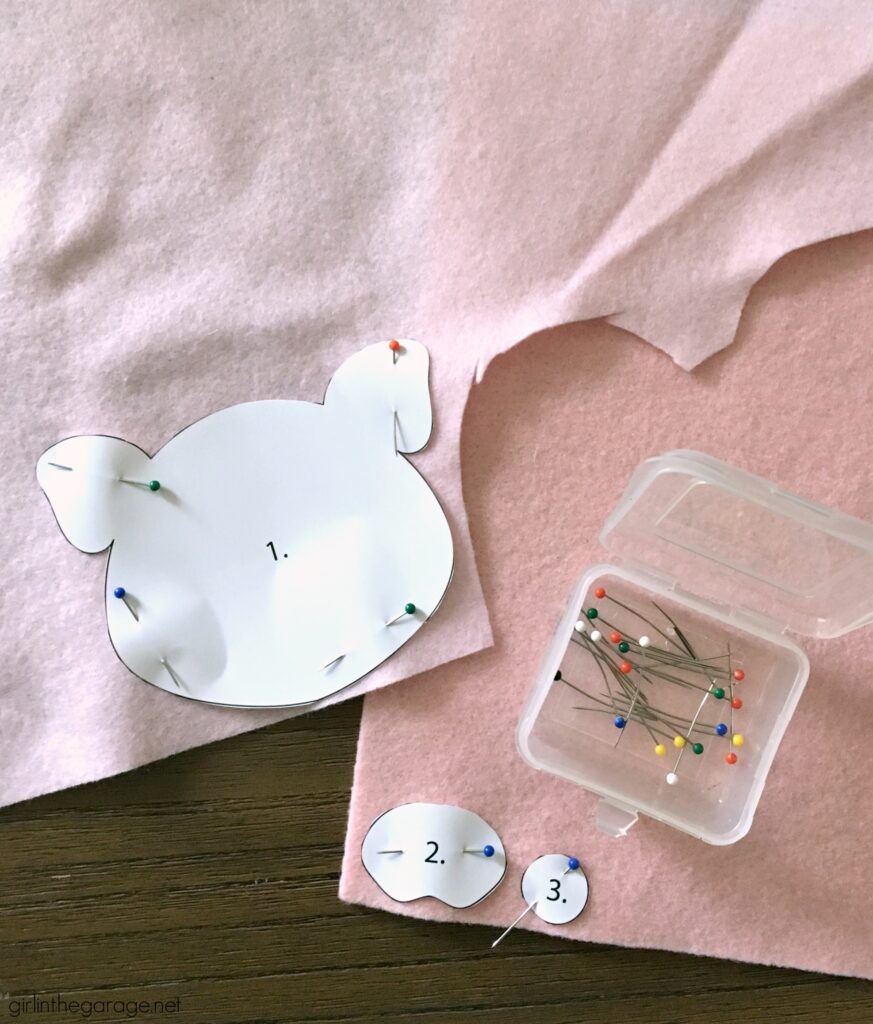 I centered the face and stitched it on with a few strands of light pink embroidery floss, then I stitched the nose and cheeks in place. (Make sure you're using an embroidery needle too.)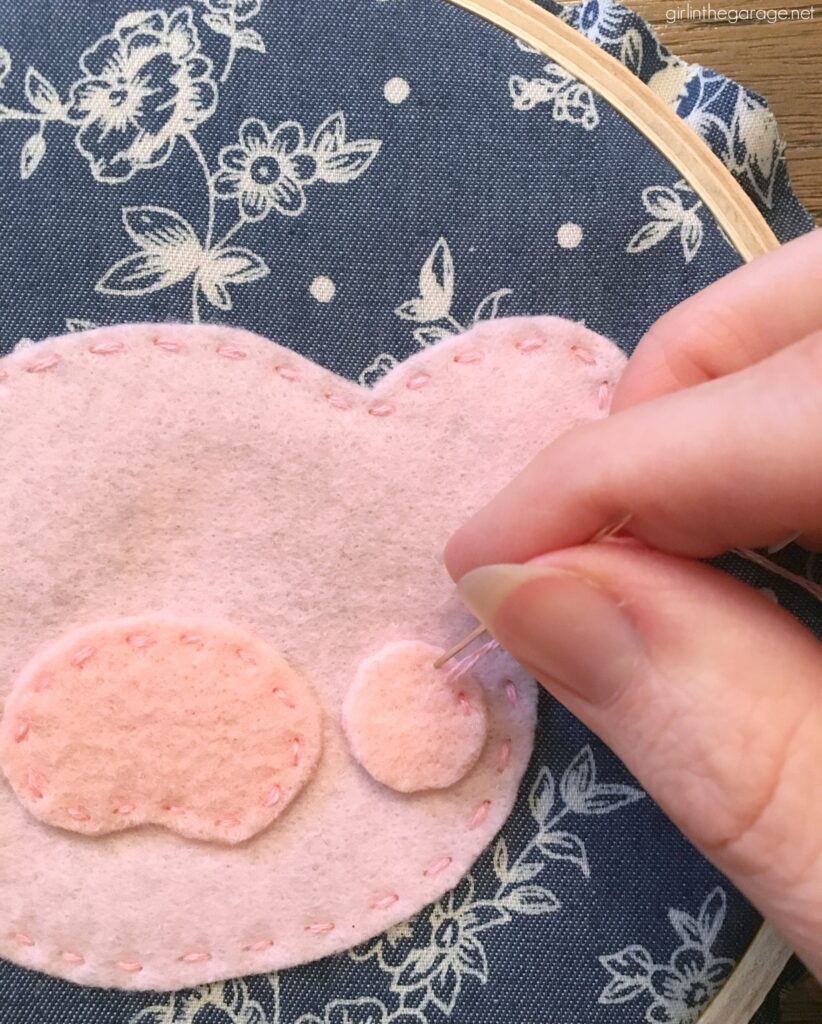 Apparently I forgot to take a photo of me stitching the eyes on with black floss. That was actually the hardest part of the whole project – trying to make both eyes symmetrical and not wonky-looking.
How to finish an embroidery hoop
I finished the back by adding a line of hot glue across the wood and then folding the excess fabric back over it (see below). If your glue gun is low temp, you're less likely to burn your fingerprints off. 😉
Here you can see the finished back of the embroidery hoop. I ended up trimming some of that extra fabric off with tiny scissors though.
You can also glue some light-colored fabric to cover the entire backside and all the stitches and knots, but that seemed a little more advanced than what I wanted to attempt for now.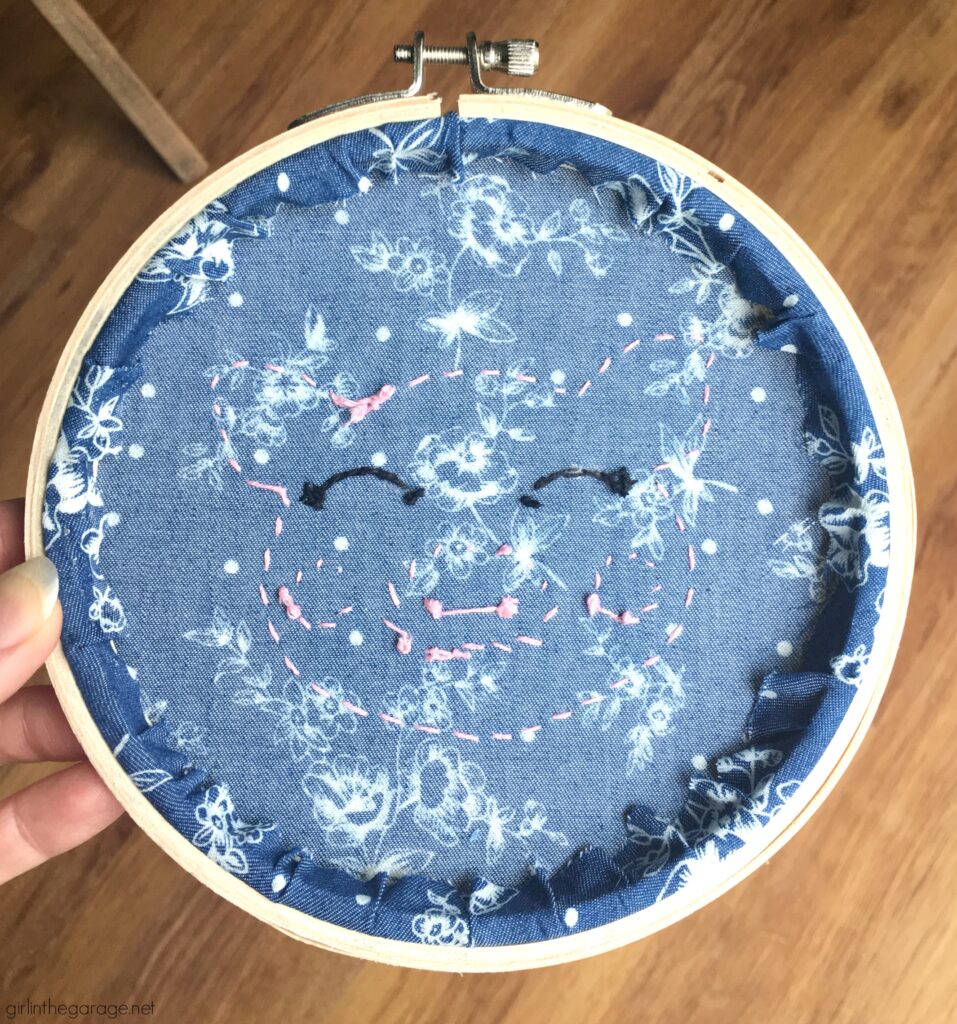 Here's my sweet pig: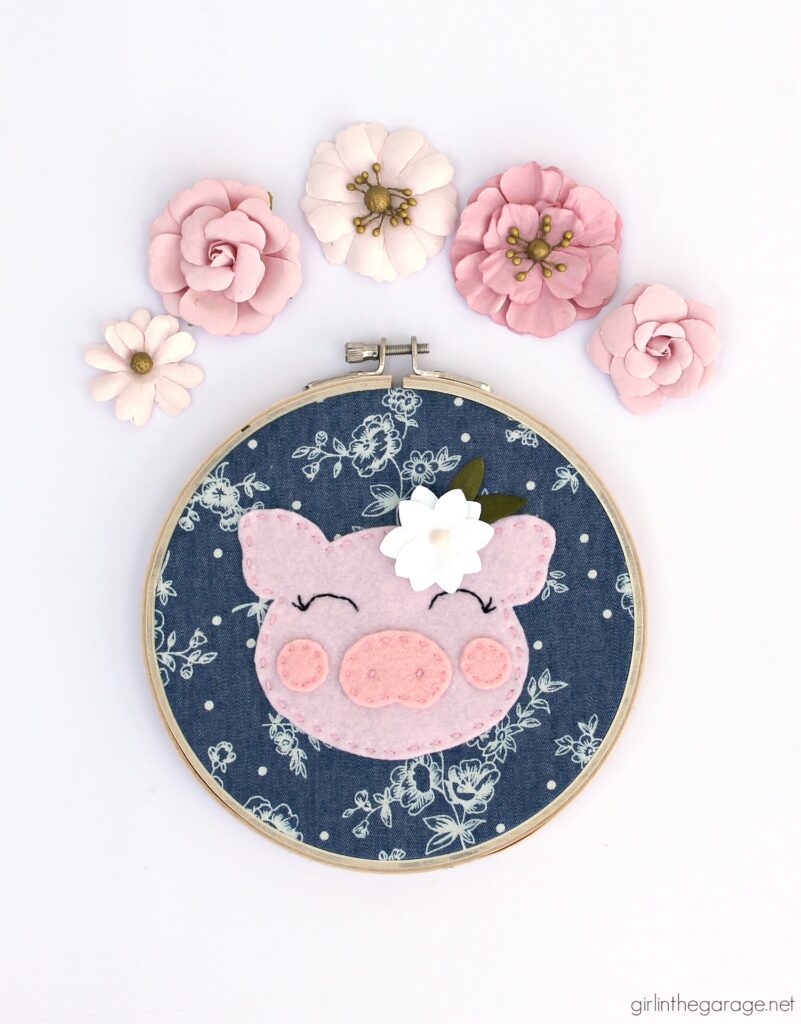 I totally cheated and glued on faux leaves and a flower instead of following the book's directions. That's the point though, right? To put your own creative spin on your artwork.
How to make a not-so-scary felt embroidery dinosaur
Although I loved my pig, I also wanted to make a boyish design to keep things fair (I am a boymom x3 after all). So next I chose the felt embroidered dinosaur art and used an 8-inch wood hoop.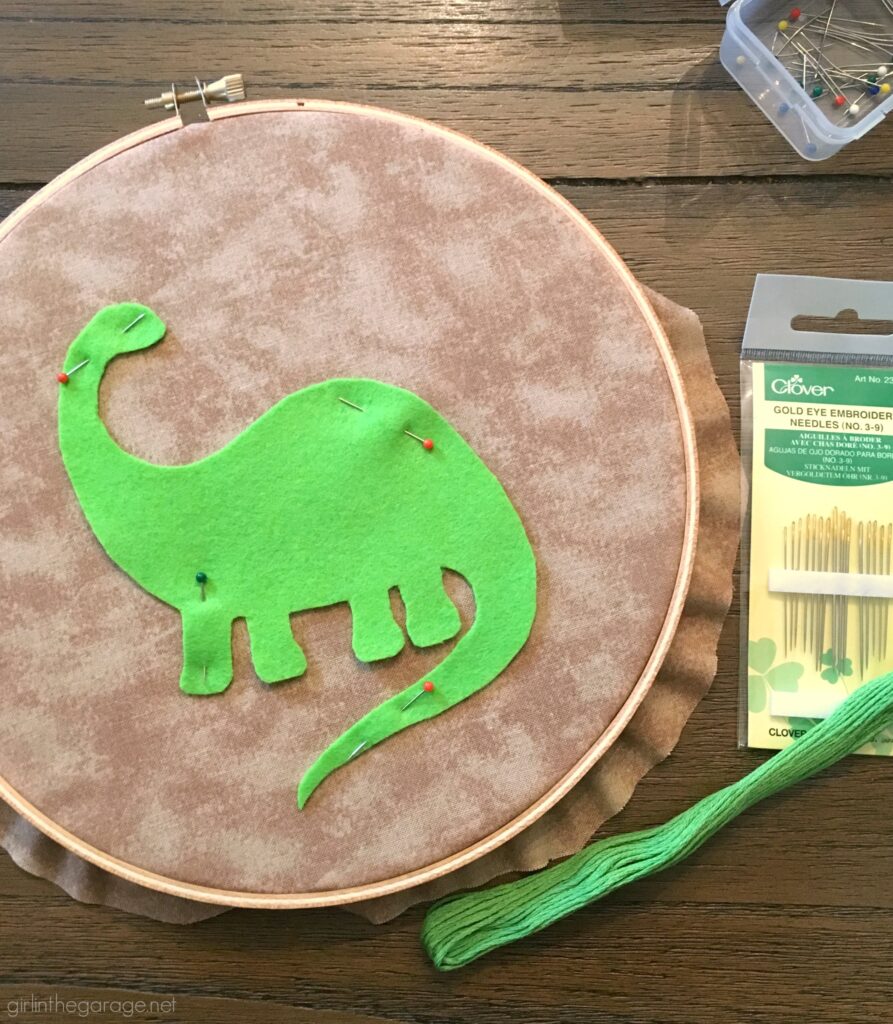 I used some prehistoric-looking brown fabric and thankfully had two different green felt sheets and some lime green embroidery floss.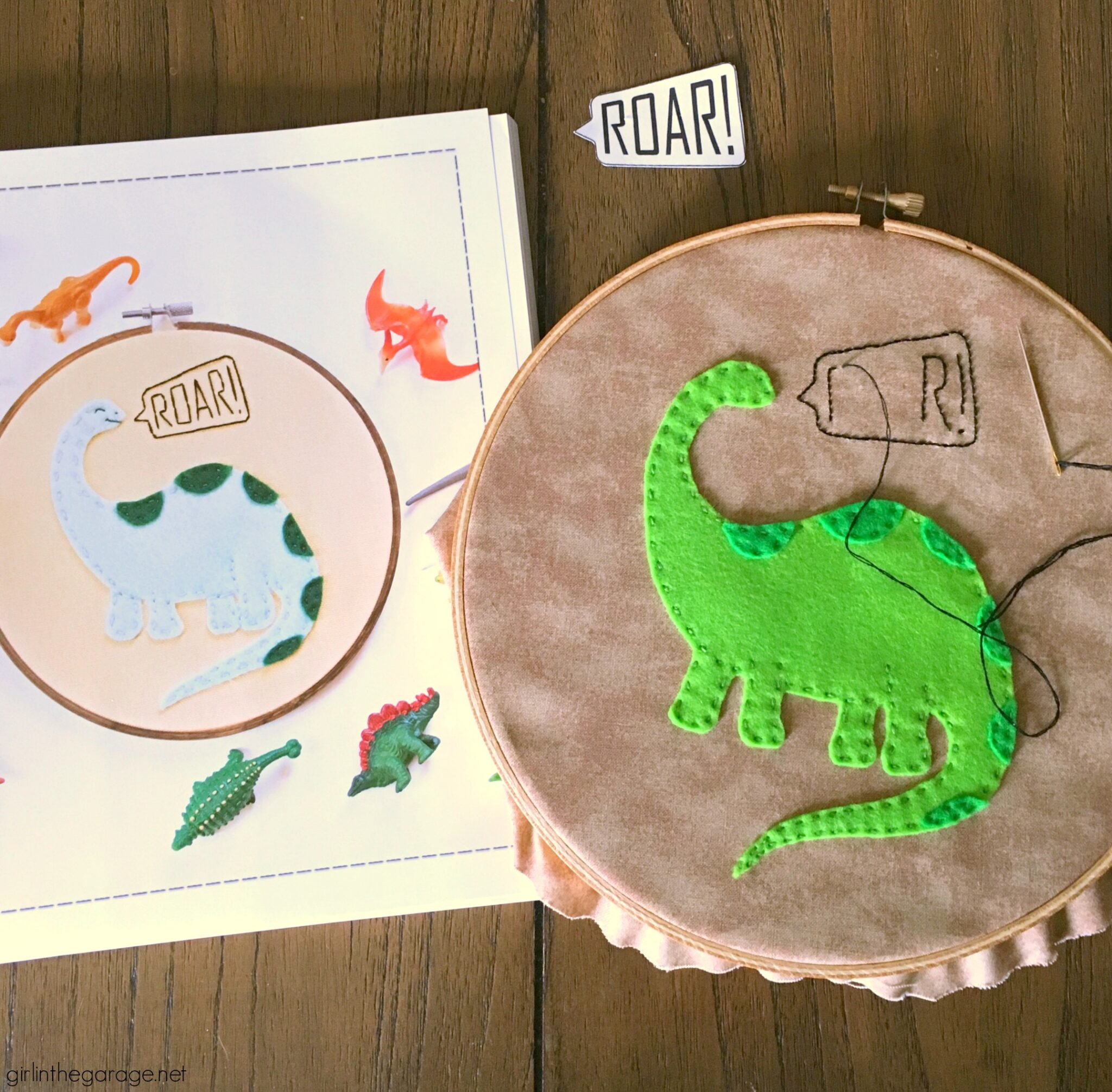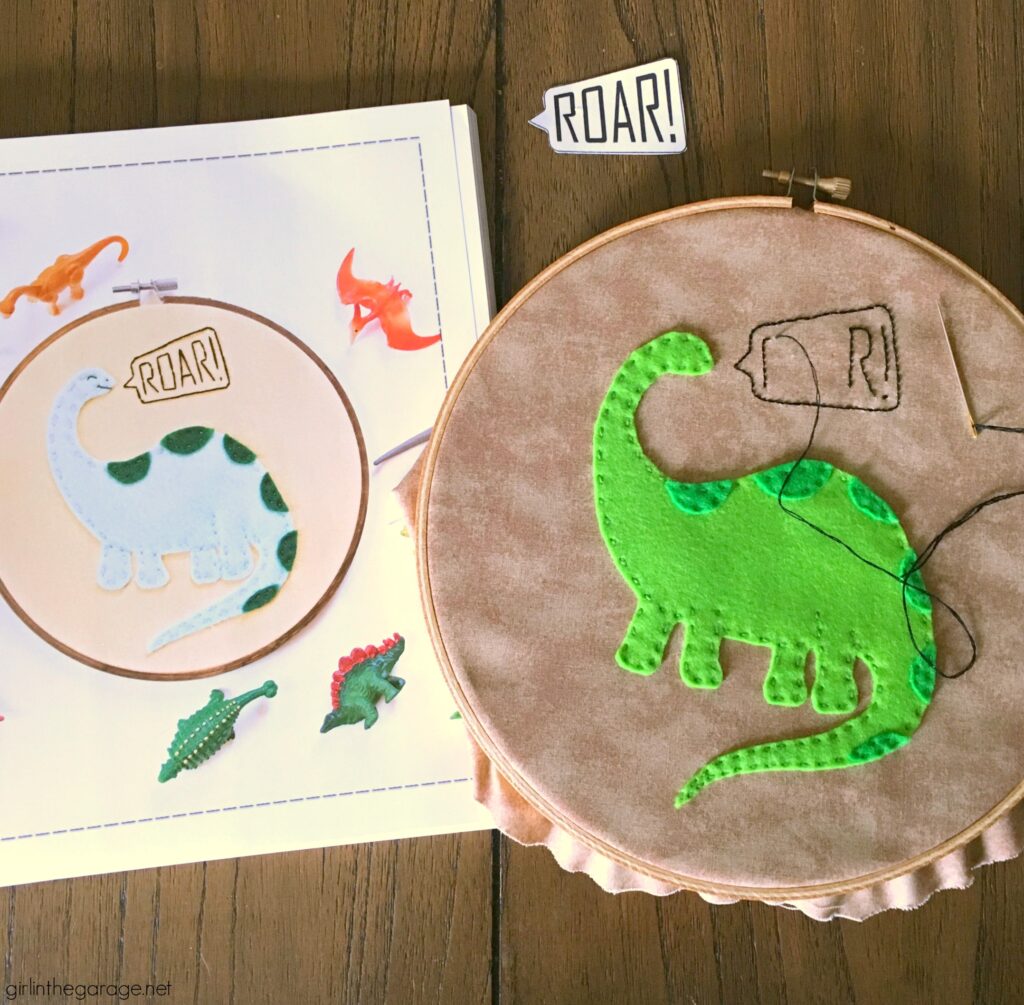 Embroidering the ROAR! took some patience.
In the end, I'm very proud of this embroidered felt dinosaur too.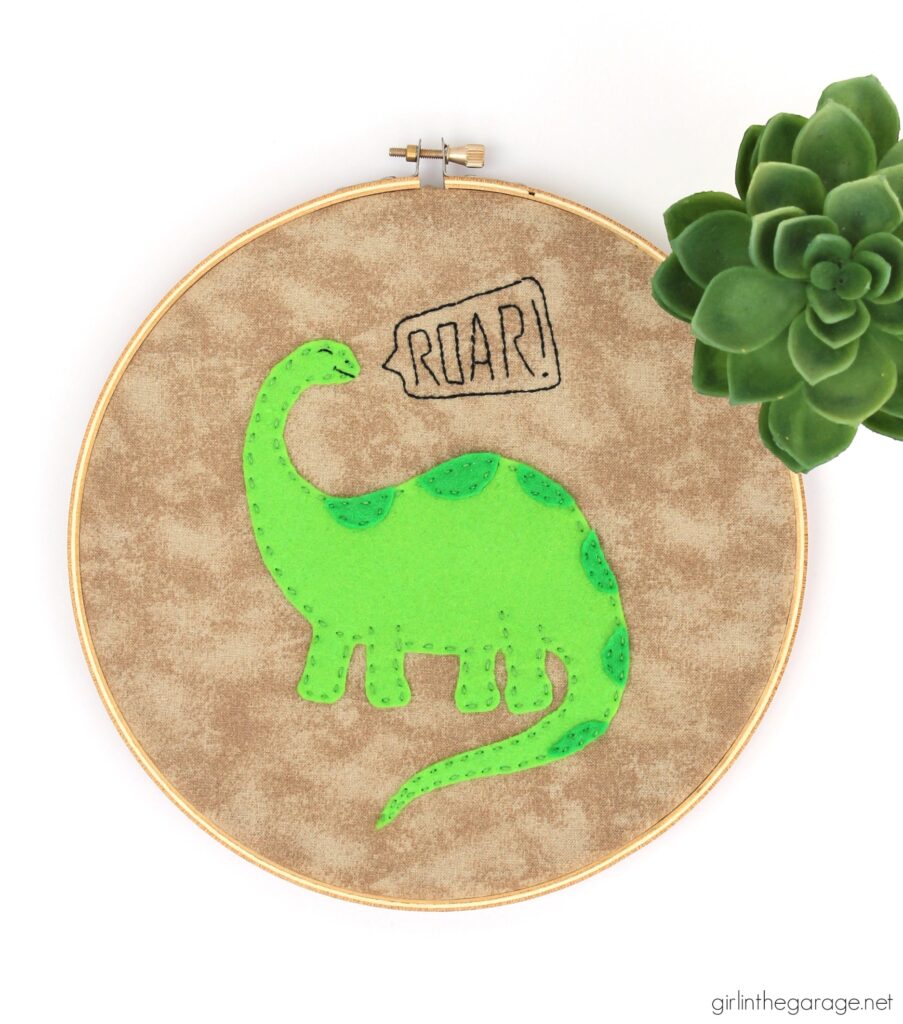 Below you can compare my dinosaur to the book: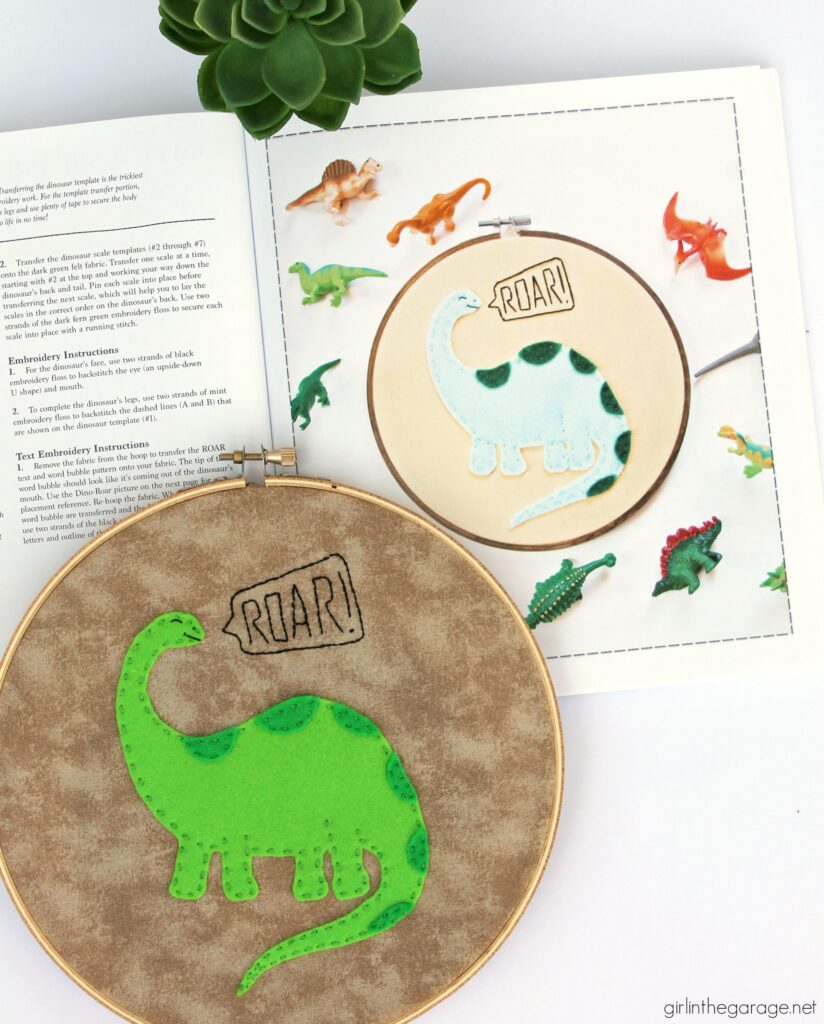 And my cute little pig: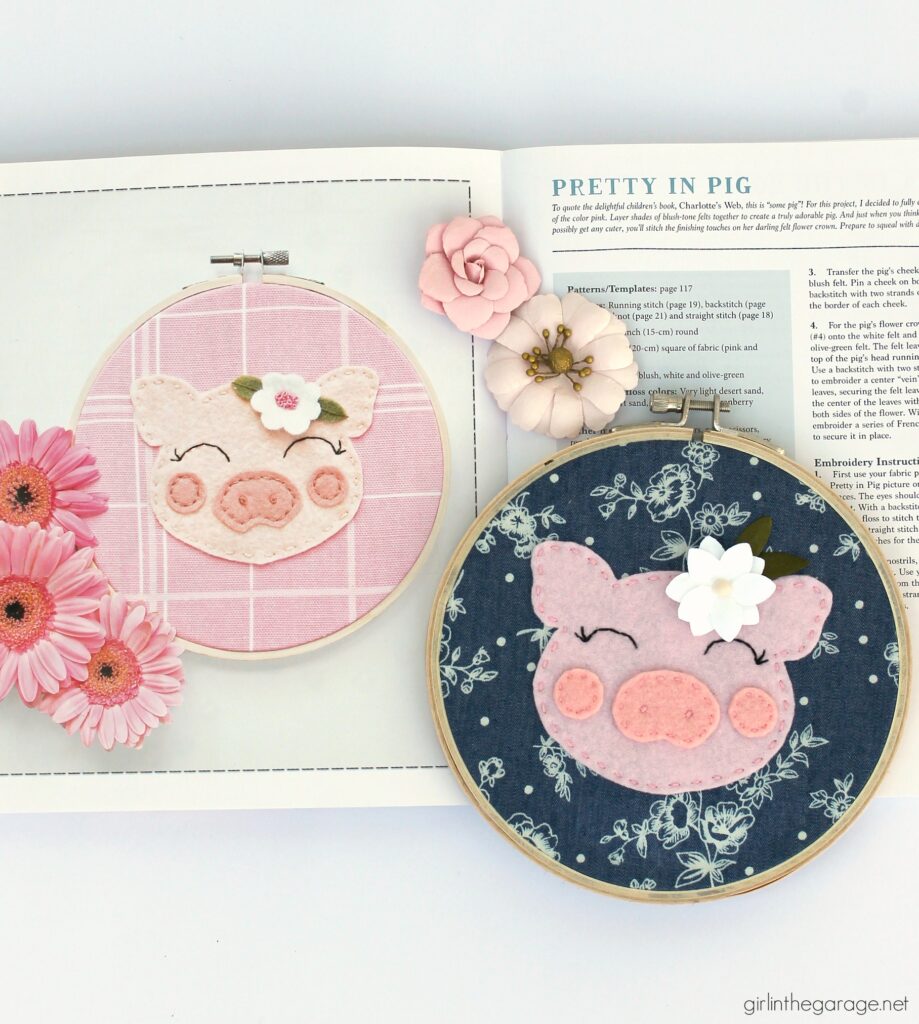 Whimsical Felt Embroidery is full of fun ideas and I'm having trouble deciding which to make next: the monkey, the red panda, the mountains, the mermaid, the ice cream, the potted plants…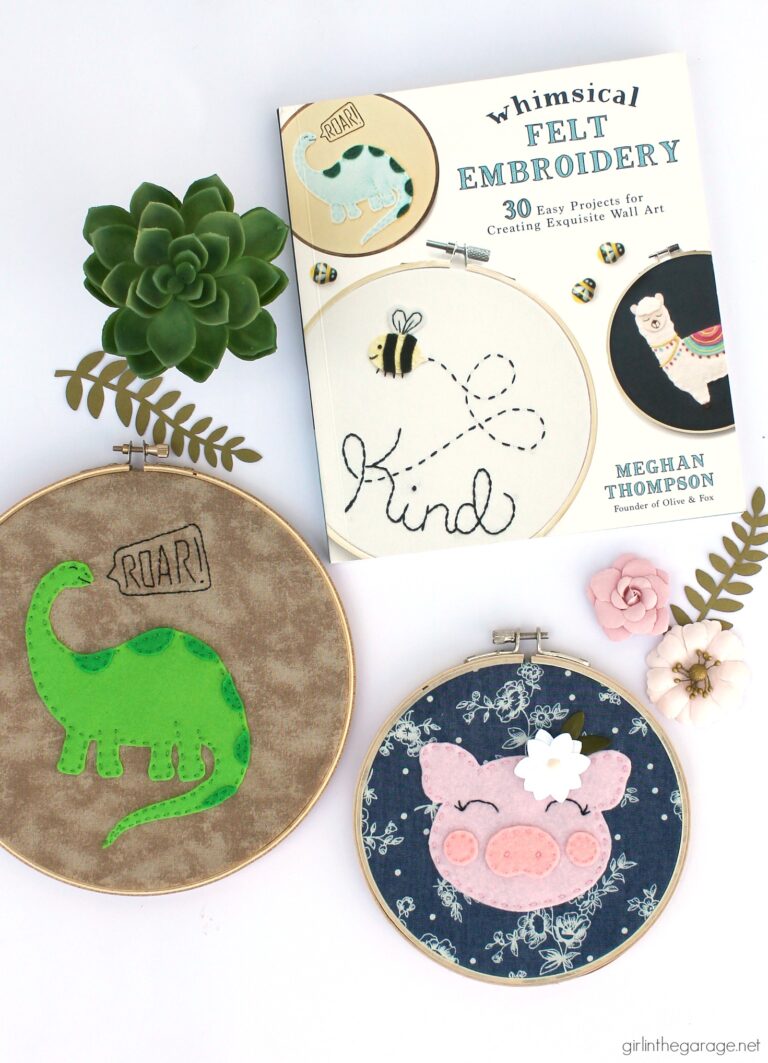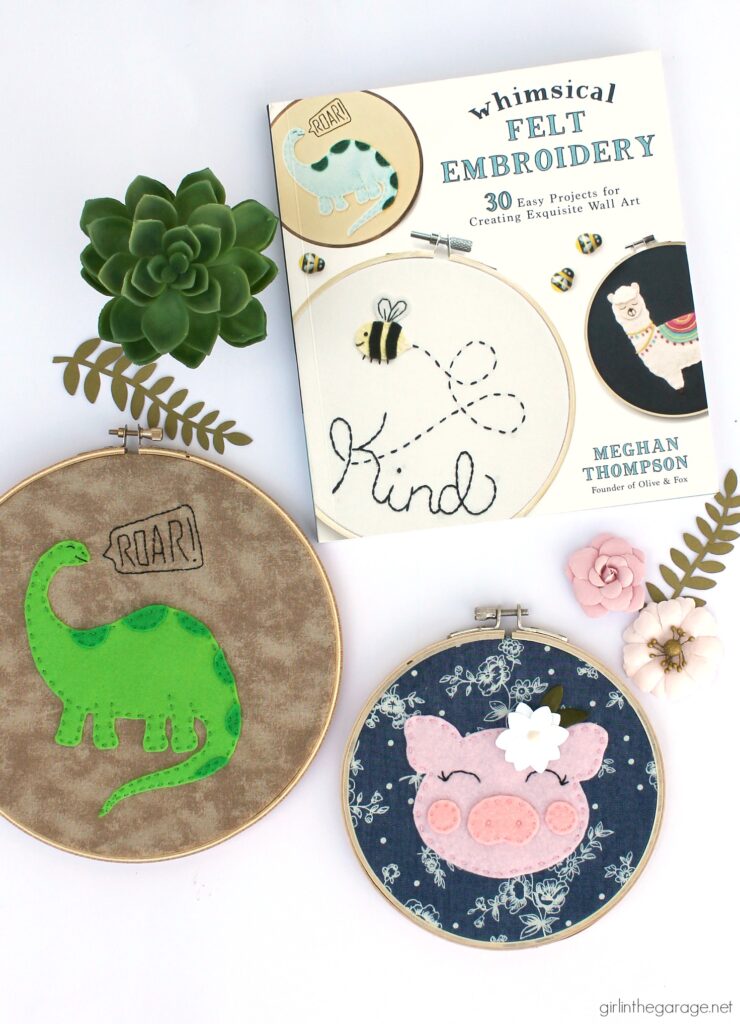 Whichever I choose, it will definitely be adorable – even with my limited embroidery skills. I think older kids would love doing these projects at home too!
Feel free to share or Pin the image above or below for easy reference later. 🙂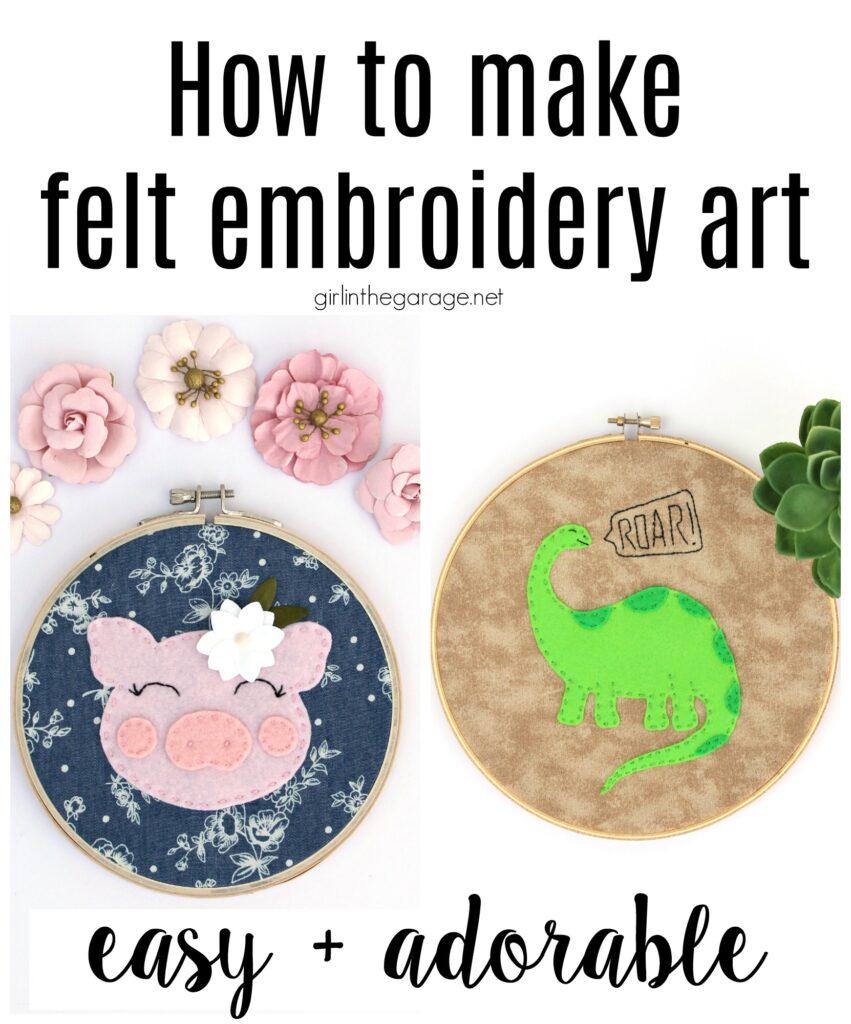 You'll also be inspired by following the book's author Meghan on her Instagram at Olive and Fox or her Etsy shop.
And if you're looking for more books to help you stay creative at home, I highly recommend the ones below: