How to Add a Raised Stencil to Furniture – Step by step painted furniture tutorial
Hello again, friend! I just love when we get a chance to chat and talk about furniture makeovers. Today's antique humidor project was hard to resist at an estate sale where I got all the goodies below. The server needs a lot of work but the cedar chest is in excellent condition except for some scratches on top.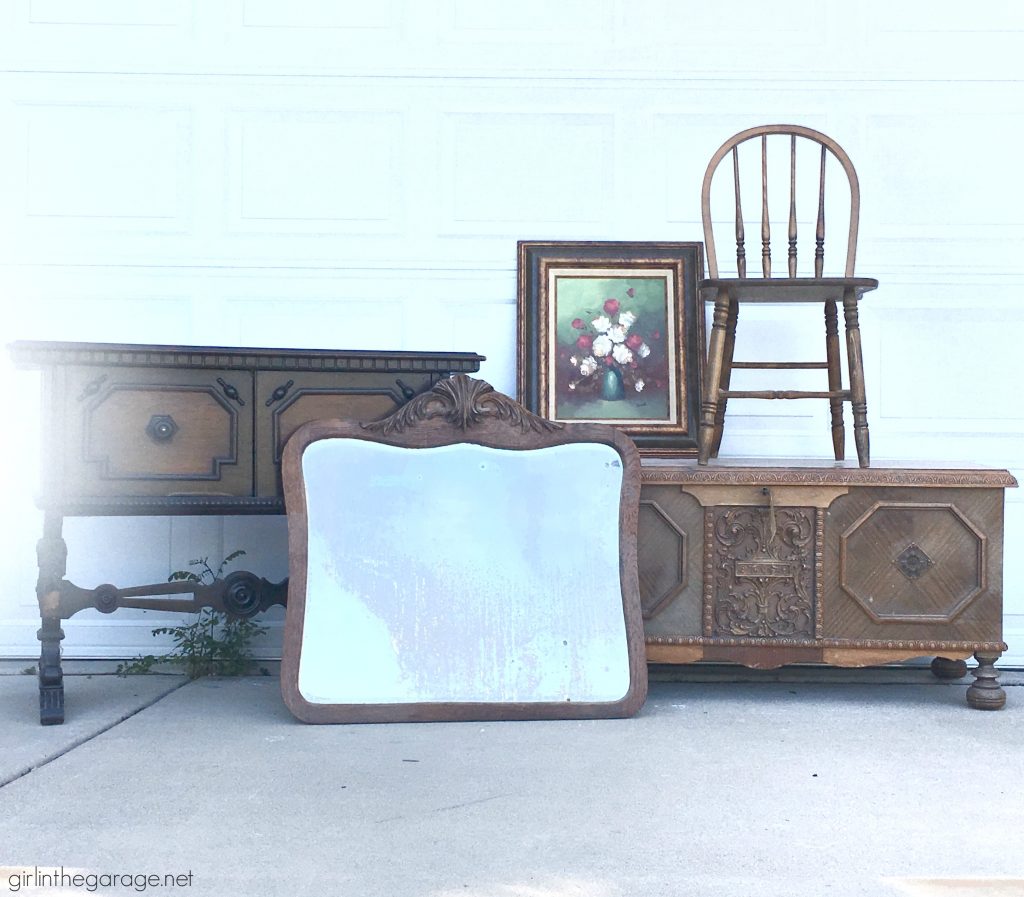 All those beauties only cost $75. That is cuh-razy, so you can understand why I couldn't leave any of them behind!
The humidor isn't pictured because in my excitement, I forgot to go back in the bedroom in the house and grab this little antique before I left – but thankfully it was still there the next morning. 😉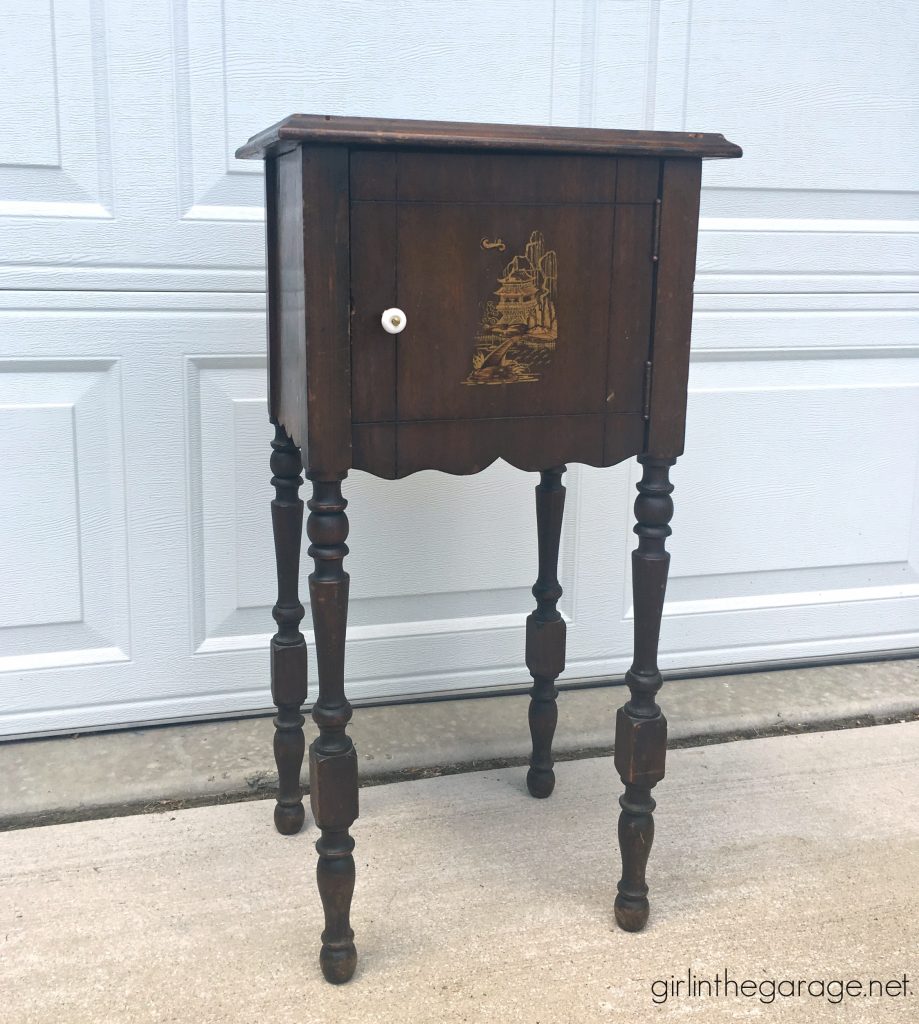 ***VIDEO ALERT: It helps if you can just watch someone do it, right? Inside this post, look for a short video showing you exactly how to do this project. If you find the video and you want to restart it from the beginning, just refresh the page.
There was an interesting gold graphic on the front, but no markings anywhere about the age or maker.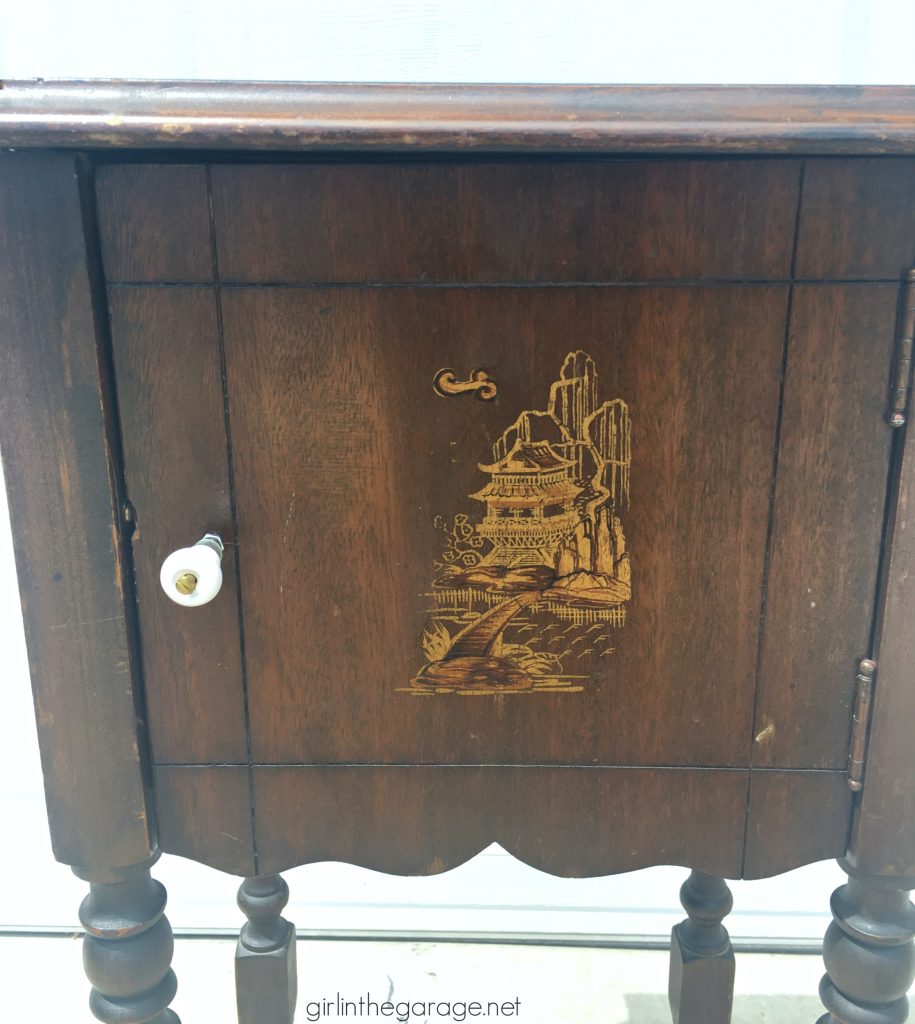 *This post contains some affiliate links so you can easily find the products I use and recommend. Also you can discover all of my favorite brands and tools for doing furniture makeovers Here.
The inside is lined in copper, which I learned is for if someone places a hot ashtray inside, it won't catch the whole thing on fire. #themoreyouknow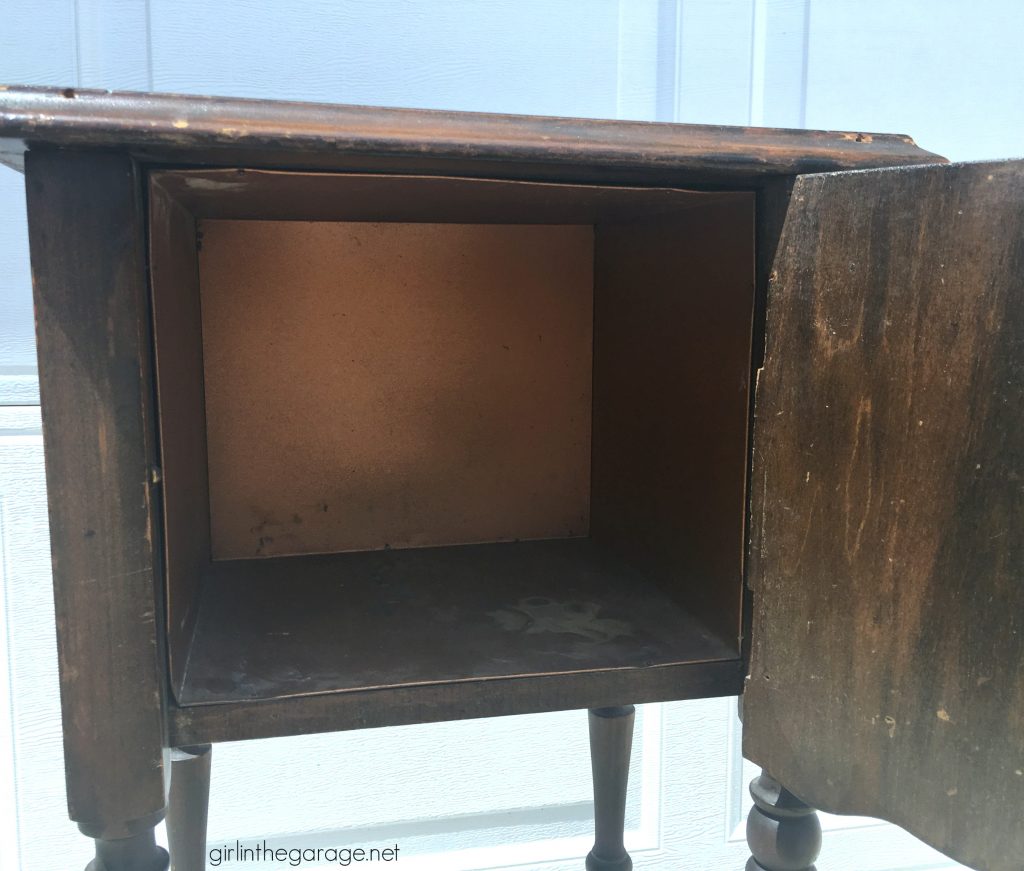 First, the top veneer was peeling off so I smoothed it out only in a few minutes with the electric sander. (Such a timesaver!)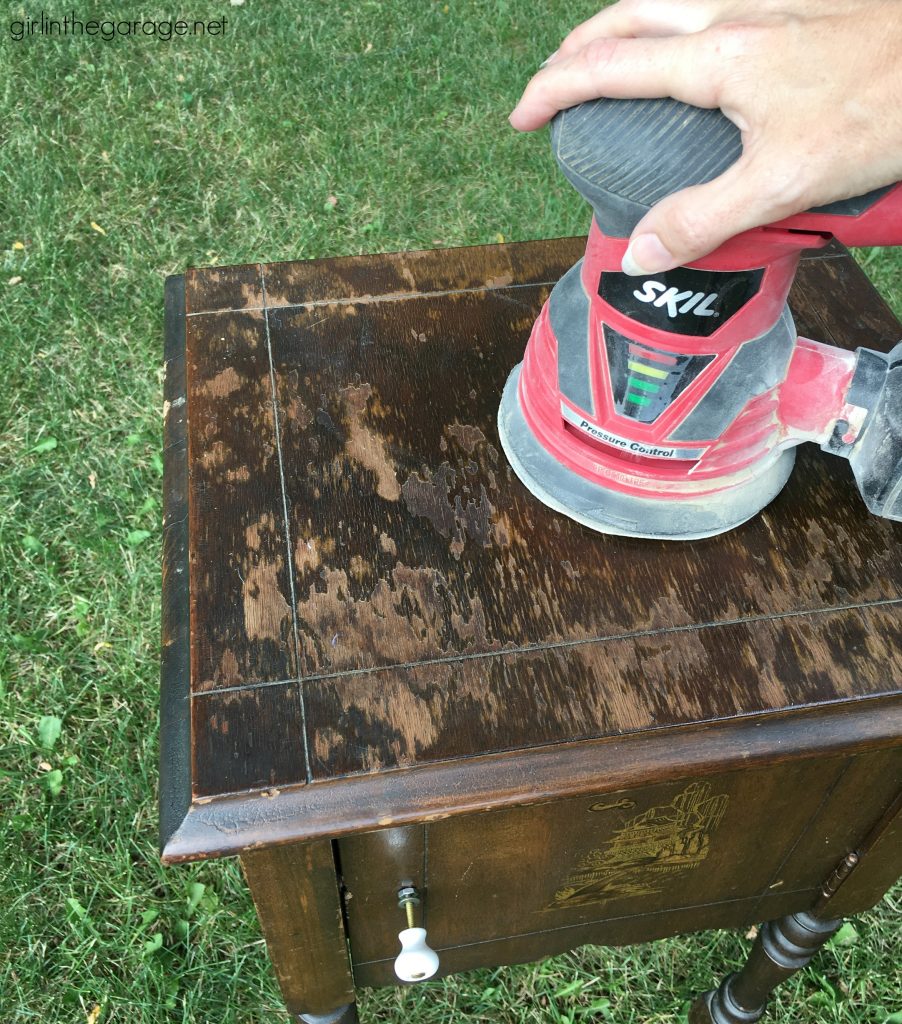 Friend, please remember to wear safety protection and follow directions when using power tools.
This took just a little time, and here it is all finished… nice and smooth.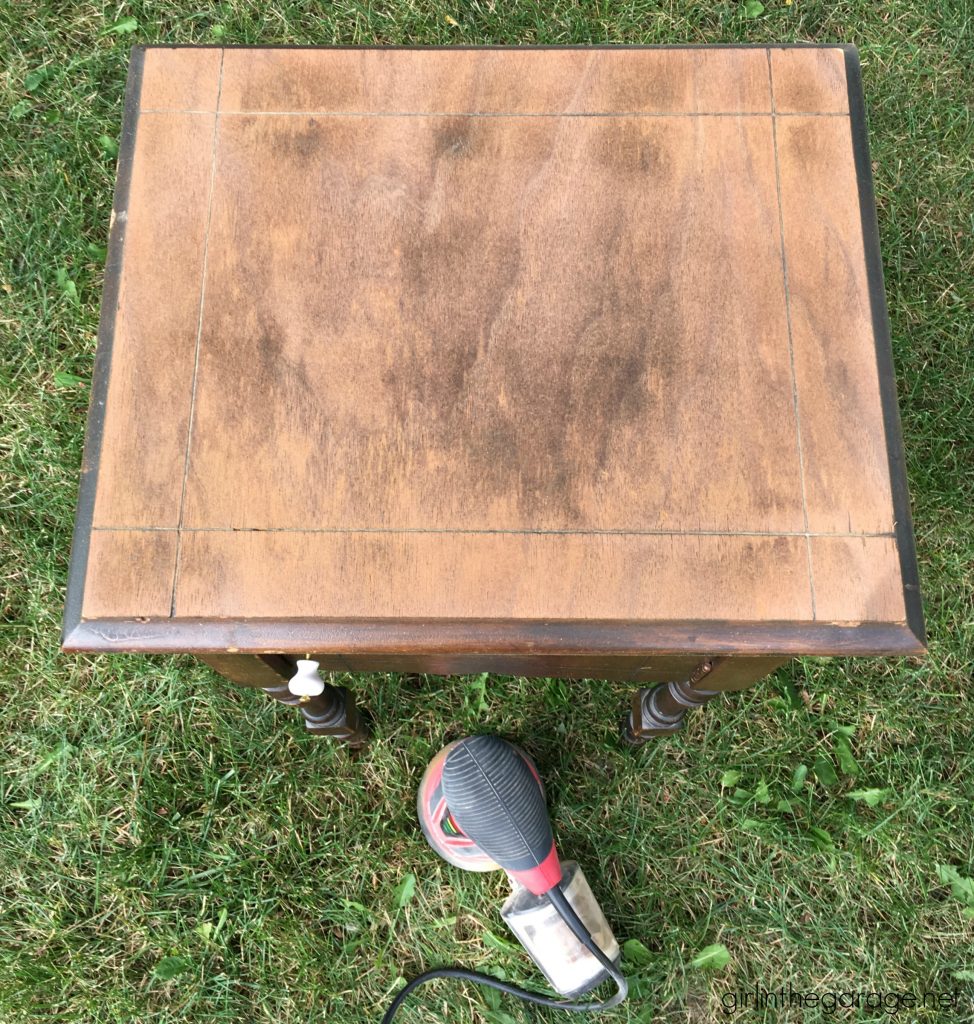 How to Add Texture to Furniture with a Raised Stencil
First, you need a stencil (like this Fleur de Lis stencil or this similar one which I also like a lot). You can choose one to make a single large image like this one, or a stencil with a smaller pattern that repeats so you can cover the entire piece (see the embossed nightstand example at the bottom of this page). I don't recommend using one where the openings are very thin.
Tip: Choose a stencil that's big enough for your piece. Don't pick a 6×6 inch stencil to use on a huge dresser, it will take forever to finish!
Normally I would use spray adhesive on the back of the stencil first, but since this one is small, painter's tape worked fine to hold it in place.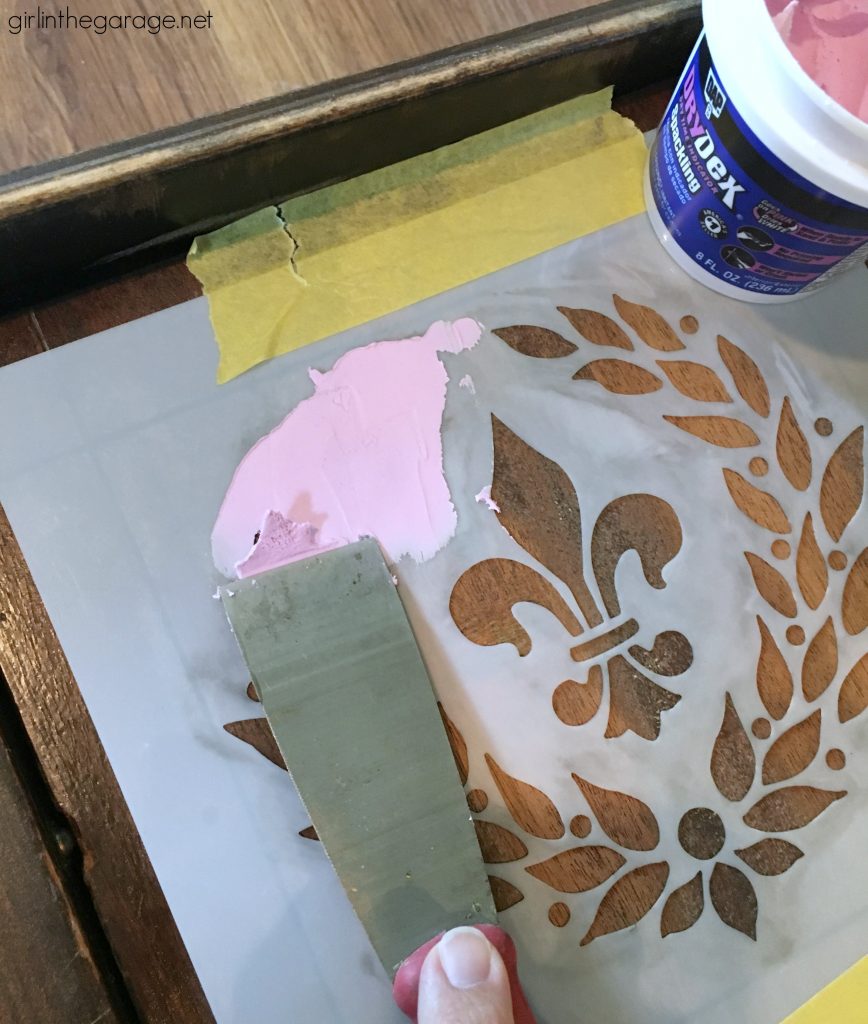 You absolutely don't need fancy or expensive products to create a raised stencil pattern on furniture. Use a putty knife to cover the stencil with a thin layer of spackling, which is available at any home improvement store. I like this one by DAP because it starts out pink and then turns white when it's completely dry.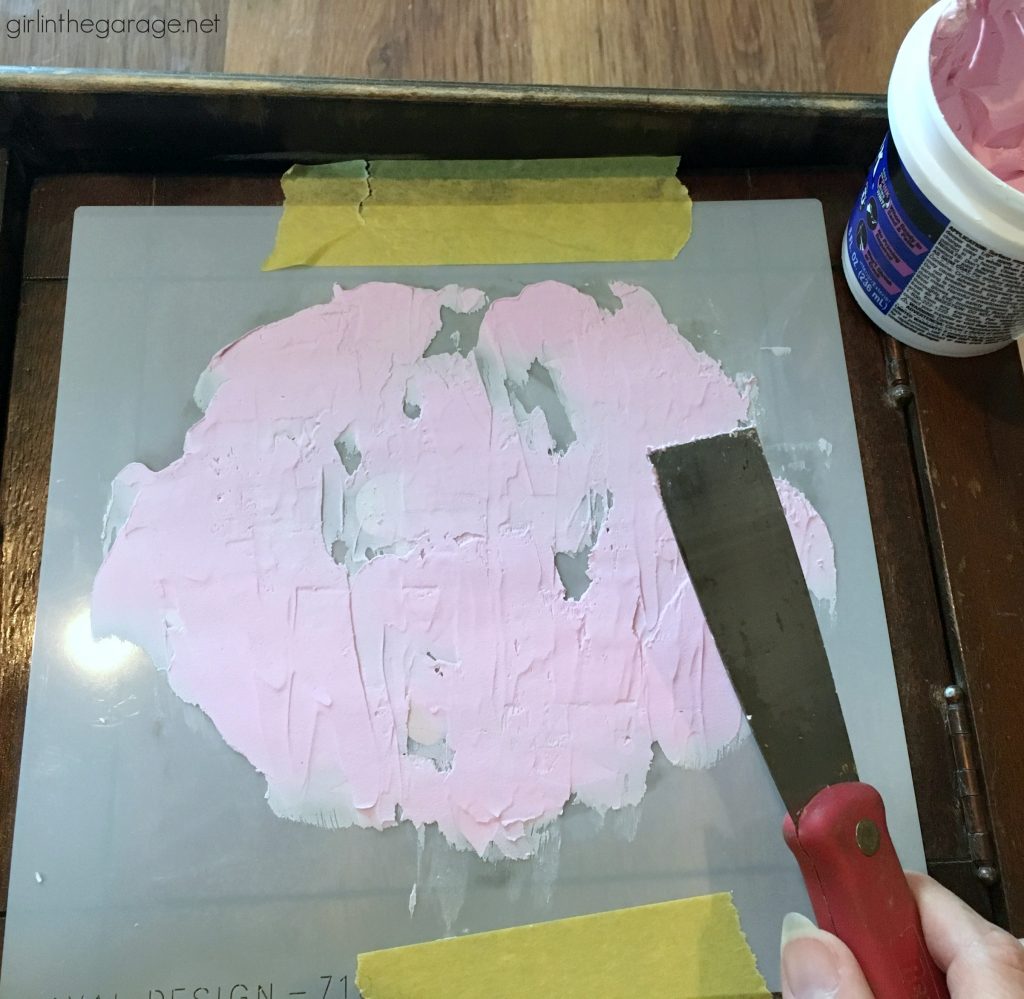 If you put too much spackling on, gently wipe away the excess with the putty knife before it starts to dry. You only need a thin layer for this raised stencil technique to make an embossed texture on your furniture.
Carefully lift the stencil, making sure the spackling sticks to the wood and not the stencil. As you can see below, a few areas got separated. That's okay because some of that can be fixed when it's sanded. And if not, we'll just say it's character. Most antiques have some charming imperfections. 🙂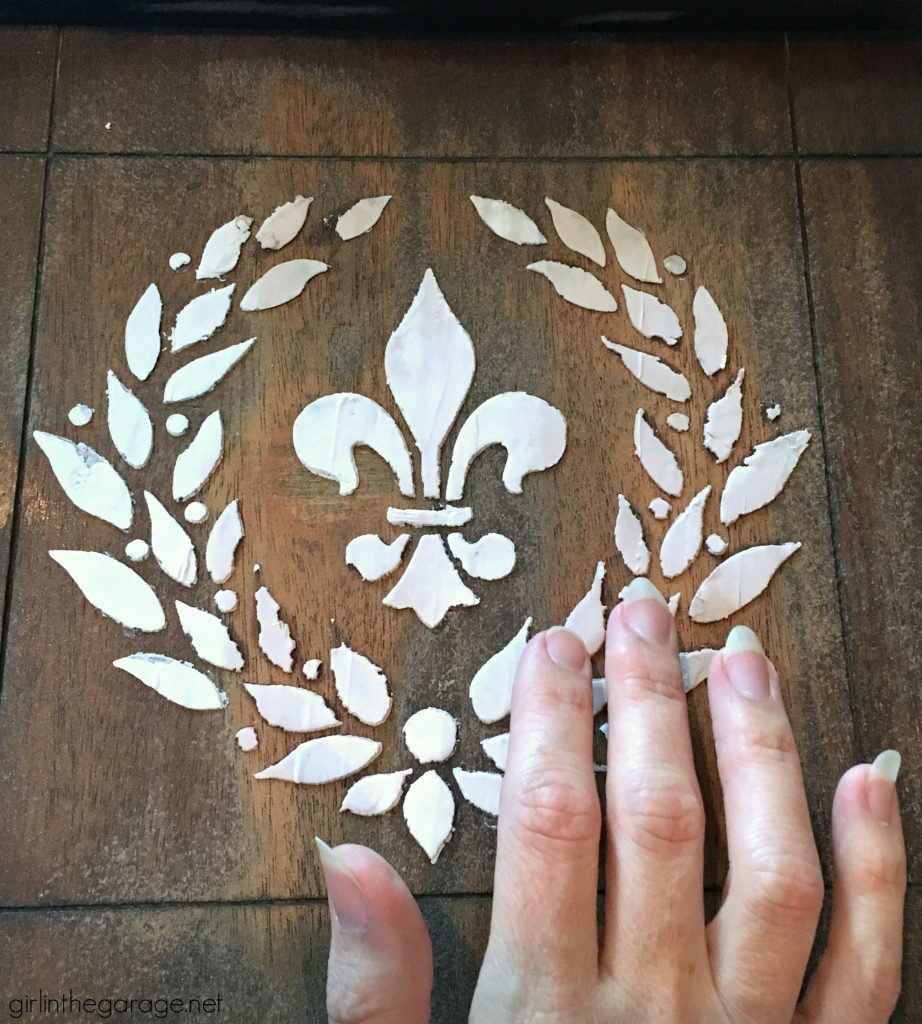 Make sure you lift the stencil while the spackling is still wet. Lightly pat the area with your finger to press it down and smooth any lines. Then clean the stencil right away so it doesn't get ruined.
Changing the Hardware on the Cabinet Door
The old hardware was just a screw with an ugly knob and it wasn't even centered. I marked where the new hole should be and drilled with my handy dandy drill/driver combo. This is another part of the project that's quick and easy if you're using the right tools for the job.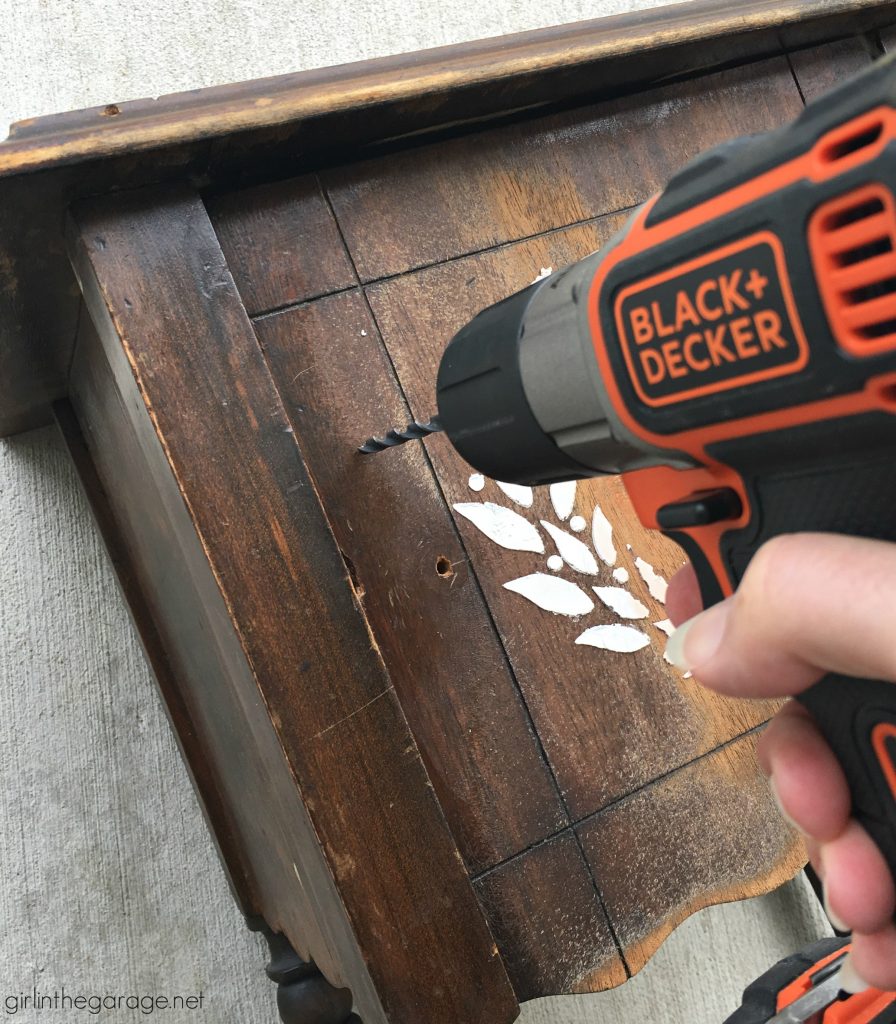 The old hole was filled in with my favorite wood filler and then sanded smooth after it dried. I chose a new hanging pull that was on clearance from Hobby Lobby.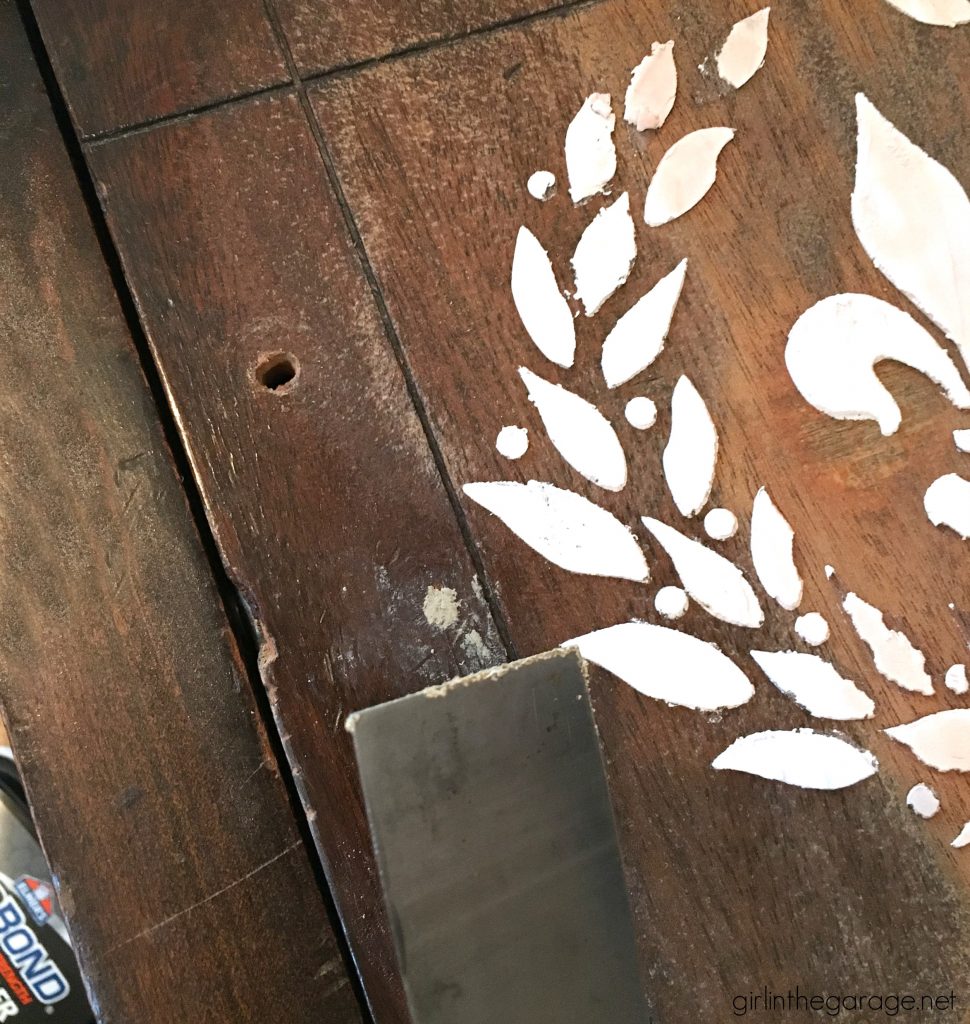 Next I lightly sanded the dry spackling with 320-grit sandpaper to smooth it out and get rid of any weird bumps in the texture.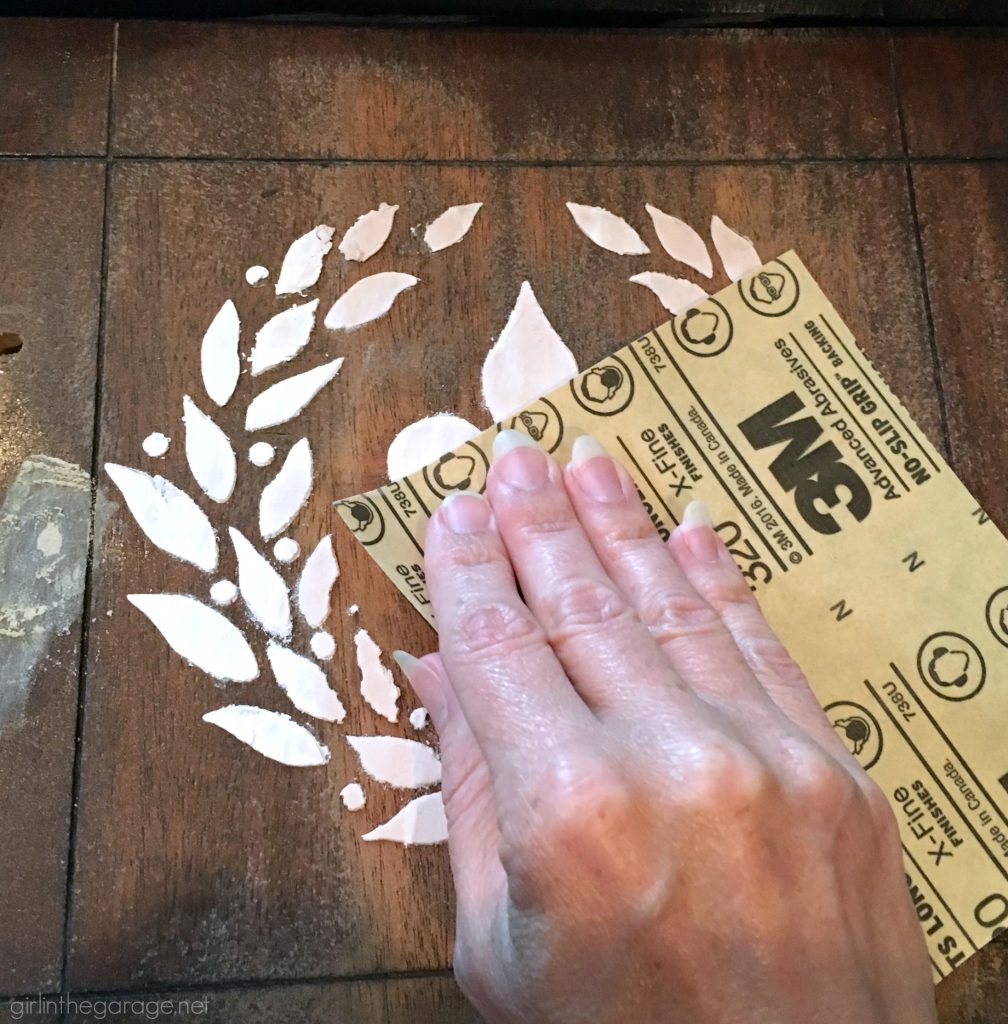 Painting and Distressing the Humidor
Then I painted over it brown (Honfleur Chalk Paint by Annie Sloan and one of my favorite Purdy paint brushes) so the base color would be the same all over the humidor (I'm thinking it might end up used as a nightstand though).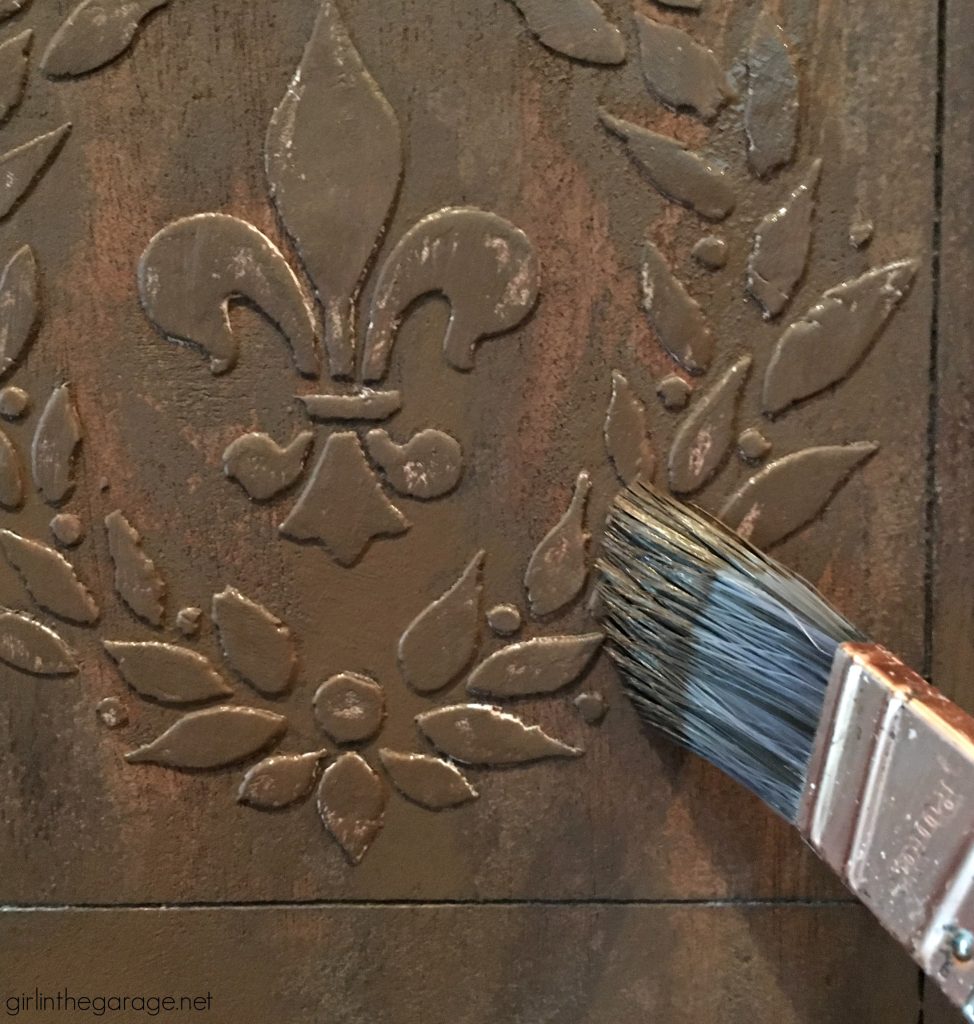 Once that was dry, the entire piece was painted off-white (Old Ochre Chalk Paint by Annie Sloan). I had to work to get it in all the little nooks and crannies of the raised stenciled design, which gave it a lot more texture.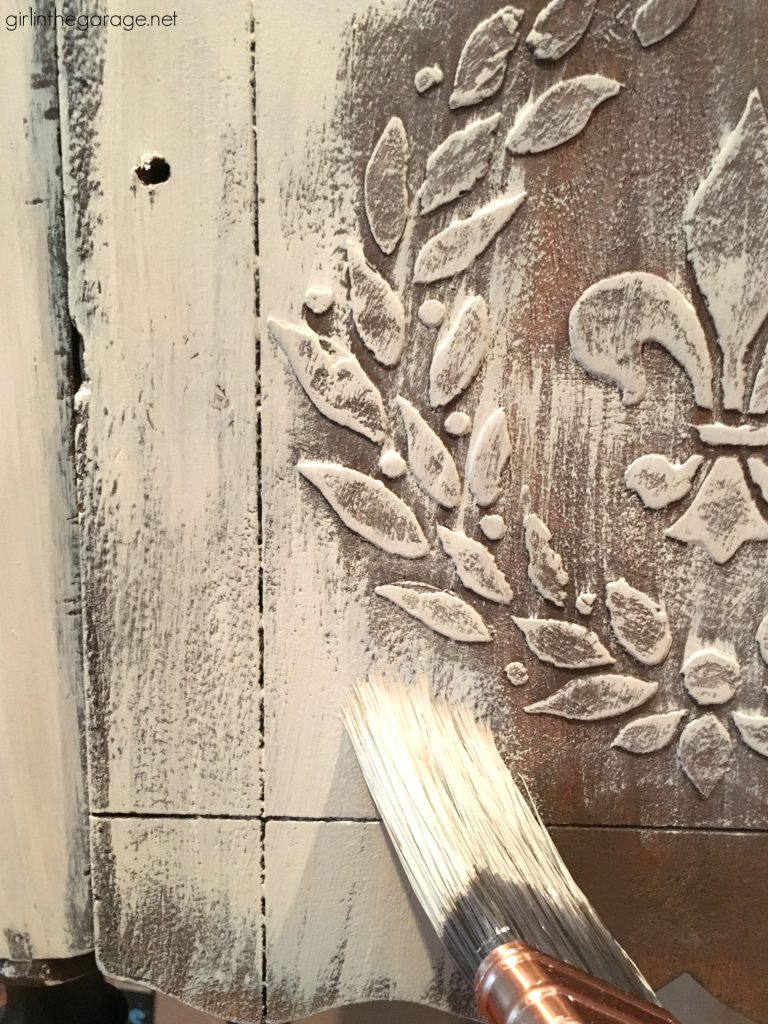 Curious about how to use Chalk Paint? All your questions are answered in this post: How to Chalk Paint Furniture: Beginner's Guide to Chalk Painting
Then I sanded, sanded, and sanded with 320-grit sandpaper to smooth out the top of the humidor…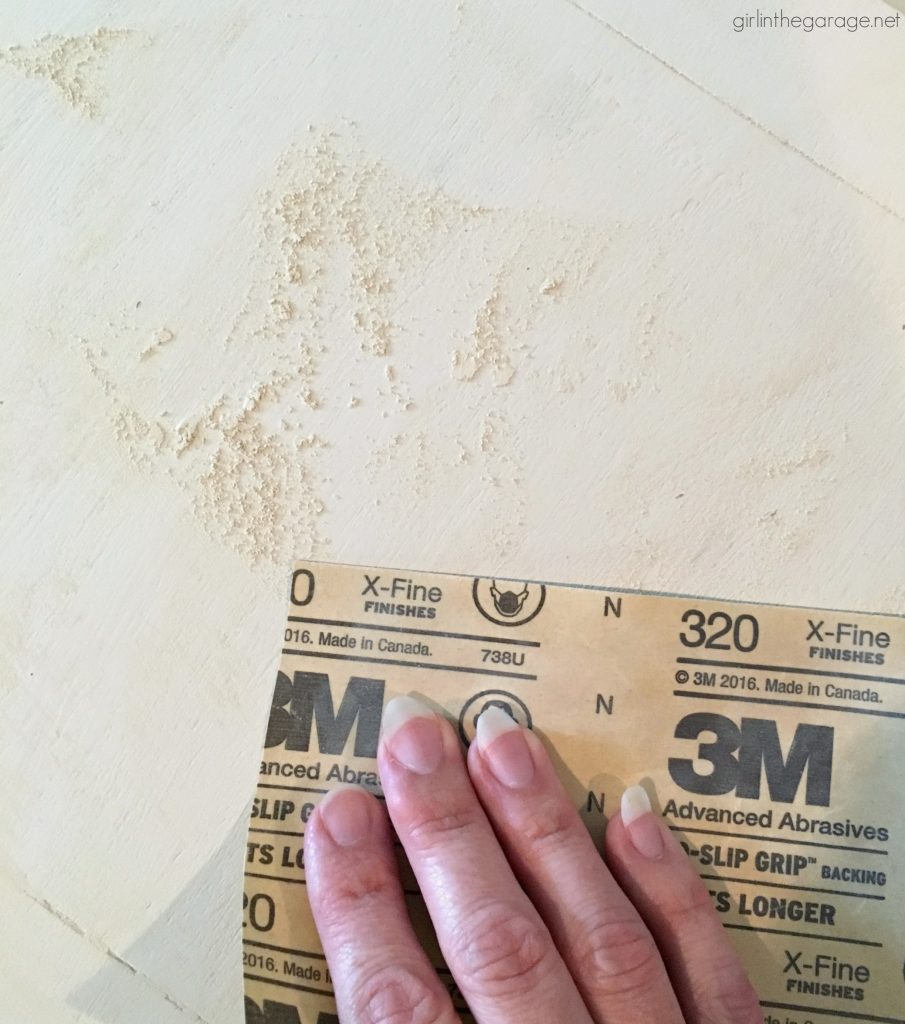 …and all around the design. I also distressed around the edges and legs so the brown would peek through from underneath.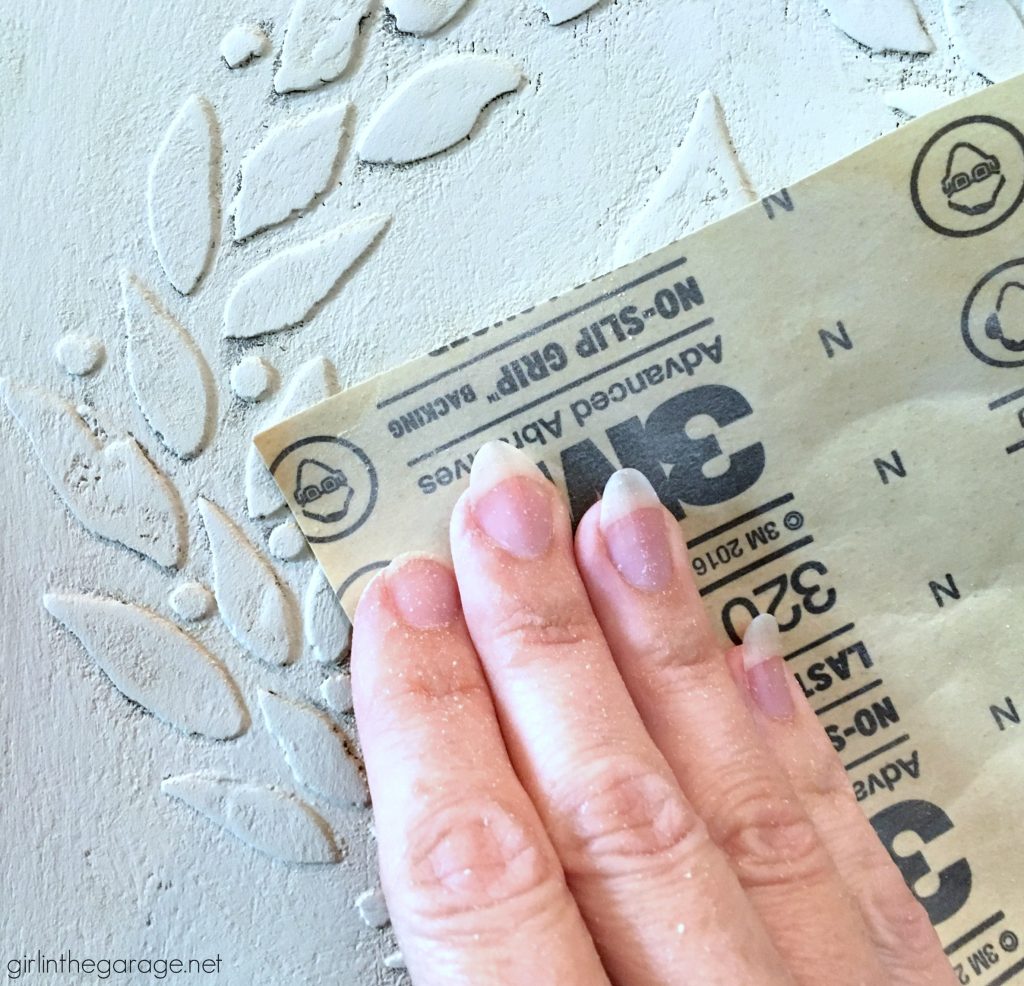 Finally, it was protected with Annie Sloan's clear wax applied with a lint free cloth.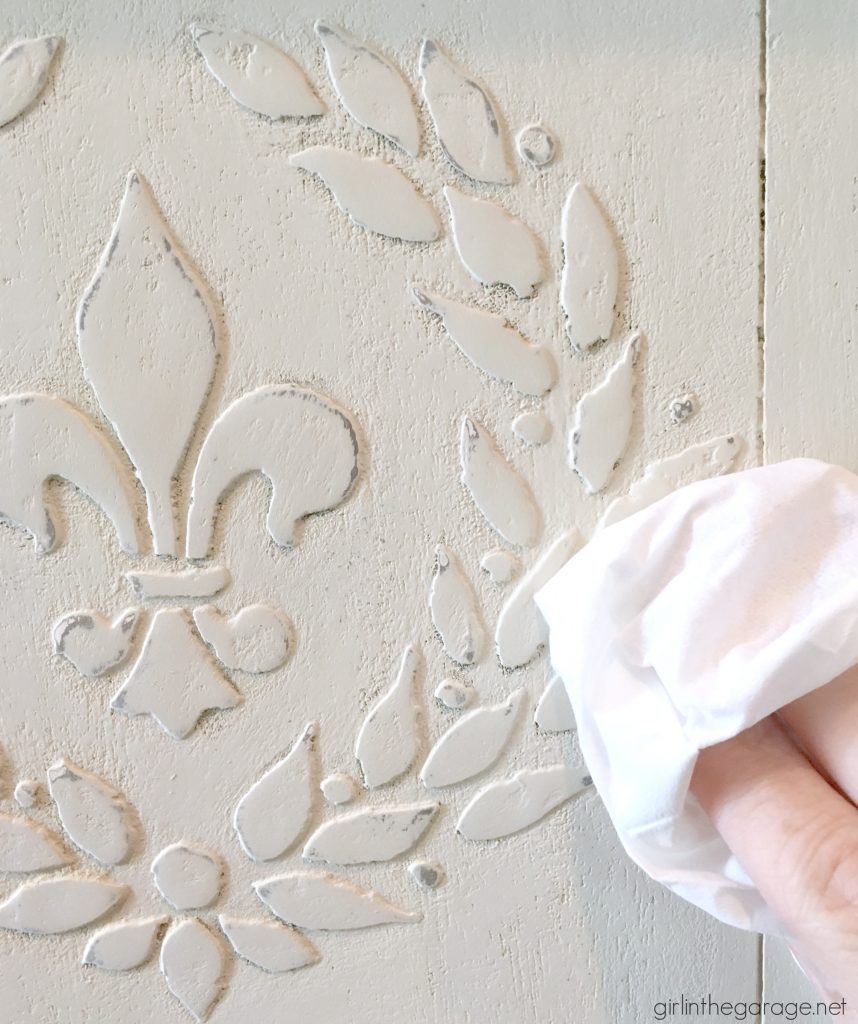 Now that you know how to do a raised stencil furniture makeover for texture, here's how this antique humidor makeover looks now: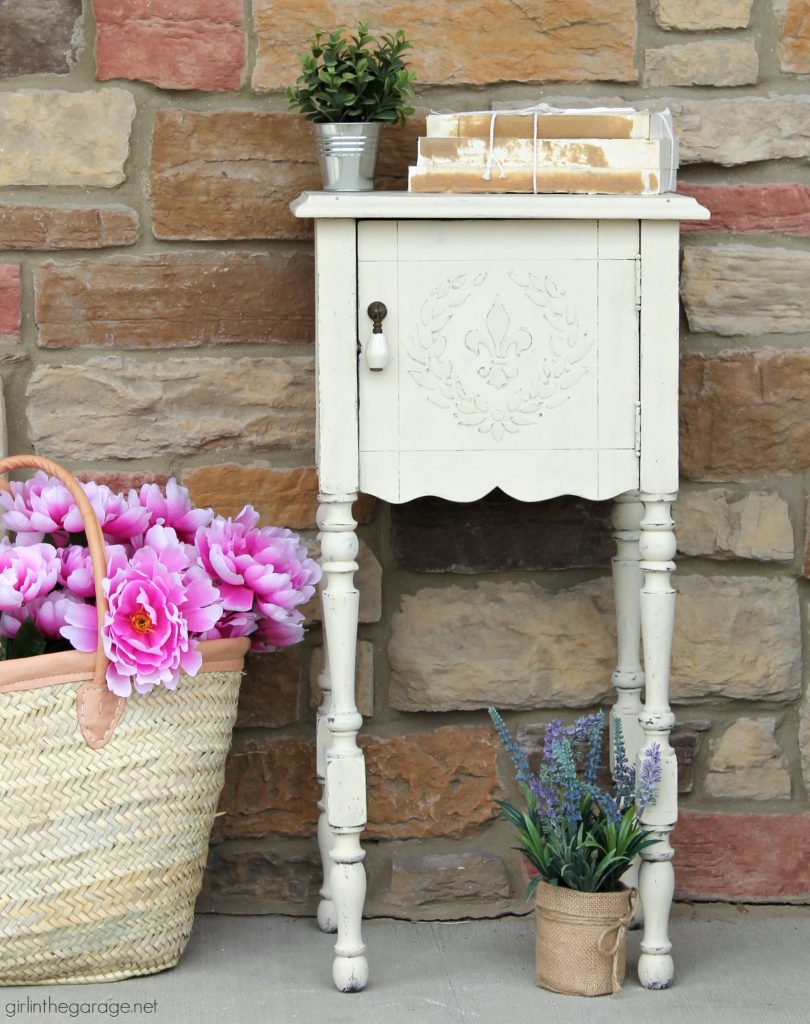 You'd never guess the top was so grungy before – and it was such a simple fix with the electric sander.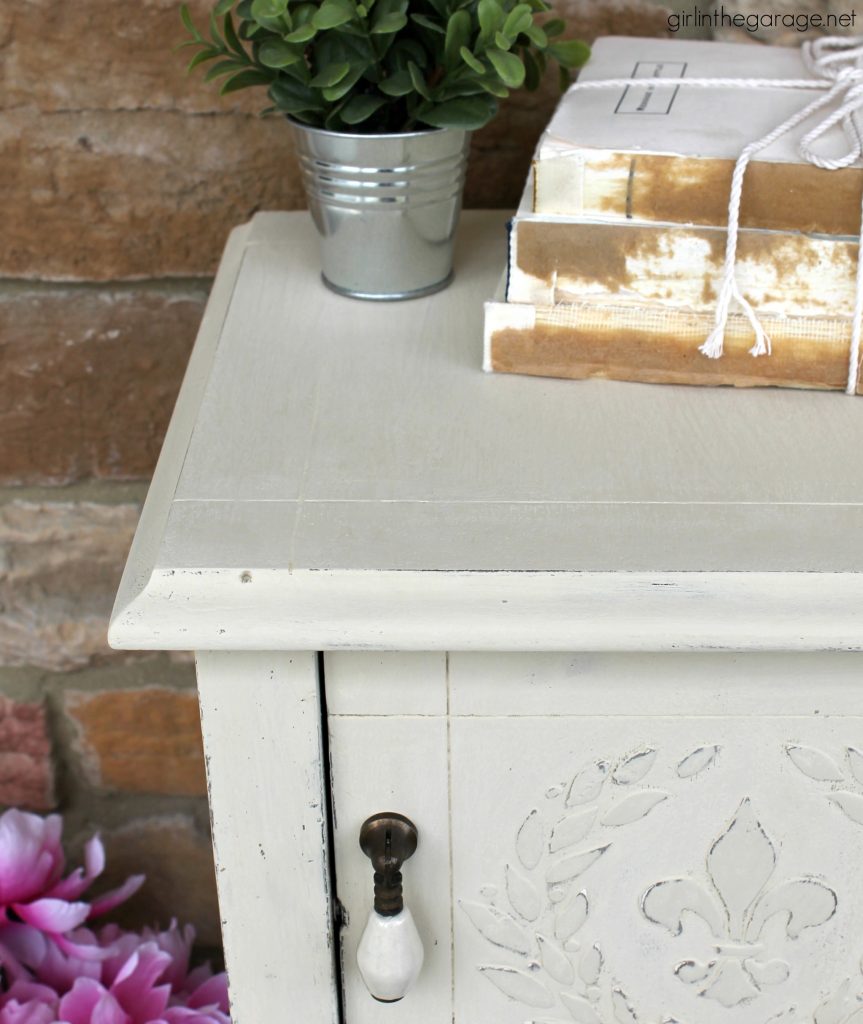 The raised stencil (aka embossed) pattern looks so chic and even more so with the distressing. It almost looks like it was always part of this piece.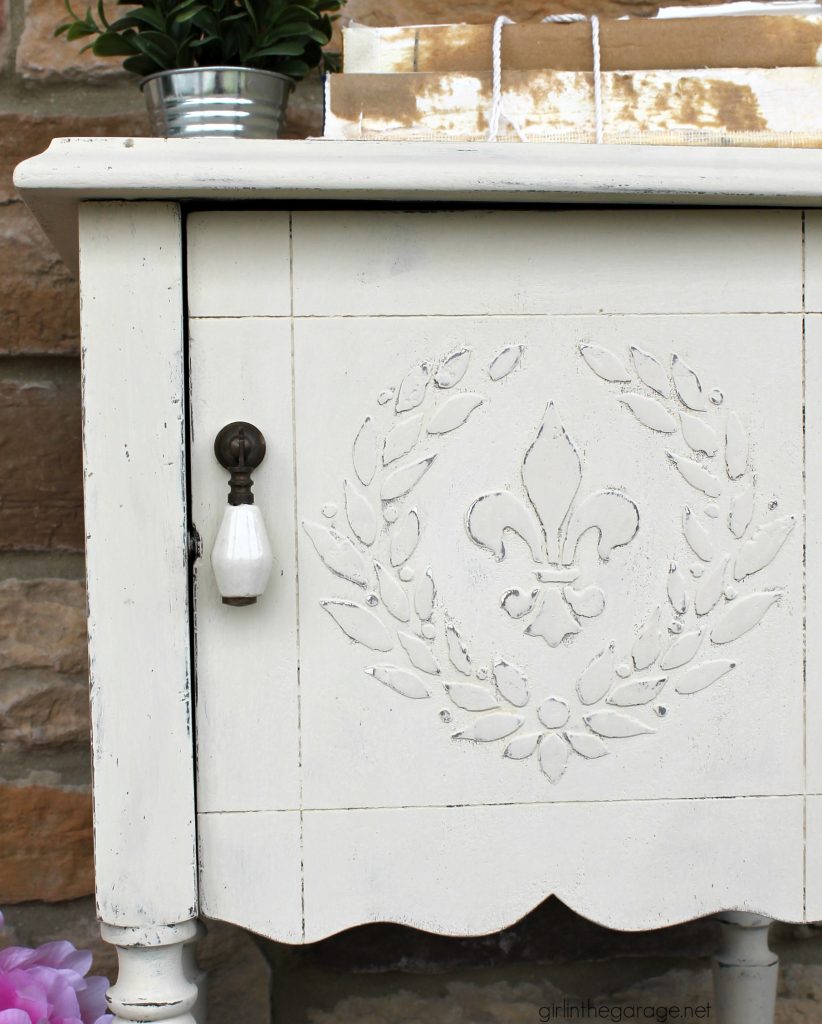 The legs were what really won me over in the beginning. Just look at those curves.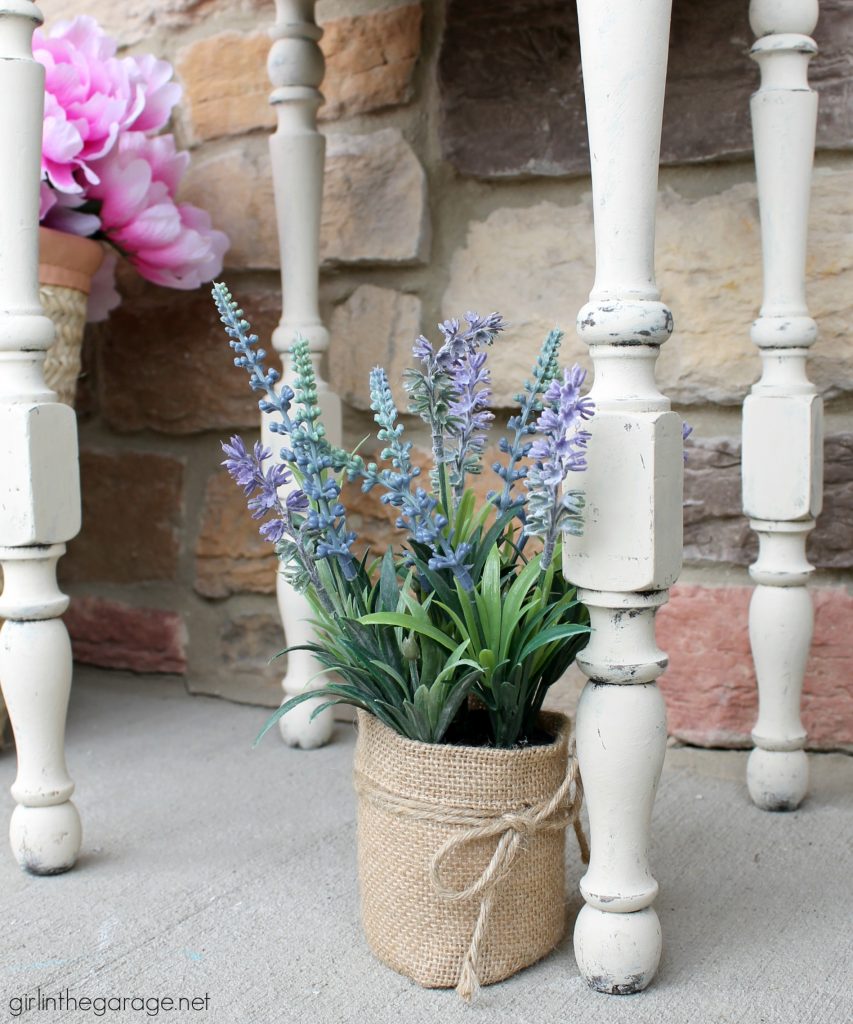 The inside was also cleaned up.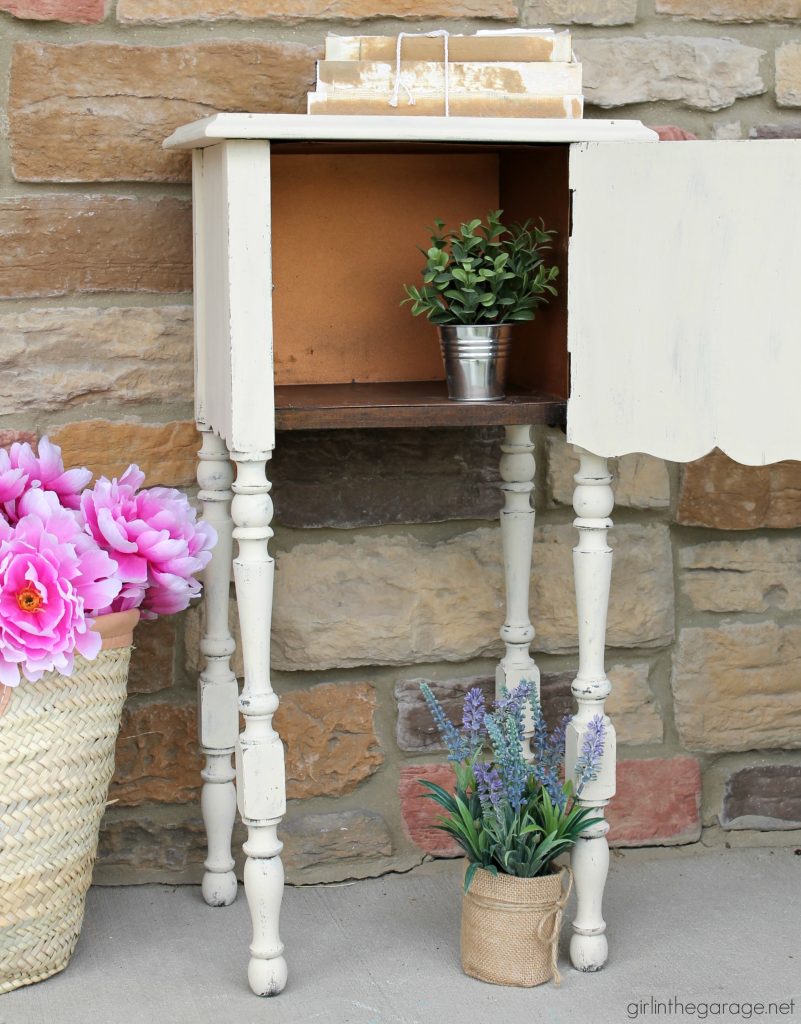 Here's another close look at the raised stencil: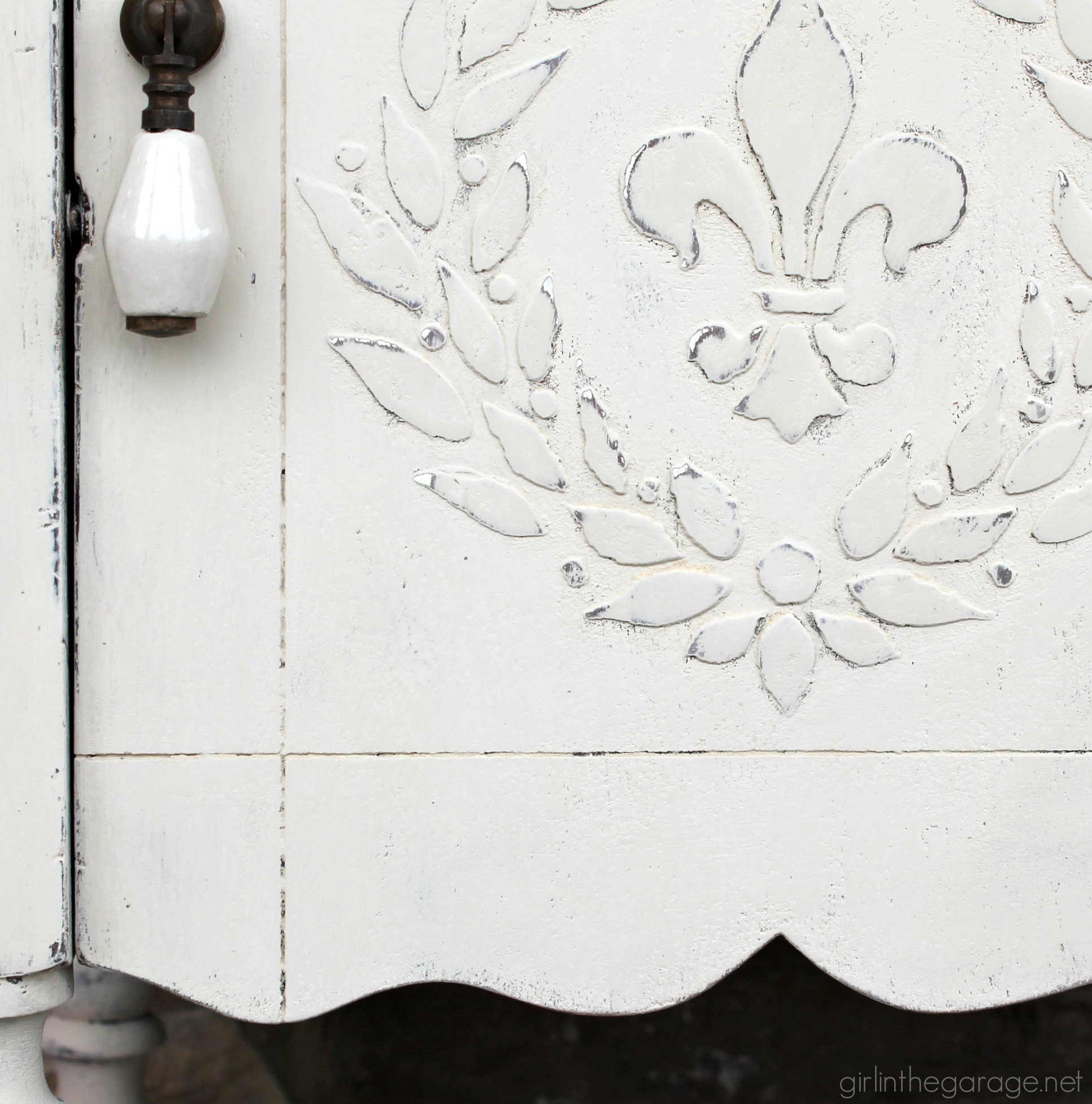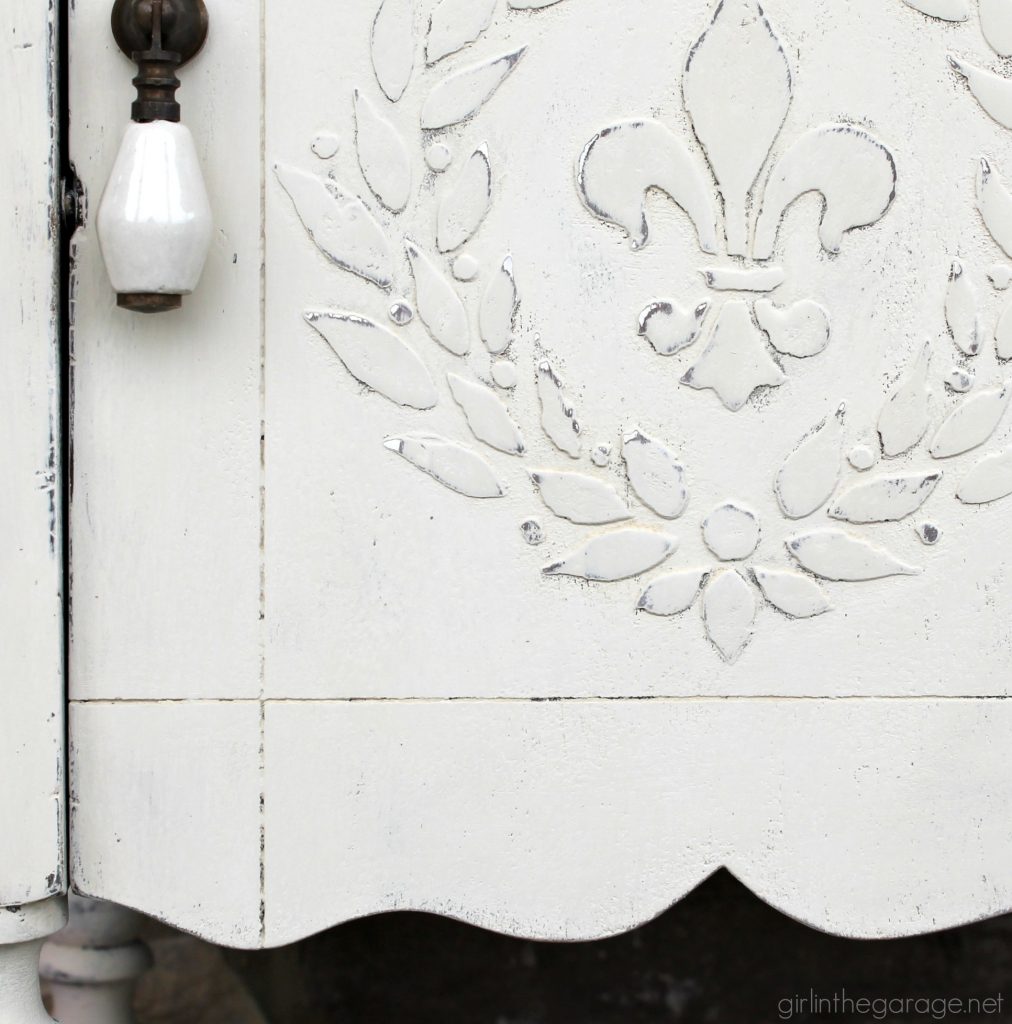 I teach a similar technique in my book Amazing Furniture Makeovers: Easy DIY Projects to Transform Thrifted Finds into Beautiful Custom Pieces – below is the Embossed Nightstand (which I lovingly refer to as the "mermaid dresser"). Learn more about Amazing Furniture Makeovers and see 300+ reviews on Amazon Here.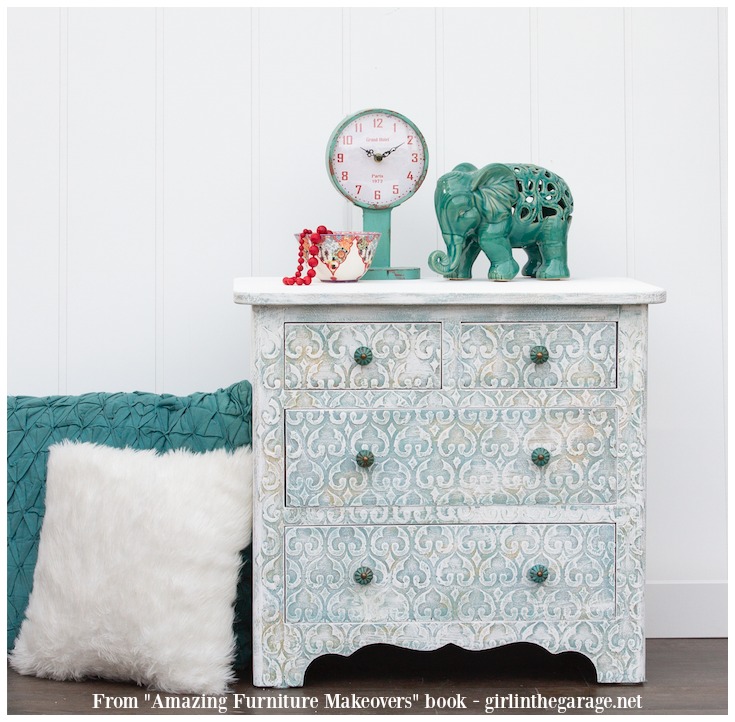 Here's another reminder of the before and after of this antique humidor with raised stencil furniture makeover: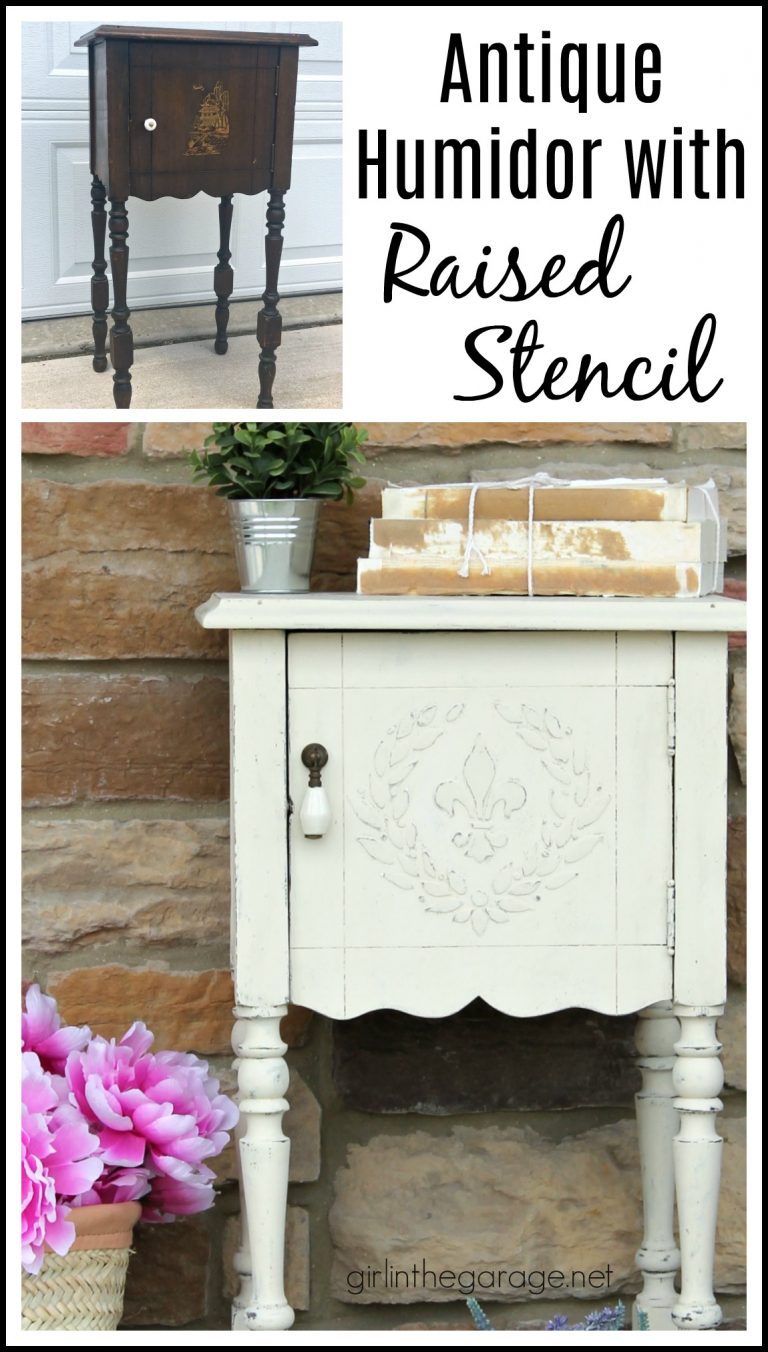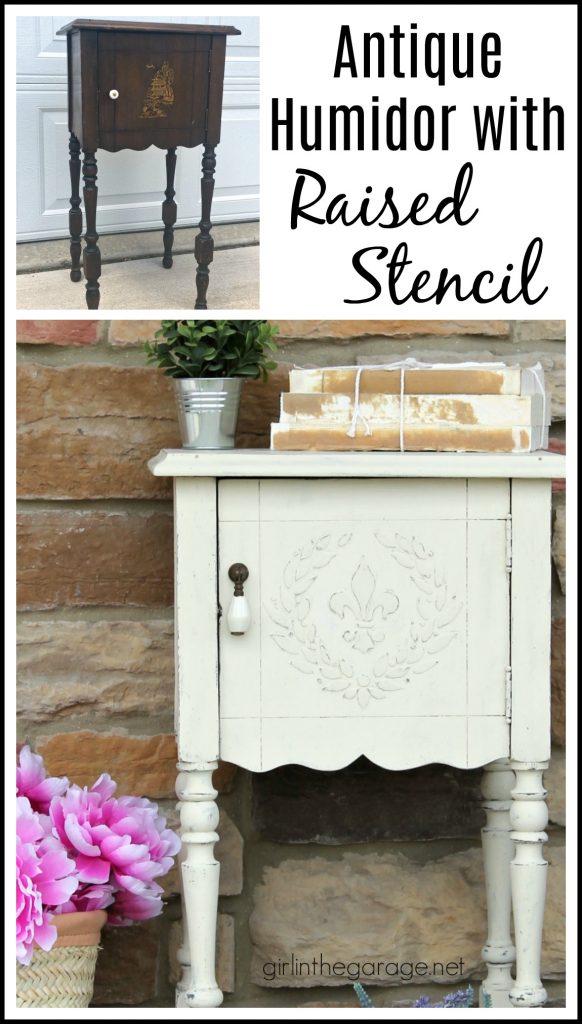 Feel free to share this project or pin it for easy access later.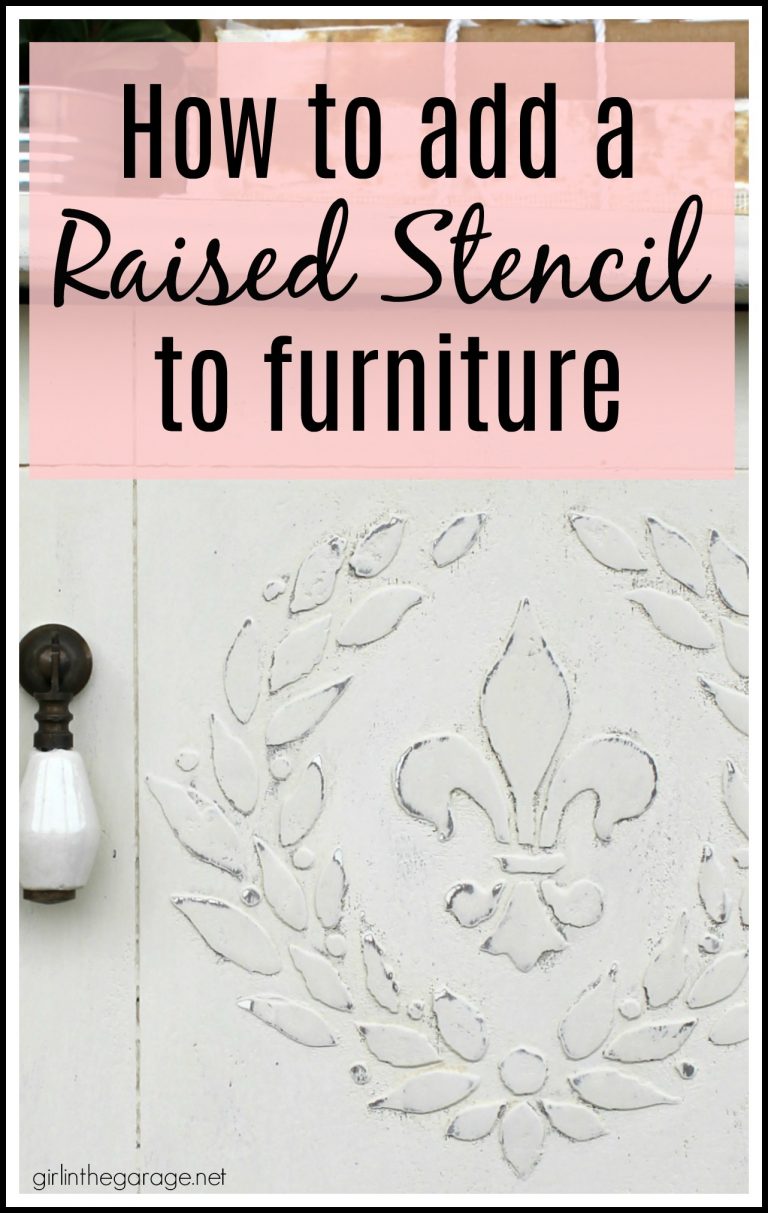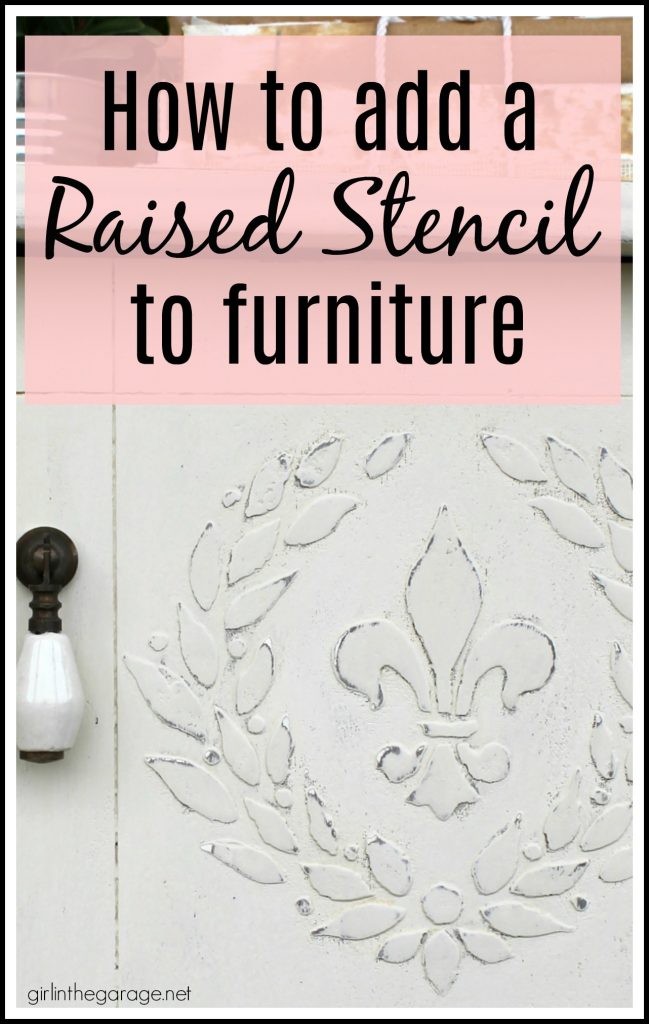 This technique has so many possibilities! I'm on the hunt for a much larger piece to add a raised stencil to. The design makes it seem like the extra texture was always there… and reminds me of antique embossed ceiling tiles.
I'd love to know your thoughts, and what kind of makeover you've been working on lately. Have you tried raised stencils on furniture before? I appreciate you, friend! – Jen
Now it's time again for Trash to Treasure makeovers with my thrifty blogging friends: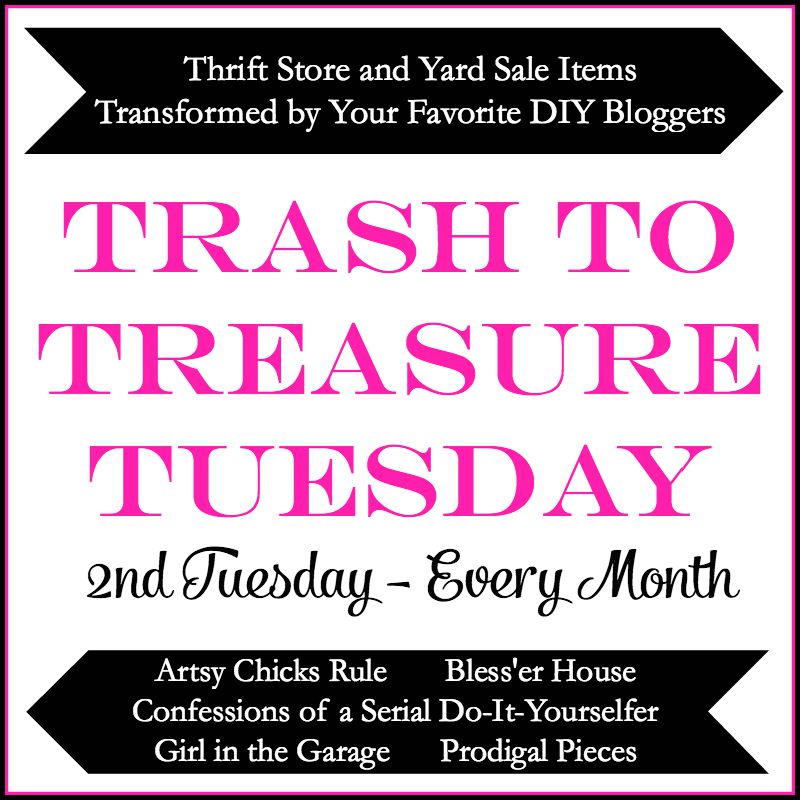 Below are the Before photos – visit the links underneath to see the amazing Afters and to learn how they did it.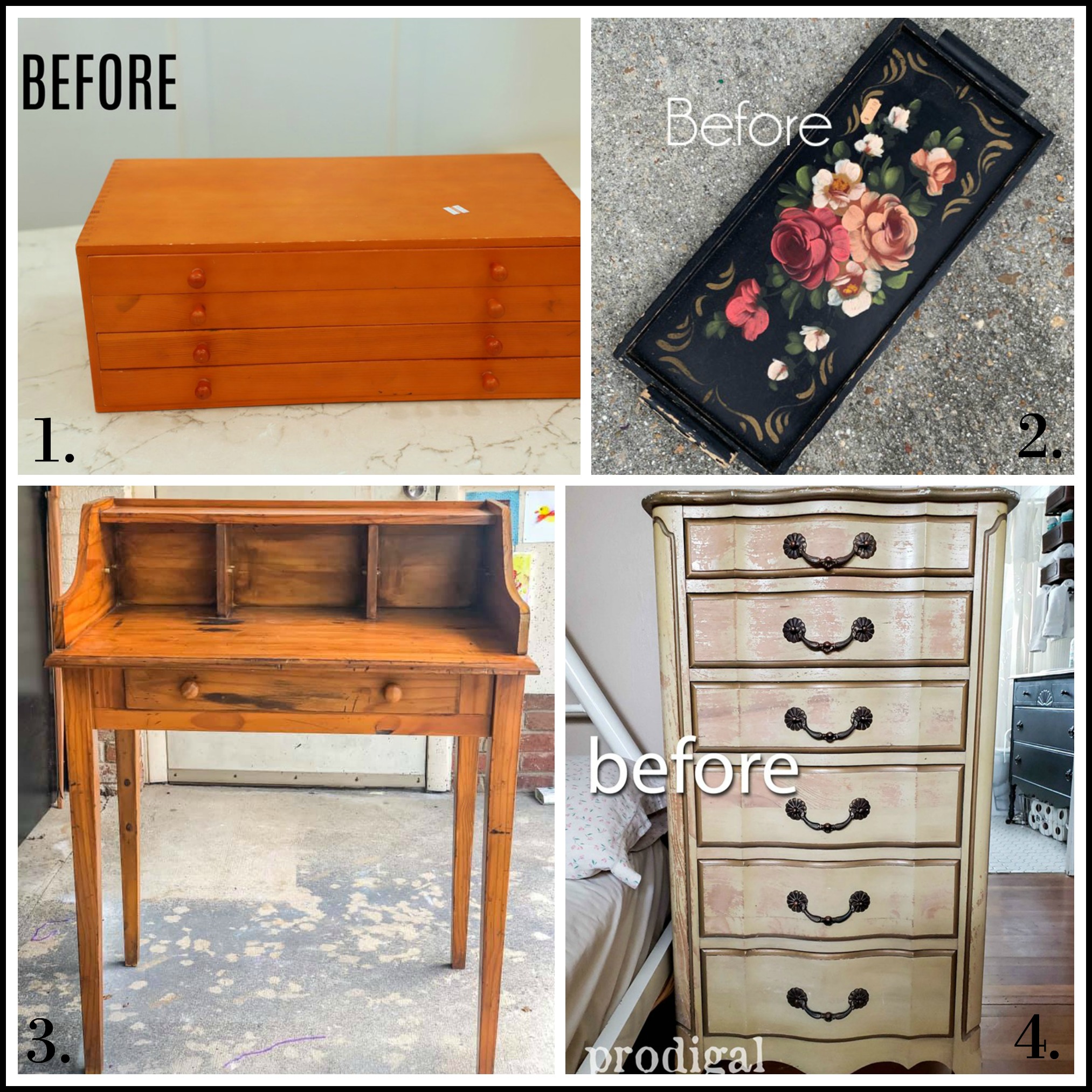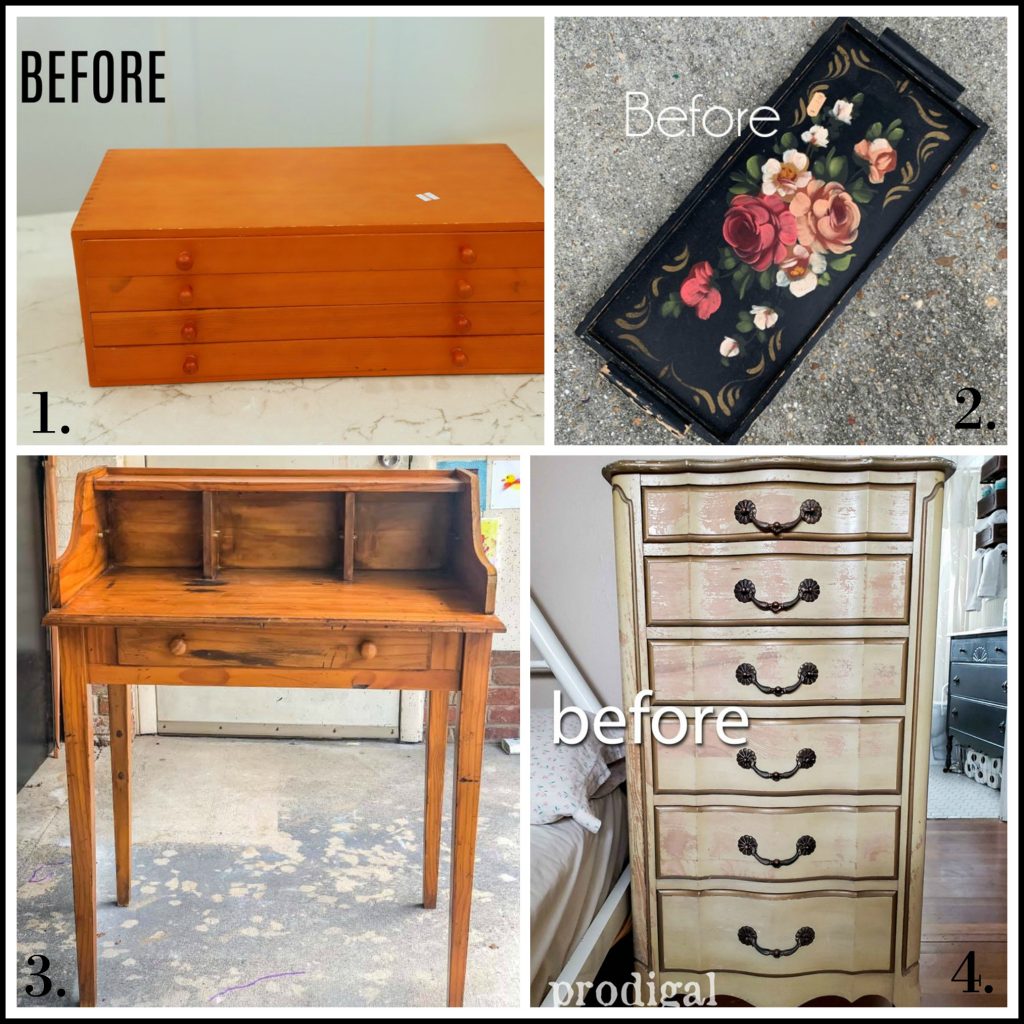 1. Artsy Chicks Rule
2. Confessions of a Serial DIYer
3. Bless'er House
4. Prodigal Pieces