Alrighty friends, don't hate me for painting over this double-sided homemade art I found at Goodwill.  I'm sure someone poured their heart into painting it and it had a sweet little home at one time, but eventually it was donated and I couldn't pass it up for just 50 cents.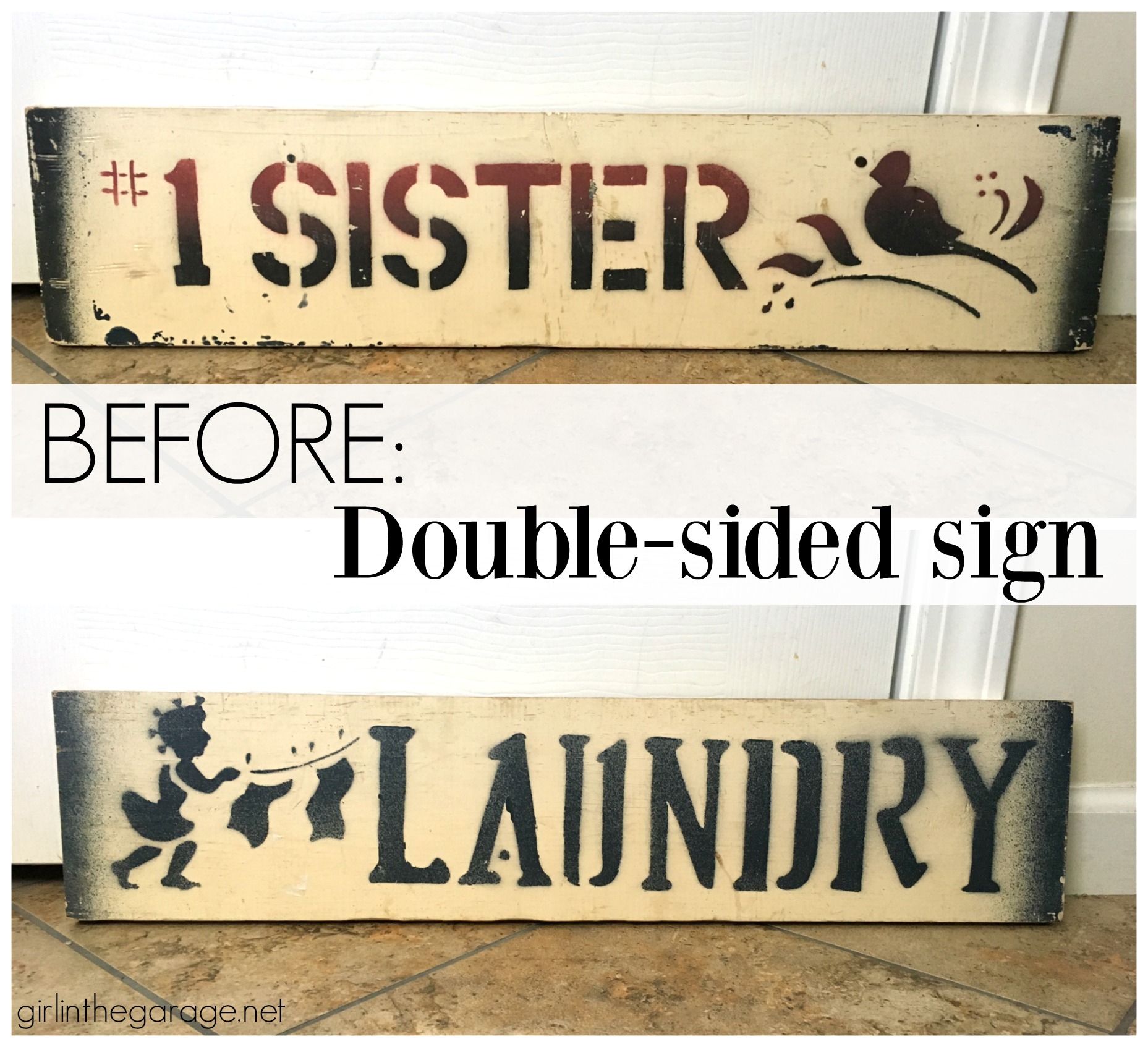 **Today is Trash to Treasure Tuesday with my thrifty blogging friends – you can see their creative projects at the end of this post.  You can also see all my previous T2T makeovers Here.**
First up, I sanded both sides and painted it Old White.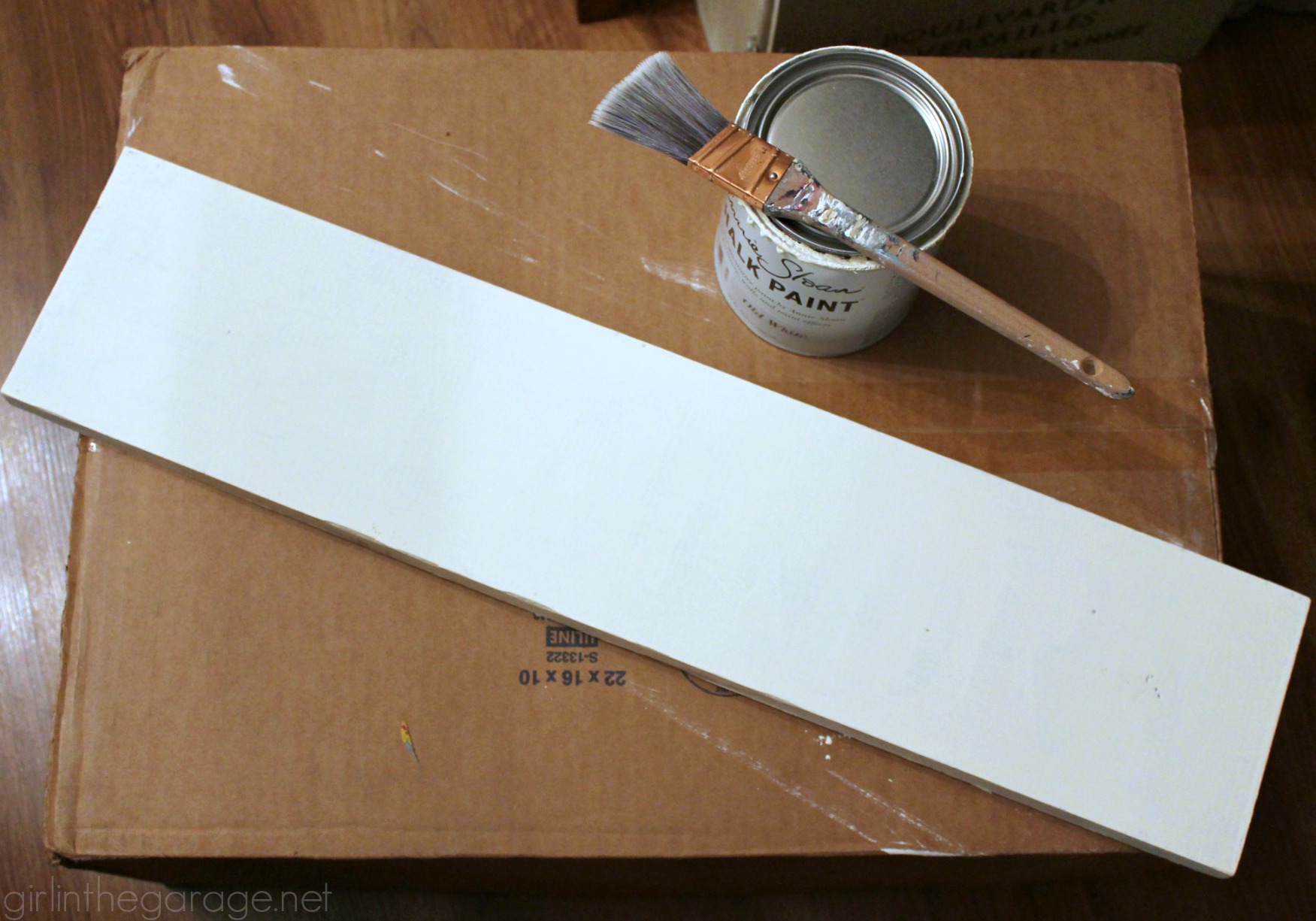 This post contains some affiliate links, at no extra cost to you, so that you can easily find the same or similar products that I use.
Those flower napkins from my decoupage crate project (click Here for the full tutorial) were calling my name again so I decided to do a similar treatment for this piece.  Find similar napkins for decoupage projects Here.
I separated one napkin, cut it in half, and lightly glued it onto the wood with Mod Podge.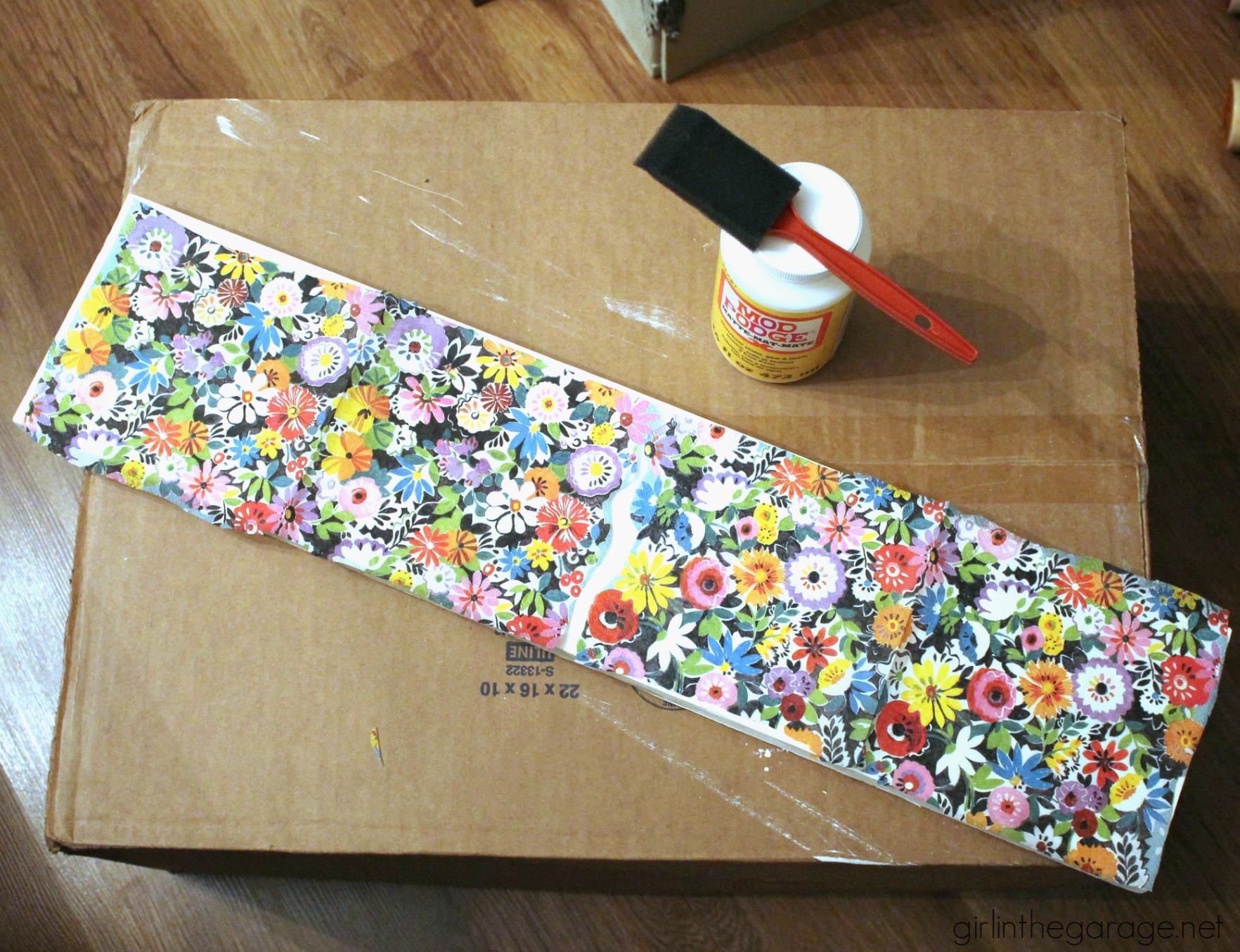 When it was completely dry, I sanded it gently with 320 grit sandpaper.
Then I printed off large letters for VINTAGE, straightened the paper over the wood, and traced over the edges of the letters hard with a pen.  The goal was just to press an outline into the wood, without any actual ink or other markings because I planned to paint the letters white.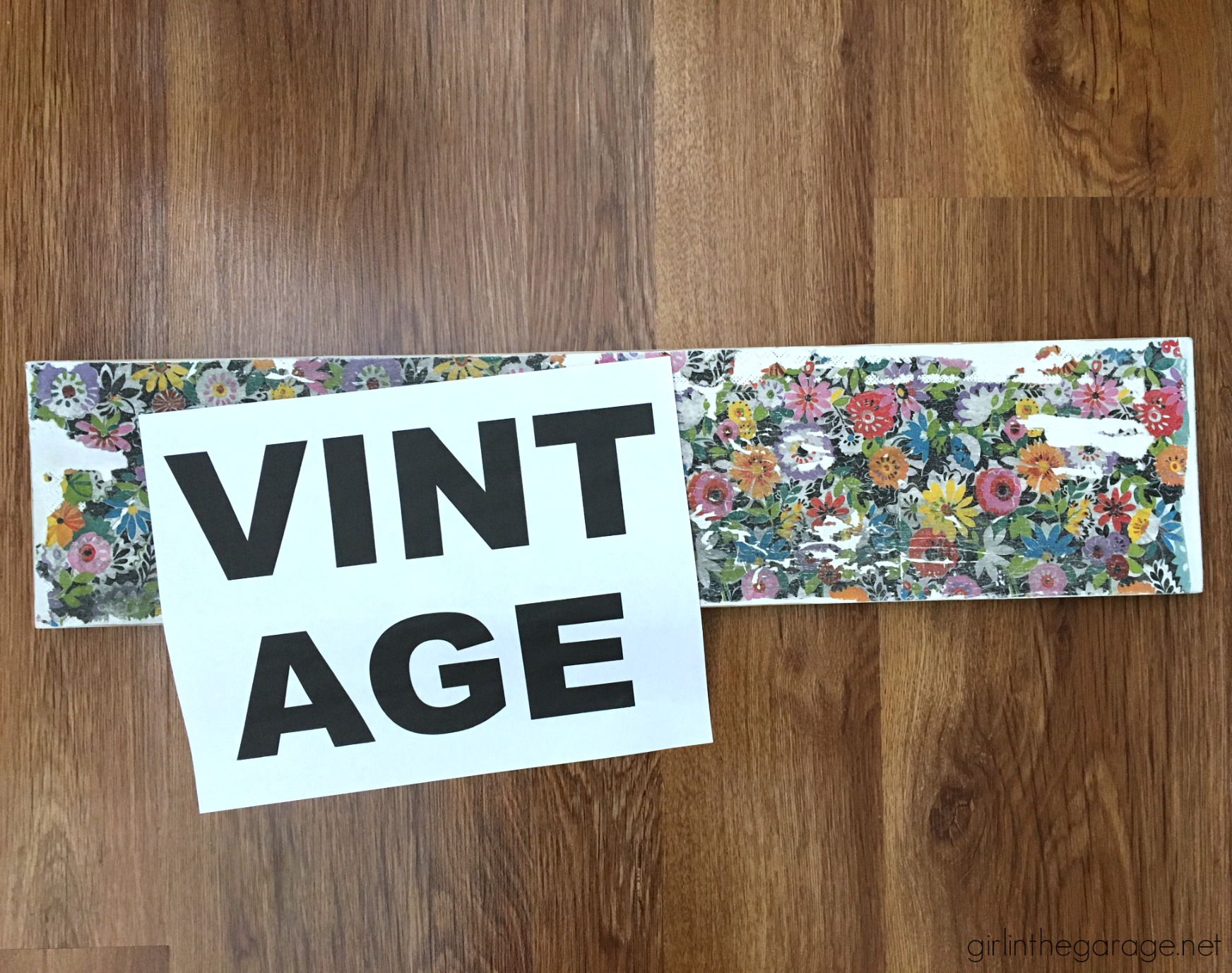 I used a thin artist's brush and Old White paint again.
This project calls for imperfection, so don't try hard to make it look good!  Seriously, just don't.  Distressed and worn is better than smooth and perfect.  (Struggling with overcoming perfection and the fear of failure? Learn why Done is better than Perfect.)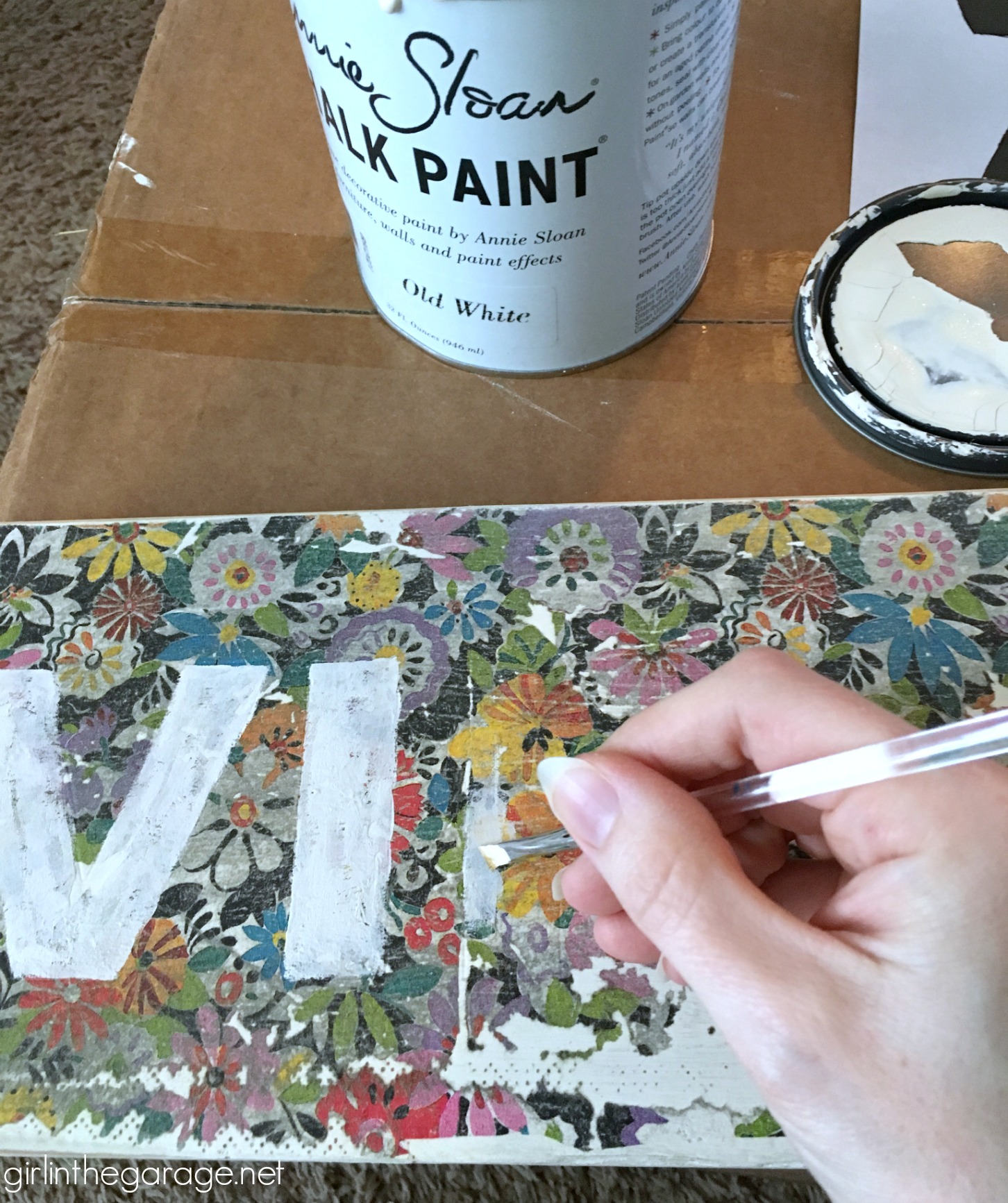 This floral decoupage sign totally put me in the mood for spring (which I realize is ironic, because we had a few inches of surprise snow dumped on us yesterday), so I went all out and decorated my mantel for spring.
Happy, warm thoughts!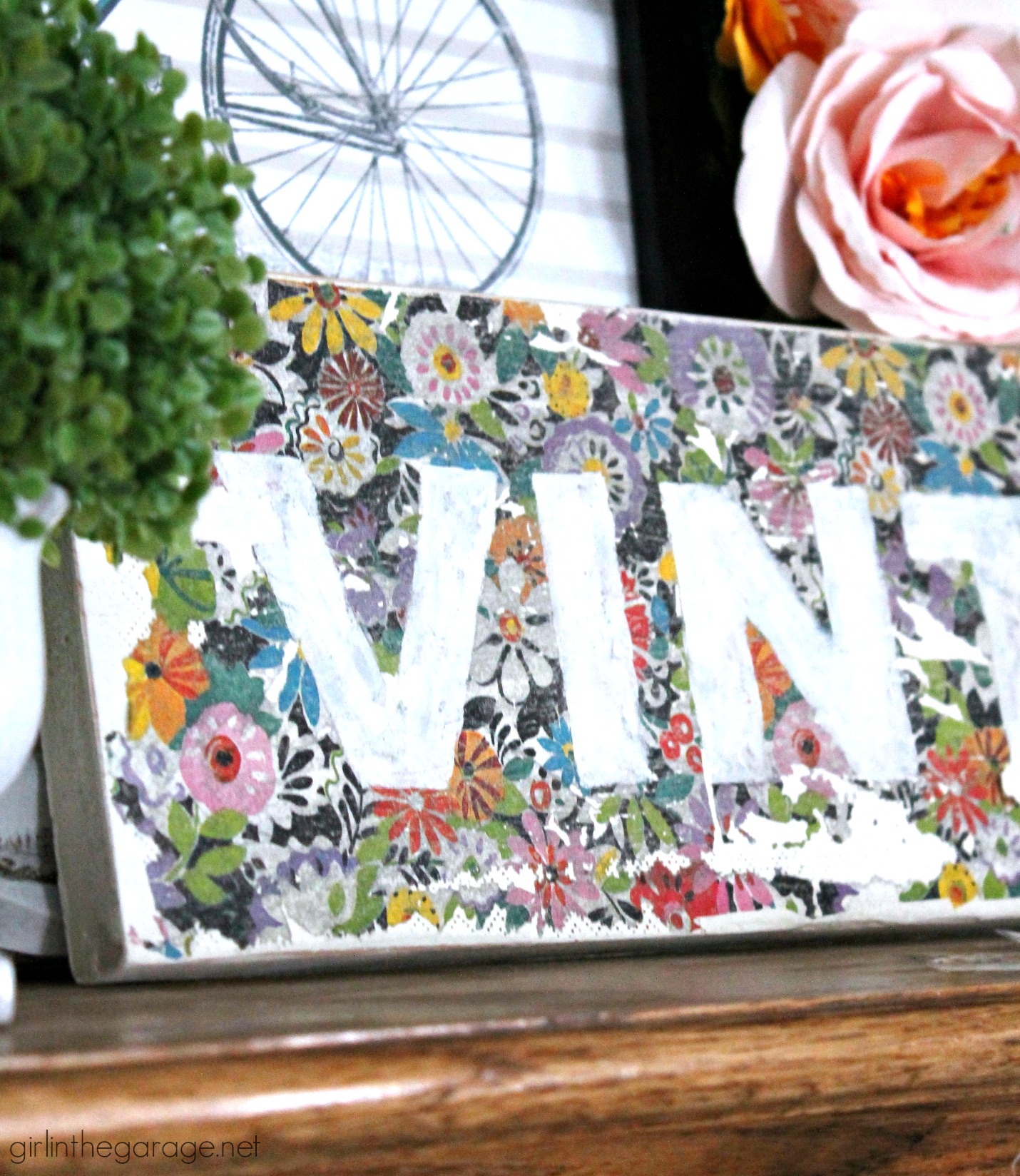 Click here for my free printable resource list: 11 Items to Always Buy While Thrifting
I'm starting to think ahead to my next market in a couple months, and I might do more napkin projects (crates or signs or …??).  Still deciding about that.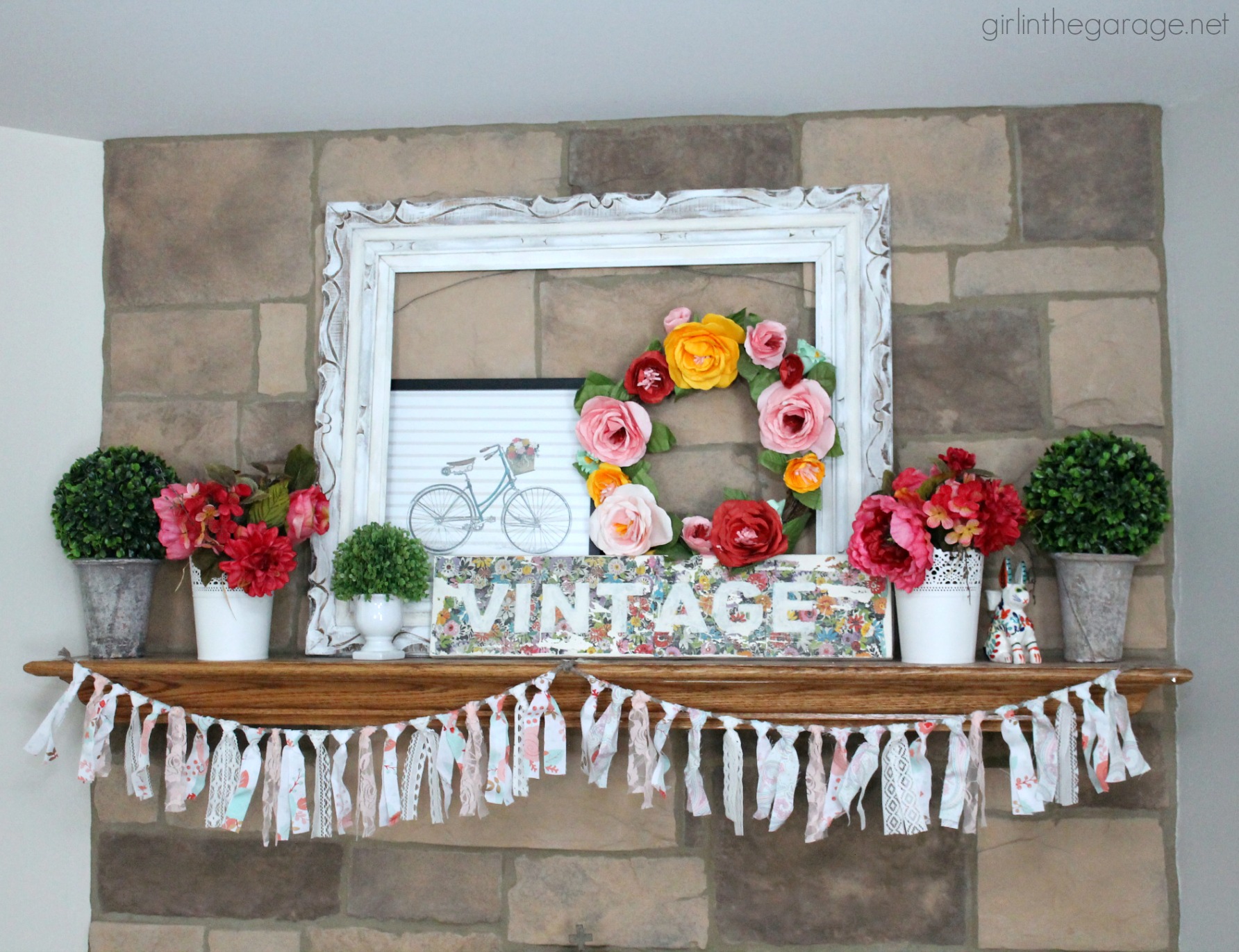 And yes, "Vintage" was painted off-center.  Remember what I said about imperfection?  😉
Happy almost-spring to you, my friend!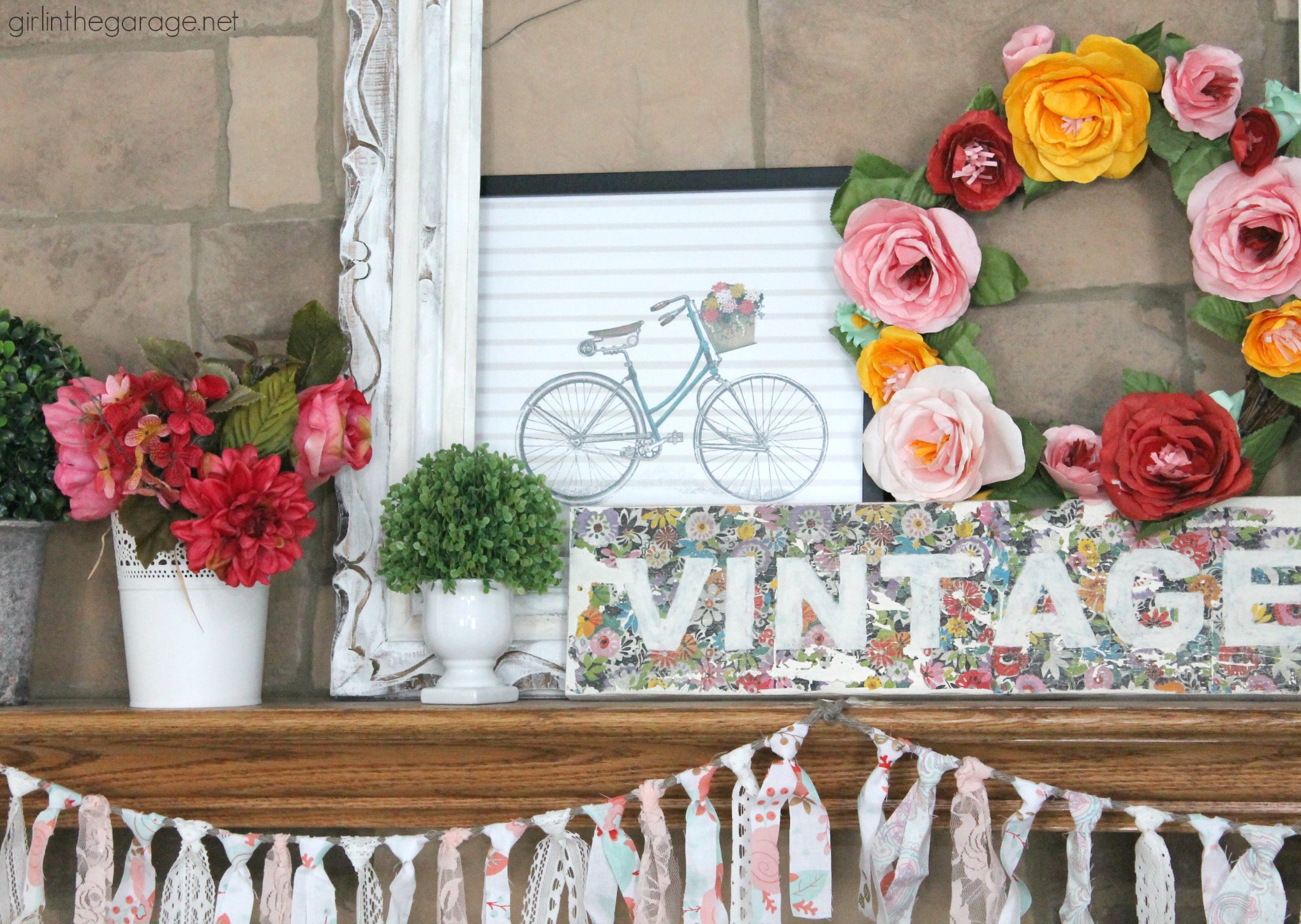 Here's another before/after of this decoupage sign: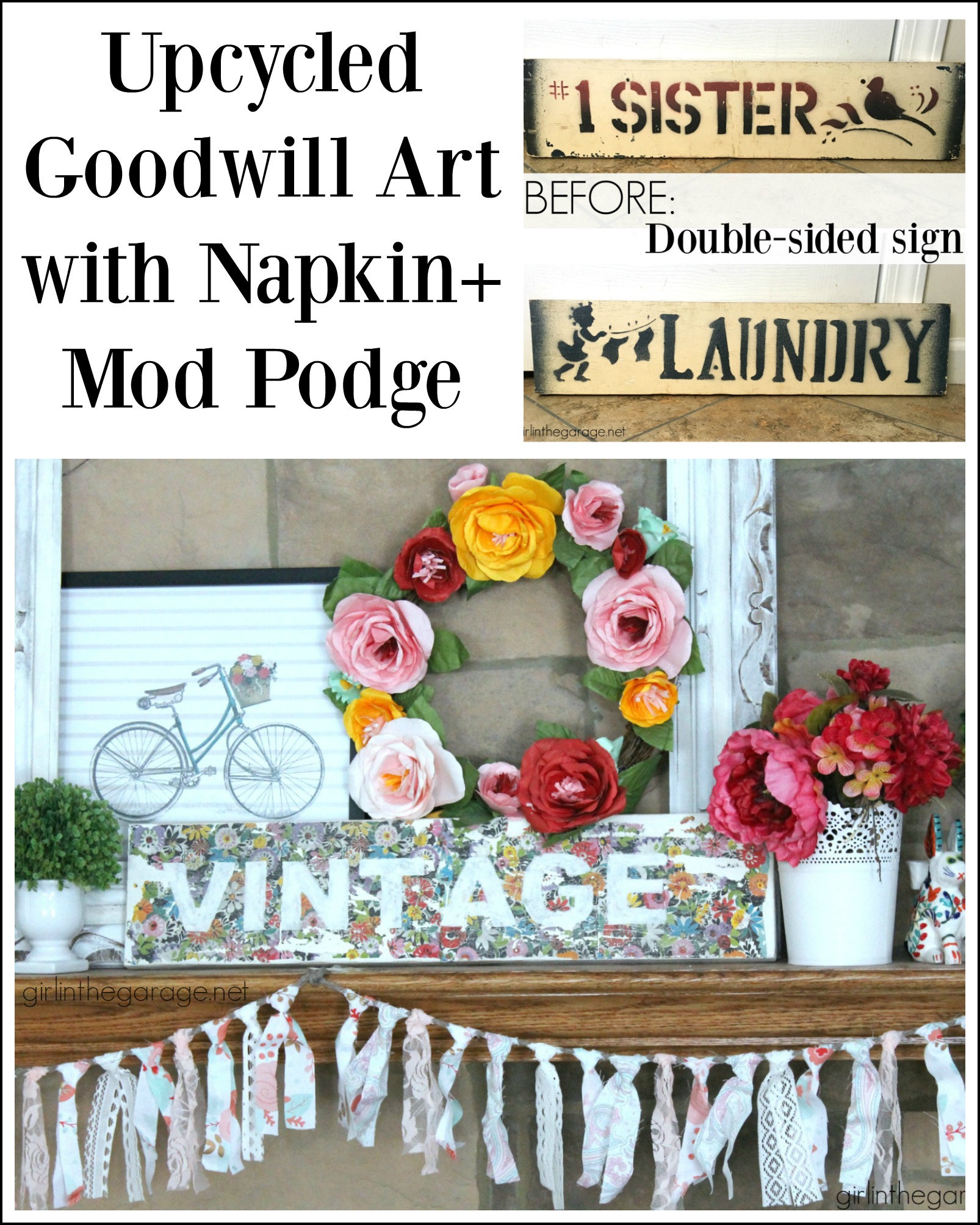 It's Trash to Treasure Tuesday, which means some of the BEST thrifty makeovers on the web!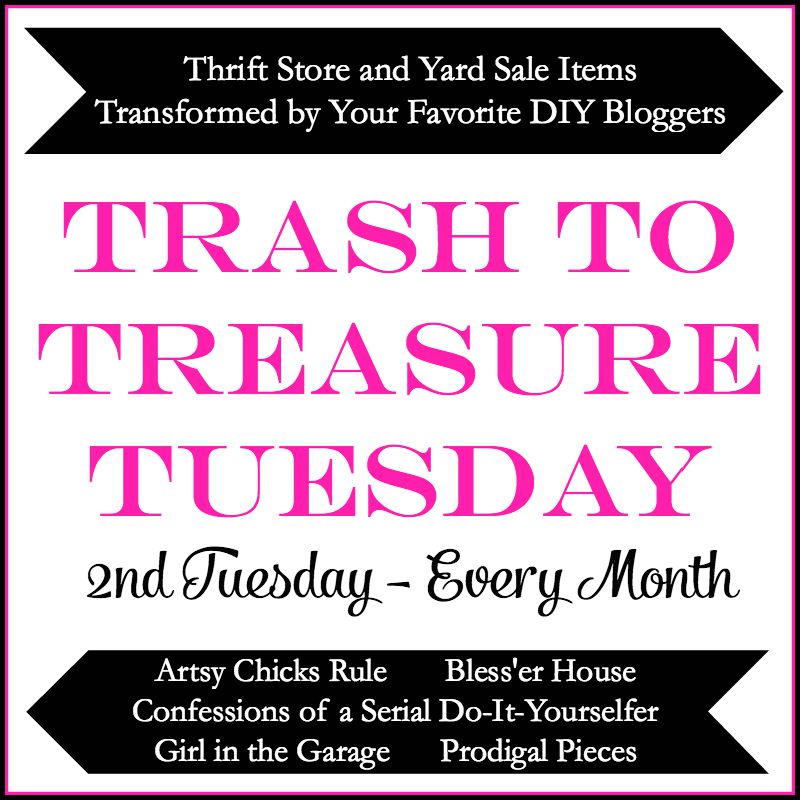 Below are the Before photos – click the blog links underneath the photos to see the After photos and read all about the transformation.  Enjoy!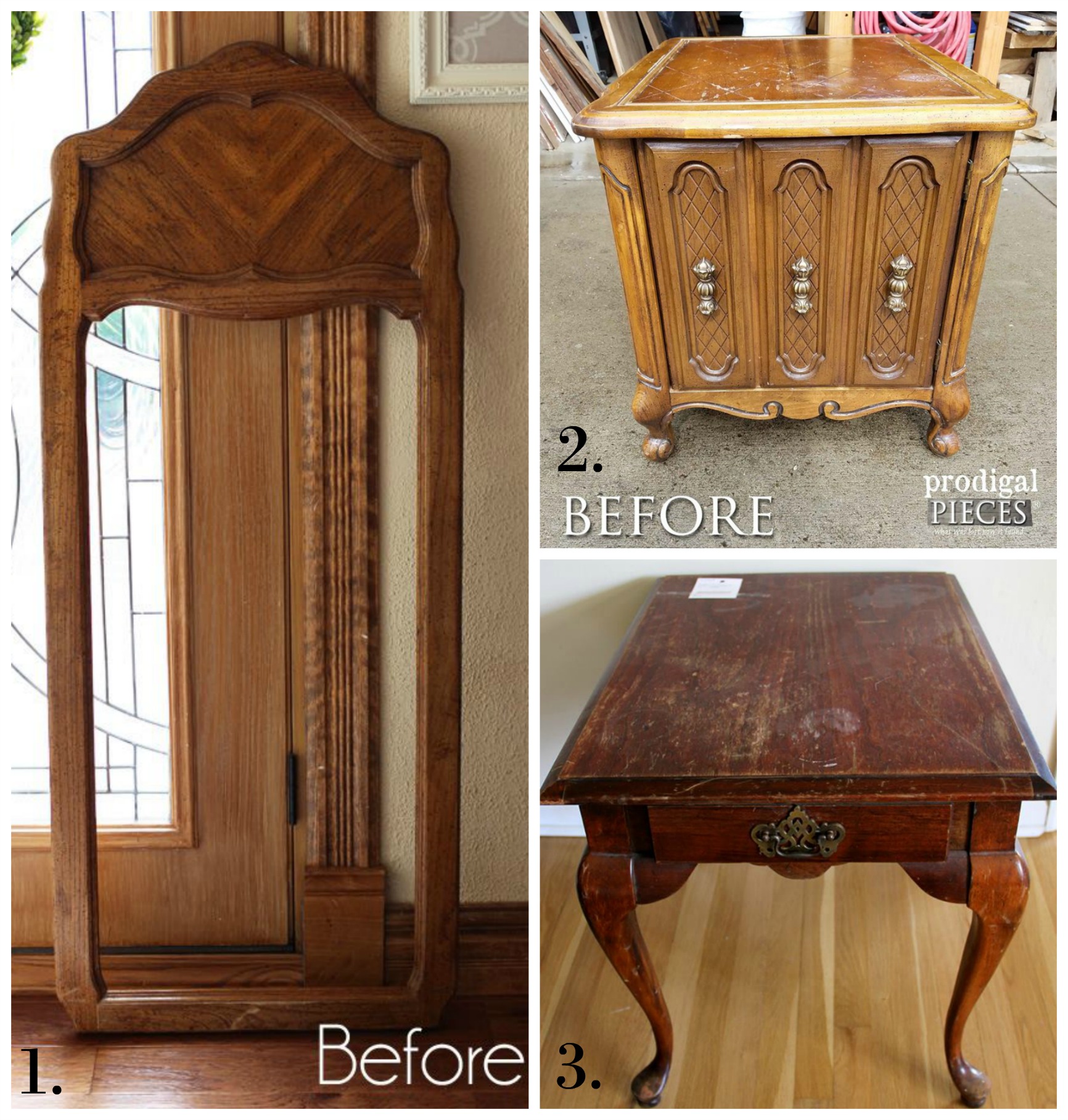 1.  Confessions of a Serial DIYer
2.  Prodigal Pieces
3.  Artsy Chicks Rule
* Click here to read more about the decoupage crate project – with free printable instructions for how to do decoupage and distress with napkins yourself *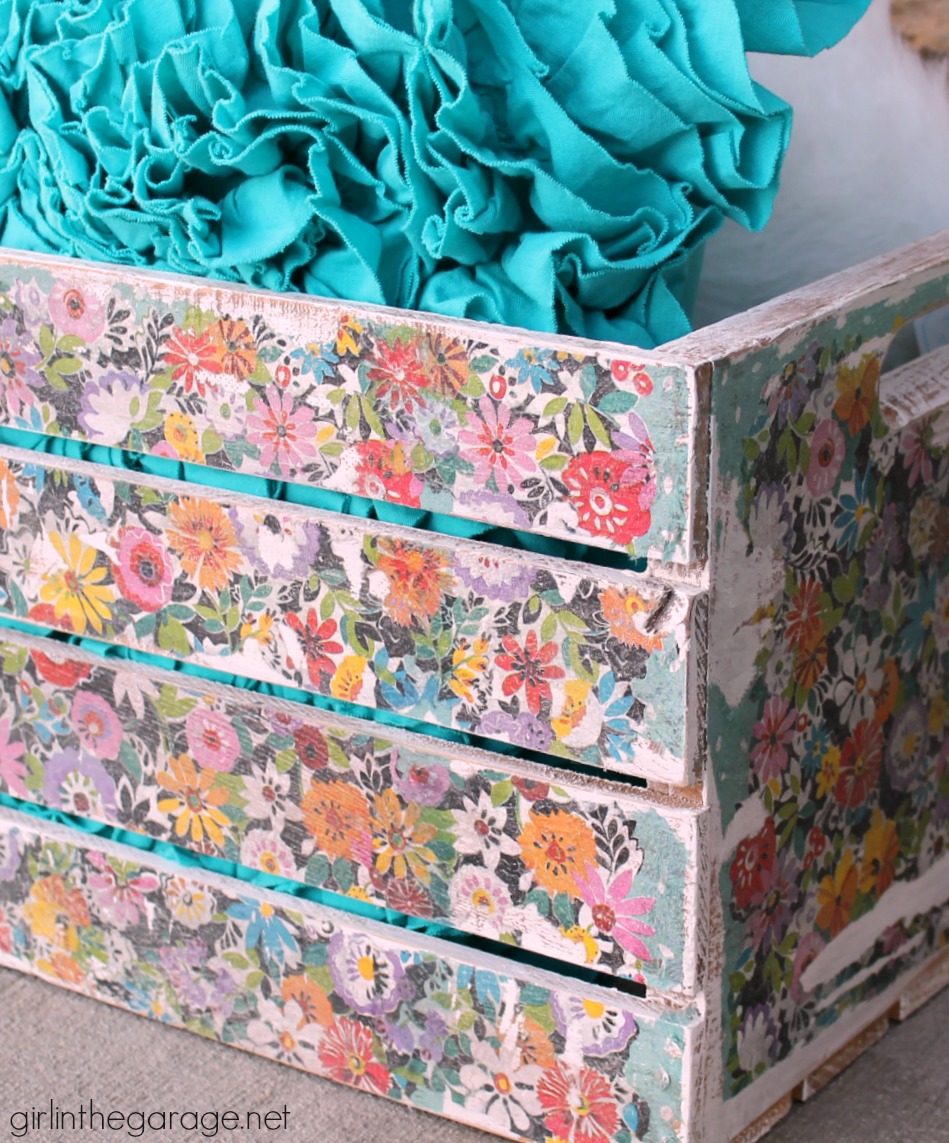 Join the GITG Community
When you join this thriving online community of 90,000 creative souls, you'll be inspired to discover hidden artistic talents and learn skills to boldly face DIY projects with confidence.
You'll also receive my free guide "Just Paint It: 7 Tips for Transforming Furniture with Confidence."