So you've got this antique, it's a little banged up, and you've been debating whether you should paint or refinish it.
Especially if you got it secondhand, then you definitely shouldn't feel guilty if you do decide to paint.  The world will not end if you paint an antique (although there are some people who would probably argue with that).  However, you can paint it in a way that respects its design integrity.
What would you do if you had this kind of table and it needed some TLC?  This is one of those special antique tables that you don't find very often, but when you do, you better treat it right – and accentuate those beautiful curves!
But what's a good way to do that, while still keeping its integrity?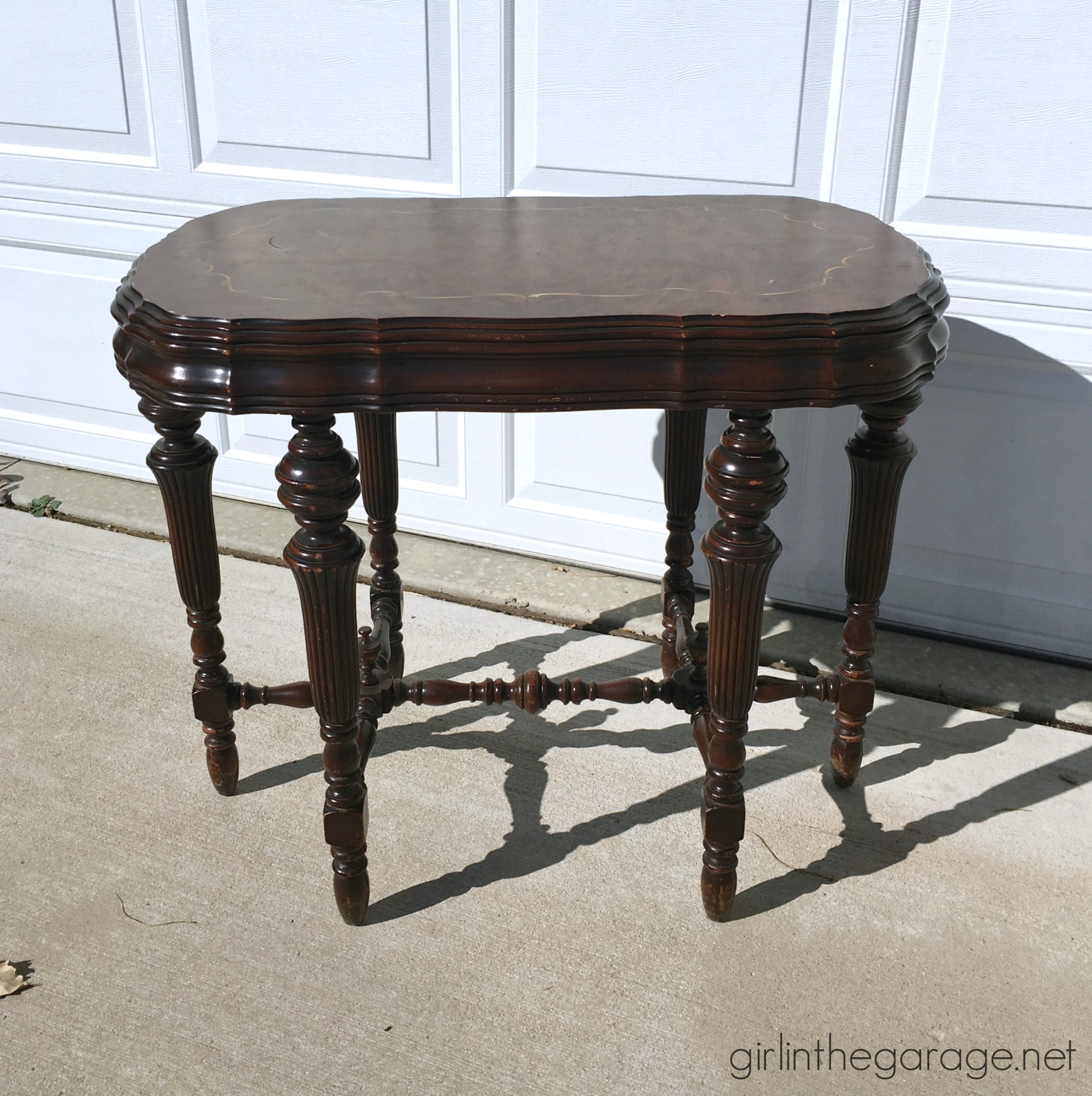 This piece was built really well, but unfortunately over time had collected a bunch of dings, scrapes, and scratches.
The original plan was to paint parts of it Pure White and French Linen, and leave some of it the original dark brown.  I tried it out and it just didn't look right (too many imperfections in the wood finish), so I went with just the two tone painted look instead.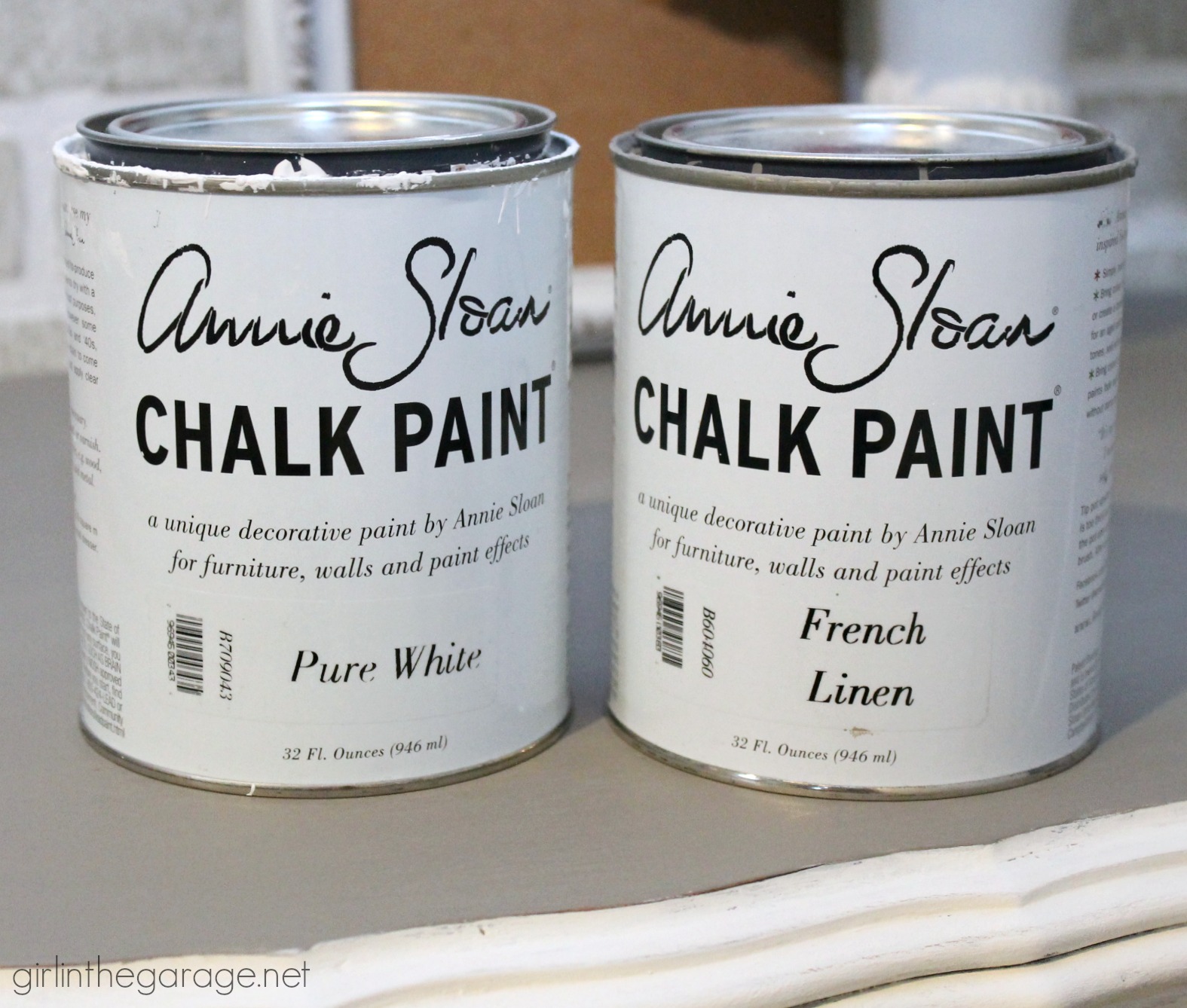 And here she is, all finished and glammed up…
I didn't use any painter's tape at all – I used smaller brushes around the more detailed areas but I did not want a "perfect" look.  It's slightly distressed/imperfect and you can see the brown peeking through, which gives more depth and also helps make the curves and spindles pop.  But it still has a very authentic antique style, even though it's been painted.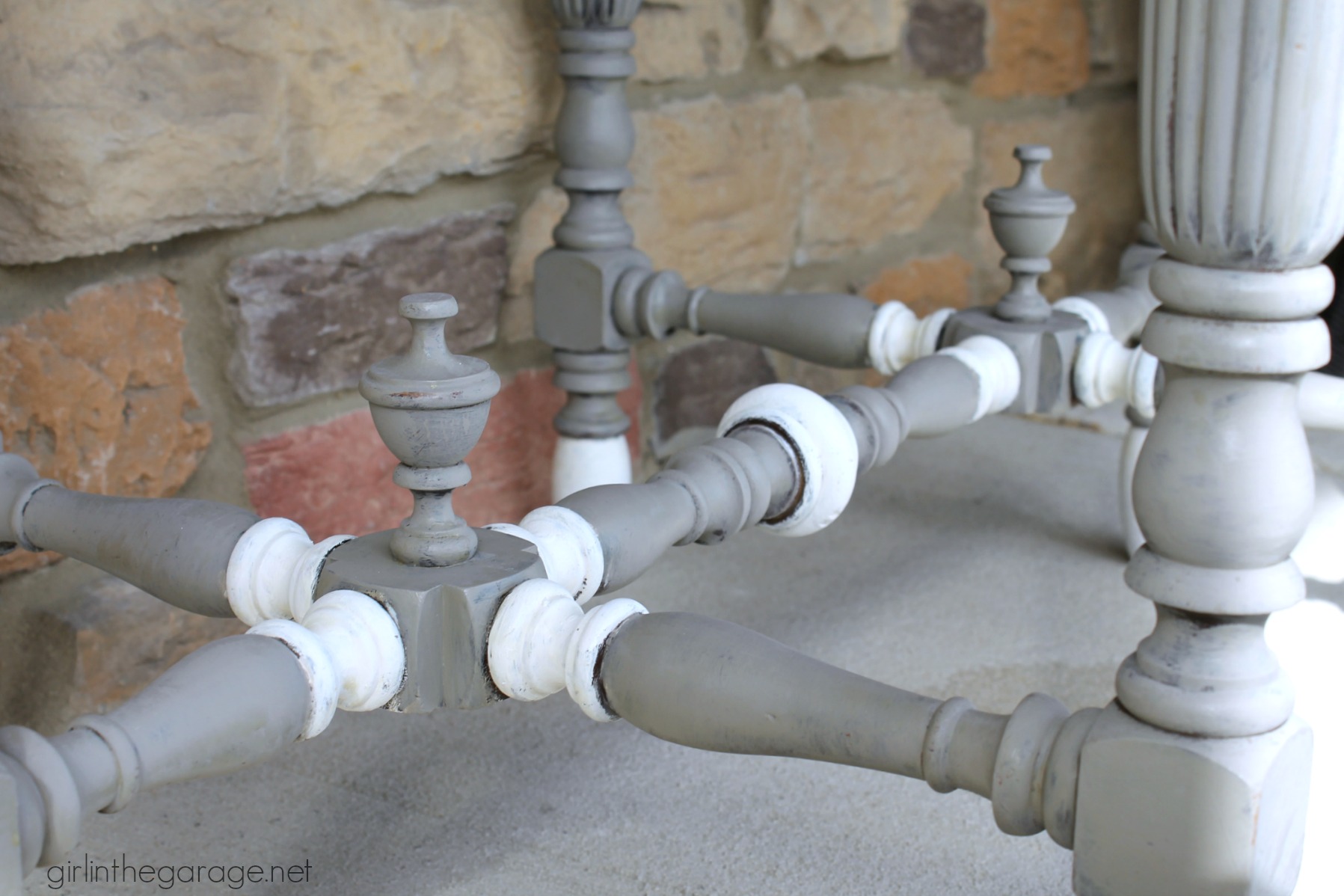 And because I always want to be completely straight with you guys…
I put on a topcoat of General Finishes High Performance, which has been my go-to finisher lately, but I will be on the hunt for something else now (sigh)… I like how easily it brushes on, but there are obvious areas where it yellowed over the white paint, even as soon as the same day that I applied it.  Bummer!
So now I'll have to touch up the paint and apply a different non-yellowing topcoat – I'll let you guys know when I find a good one.  If you have a suggestion for one that you love, leave me a comment below and let me know!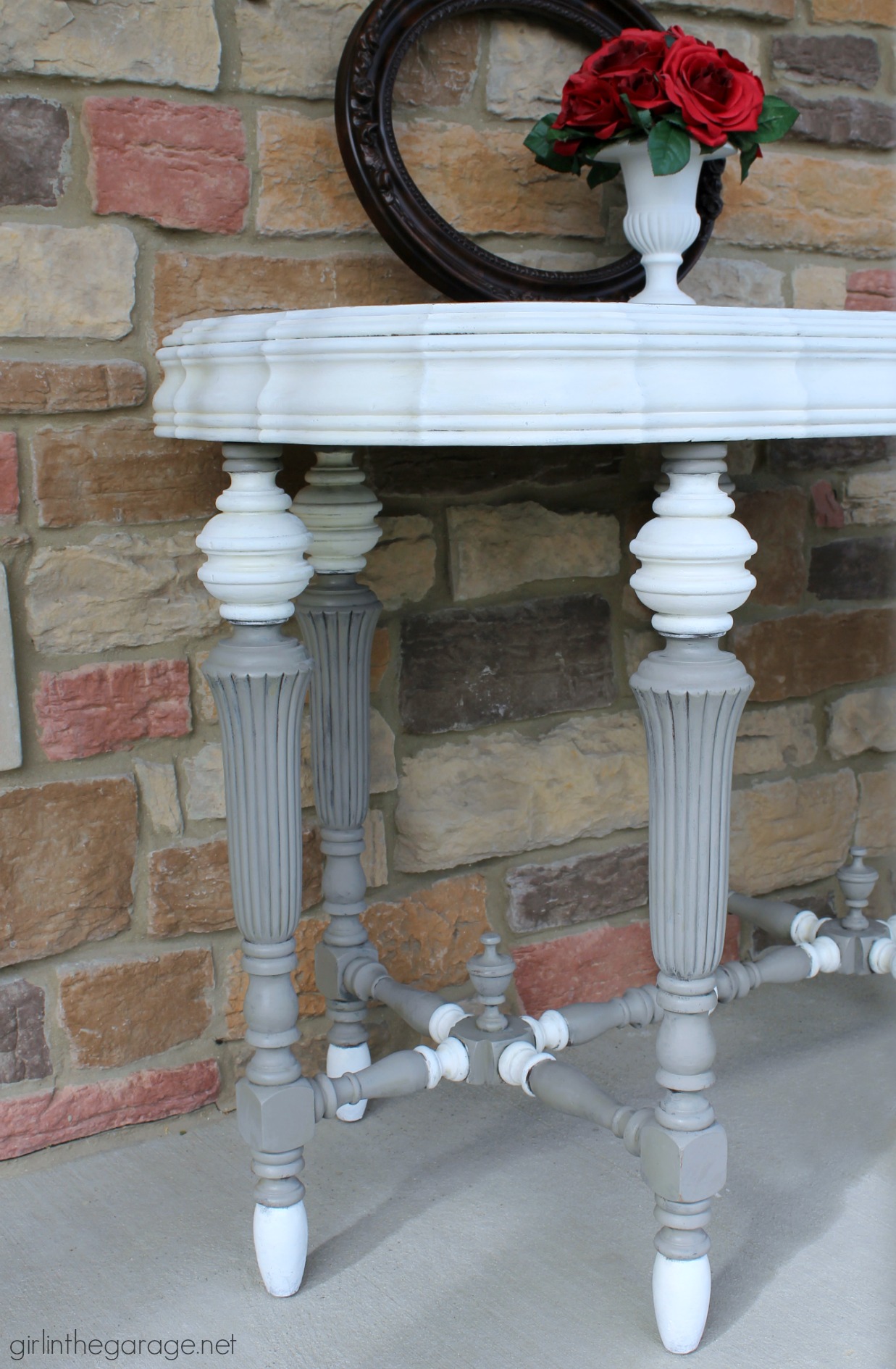 If you like this antique table makeover, please share it with others.  There are sharing buttons at both the top and bottom of this post.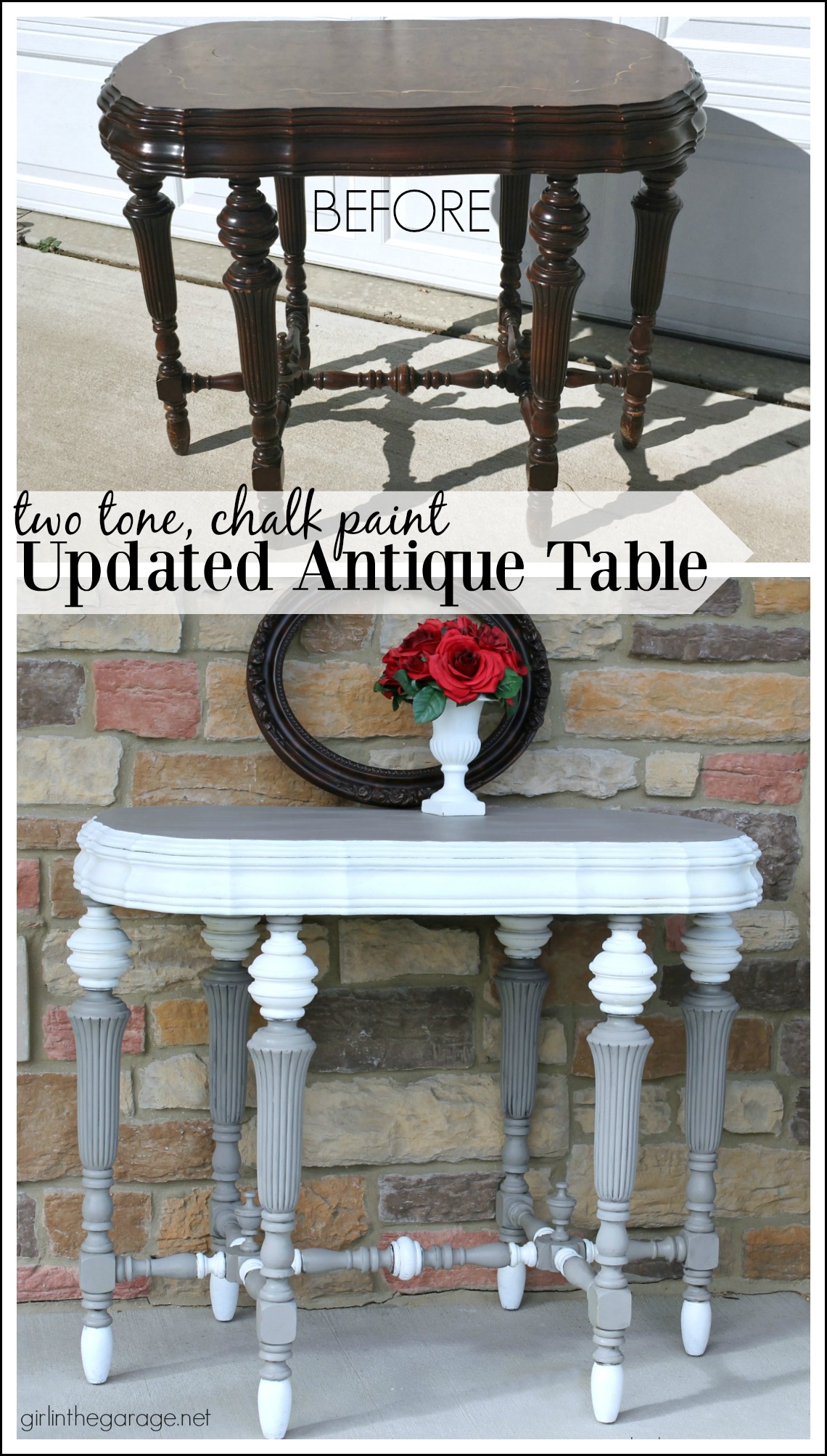 Woot woot – it's Themed Furniture Makeover Day!  Below my friends are also sharing their Glitz and Glamour furniture makeovers.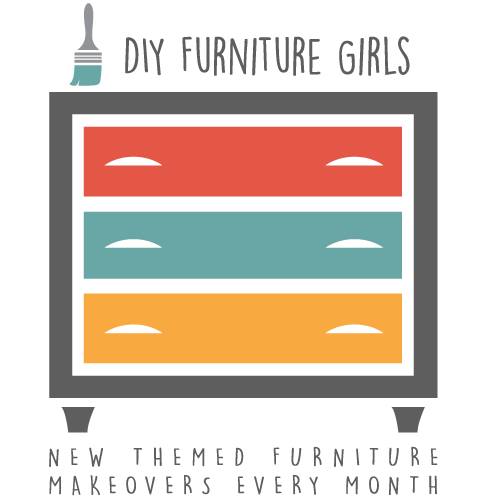 Click each photo to see the full tutorial for these projects.  Have a beautiful day, friend!
Jen
Please share this post if you've been inspired.  xo
Join the GITG Community
When you join this thriving online community of 90,000 creative souls, you'll be inspired to discover hidden artistic talents and learn skills to boldly face DIY projects with confidence.
You'll also receive my free guide "Just Paint It: 7 Tips for Transforming Furniture with Confidence."