This post brought to you by FrogTape®. The content and opinions expressed below are that of Girl in the Garage.
Five years ago, when we moved into our house, I hung a pretty shower curtain in the extra bathroom by our little boys' bedrooms (they were only 1 and 2 years old back then) and then decided to stencil the walls…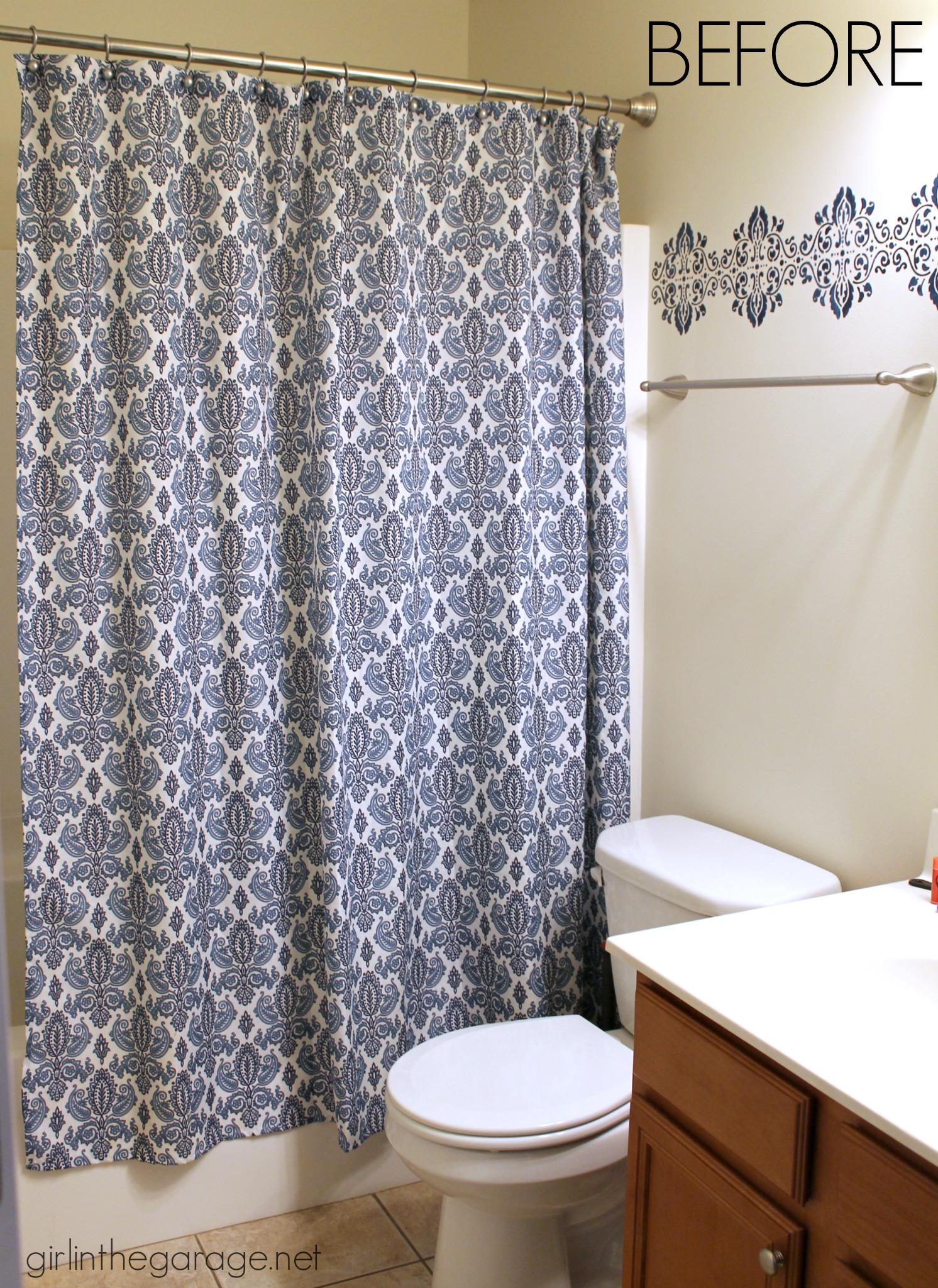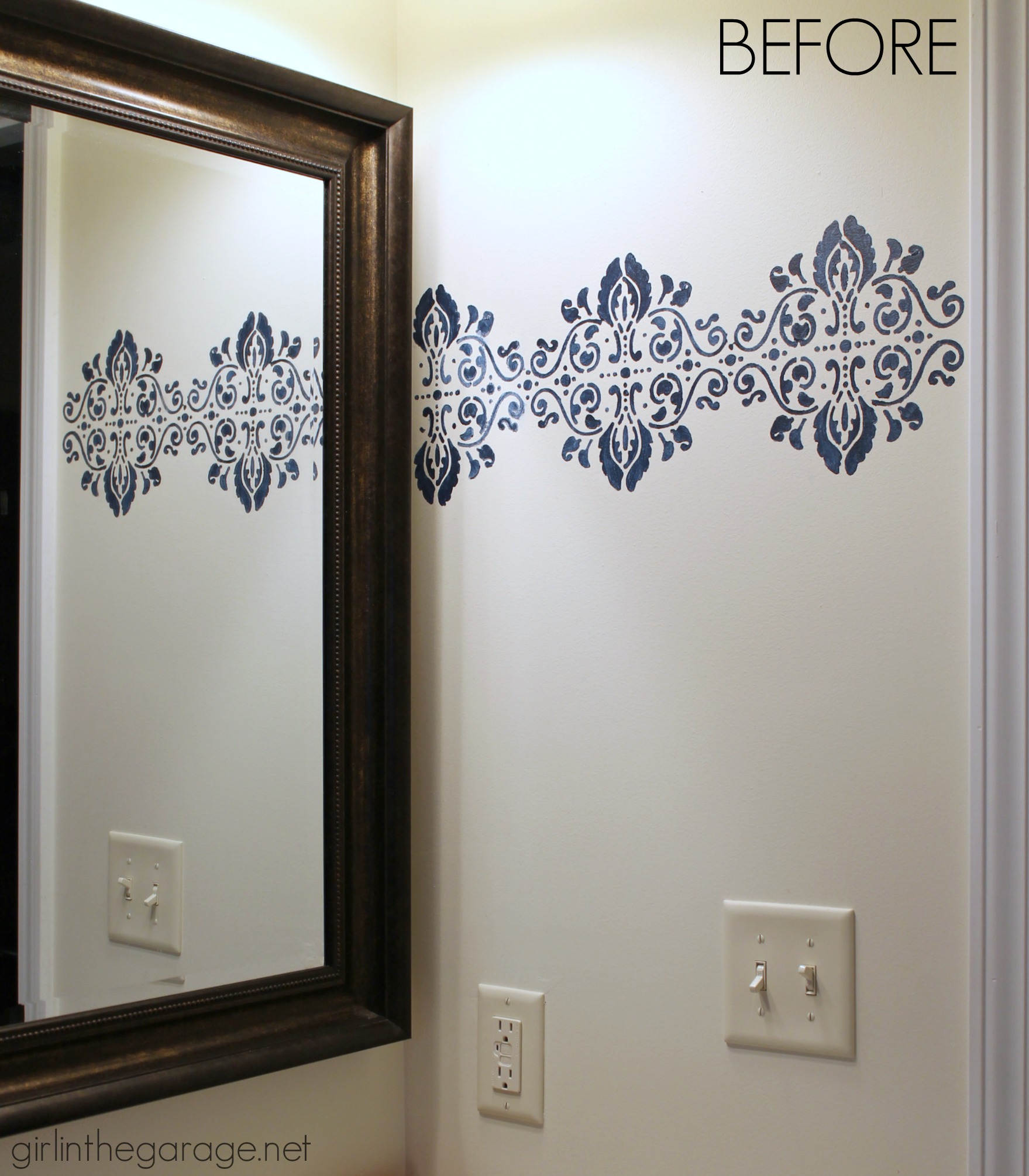 It was my first attempt at stenciling Anything Ever.  (Here's some advice: If you've never stenciled before, practice on a smaller surface, not a bathroom wall that will be seen every single day.  Also – less paint is more.)  As you can see, there were lots of blobs and smudges.  I knew one day I would get around to painting over the damask pattern that mocked me daily.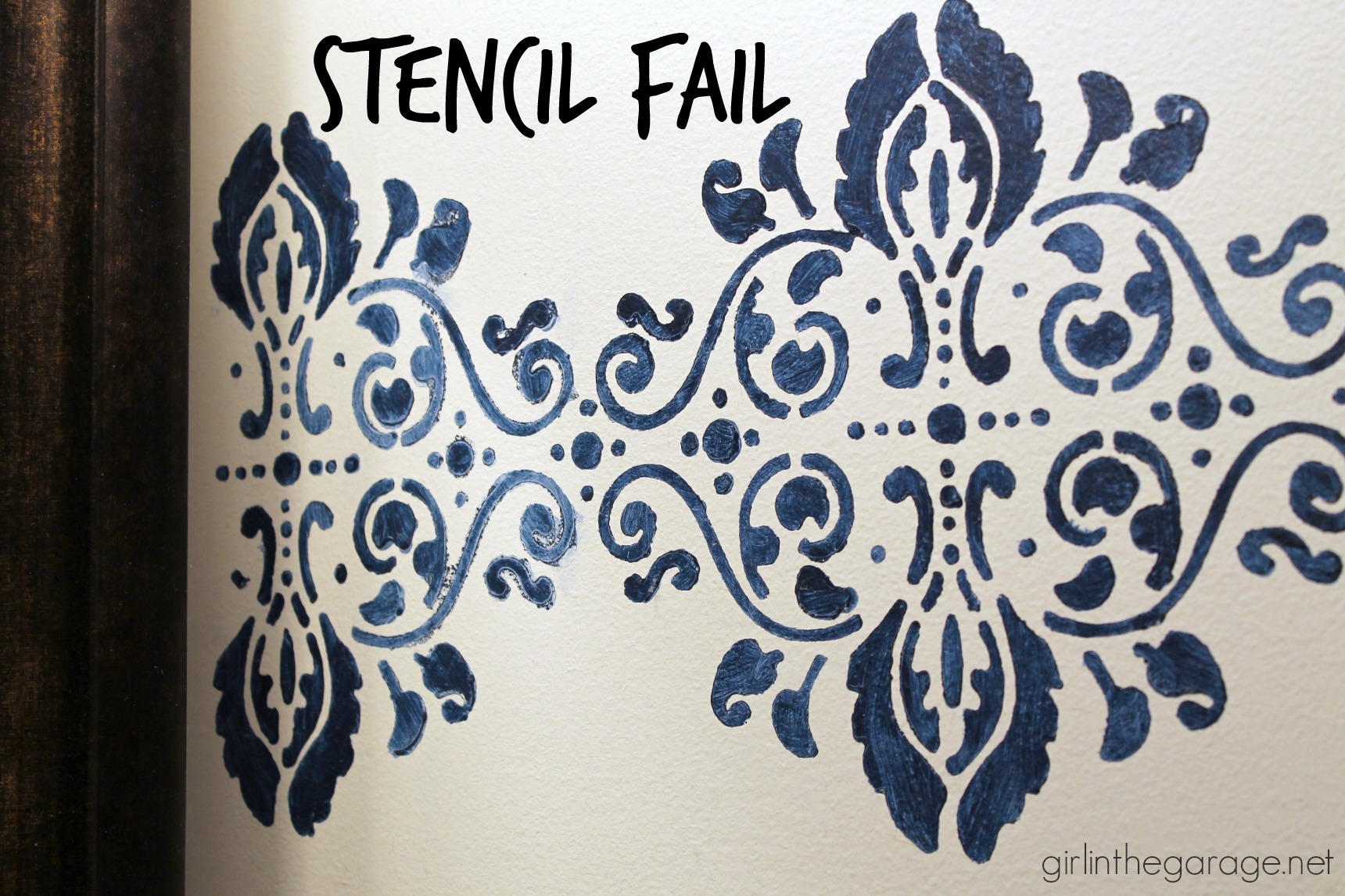 And that "one day" finally happened this week.  The boys are 6 and 7 now, and way overdue for a bathroom that's more fun and boyish.  I found this shower curtain that I loved, and I decided to paint stripes over the old stencil.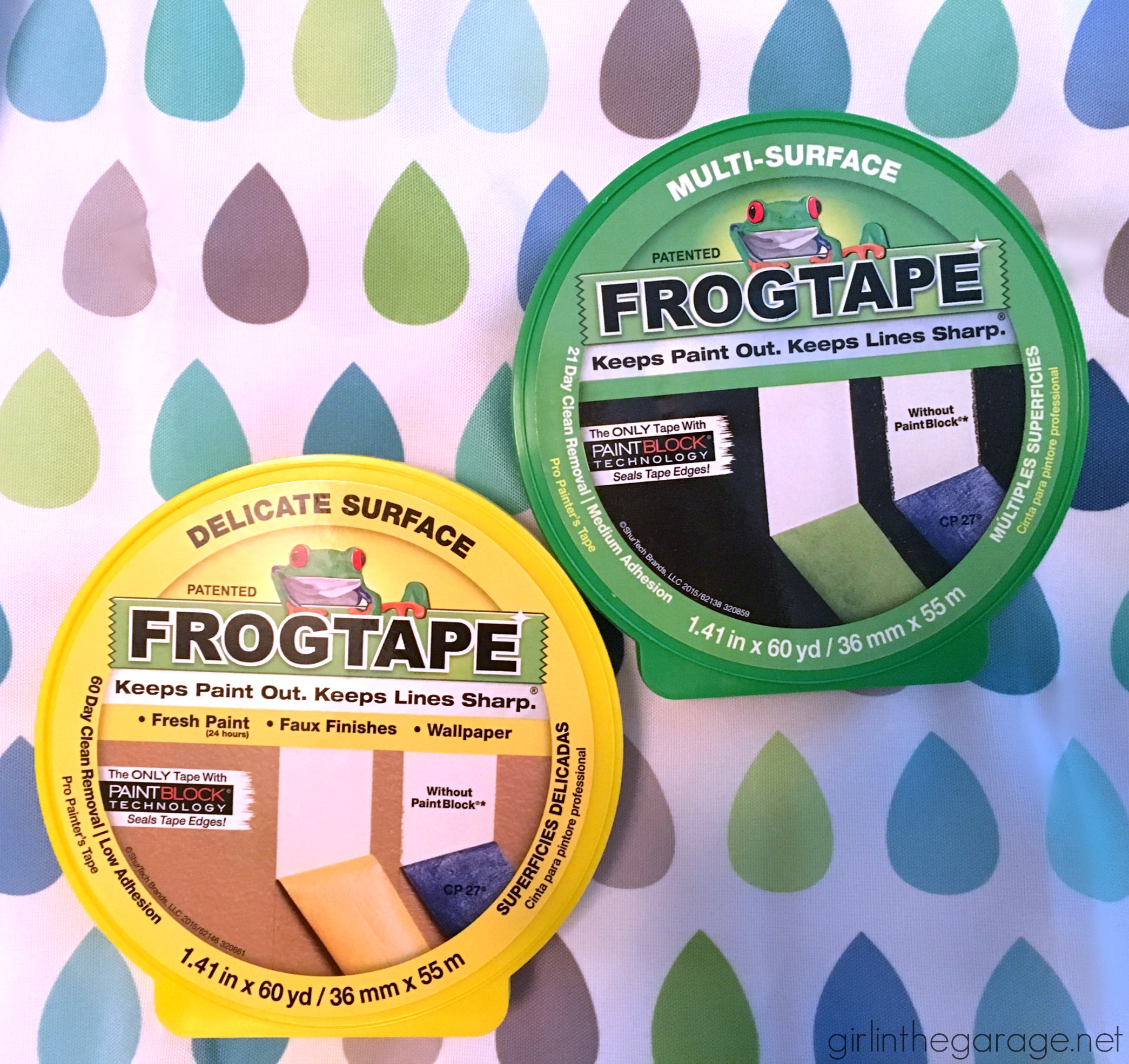 You've probably seen in my other posts that FrogTape® brand painter's tape is my go-to tape for any type of painting project.  It's the only tape treated with patented PaintBlock® technology to keep lines crisp.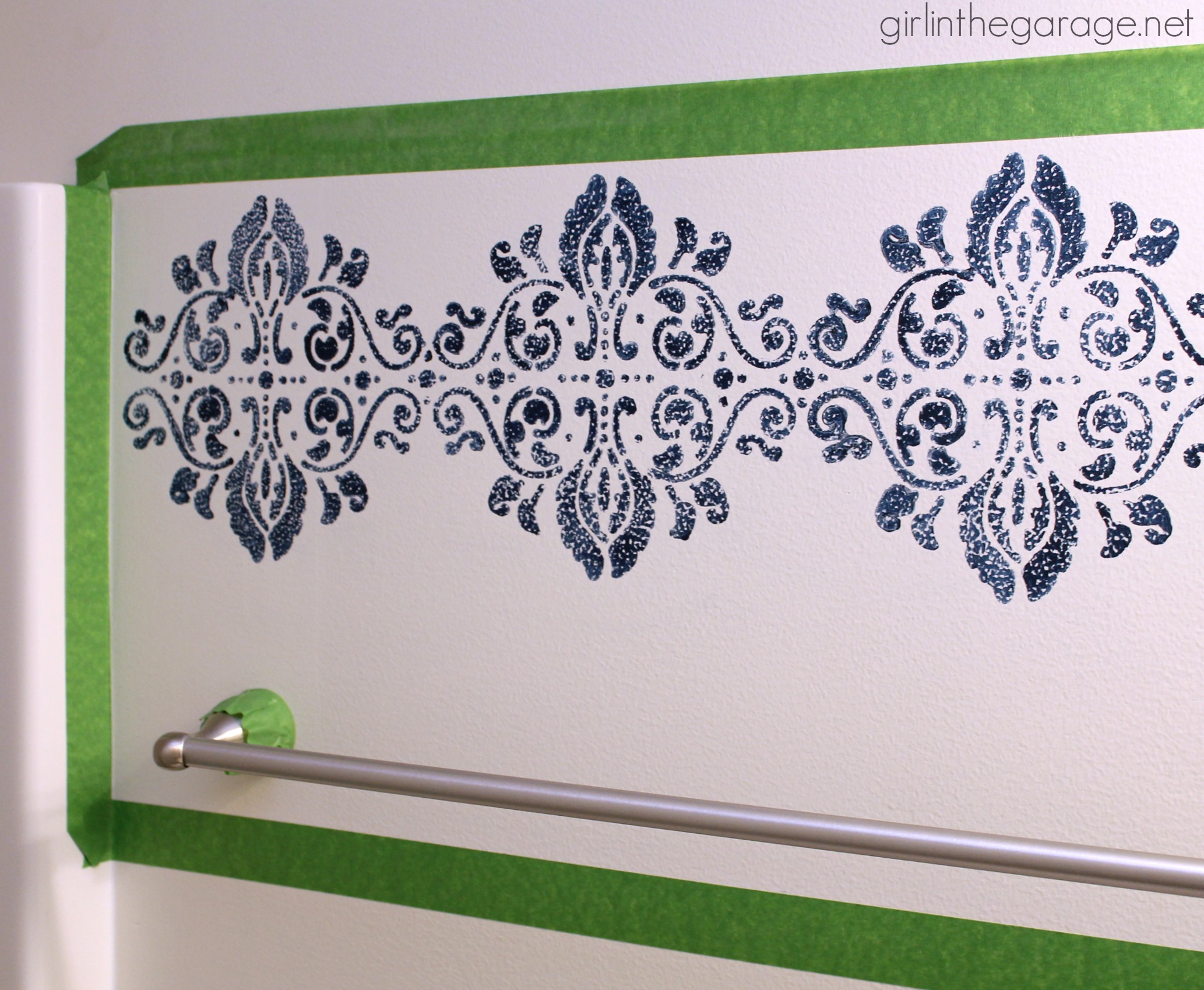 When painting over a previously stenciled wall, lightly sand the area first and then wipe down with a damp cloth.  Measure your stripes with a yardstick or tape measure and make little pencil marks about every 8-12 inches, then apply your tape where you marked.  It's easier to keep your tape straight when you apply and smooth out about 12-inch sections, but don't rip your tape until you reach the end of your area; continuous tape makes for straighter lines.  I chose the Multi-Surface FrogTape® for the first big stripe, since I applied the tape onto the wall, the shower, and the metal towel rack.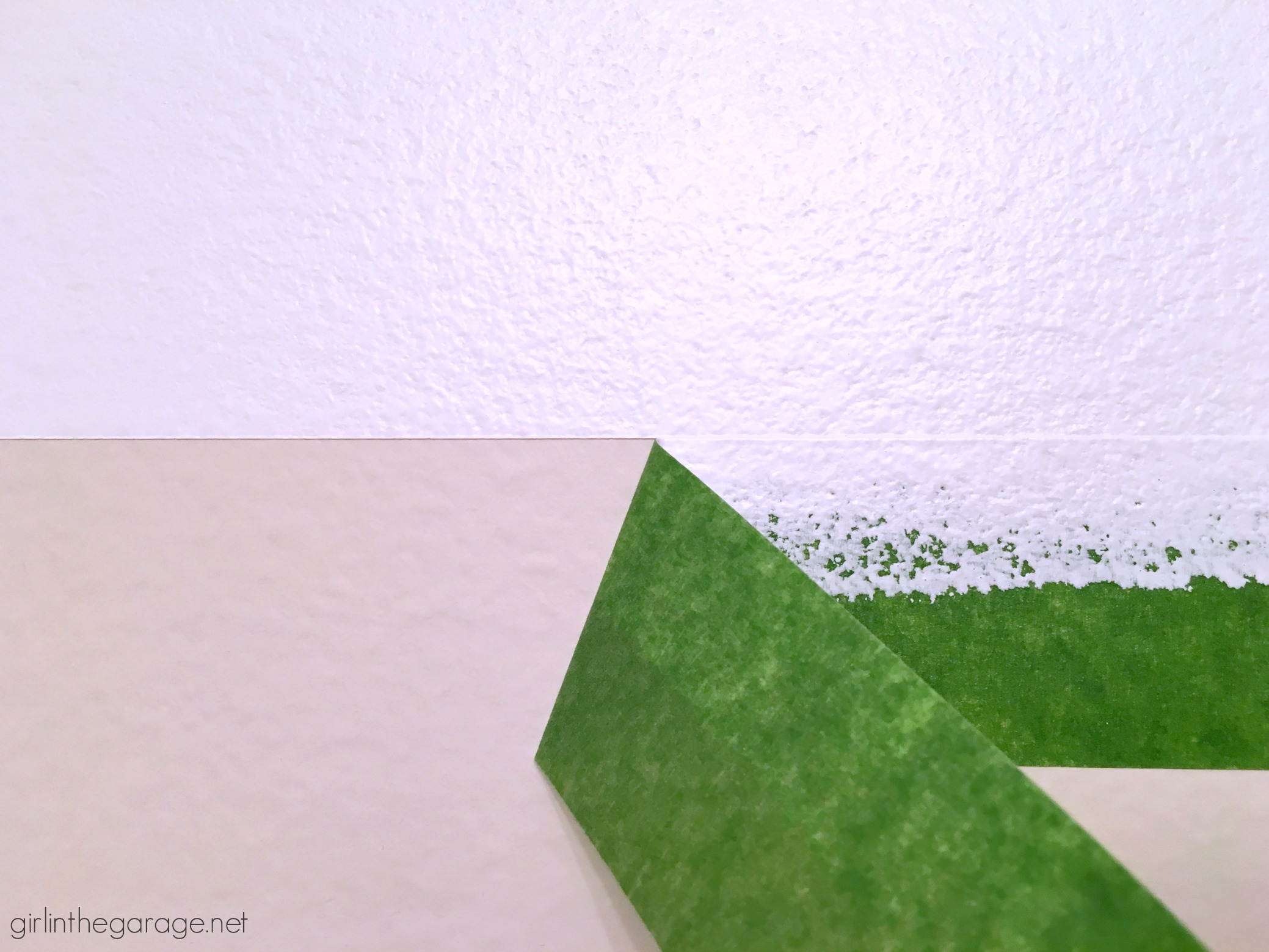 I painted 4-5 coats of white paint over the stenciled area with a small roller brush.  Obviously, I tend to get a little messy over the tape.  When I pulled the tape away though, my lines were perfect!  (Tip: Always remove the tape while the paint is still a little wet.)  The PaintBlock® technology reacts with the water in latex paint and instantly gels to form a barrier against paint bleed giving you the sharpest paint lines possible.
I let the paint dry overnight and the next day I started taping off my top and bottom stripes…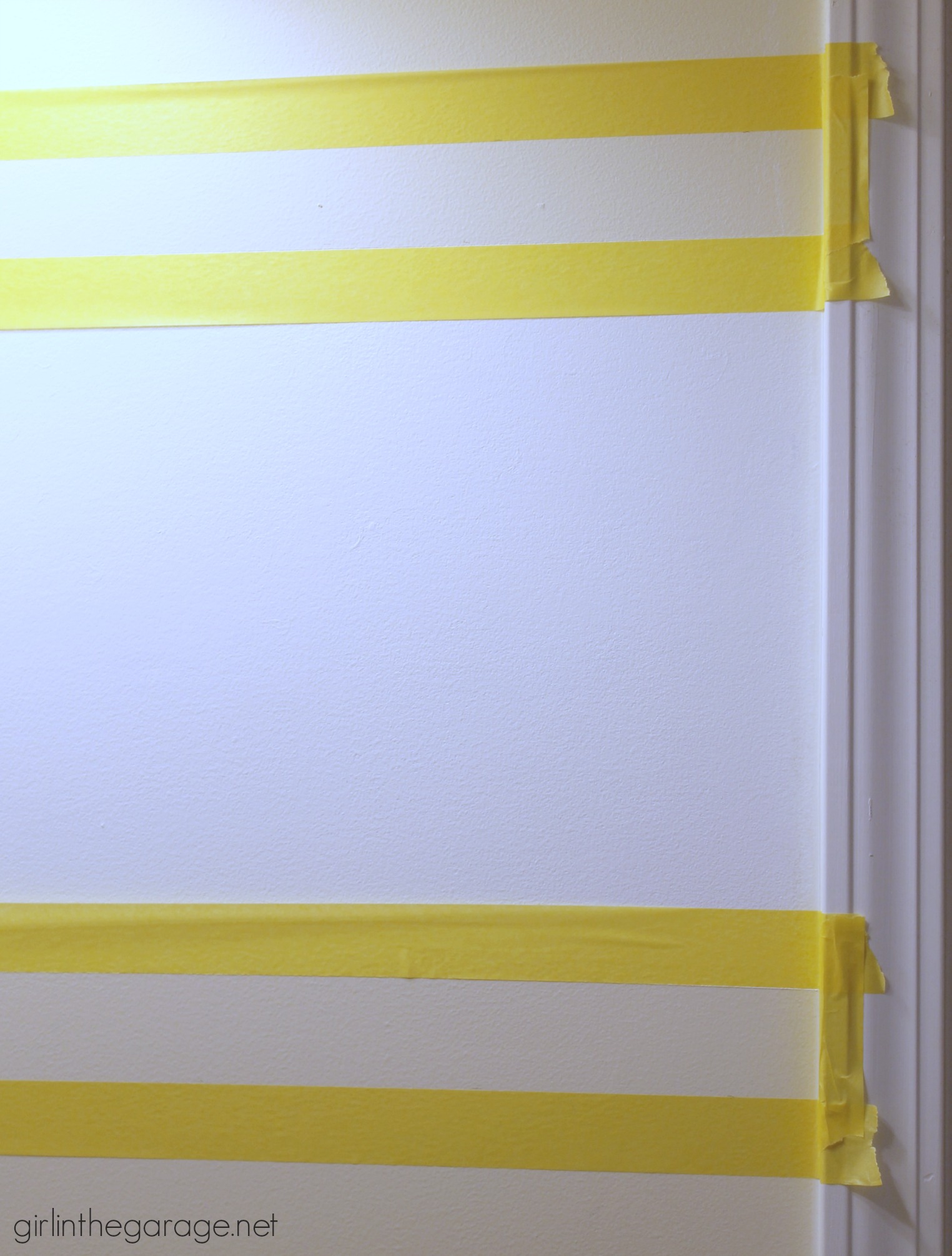 which I painted a deep blue.  This time I used Delicate Surface FrogTape® since I applied it directly over the top and bottom of the newly painted white stripe.
Again, my stripe was crisp and the white paint was undamaged.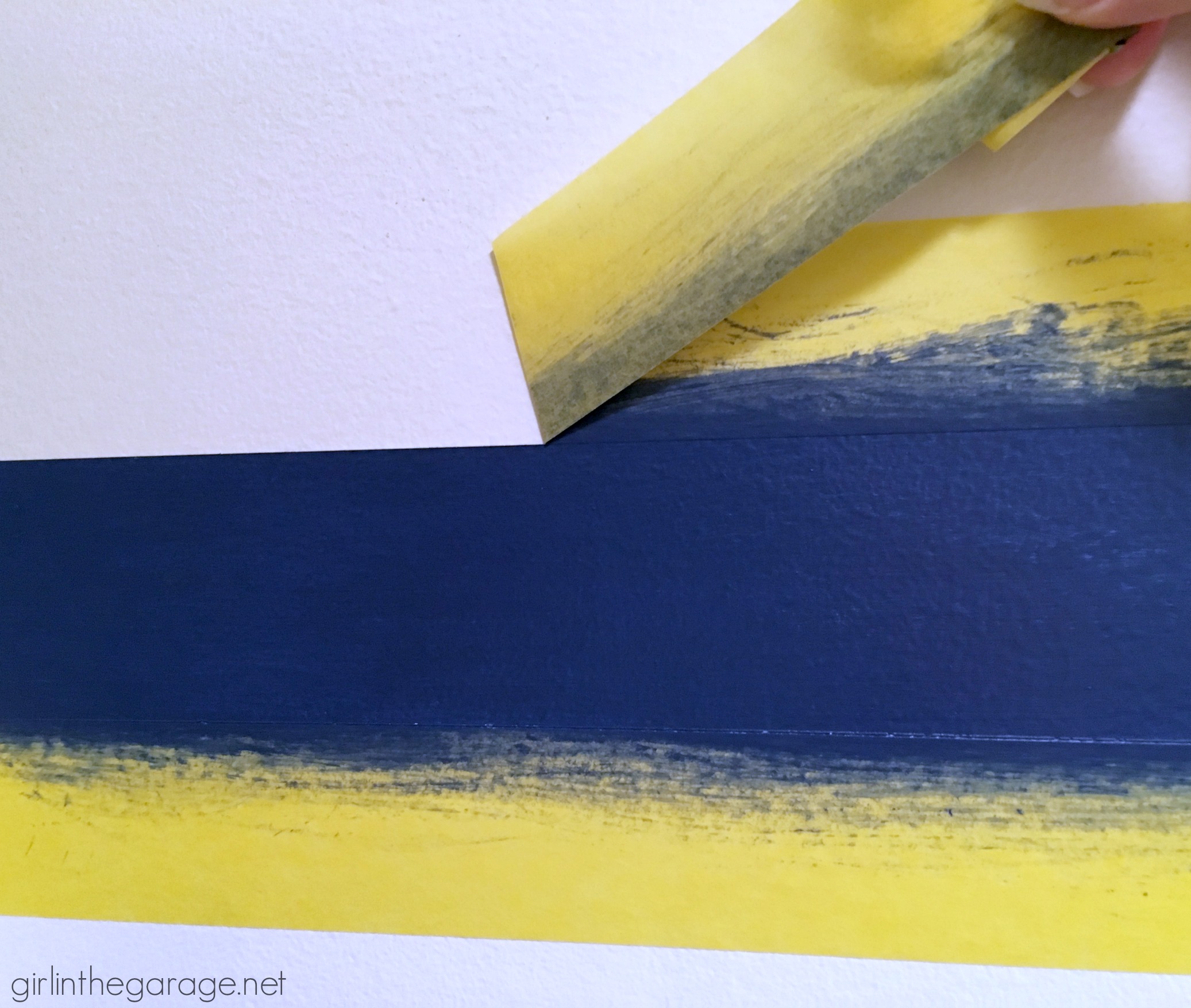 Boom – a new striped wall, and no stenciled damask in sight!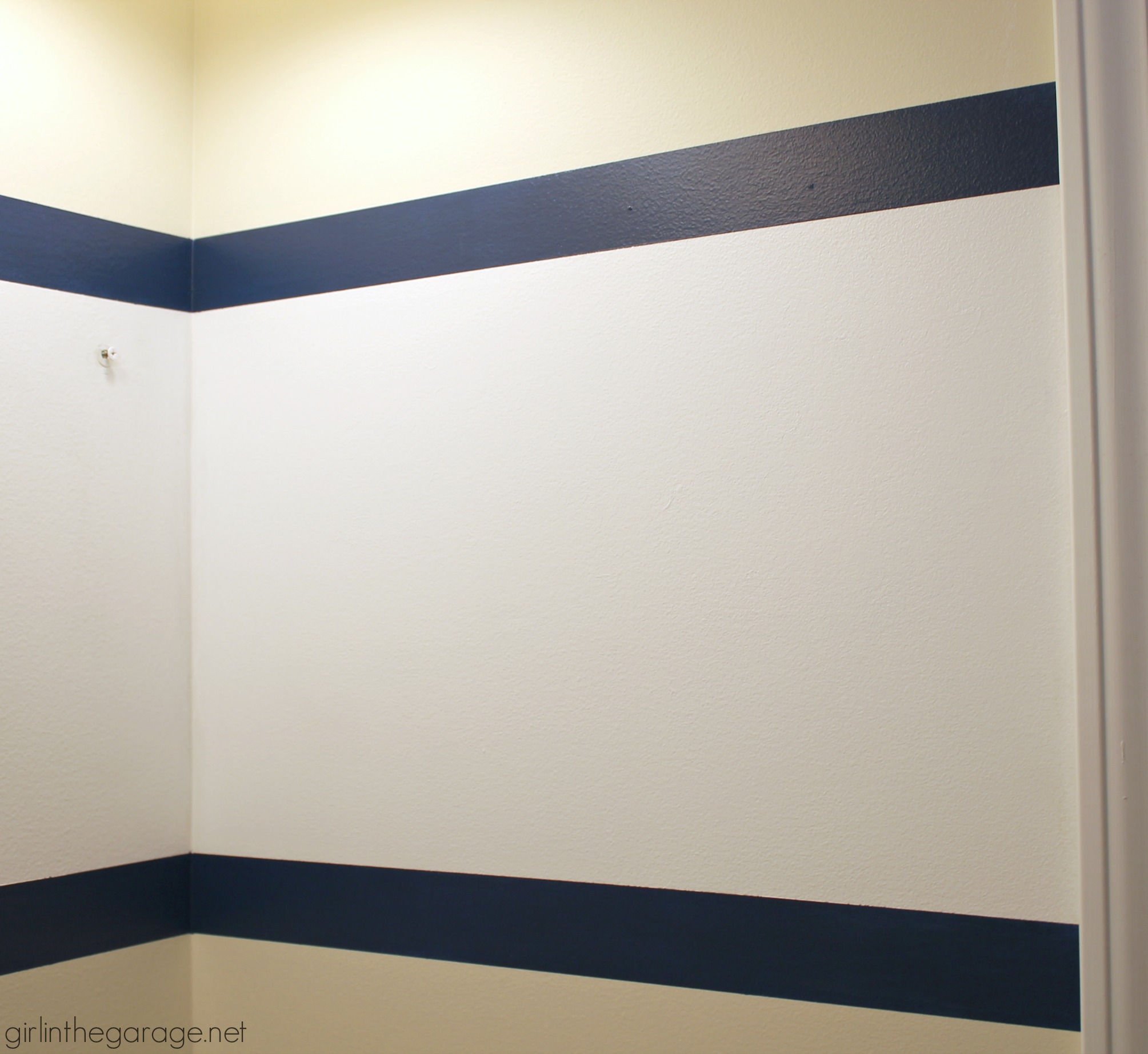 Here is the boys' bathroom makeover reveal, with new accessories too:
I wouldn't necessarily call it "nautical" but maybe just "water" themed.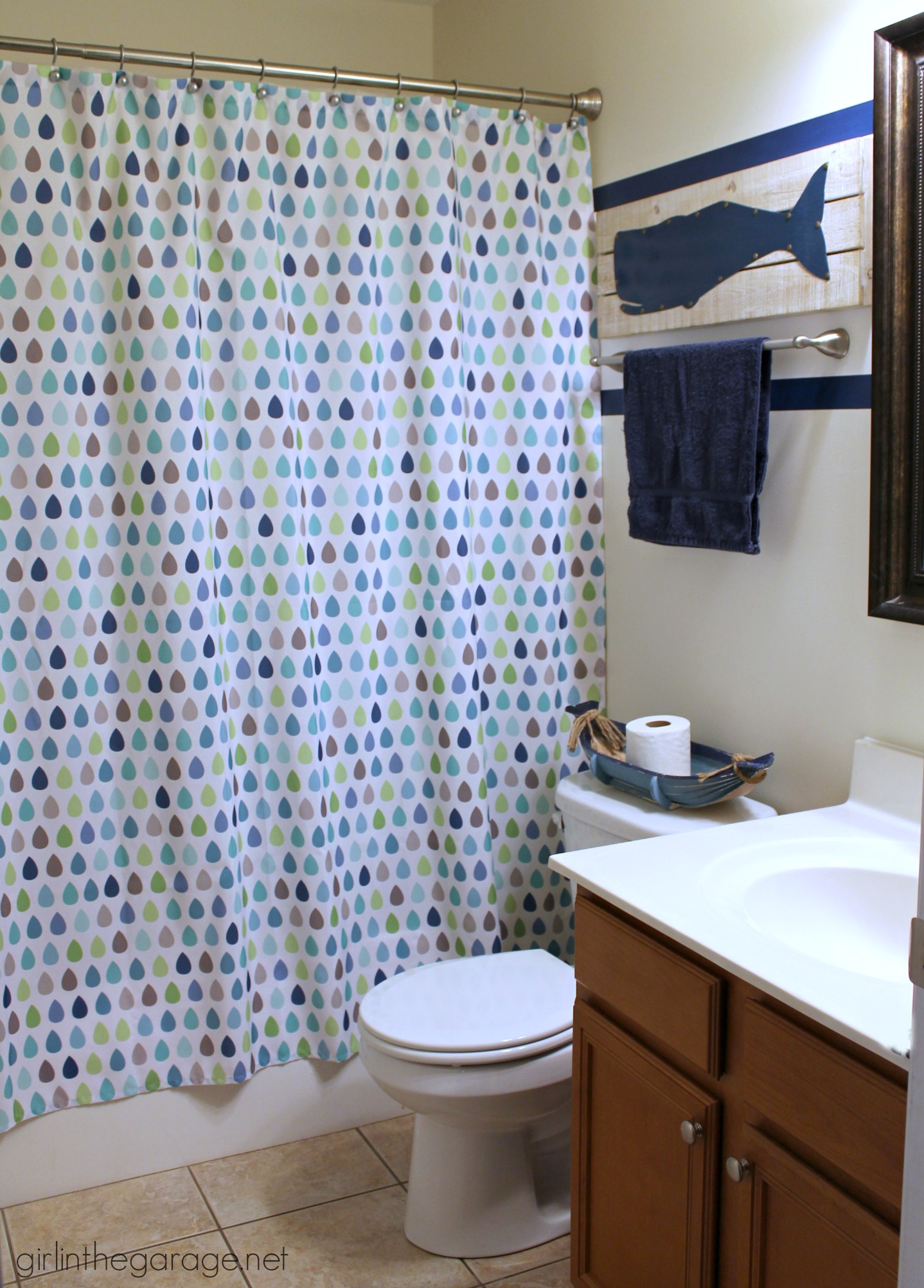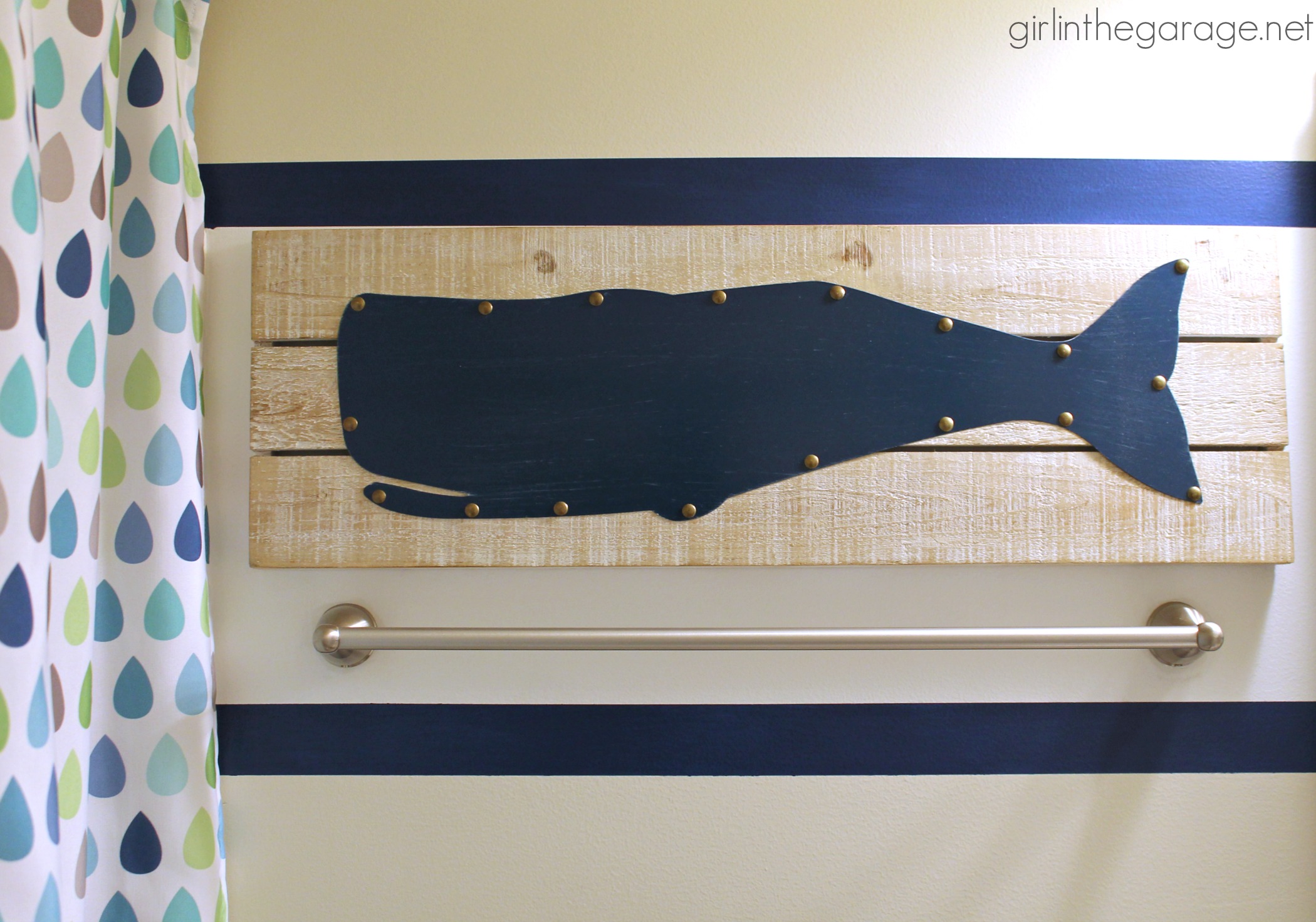 This little boat is so adorable… I had to use it for extra TP storage.  😉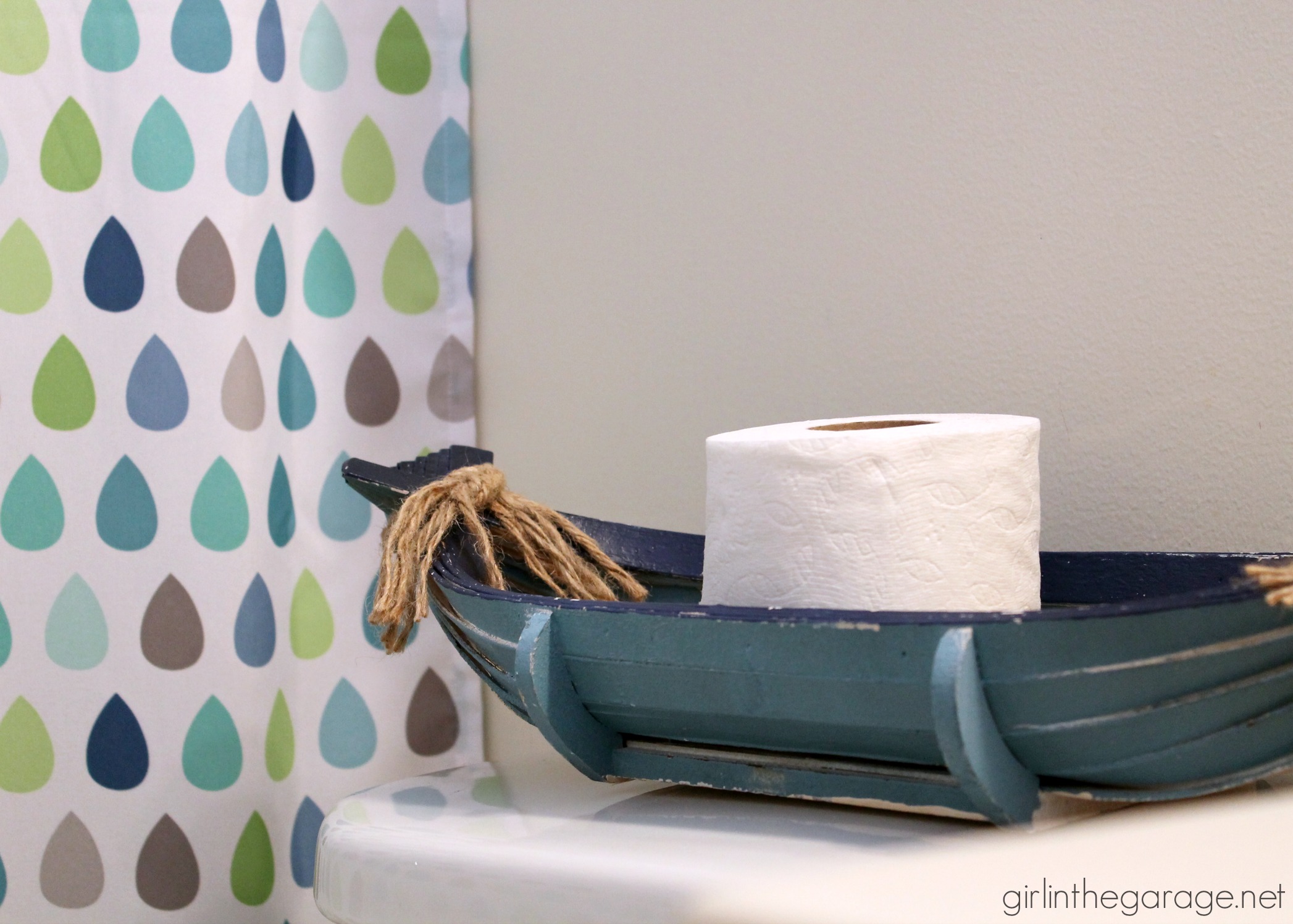 But one of my favorite accessories in the updated bathroom is this shark – how cool is that?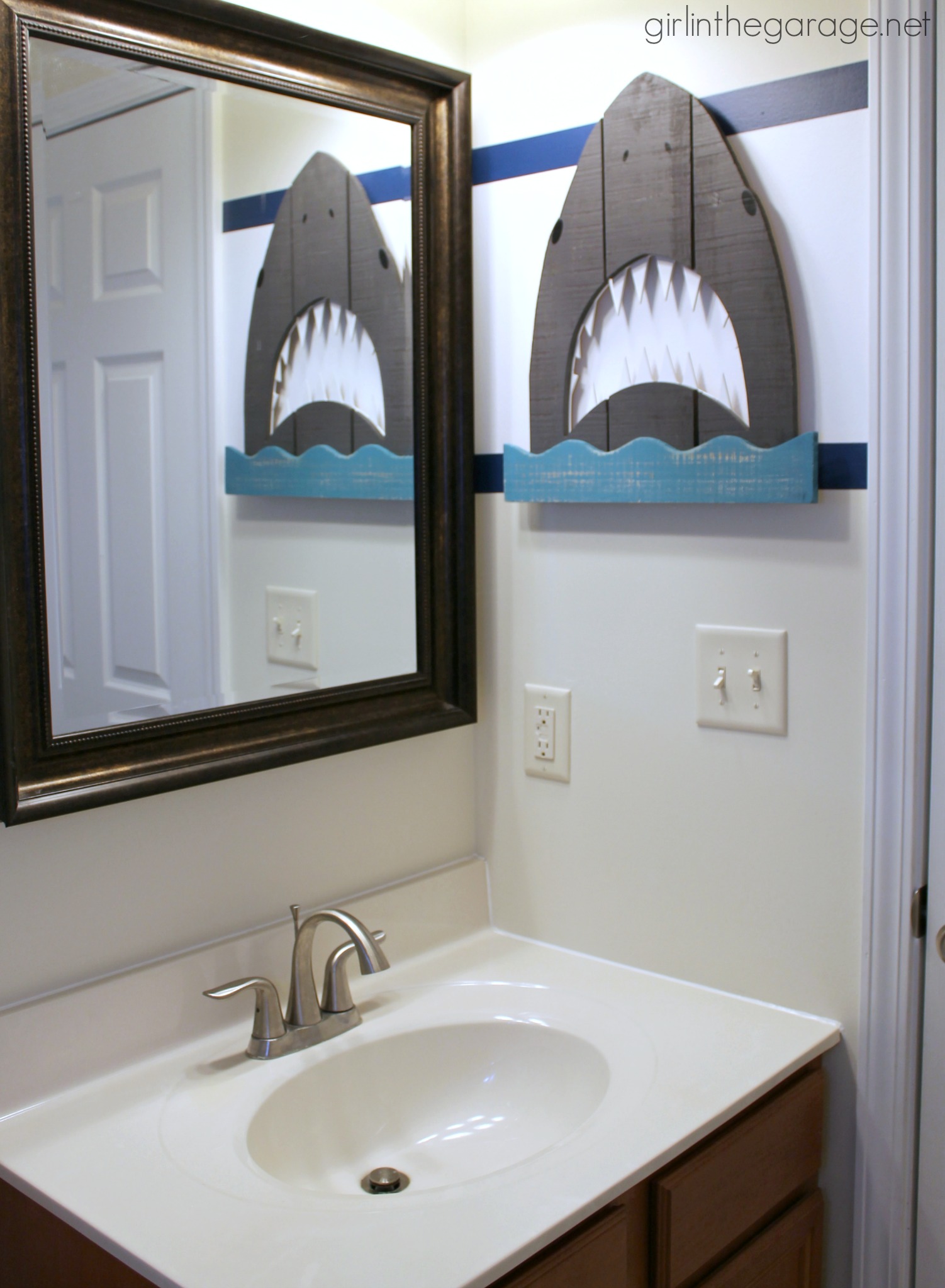 What do you think of the boys' updated bathroom?  Of course they love it, which is what really matters.  But I'm saving the old shower curtain for a future guest bathroom in some future house…
Have you painted stripes on a wall before?  I've done it several times and it's really quite easy, as long as you use FrogTape® painter's tape to keep your lines sharp and follow the advice I've given above.  For more painting ideas, follow FrogTape® painting inspiration on Pinterest.
Jen
If you like this post, please share!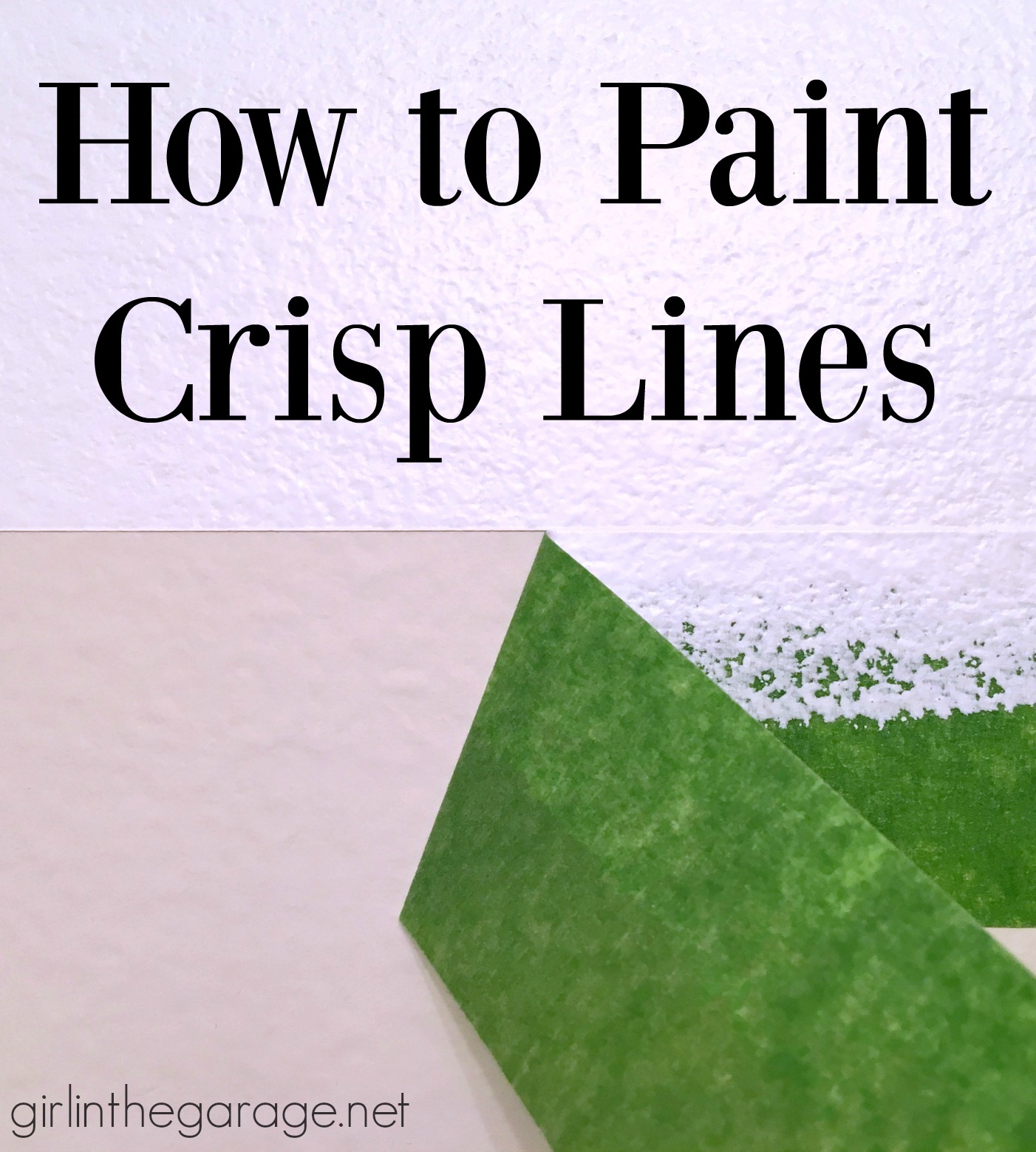 Join the GITG Community
When you join this thriving online community of 90,000 creative souls, you'll be inspired to discover hidden artistic talents and learn skills to boldly face DIY projects with confidence.
You'll also receive my free guide "Just Paint It: 7 Tips for Transforming Furniture with Confidence."