Hey guys!  I finally finished up the IKEA Rast hack I told you I was working on.  Projects sure do take longer with three kids at home all day (two on summer break, and Baby E is already 8 months old!).
Backstory:  A few months ago, I made my first trip to IKEA which is over an hour away from our house.  I was actually so nervous on the way because I wondered if it could live up to all the hype!  The store was so much larger than I could've imagined, and when we left I was really satisfied with my purchases.  I went there planning to buy a Rast (I painted one before – this Suitcase Dresser – which was sent to me as part of a sponsored blog post) because it's inexpensive and I really wanted to have some creative fun with it.  As luck would have it, the Rast is usually about $35 but we found one in the clearance section already assembled for about $25.  SCORE.  It must've been a floor model and it was in perfect condition.
The reason I didn't start working on it right away was because I had way too many ideas for making it over.  Just when I thought I had it finalized, I was shopping at Hobby Lobby and found this poster, half price: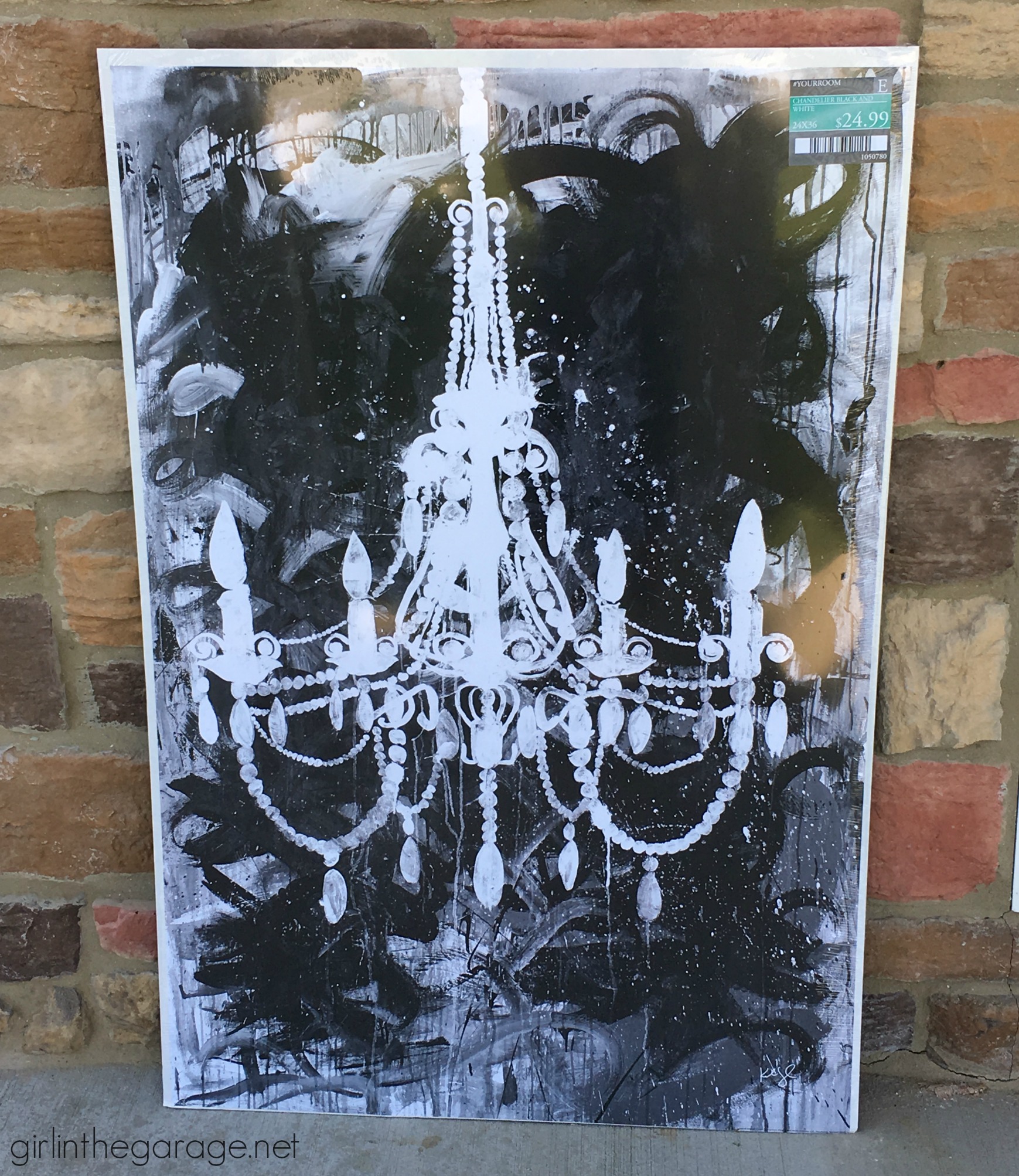 I knew it would be an awesome decoupage project.  Thankfully the width was perfect, and I could easily trim the top and bottom to fit on the drawers.  I cut and glued the panels on with Mod Podge, and we brought the bottom panel forward about an inch to be more flush with the drawers.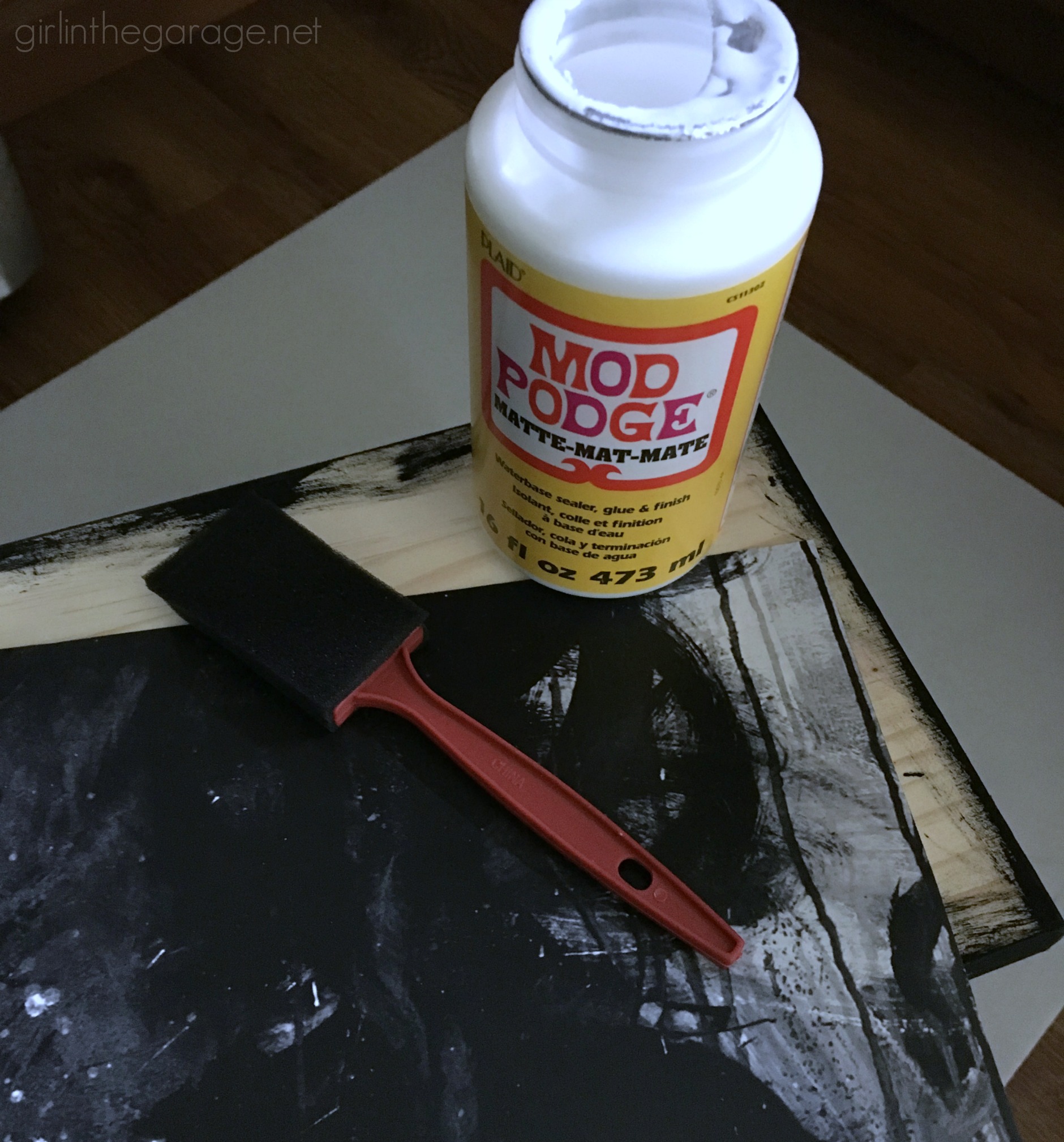 The body was painted in Warm Black chalk finish paint by Handmade Modern – an 8oz sample was on clearance for $2.98 from Target, and I used almost the entire thing.  I used this because I wanted a true, deep black unlike the dark gray finish of Graphite.
I considered buying new pulls, but with ~$40 already into this project, I opted to paint the hardware that came with it.  I did come up with an easier way to do it though – I poked the screws through extra cardboard so I could paint all the way around the knobs at once.  Easy peasy.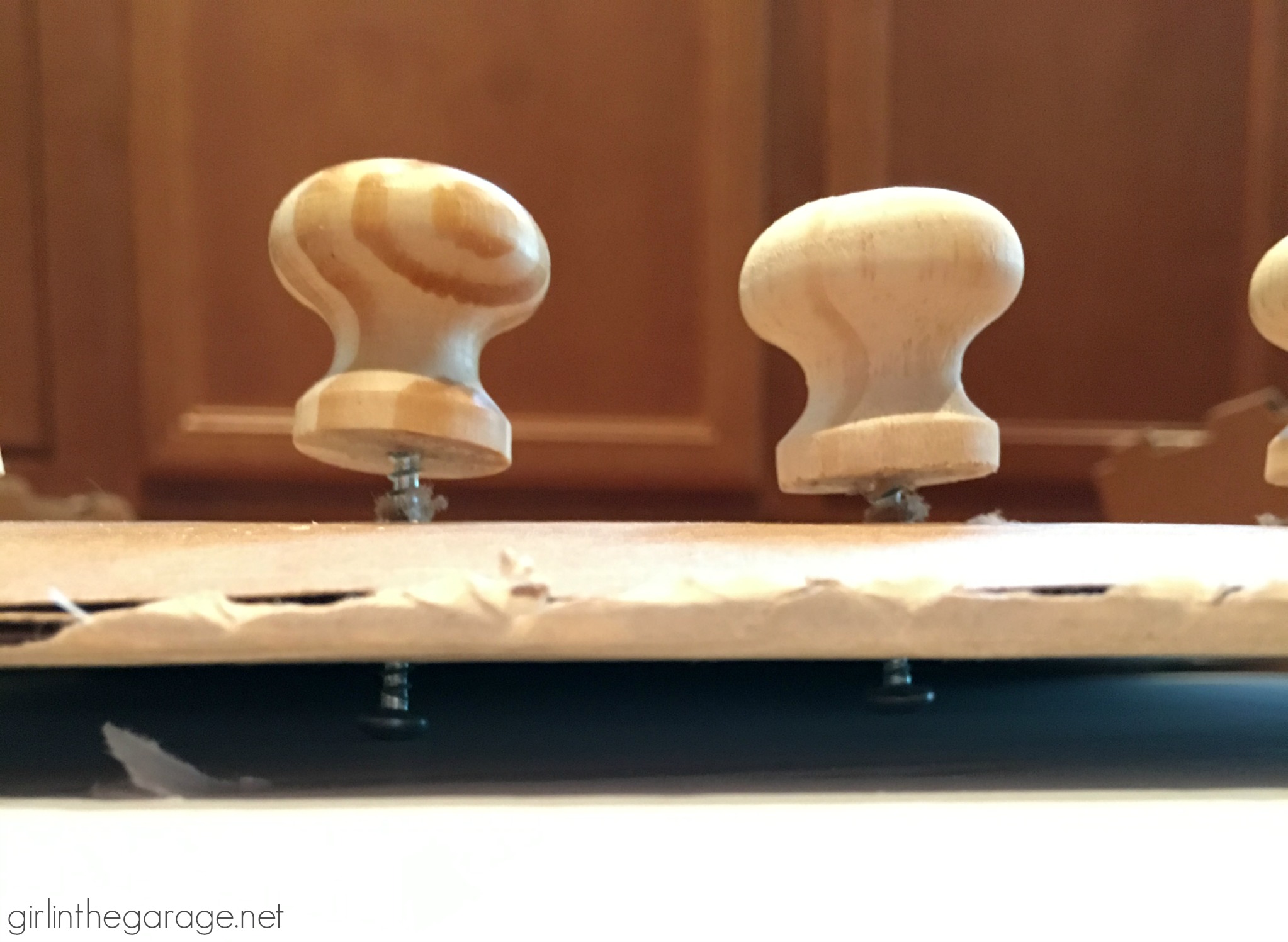 For the topcoat, I used General Finishes High Performance Topcoat which I've heard great things about.
And here's the fancy finished Chandelier Dresser:
I pulled out part of my camera collection to photograph with it.  <3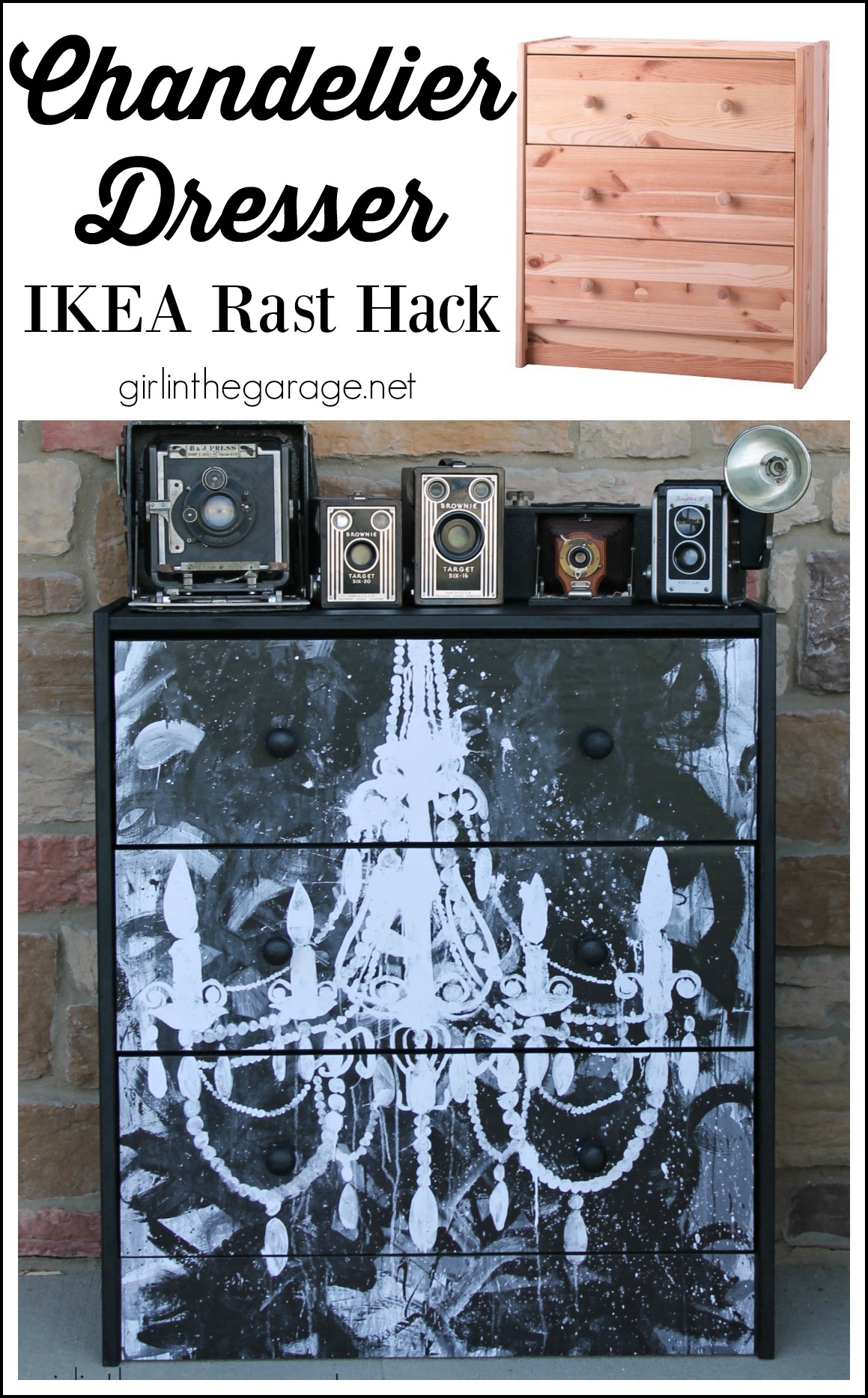 So, what are your thoughts?  Do you love/hate it?  I'd love to know!
I think I'm going to have to go back and buy more Rasts to redo.  Haha
Just for fun, here's the other IKEA Rast hack I did last year: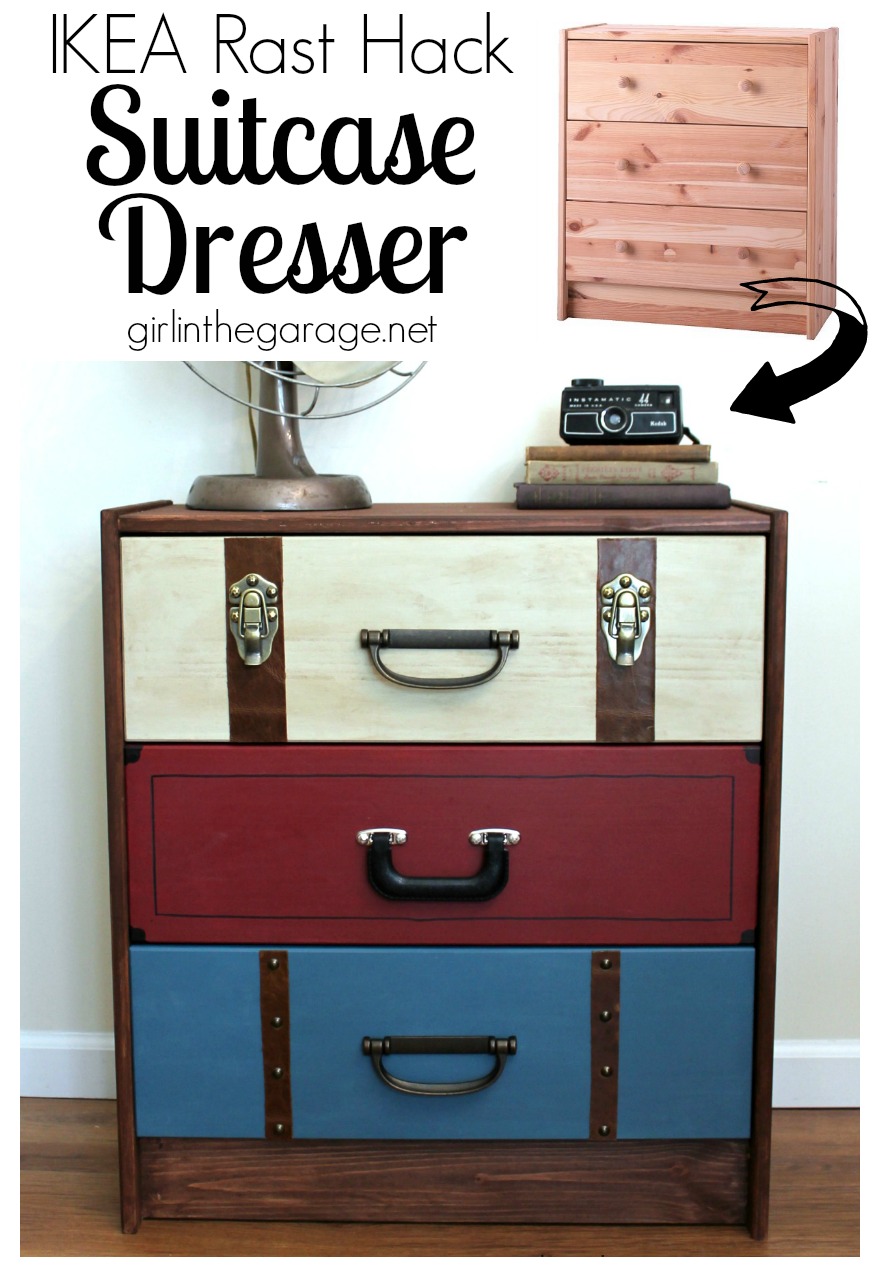 Have a fabulous weekend, friends!  We'll be celebrating our 10th wedding anniversary!  <3
Jen
Join the GITG Community
When you join this thriving online community of 90,000 creative souls, you'll be inspired to discover hidden artistic talents and learn skills to boldly face DIY projects with confidence.
You'll also receive my free guide "Just Paint It: 7 Tips for Transforming Furniture with Confidence."