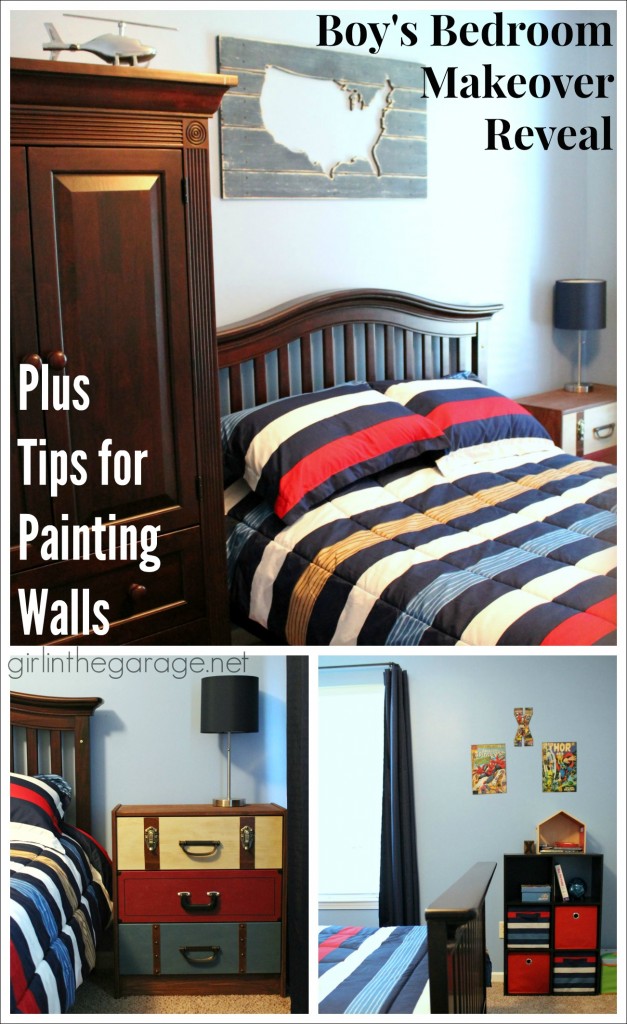 After months of planning and procrastinating, I'm excited to reveal our 6-year-old son's bedroom makeover!  You can see the before HERE – the photos are old but the room was mostly the same until recently.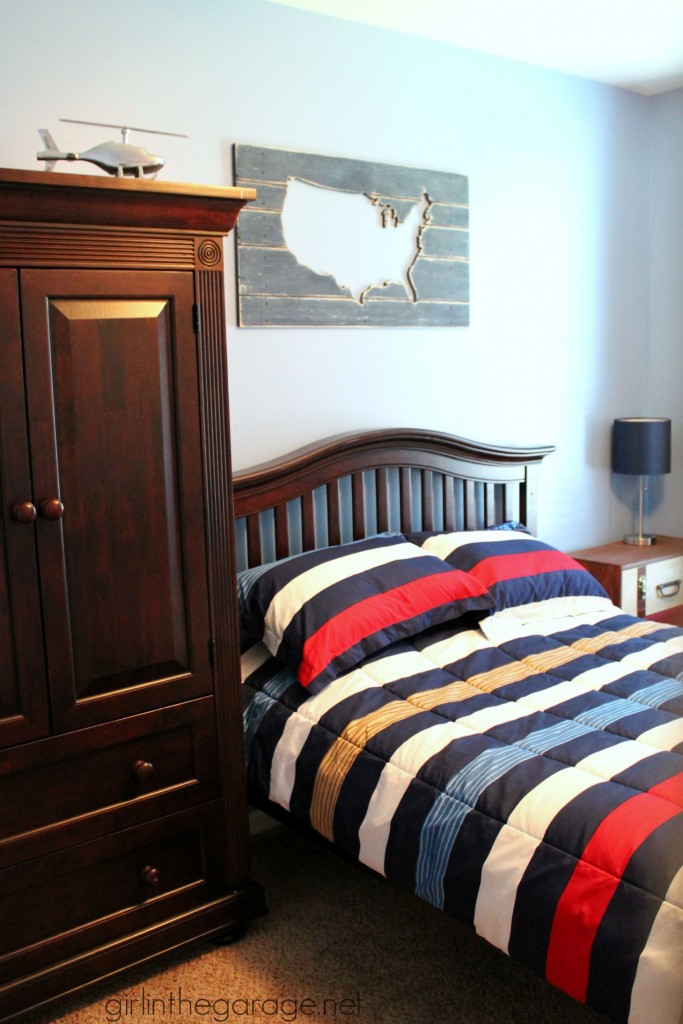 The plan started at the beginning of this year, but a settling crack down the corner of one wall (below) had to be repaired before anything else could be done.  Then life happened and the crack didn't become a priority until late summer when we didn't want to put it off any longer.  (With a new baby on the way soon, I knew it would be more difficult to get any projects done… let alone a whole room makeover.)  We finished this makeover before Baby E was born and I'm thrilled to finally be able to share it with you guys!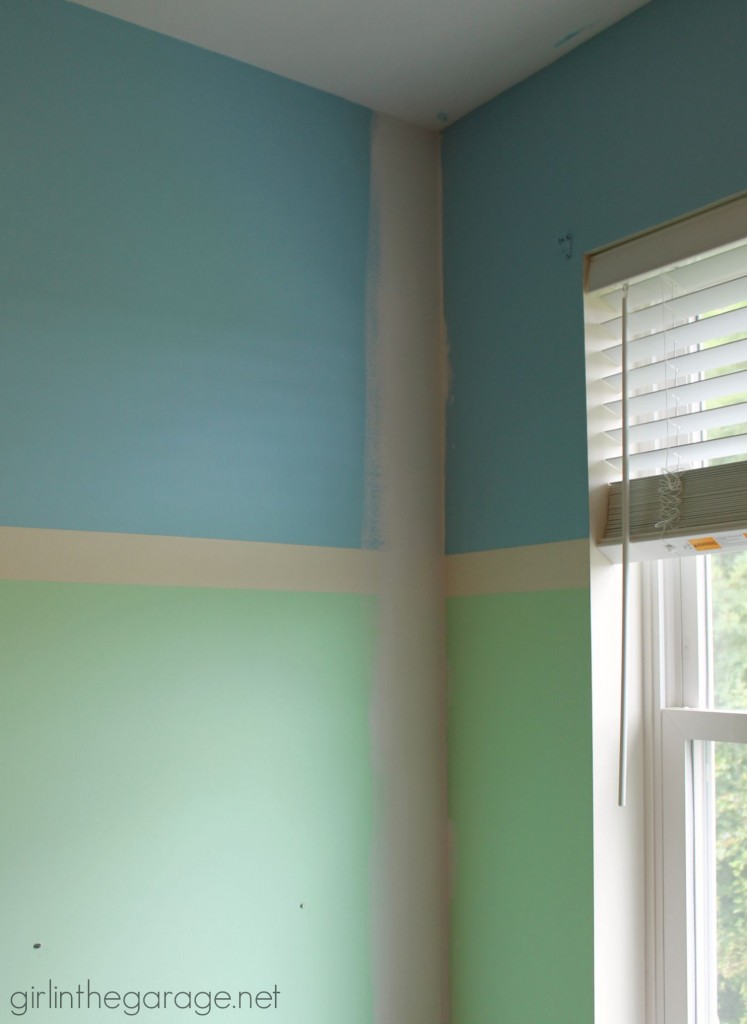 I had been buying items for both of our boys' bedrooms, and basically I was designing X's room around a comforter set from Target.  My plan was to paint in the room in a similar shade of blue as in the stripes of the comforter.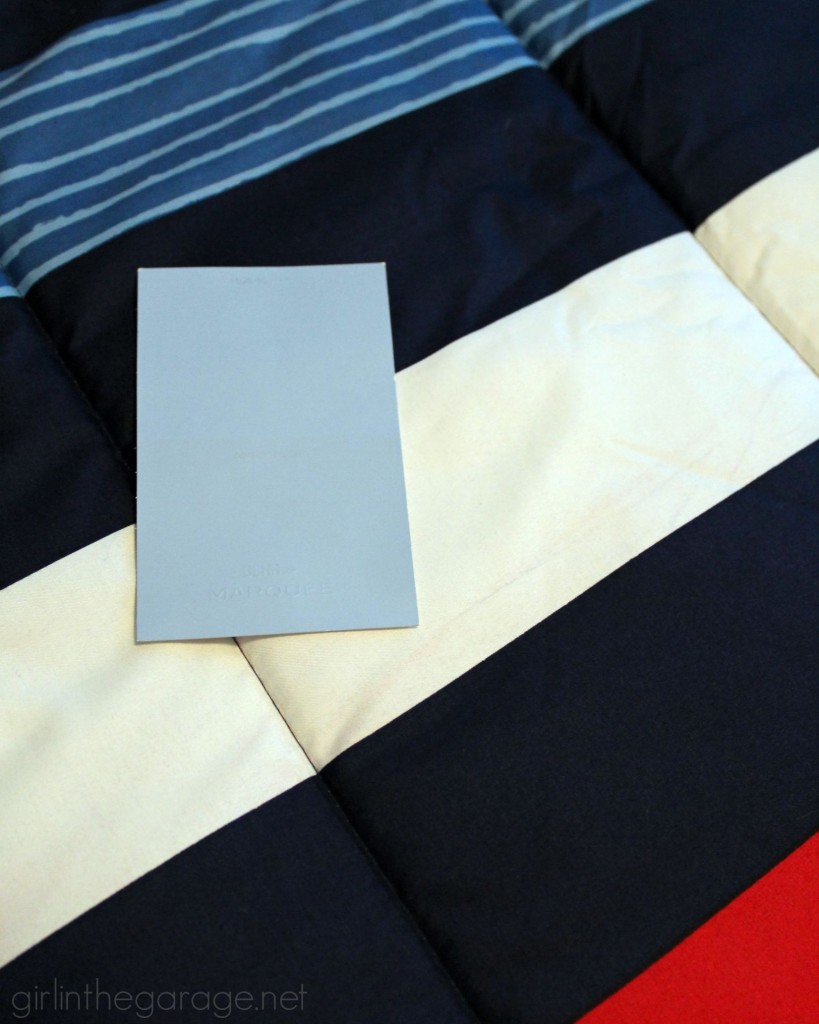 Here are my tips for painting walls:
1.  Make sure your walls are clean (wipe with a damp cloth and allow to dry).
2.  Fill in any holes with patching material, allow to dry, and sand lightly.
3.  Choose a good quality paint brand.
4.  Remove outlet covers and tape off the ceiling and around the trim.  I prefer FrogTape.
5.  Start by painting around the edges with a brush or rectangle paint edger (which we used, and it made the job quick and easy).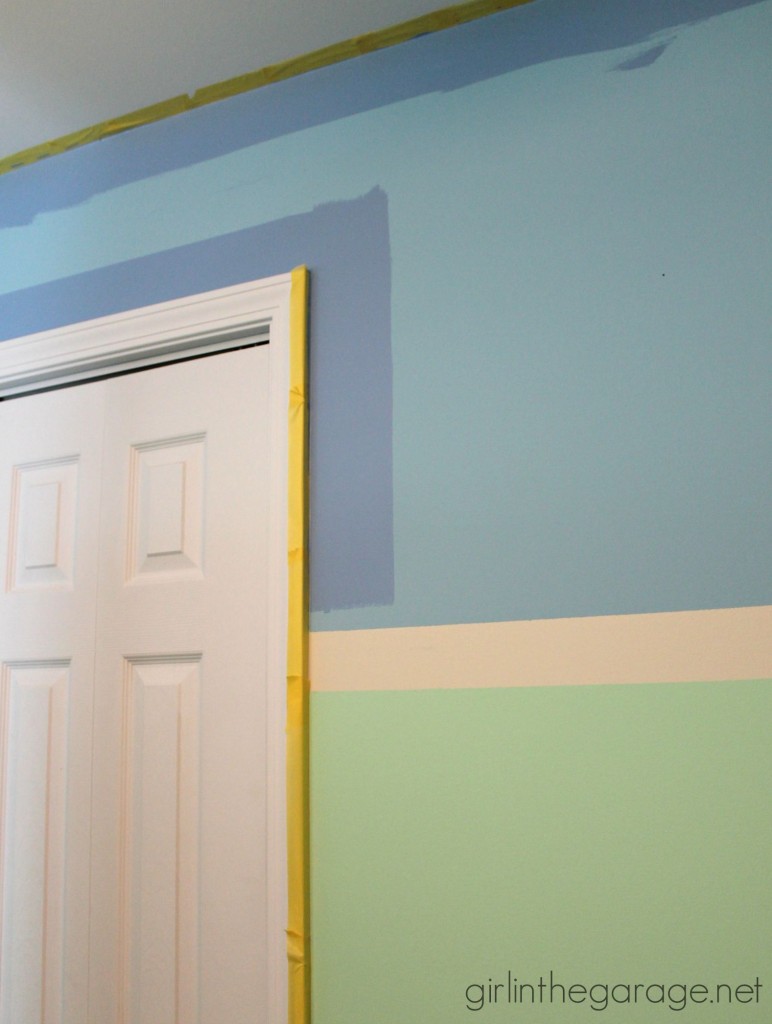 6.  Use a brush for corners and areas where the paint edger couldn't reach (i.e. between a light switch and door trim).  It's best to remove the tape before the paint is completely dry.
7.  Next use a paint roller for the rest of the wall – but don't paint in even stripes.  Instead, paint a W on the wall about 2-3 ft wide and fill in with another overlapping W – keep going until your wall is finished.
8.  Repeat for the entire room and allow to dry.  Depending on your paint coverage, you may need a second coat like we did.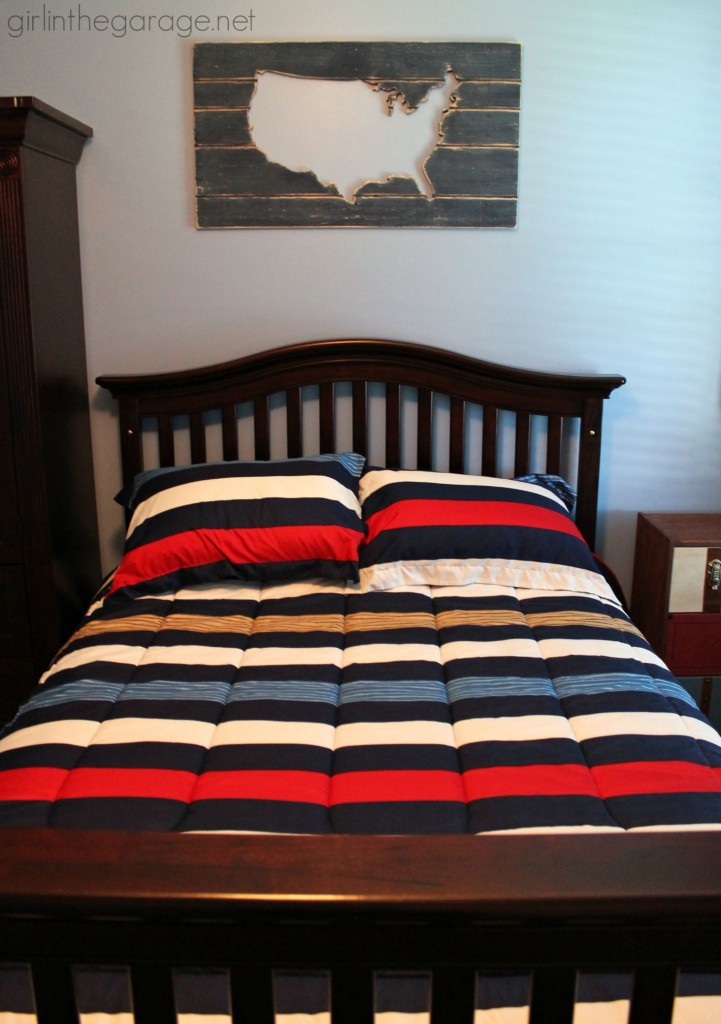 We had the boys' rooms about 90% completed when they were at school one day, and they flipped out when they got home and saw their new bedrooms.
Here's what changed in X's room (sources at the end of this post):  
– Bed converted from toddler size to full size + new full size mattress and bedding
– New nightstand (the suitcase dresser IKEA Rast hack I did earlier this year)
– Light blocking curtains
– New wall art: USA and Superheroes
– Storage system with cubes for hiding all the trinkets he insists on keeping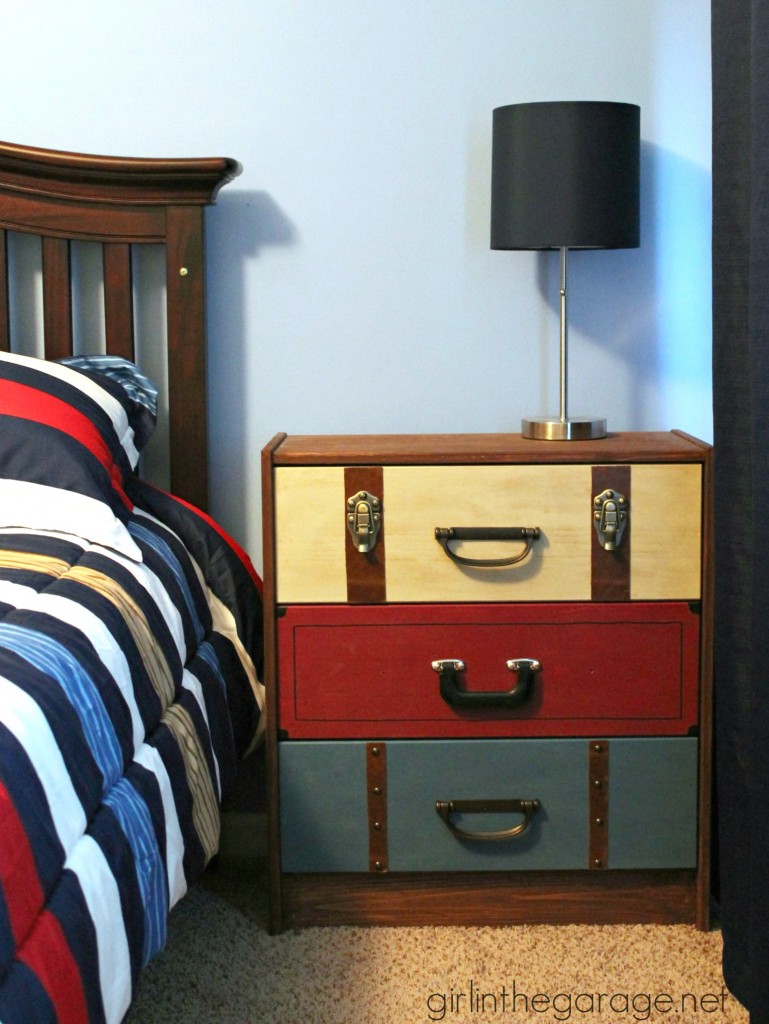 The most dramatic change for our son was the bigger bed, which was way overdue!
This is definitely a room that will stay in style and he won't outgrow anytime soon.  He says he wants his bedroom to stay like this forever.   🙂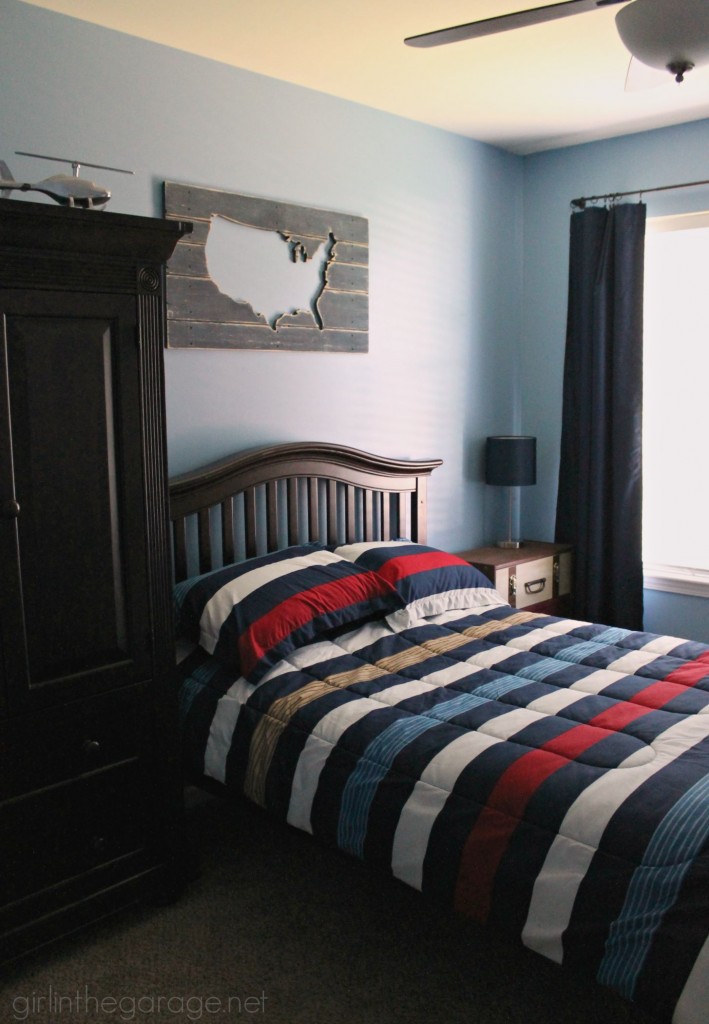 We're all so pleased with how it turned out!
Sources:
– Convertible bed, armoire, wide dresser (in our other son's room) – Babies R Us
– Bedding, lamp, curtains, cube storage unit – Target
– Wall art (wood USA and Superheroes) – Hobby Lobby
– Nightstand (transformed as a makeover project) – IKEA
I'd love to know what you think of our son's bedroom makeover!  What other advice do you have for painting rooms?
Jen
Join the GITG Community
When you join this thriving online community of 90,000 creative souls, you'll be inspired to discover hidden artistic talents and learn skills to boldly face DIY projects with confidence.
You'll also receive my free guide "Just Paint It: 7 Tips for Transforming Furniture with Confidence."