Hi friends!  With the start of October and fall weather, it's time to recap the best posts from July-September around here.  It was a busy few months (as always!) with my pregnancy, traveling to the Haven Conference, the launch of my new website, and numerous posts that I hope inspired you in some way.
Click any of the post titles below to read something that you might have missed the first time, or that you'd like to revisit.  🙂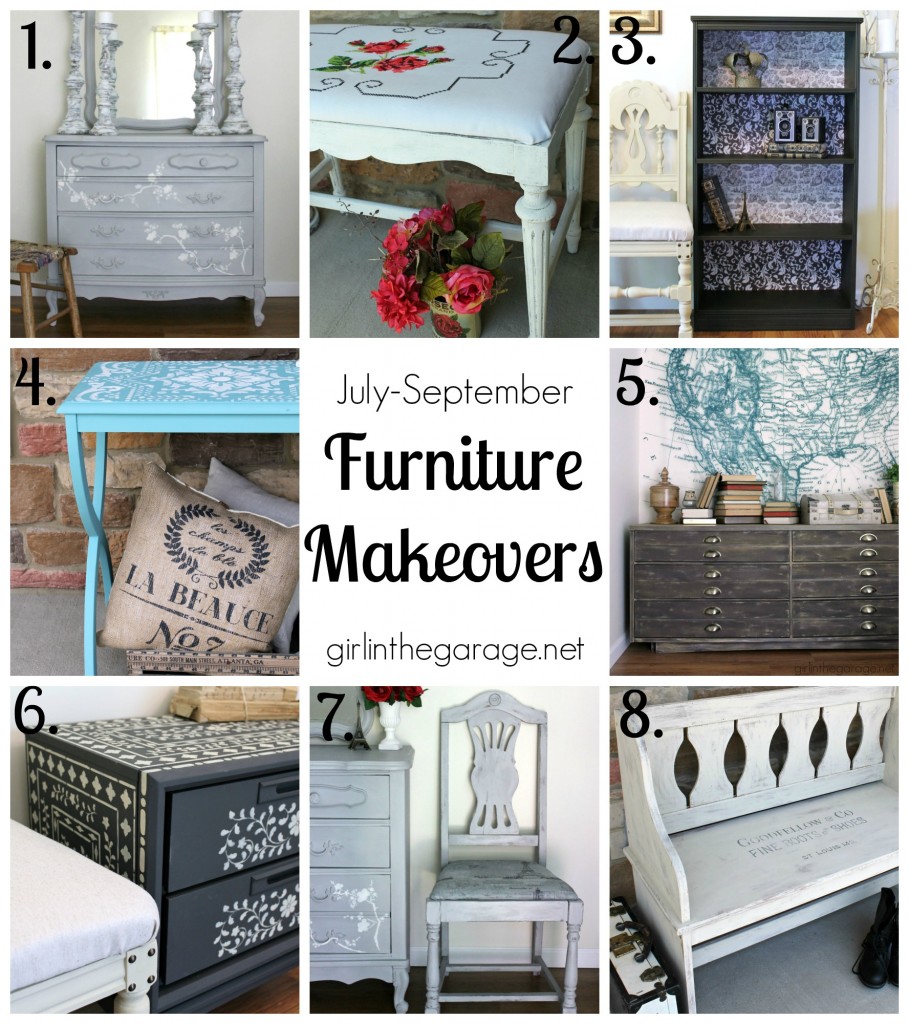 1.  Cherry Blossom Dresser
2.  Antique Bench with Vintage Pillowcase
3.  Decoupage Bookcase – Themed Furniture Makeover Day
4.  Provence Stenciled Table
5.  Anthropologie Inspired Industrial Dresser – Themed Furniture Makeover Day
6.  Indian Inlay Stenciled Table
7.  French Chair in Paris Grey – Themed Furniture Makeover Day
8.  Goodfellow Stenciled Bench
*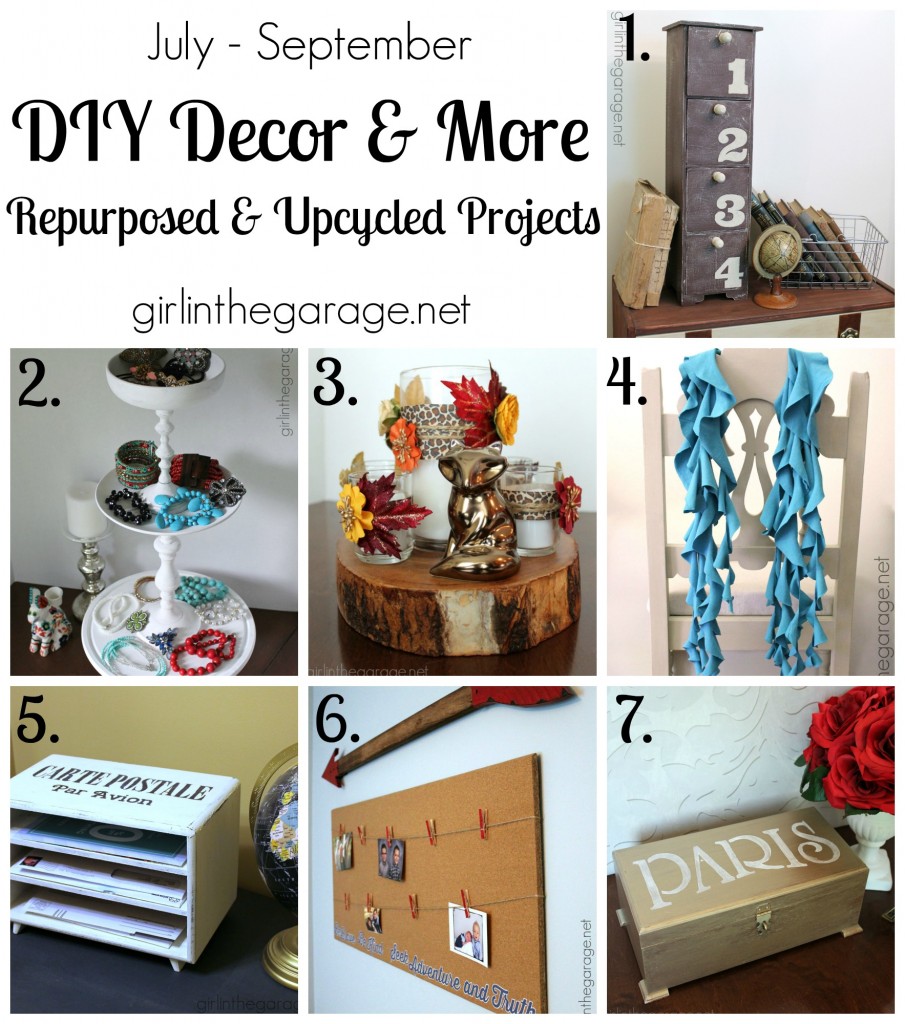 In July I started a new monthly Trash to Treasure series with a few friends where we take free or thrift store items and upcycle them into something else.  It's been a big hit so far!
1.  Weathered Storage Tower from Rooster Decor – Trash to Treasure
2.  DIY Tiered Display Stand From Thrift Store Pieces – Trash to Treasure
3.  DIY Fall Centerpiece
4.  DIY Ruffle Scarf from a Men's T-Shirt
5.  Repurposed Jewelry Box to Mail Organizer – Trash to Treasure
6.  DIY Photo Memo Board
7.  Metallic Paris Jewelry Box
*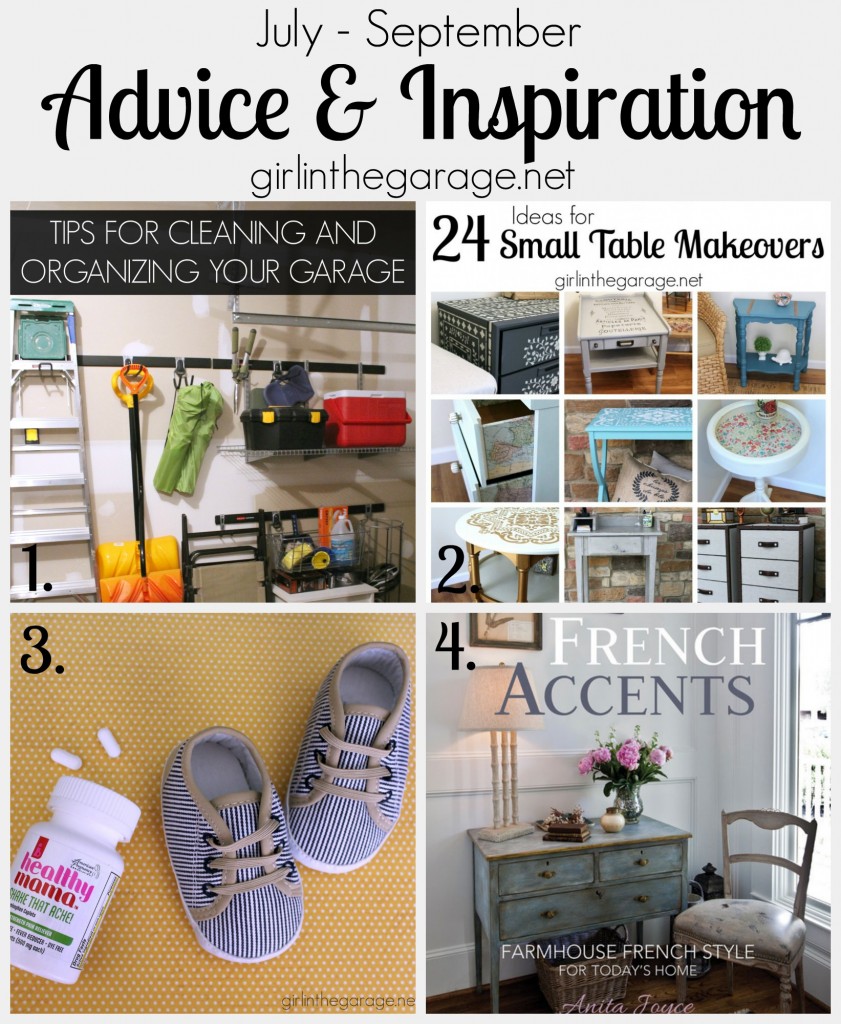 1.  Tips for Cleaning and Organizing Your Garage
2.  24 Ideas for Small Table Makeovers
3.  Tips for Having a Healthy Pregnancy
4.  French Accents book review (Advice for French style decorating)
*
September marked my 3-year blogging anniversary (my how time flies!) and the launch of my new website DIY Furniture Makeovers.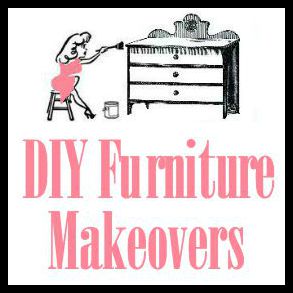 Since launching the new site a just couple weeks ago, it's already been growing steadily and I have to say that I'm really impressed with the furniture makeovers that are being submitted – and I truly love sharing inspiring projects that other bloggers have done!
Click HERE to visit my new site DIY Furniture Makeovers – Click HERE to submit a makeover
Do you have any favorites from my projects above?  Leave me a comment and let me know!
Jen
Join the GITG Community
When you join this thriving community of over 7,000 creative souls, you'll be inspired to discover hidden artistic talents and learn skills to boldly face DIY projects with confidence.
You'll also receive my free guide "Just Paint It: 7 Tips for Transforming Furniture with Confidence."