Hi friends!  If you haven't already read the news on my Facebook page, we welcomed our new baby boy this week.  🙂  We're both healthy, and I'll share more details soon, but today I'm having one of my friends share a farmhouse fall decor project with you.  I hope you have a wonderful weekend!  – Jen
Hello girls in the garage!  I am Kimm, my blog is Reinvented, and I am SO EXCITED to be here today while Jen takes care of her beautiful baby boy.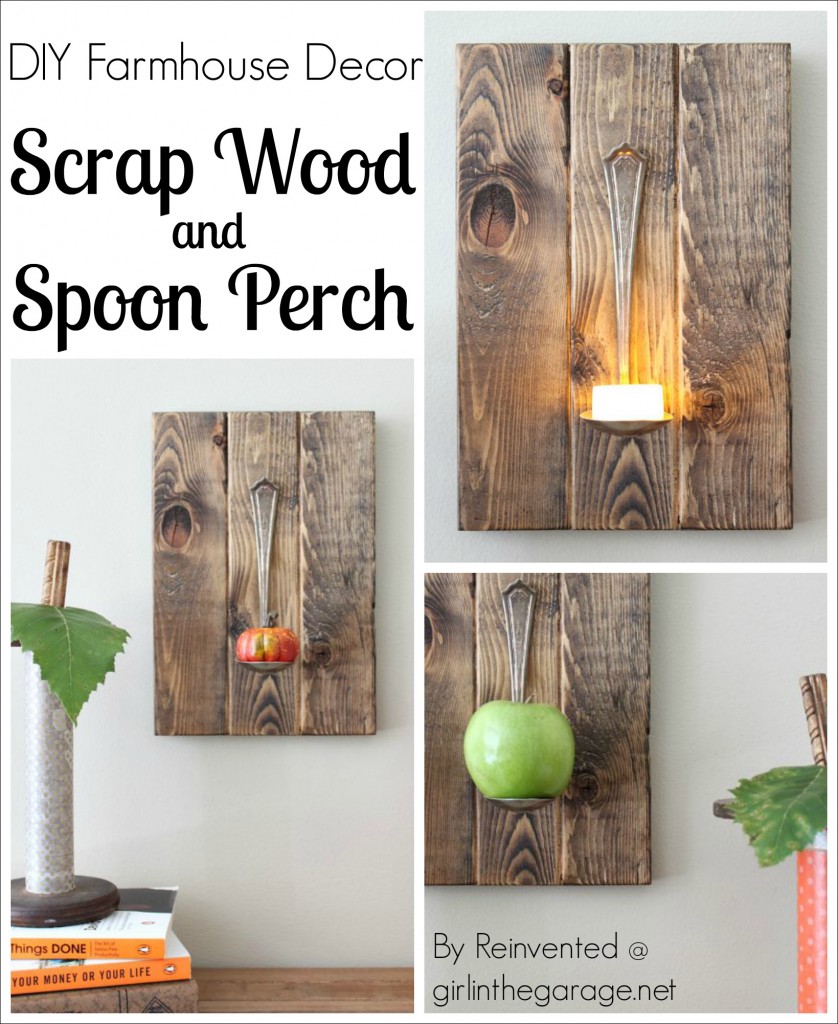 One of my favorite things to do is to create fun and casual farmhouse decor for our reinvented home from scrap wood and "spare parts."  It's really the best way to have a home that really reflects your unique personality, you know?
So…my scrap wood pile recently gave birth (Ha, see how I did that?  Jen just gave birth?  I forgot to tell you how funny I am…) to these scrap wood and spoon pumpkin perches.
I used some 1×2's, cut to ten inch lengths, stained, and glued together sideways, for the base of the sconce; then glued a vintage spoon on, bent in a vice to a right angle.  The spoon makes a perfect pumpkin perch.
And it looks pretty cute with my vintage wood spool pumpkin.
This perch also works for apples.
And candles.
And there you have it!  When updating your decor for the seasons, don't forget to check your pile of scrap wood and spare parts!
It was wonderful to be here with all of you, and I'd love to see you over at Reinvented!
Thank you so much to Jen for having me today!
– Kimm
Join the GITG Community
When you join this thriving online community of 90,000 creative souls, you'll be inspired to discover hidden artistic talents and learn skills to boldly face DIY projects with confidence.
You'll also receive my free guide "Just Paint It: 7 Tips for Transforming Furniture with Confidence."