Fortunately (and unfortunately, since my garage is stuffed again) over the past few weeks I've found some pretty amazing pieces… and some not so amazing, but that's what this blog is all about – making things beautiful.   🙂
Here are my latest treasure hunting finds – some I will keep, some I'll make over, and some I'll take to my booth and sell.
I debated on saving the best for last but I just couldn't do it.  If you follow me on Facebook then you might have already seen this beauty yesterday…  <3   It's an antique stereo cabinet that still has the stereo inside, but it doesn't work.  I don't think I'll do anything to the outside of this piece (it is already stunning), but I'll probably do some work on the interior.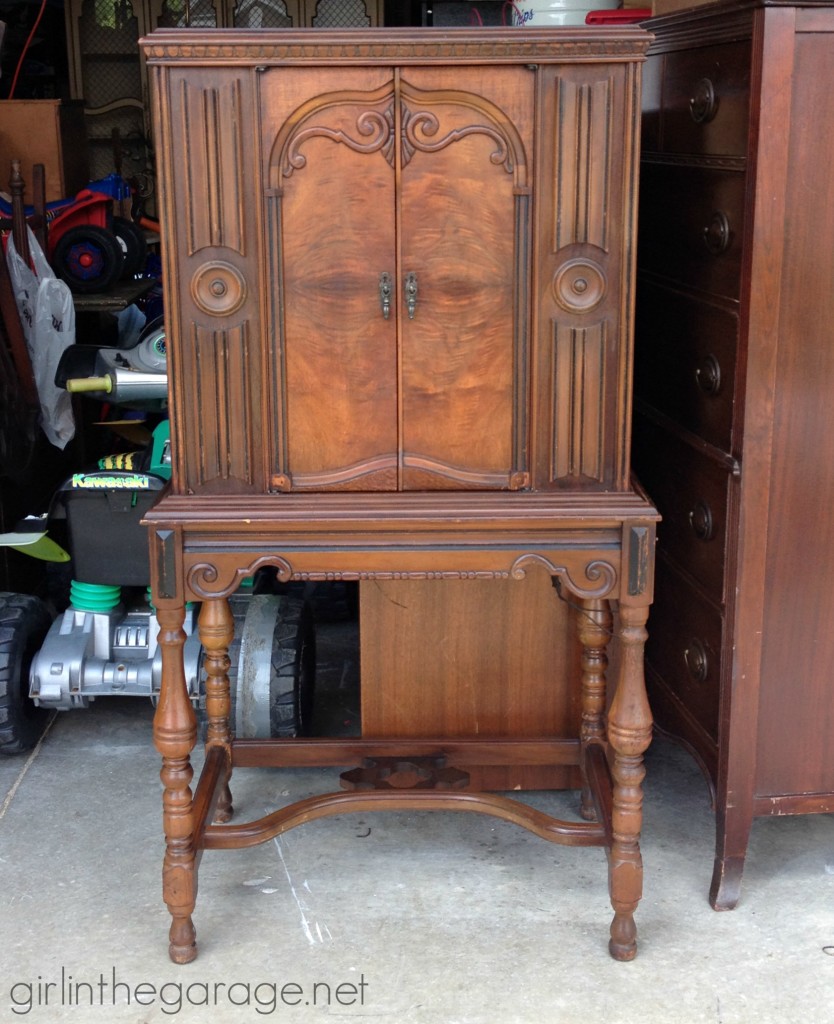 This one is also pretty awesome – it's an antique record player cabinet that has been gutted.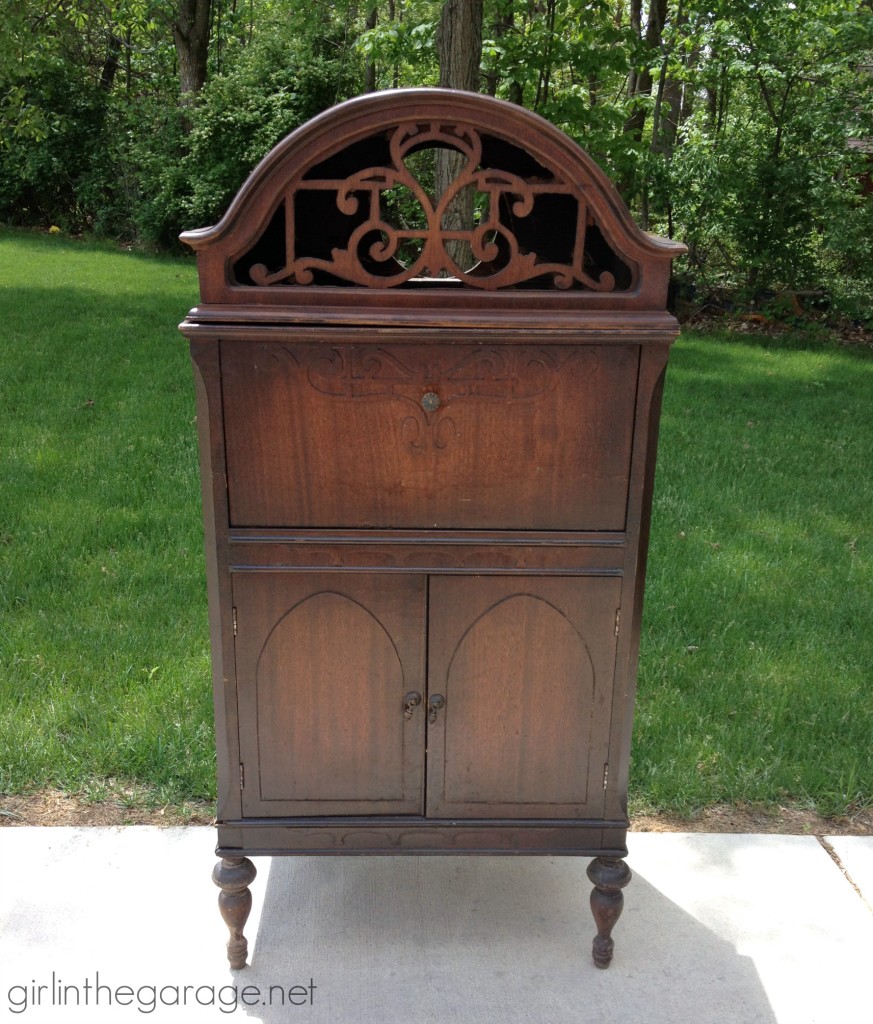 Here's the inside…  it also needs some work but it will be so worth it!
This one I got for free – the owner had it loaded in his truck to take to Goodwill and I said I would take it off his hands.  🙂  It's a great piece except for some scratches.  (And I already have plans for it.)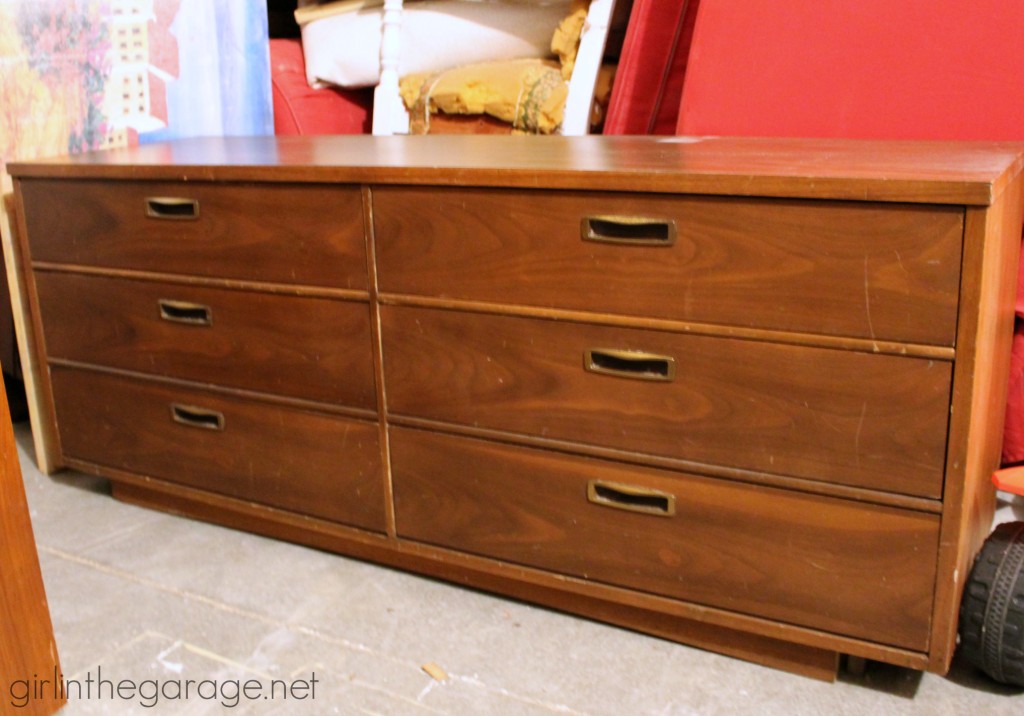 This one I also got for free (and a matching armoire which is in my storage unit and I didn't get a pic of it)… mostly in good condition, left abandoned in a rental property.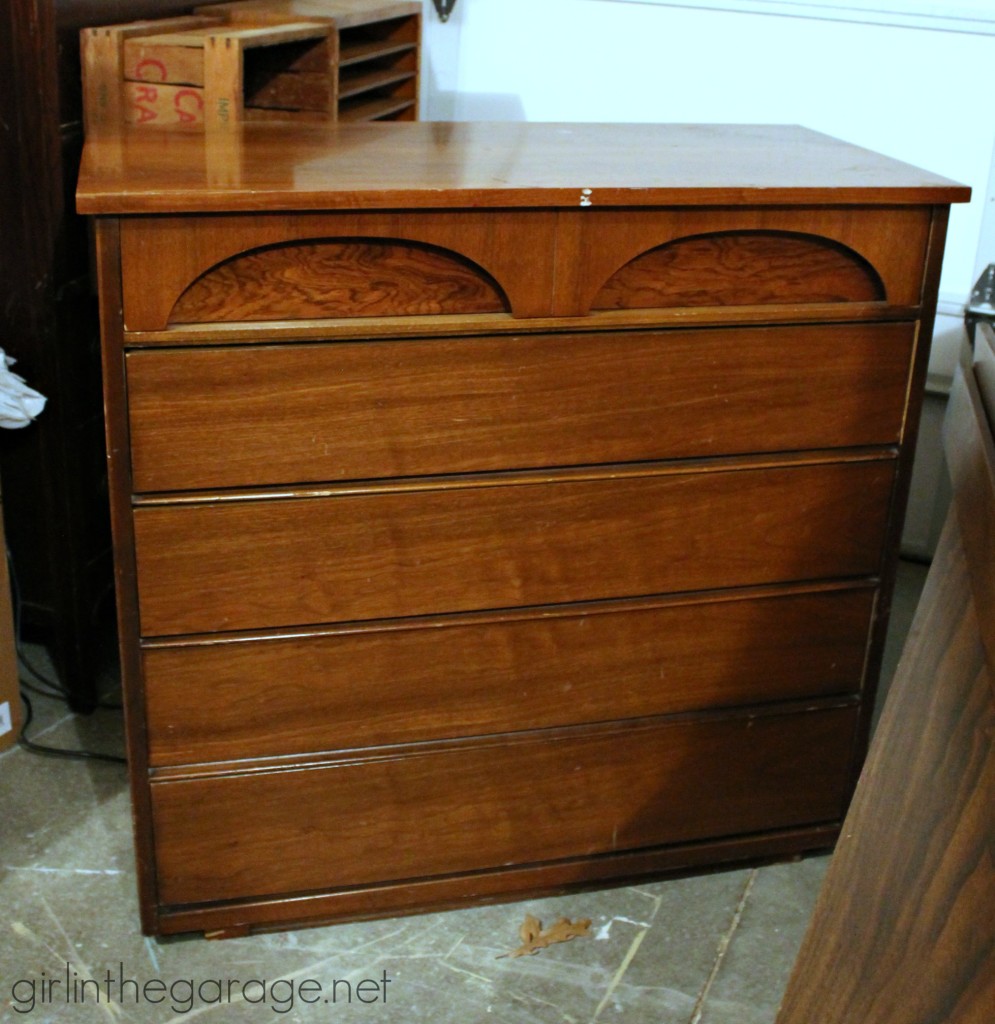 A sturdy bookcase…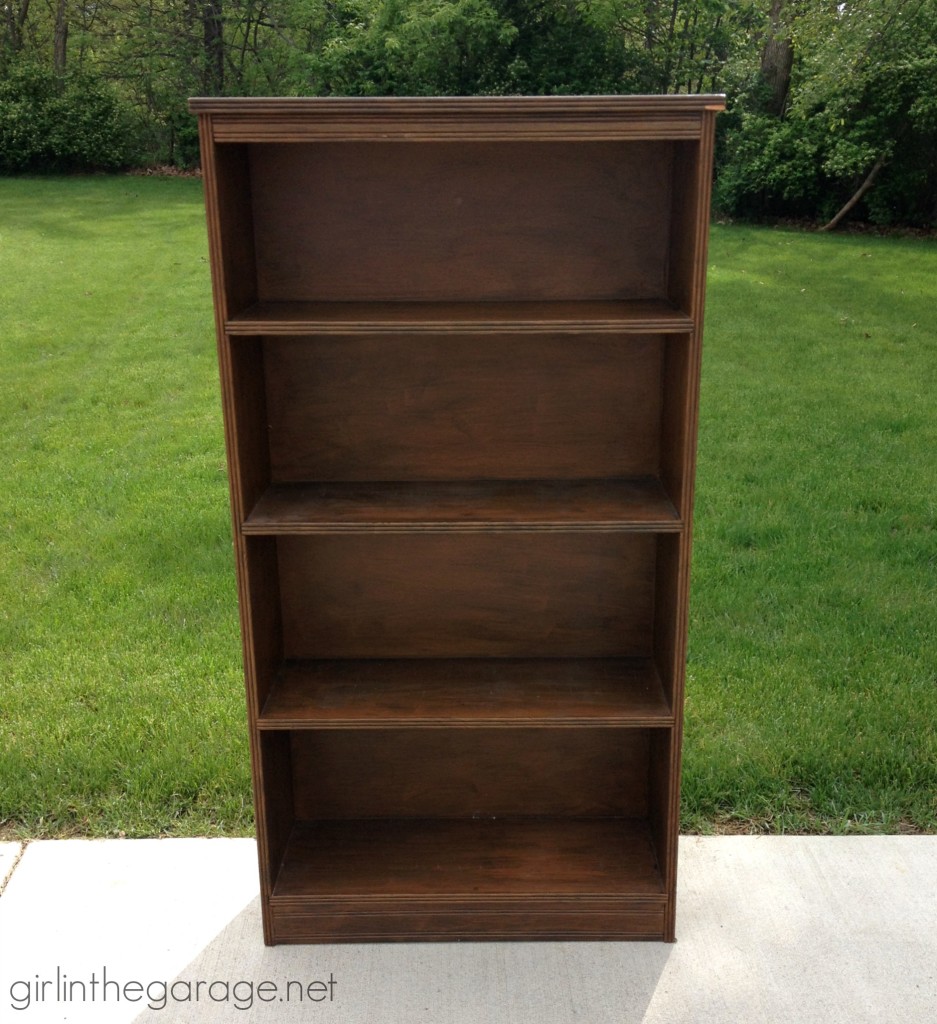 These are two sets of drawers from an antique vanity I think.  I bought them exactly like this – the paint is pretty bad and they just need some TLC.  I'm trying to decide if I should try to add legs and make them into little tables or just leave them as drawers that someone could set on their dresser perhaps?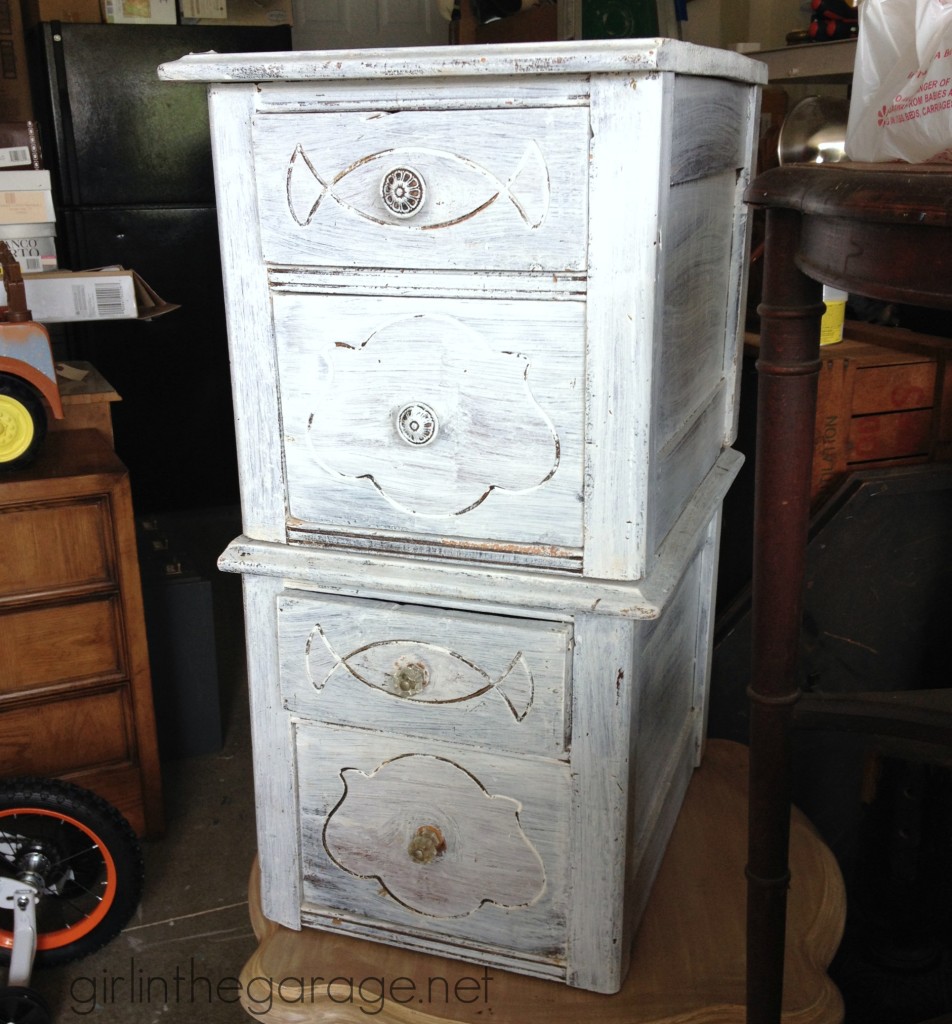 A cute little table with a terrible paint job on top…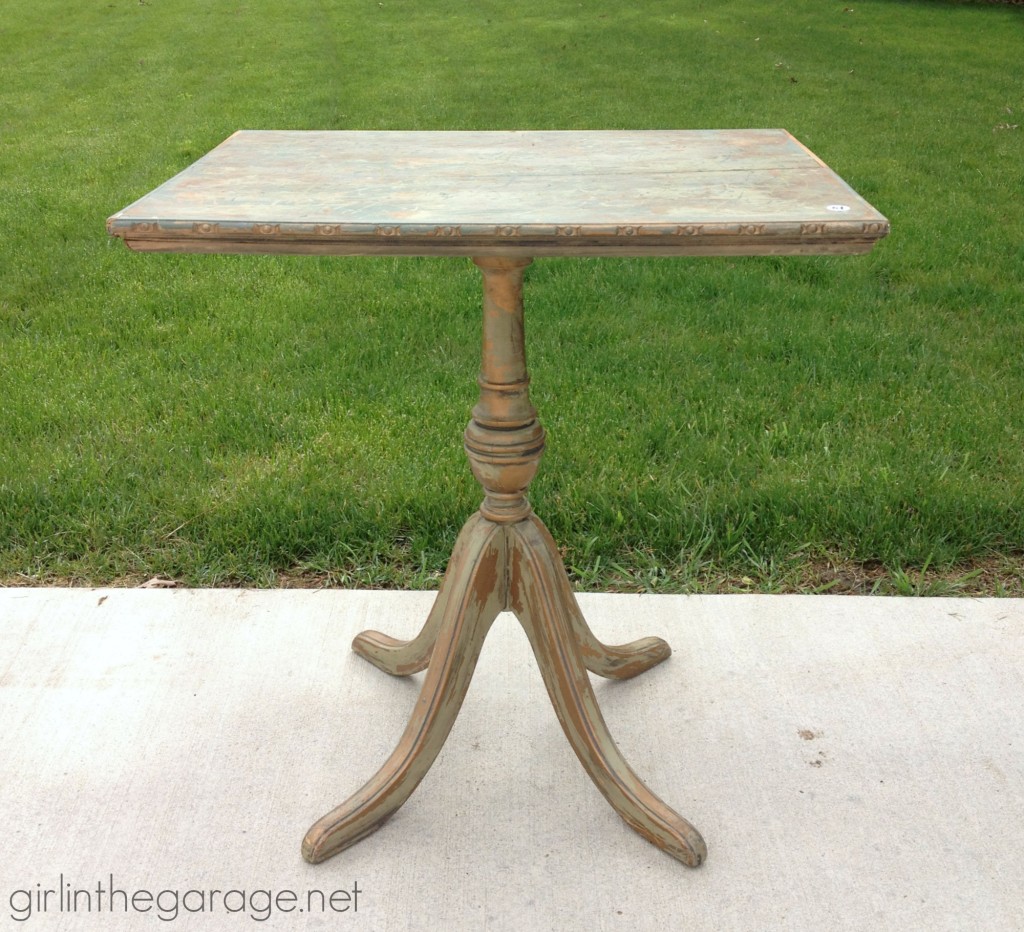 Told ya!  I think this is the splatter paint method..?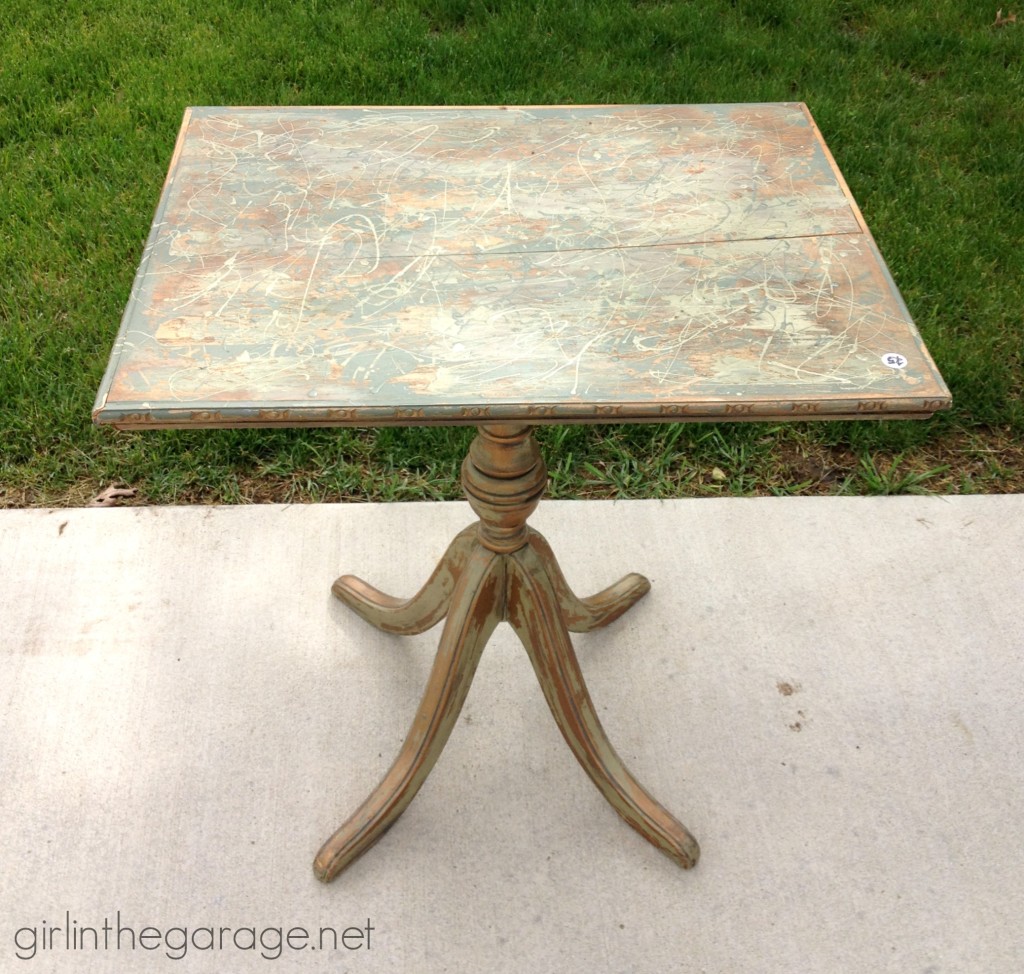 This little table has been spray painted glossy black and is chipping all over.  I know exactly what I'm going to do with it, but you'll have to wait to find out.   😉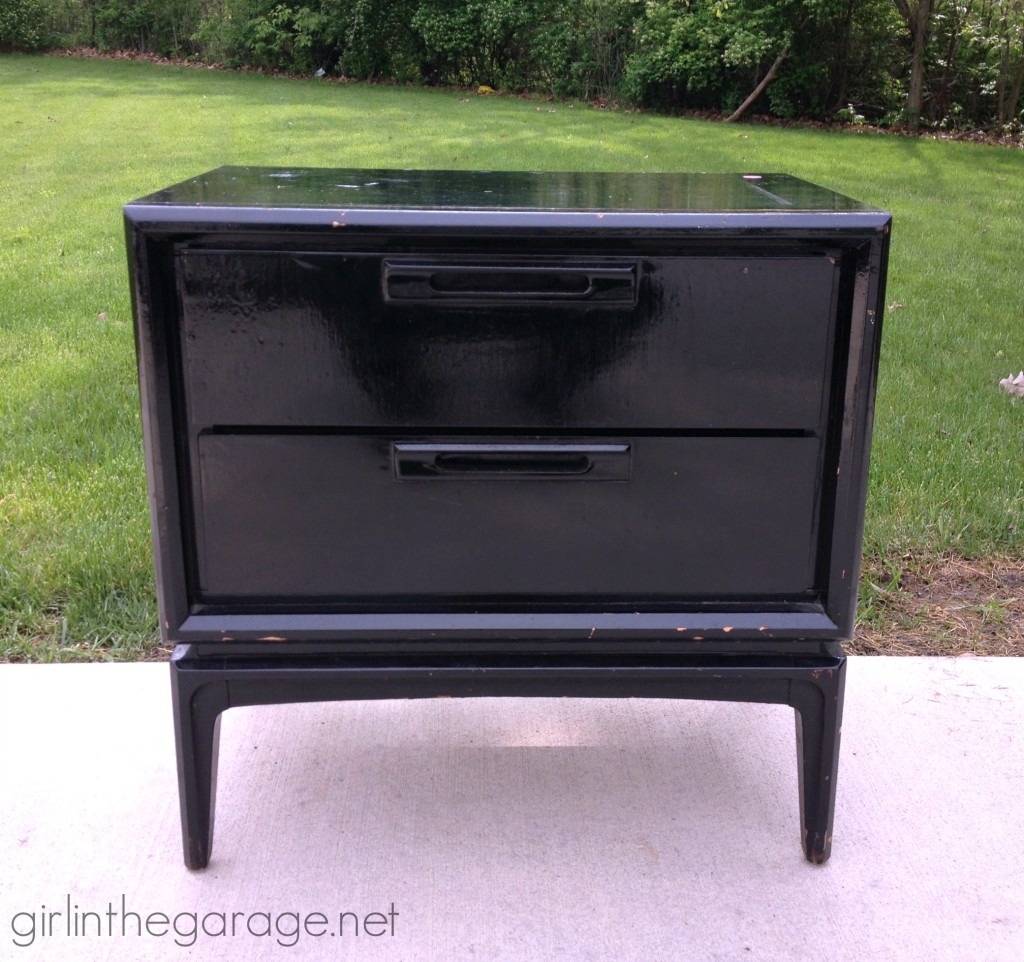 I could not pass up this awesome long tufted bench… that fabric is fabulous (ha), and I will thoroughly enjoy ripping it off!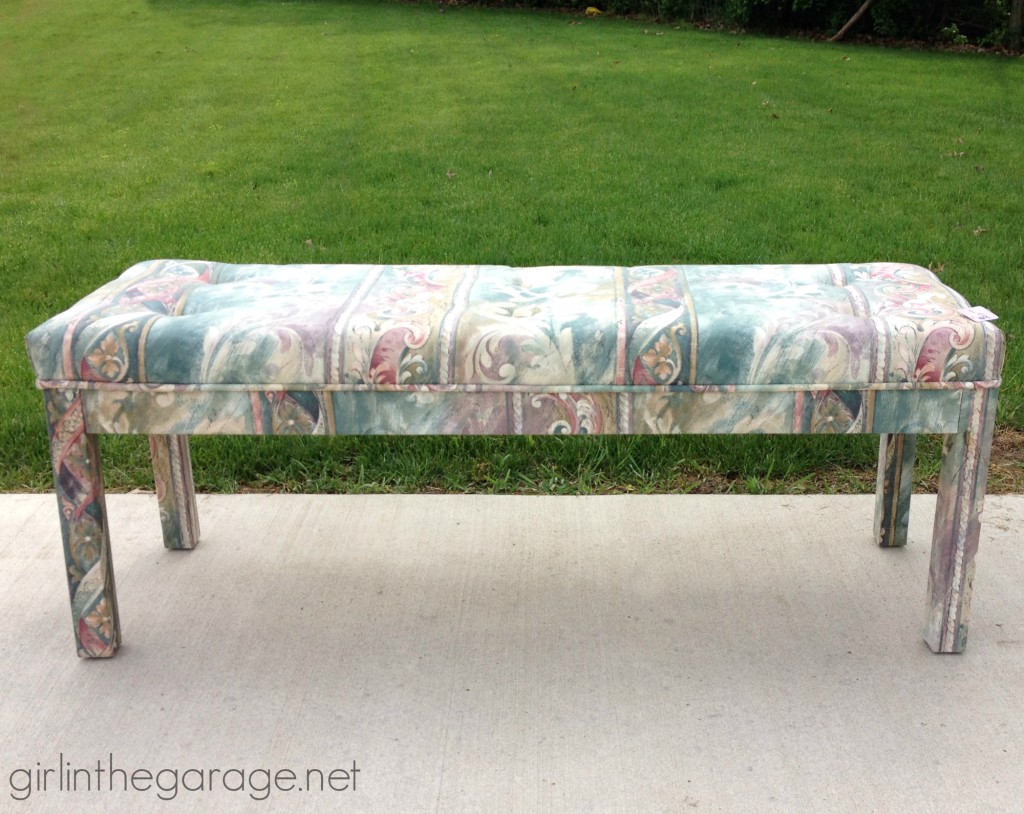 I've also gotten lucky with mirrors lately…
Sorry folks, I am definitely keeping the next one – although the painted flower will perform a disappearing act…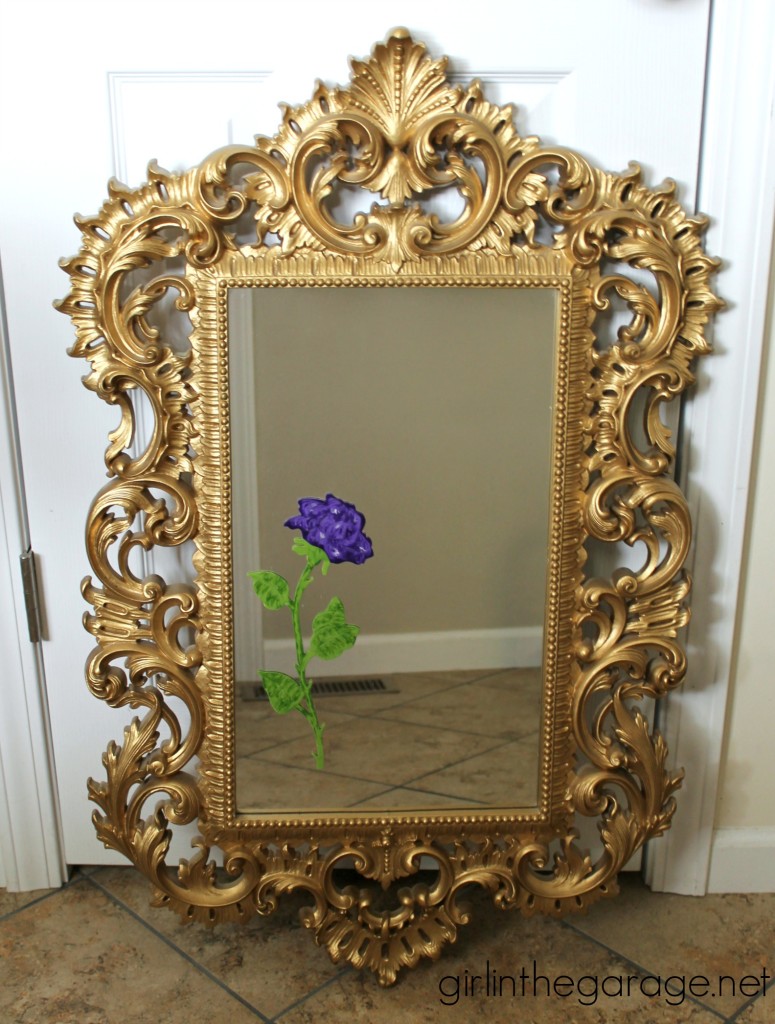 You may have seen this gigantic wall candelabra on my Instagram feed the other day.  Holy cannoli this thing is huge and heavy!  It has a lovely French vibe and I've never seen anything like it.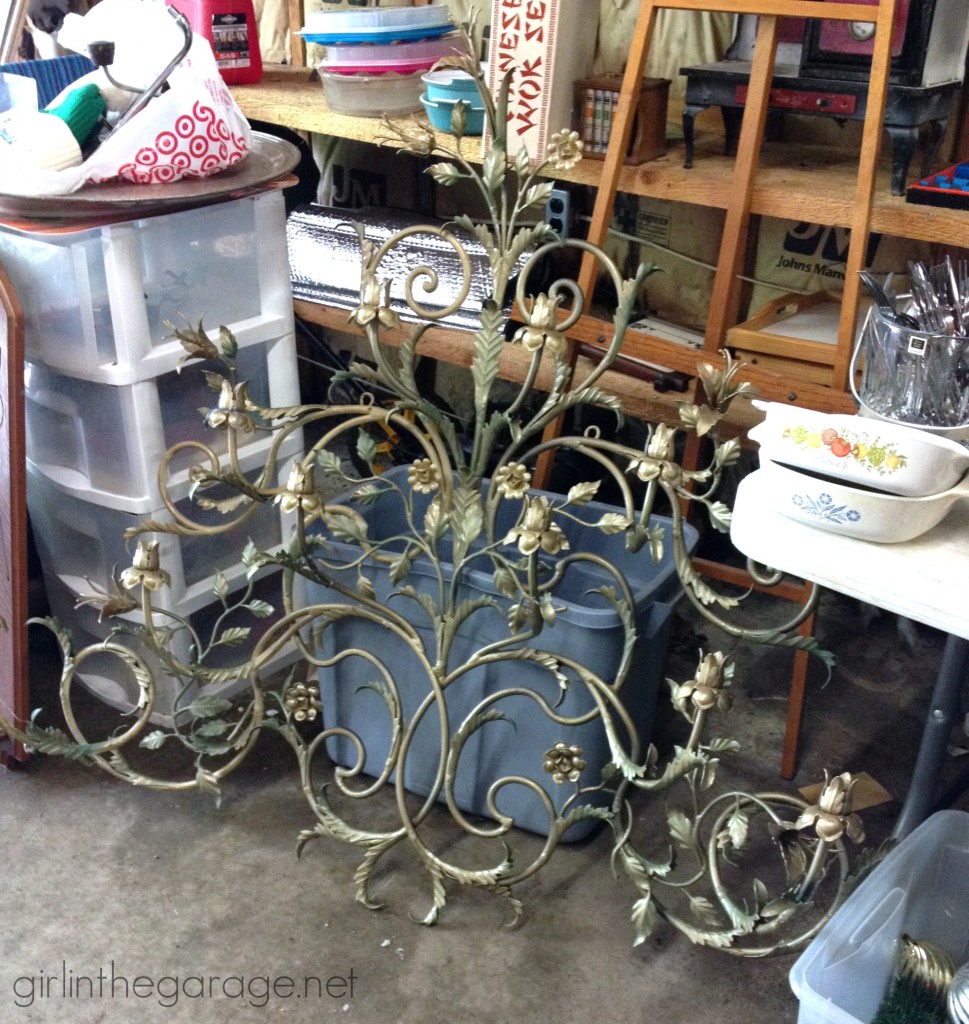 No offense to these chickens, but I bought this art solely for the beautiful frames.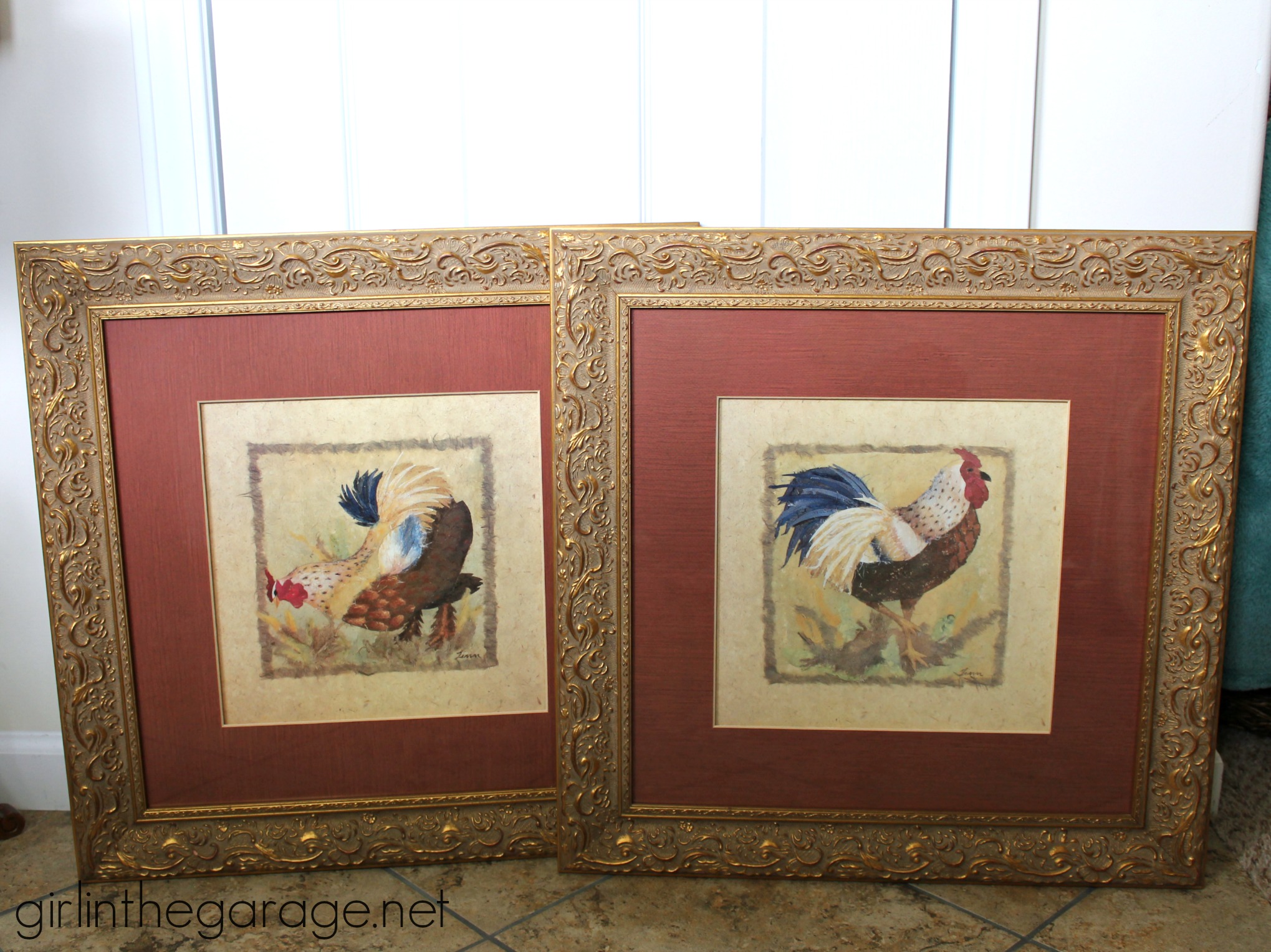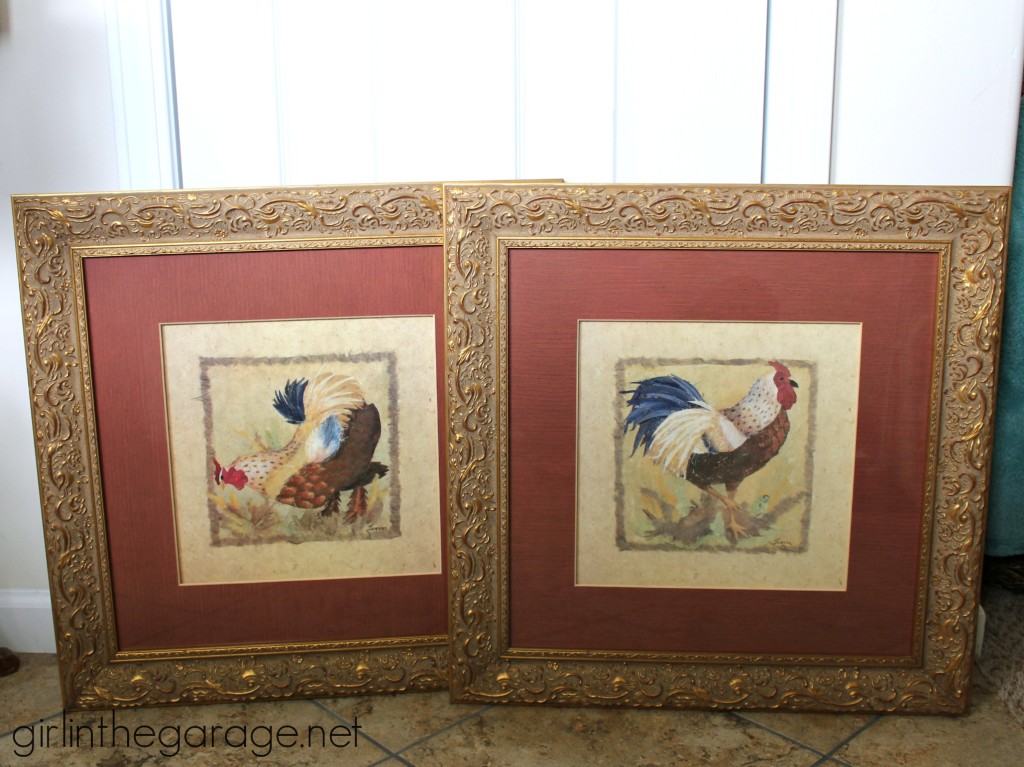 I immediately loved this giant antique potato chip tin.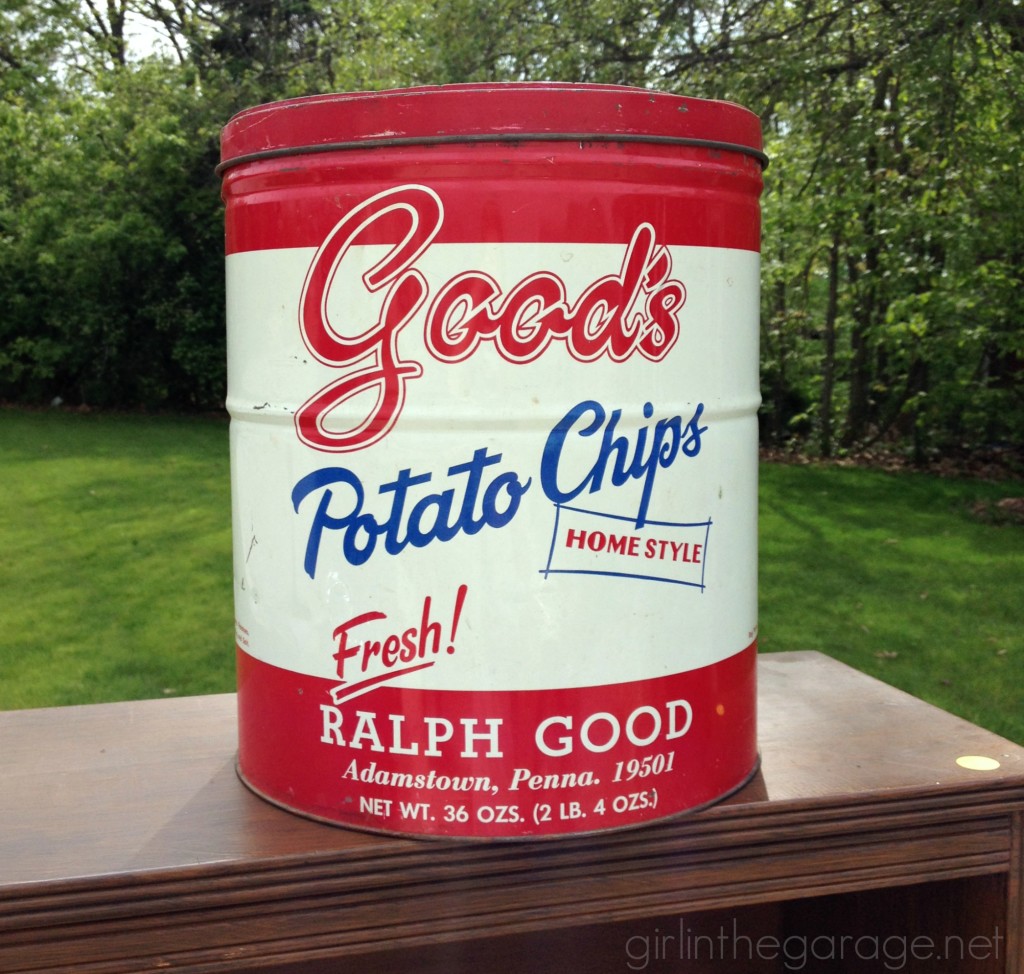 I also picked up a few "small" items…  vintage lamp, cool blue bottle, rainbow pitcher, and glass display case.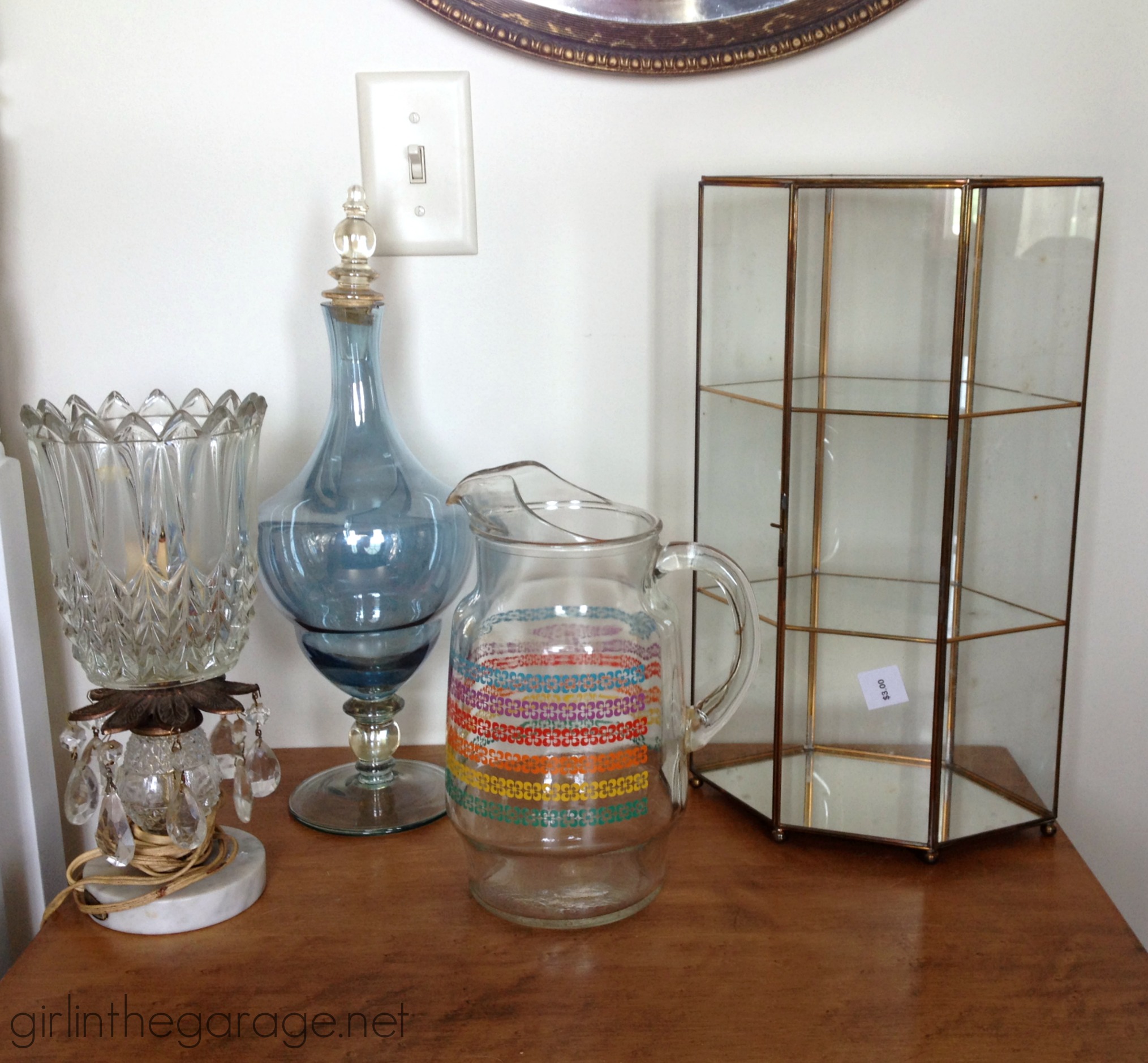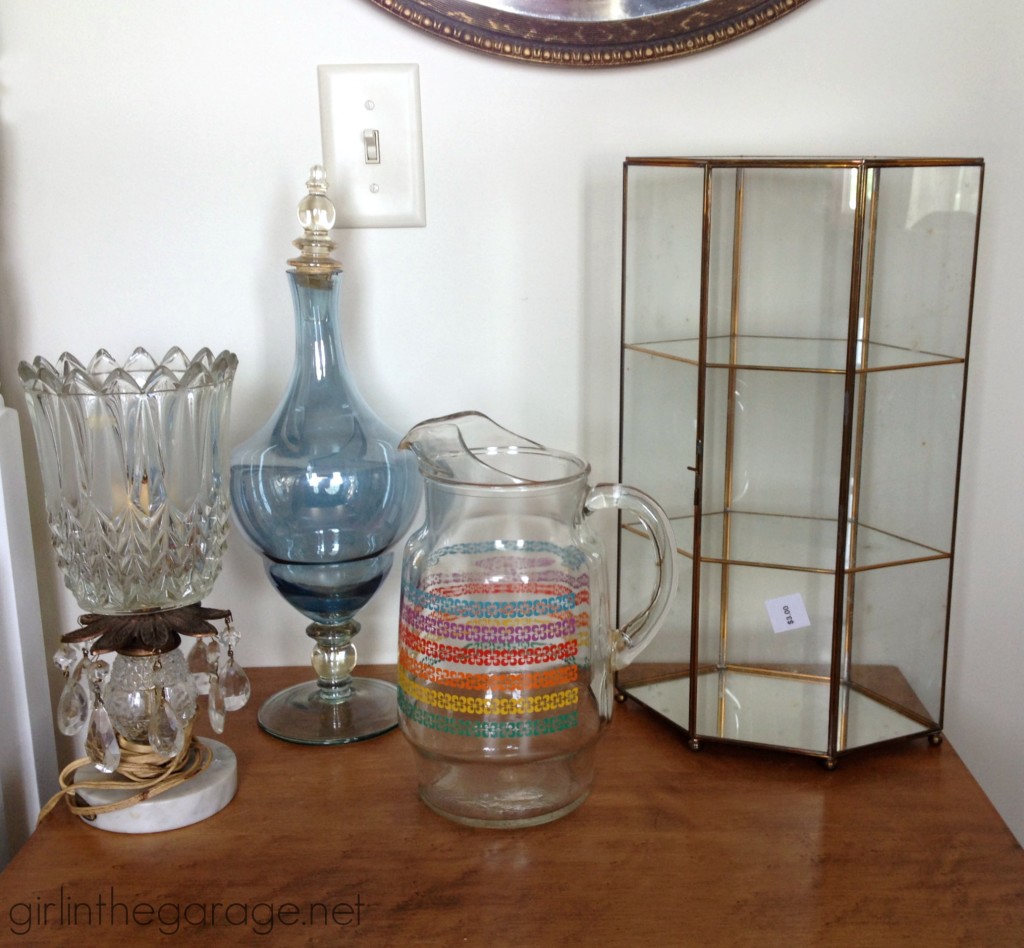 Lastly, if you can't tell what this fuzzy pic is, it's an army green metal card catalog with three drawers.  I just thought it was cool.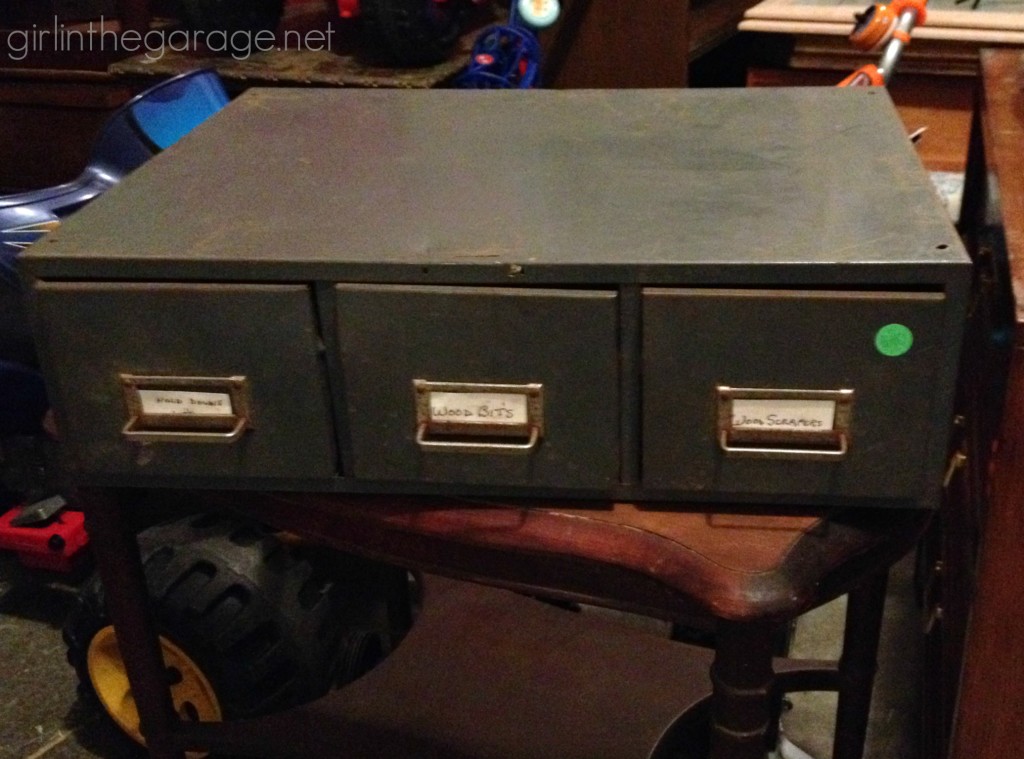 What do you think of my treasures?  Have you found anything good lately?
I may have to take a break from yard sale-ing and thrifting until I can get some of this out of my garage!
Jen
Join the GITG Community
When you join this thriving online community of 90,000 creative souls, you'll be inspired to discover hidden artistic talents and learn skills to boldly face DIY projects with confidence.
You'll also receive my free guide "Just Paint It: 7 Tips for Transforming Furniture with Confidence."