#spon: I'm required to disclose a relationship between our site and Intel. This could include the Intel Corporation providing us w/content, product, access or other forms of payment.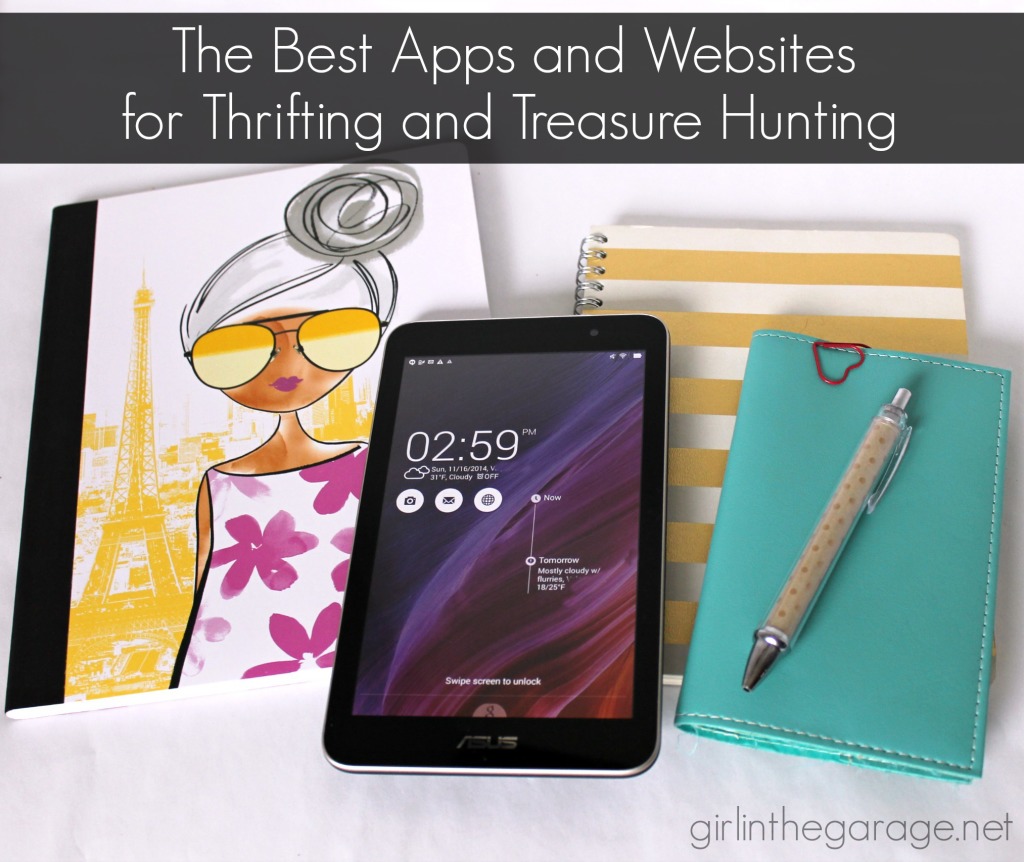 Today I thought I'd share with you some of my favorite apps and sites for finding treasures.
I use these on my ASUS Tablet and they're super convenient, especially when it's winter and you can't drive around and see a dozen yard sale signs on every street.
1.  Craigslist
Website:  http://www.craigslist.org – Search for items or local garage sales.
App:  cPro Craigslist Free Client (free)
2. Estate Sales
Website:  http://www.estatesales.net – Search by zip code to see upcoming sales and photos.
3. Online Yard Sales
Website:  Facebook.  Search for an online yard sale group in your city or county on Facebook.  If you're having trouble finding it, ask some local friends – there are tons of these groups out there!
App:  Carousell (free)
App:  OfferUp (free)
4. eBay Classifieds (also known as Kijiji)
Website:  http://www.ebayclassifieds.com – You can search locally and buy/sell larger items more easily than regular eBay.
Or regular eBay website:  http://www.ebay.com
5.  freecycle
Website:  http://www.freecycle.org – Nothing is for sale, everything is free!  Find your local group, offer items you no longer need, request something specific, search and take what others are giving away.  You can sign up for email updates too.
I enjoy using my ASUS Tablet to visit these websites and apps – it's lightweight and small enough so I can carry it around in my purse, but large enough so I can read and see photos without squinting my eyes.  (It has a 7 inch screen.)  It also has built-in wifi to help me stay connected and it comes preloaded with Google Maps to help me get to those estate sales and Craigslist pick-ups.  And I love how fast it is.  The Intel® Atom processor with 1.2 GHz speed lets me search quickly and efficiently – a must when you're scouting a great deal!
I'd love to hear what other sites and apps you like to use for thrifting.
Leave me a comment below and tell me!
Jen
Click for more information: Intel Tablets
Join the GITG Community
When you join this thriving community of over 7,000 creative souls, you'll be inspired to discover hidden artistic talents and learn skills to boldly face DIY projects with confidence.
You'll also receive my free guide "Just Paint It: 7 Tips for Transforming Furniture with Confidence."