With all the furniture makeovers I've been doing lately, I was itching to do something a little more crafty.  My 5-year-old has a clip board in his room for important papers and artwork (that I bought on clearance this summer), and my other son has been wanting one too – so I decided to make a DIY kids art board for my 4-year-old's bedroom.  Luckily I had some FolkArt Stencils & Paints that were perfect for the project.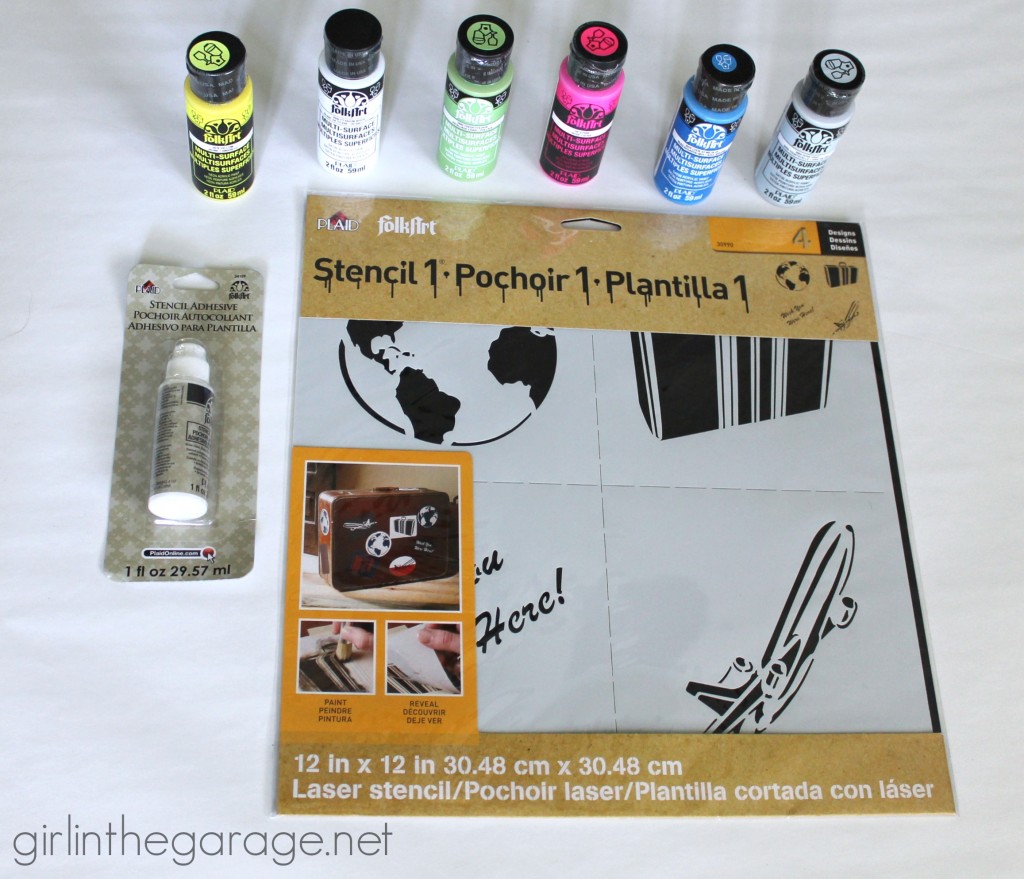 I picked up a few additional supplies… an unfinished wood board, sawtooth picture hangers, and clipboard clips.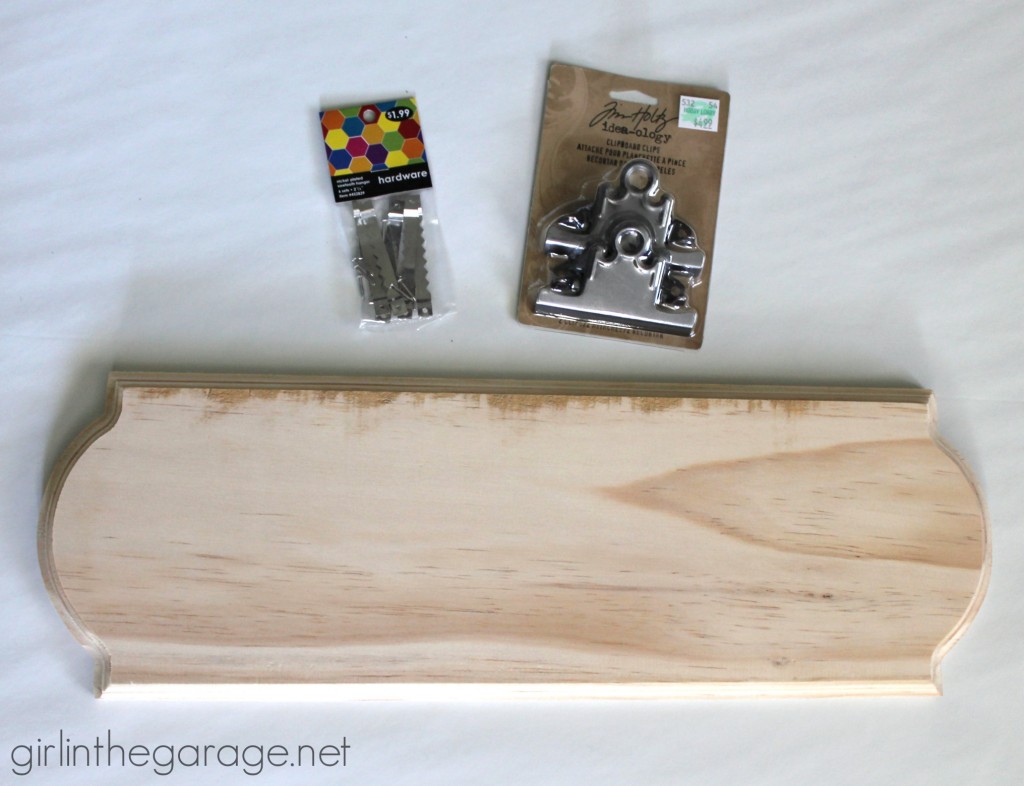 First I gave the board a few coats of FolkArt Multi-Surface acrylic paint in Titanium White.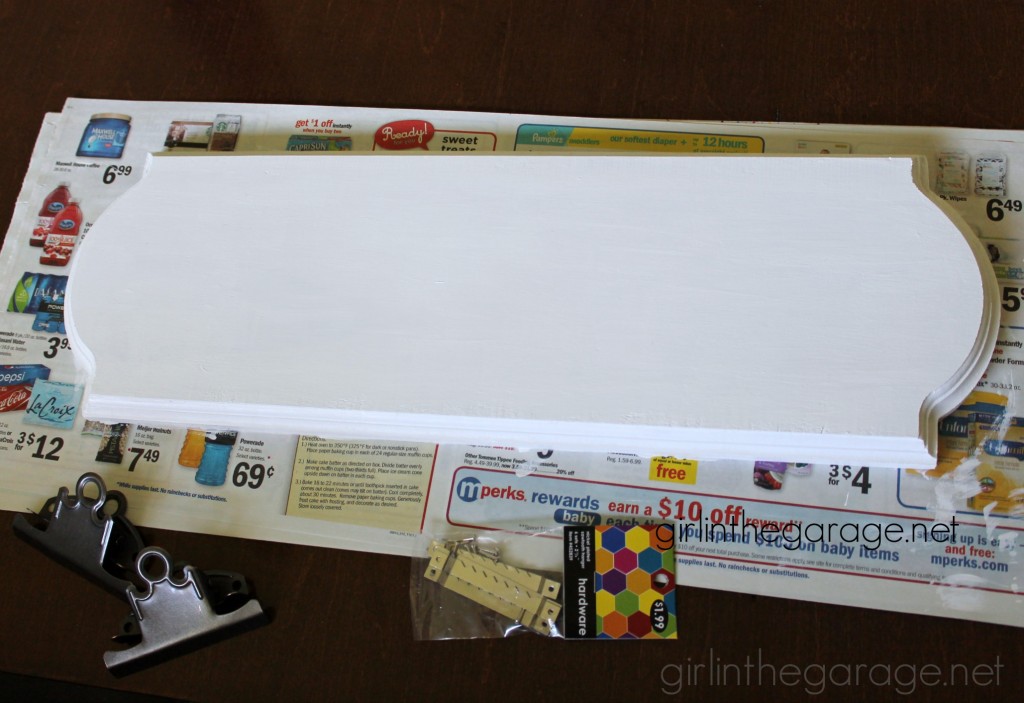 Next I decided on the world and airplane FolkArt Stencil1 stencils – their small size worked really well for this project.  FolkArt Stencil1 is a street art inspired brand founded by artist, painter, graphic designer, and DIY enthusiast Ed Roth.
 Before stenciling, apply FolkArt Stencil Adhesive to the back of your stencil and wait until it dries and gets sticky.  Then lay it facedown and press firmly – use a pouncer to apply light coats of paint.  The stencils will be removable – when you're done just wash with soap and water.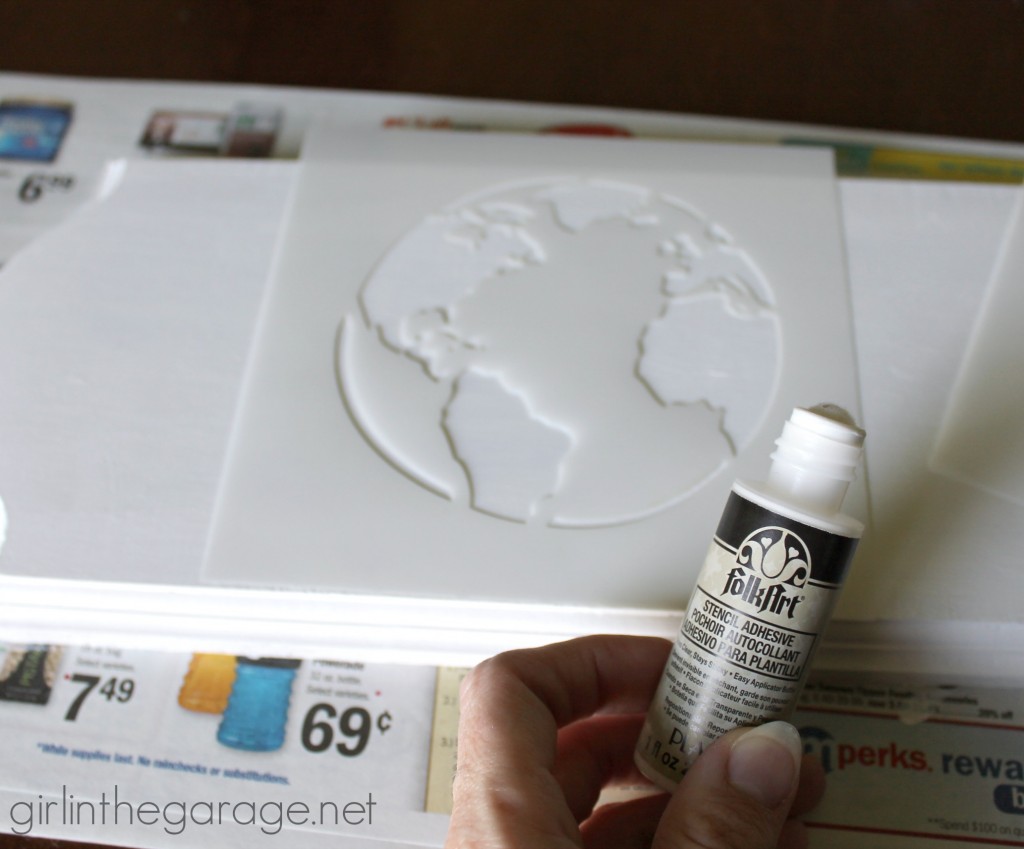 I used FolkArt Multi-Surface acrylic paints in Fresh Foliage and Look At Me Blue, and also added blue around the edge of the board.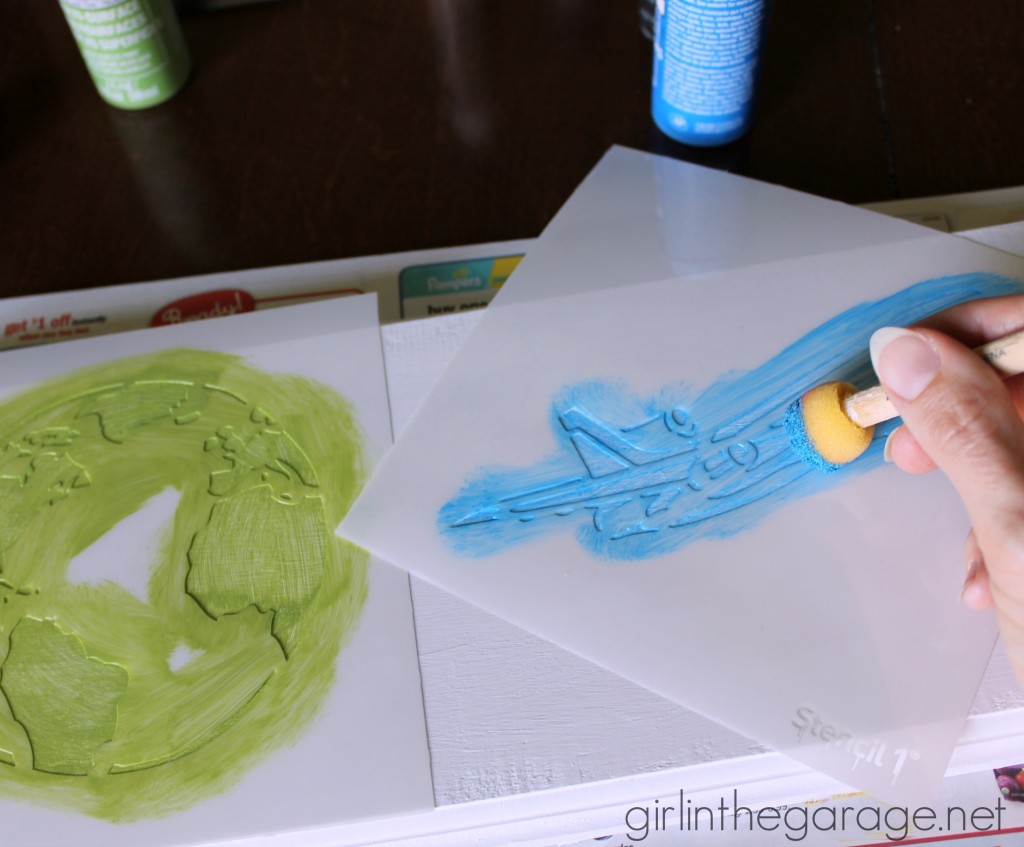 After the paint was dry I flipped it over and nailed the picture hangers onto the back (one on each end).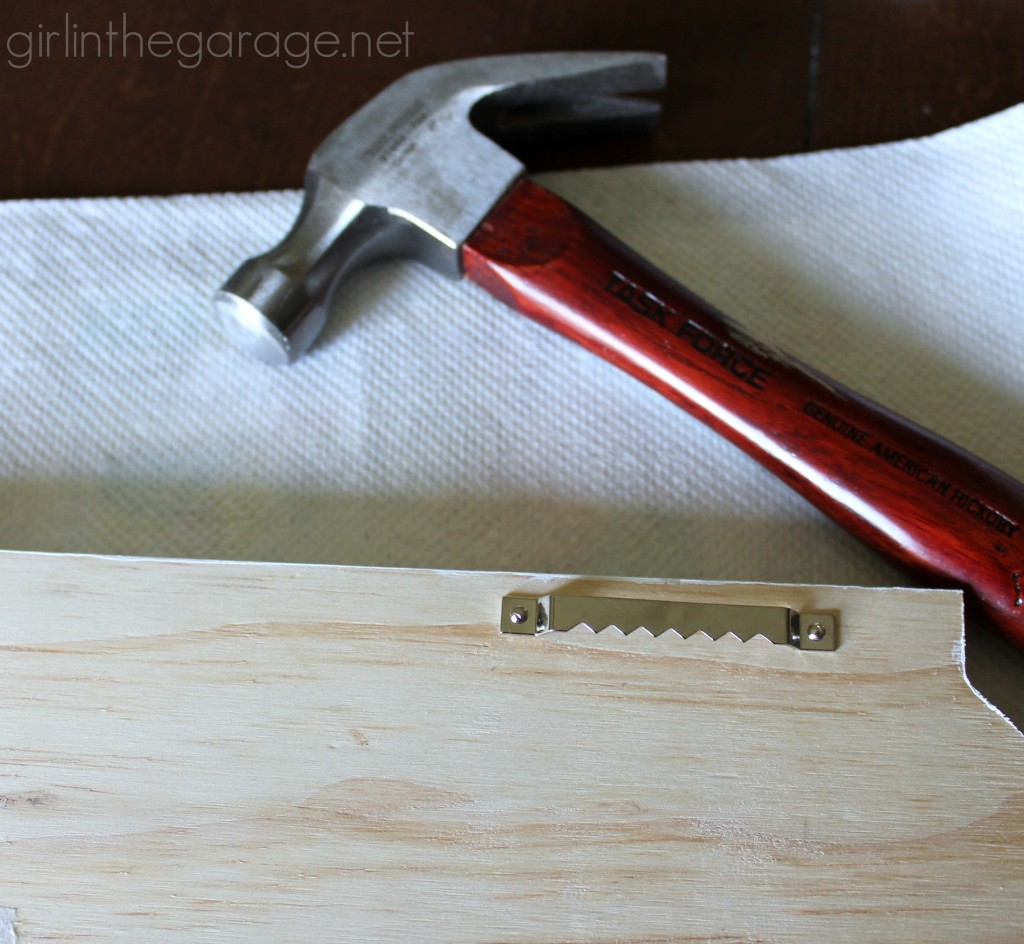 Then I turned it to the front again and nailed the clips into place.  They have a boyish/industrial look that's perfect for my son's room.
I hung it on his wall when he was at school and clipped some of his art on it – when he discovered it later he was so surprised and excited!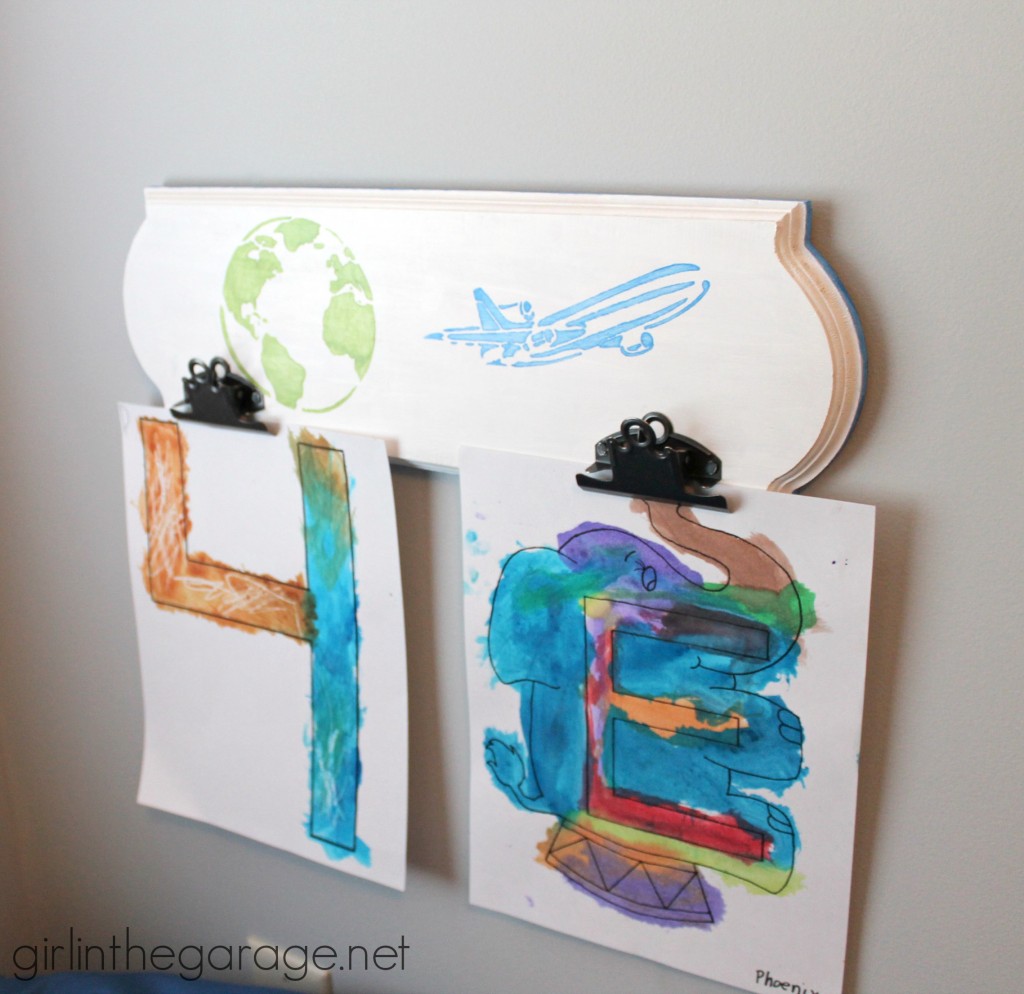 And finally we have a place to hang some of the million papers he's been bringing home from school every day.  😉
Find new FolkArt® stencils, paint, and more at Michaels.
Check out the Plaid Palette blog HERE.
Sign up for their newsletter HERE.
Follow Plaid Crafts:  Pinterest – Facebook – Instagram – Twitter – YouTube – Google+
Follow FolkArt Stencil1:  Facebook – Twitter – Instagram – Pinterest
Jen
Find more FolkArt inspiration below!
Join the GITG Community
When you join this thriving online community of 90,000 creative souls, you'll be inspired to discover hidden artistic talents and learn skills to boldly face DIY projects with confidence.
You'll also receive my free guide "Just Paint It: 7 Tips for Transforming Furniture with Confidence."