This is a Sponsored post written by me on behalf of Listerine. All opinions are 100% mine.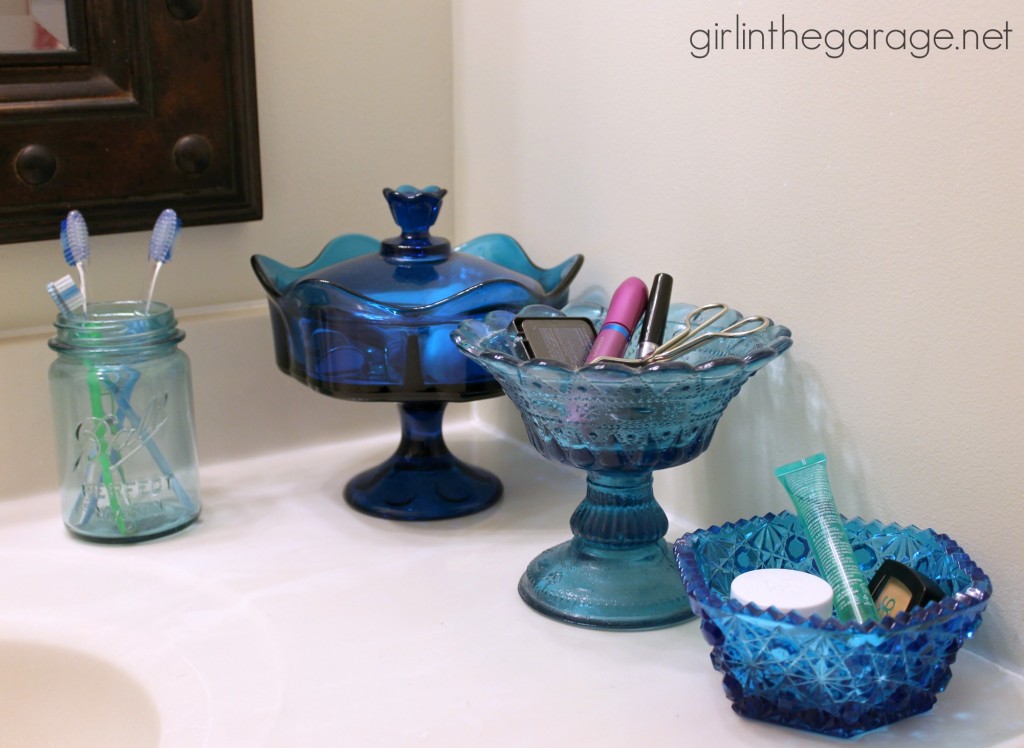 I have a "thing" for buying and collecting vintage glass.  A lot of it is taken to my booth but I usually can't let go of the turquoise glass pieces I find.   They're so beautiful and unique – and the depth of color, wow!
I brought some of them into my bathroom for colorful storage and organization.  The blue mason jar holds toothbrushes, the lidded bowl holds Q-tips, cotton balls, and clippers, and the other two hold small skincare and makeup items.
Now everything is organized and easy on the eyes.  😉
My turquoise bathroom décor also matches the fun new design on my Listerine bottle.  It's a cheerful sight in the morning and at night – even for someone who doesn't like mornings!
The new Listerine chevron bottle design comes in four different colors/flavors:  Cool Mint, Fresh Mint, Arctic Mint, and Fresh Citrus.  These bottles are exclusive to Target and are only available for a limited time.
You can save money on Listerine here:  Save Now with Target Cartwheel
I love the Arctic Mint flavor – and I love knowing that Listerine is the #1 dentist recommended brand.  Having a clean and healthy mouth is very important to me.  (So is having a pretty and organized bathroom!)
Do you use any pieces that pull double-duty as functional beauty in your bathroom?
Jen
Join the GITG Community
When you join this thriving online community of 90,000 creative souls, you'll be inspired to discover hidden artistic talents and learn skills to boldly face DIY projects with confidence.
You'll also receive my free guide "Just Paint It: 7 Tips for Transforming Furniture with Confidence."