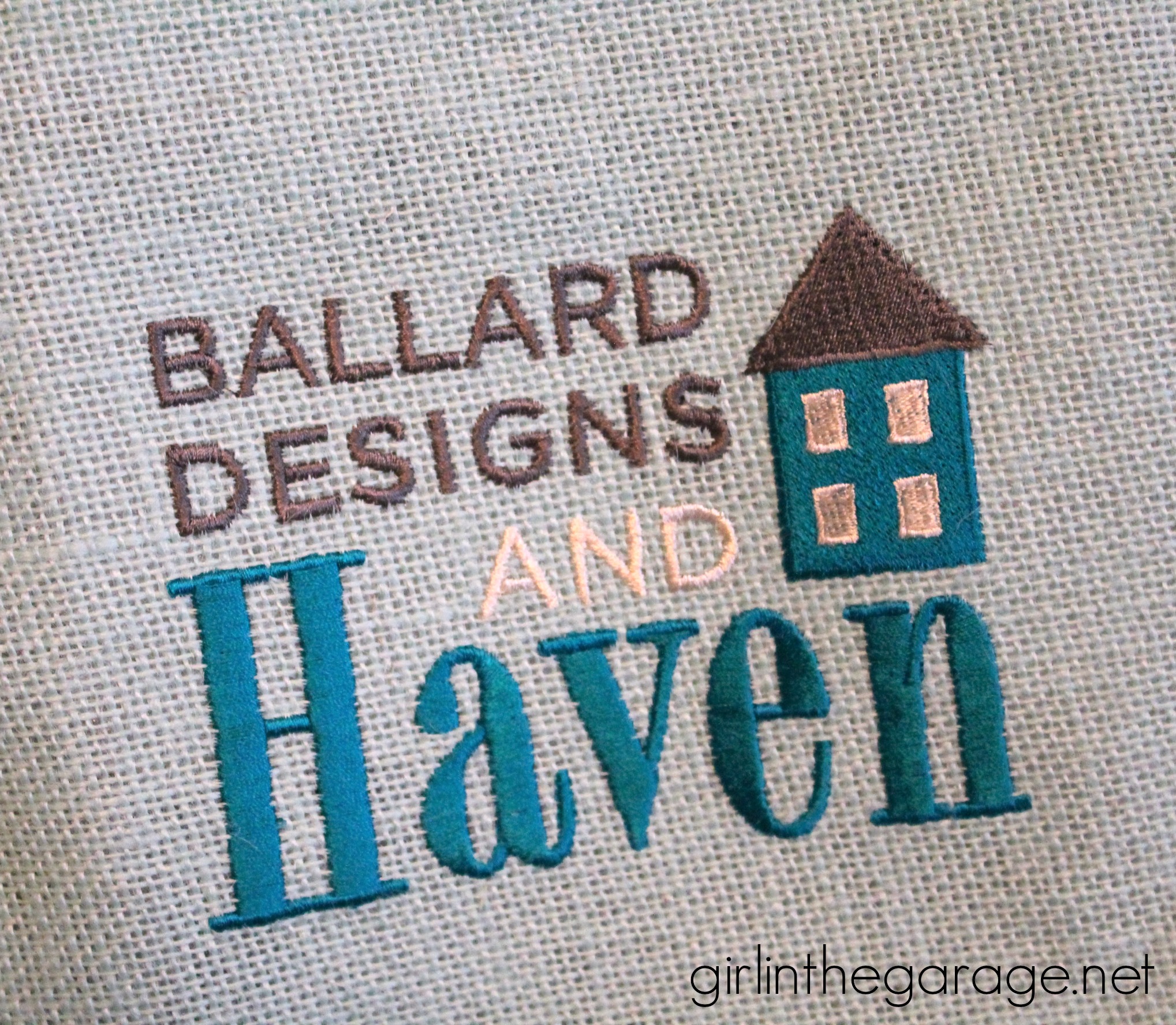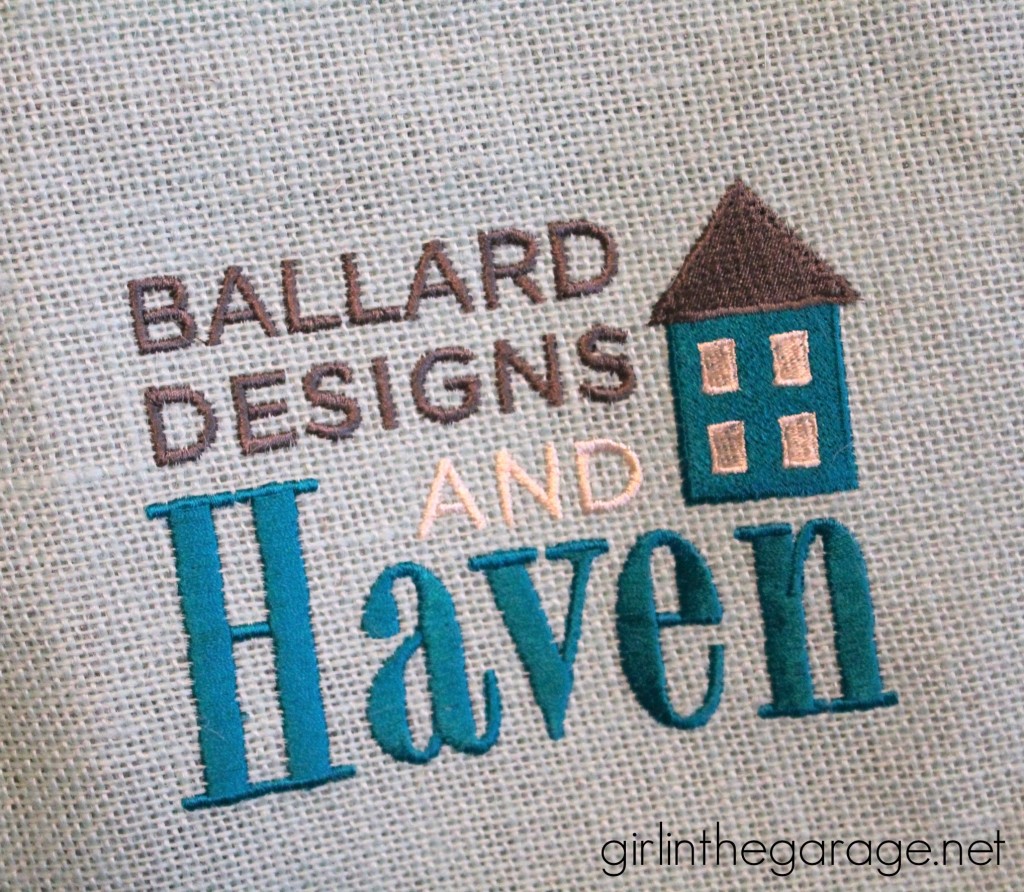 Last week I spent three days in Atlanta for the Haven Conference, where I was inspired and empowered to step outside my comfort zone.
Haven is a DIY/home blogger's paradise.  If you're a blogger, I highly recommend you attend!  If you're not a blogger, feel free to just skim through this post and look at the pictures.   😉   (What is Haven? Read more HERE.)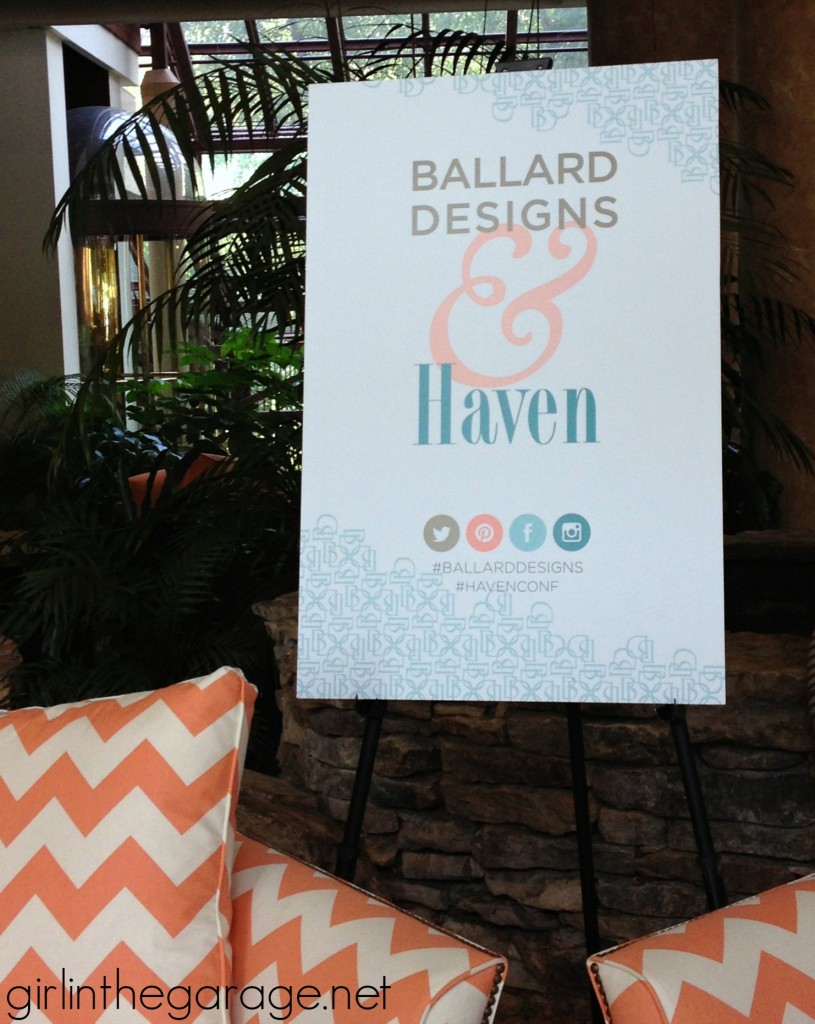 My roommate was Angela from Unexpected Elegance.  We're both Indiana girls and we hung out at Haven last year- and she has a beautiful blog!  (Go check it out after you've finished reading this post)   😉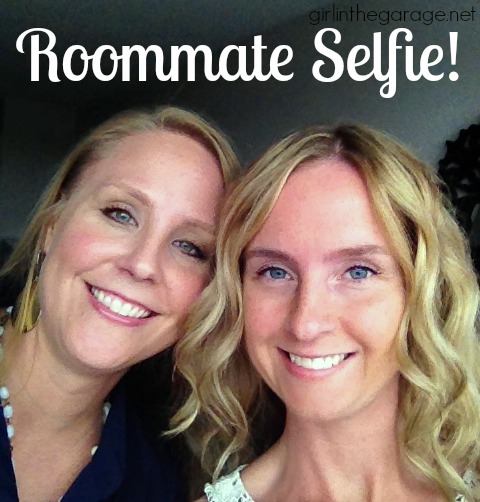 Thursday night there was a mixer – it was pretty low-key since everyone had traveled that day.  It was great seeing some of my old friends and meeting some new ones!  When you've known someone for a long time online and become good friends but you've never met them in person before, it's pretty great to finally give them a hug!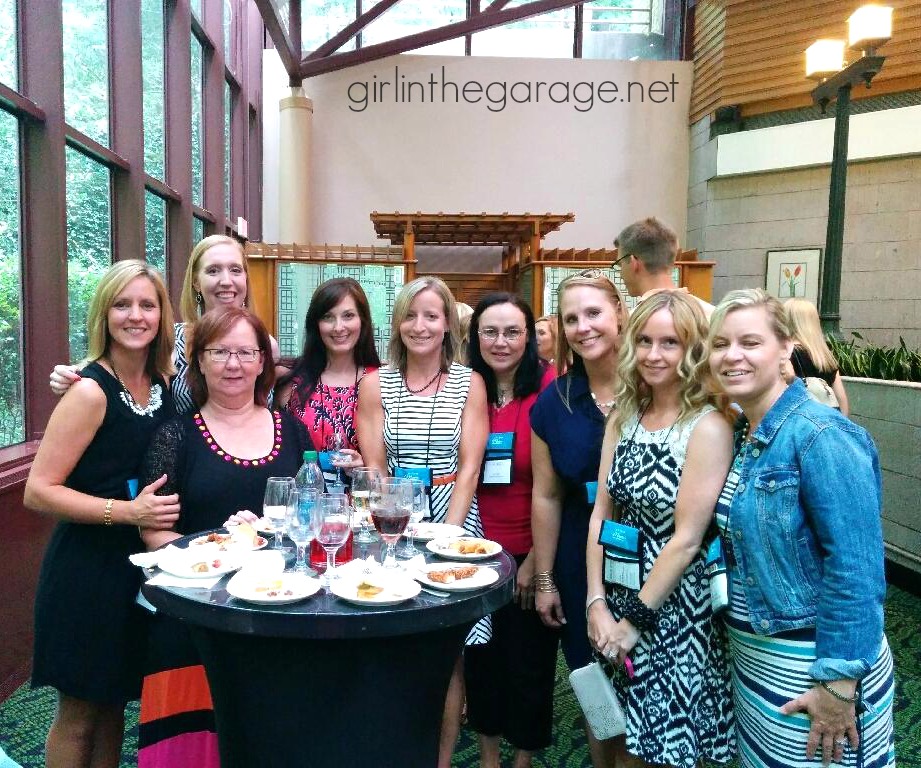 Photo above:  At Home with the Barkers, Rappsody in Rooms (back), Petticoat Junktion, Our Southern Home, Sweet Pea, Simply Fresh Vintage, Unexpected Elegance, me, Postcards from the Ridge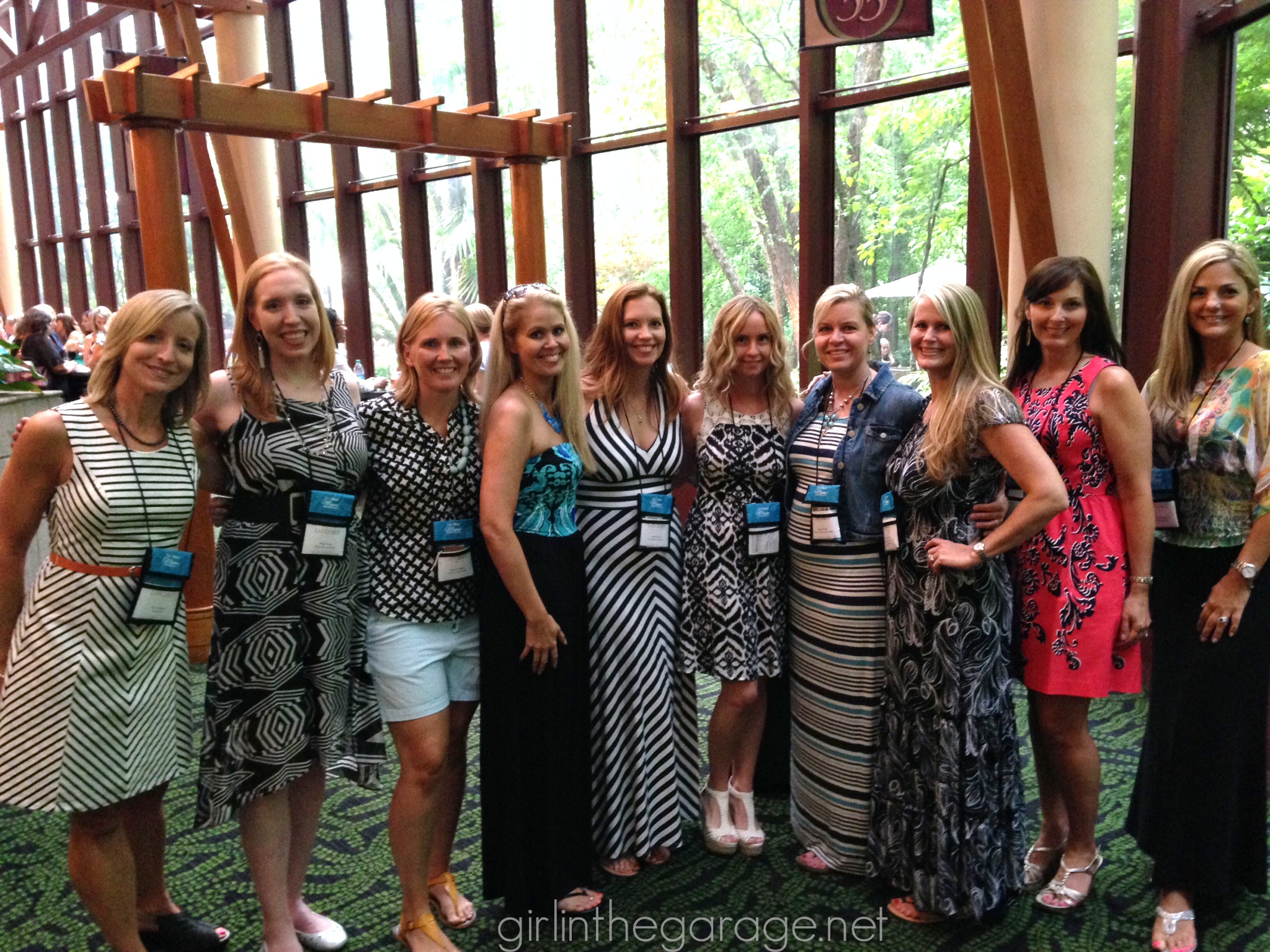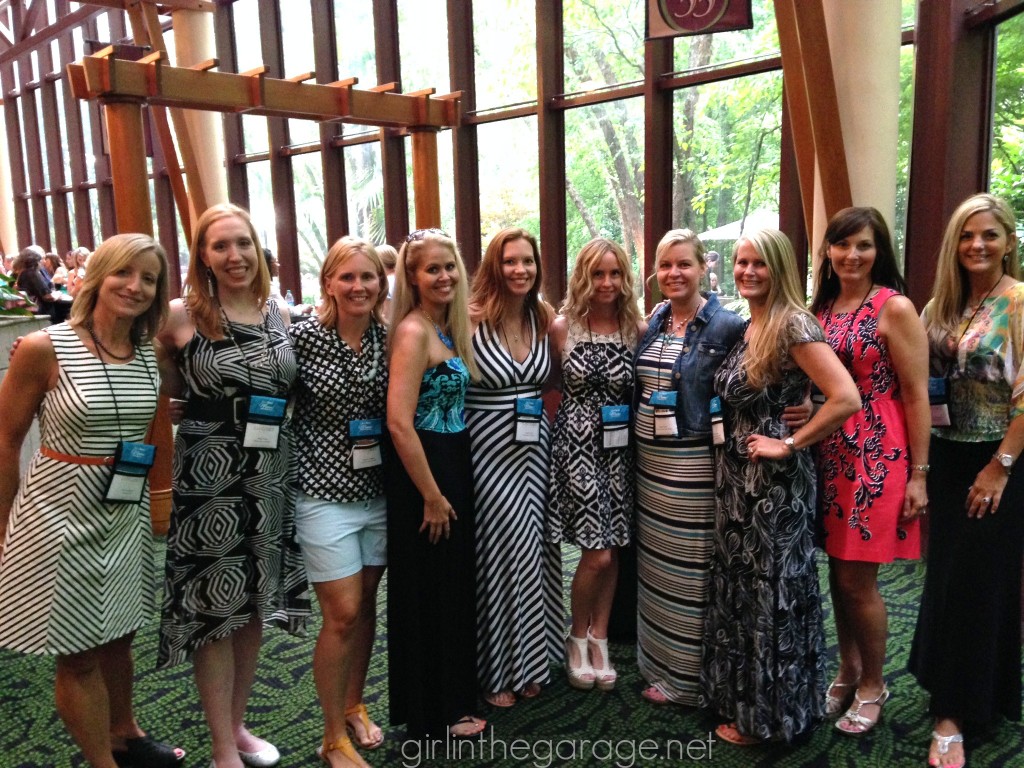 Photo above:  Sweet Pea, Rappsody in Rooms, 2 Little Superheroes, Restoration Redoux, Inspiration for Moms, me, Postcards from the Ridge, Confessions of a Serial Do-It-Yourselfer, Our Southern Home, Artsy Chicks Rule
Friday morning was the opening session and Chip Wade was the keynote speaker.  He's been on several HGTV shows, and right now his show Elbow Room airs on Wednesday nights.  He moves a lot when he's talking, so I wasn't able to get any good photos of him.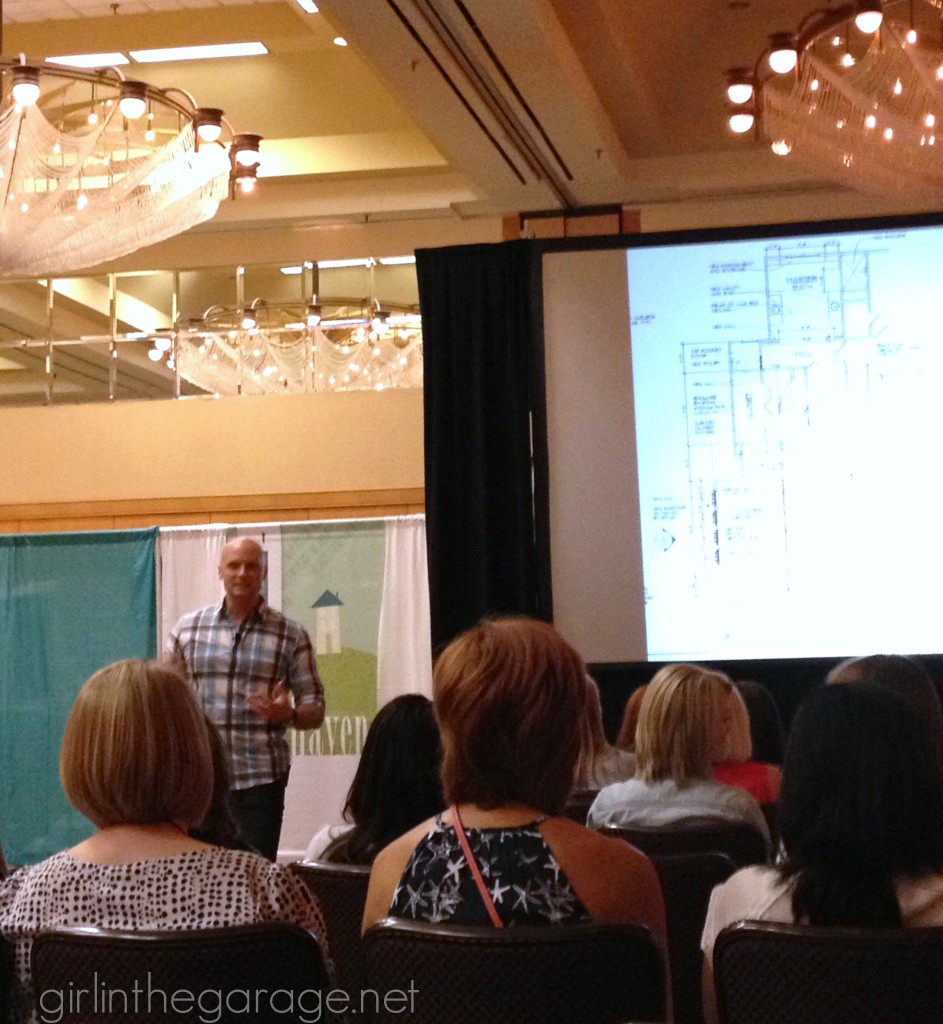 There are tons of classes to choose from, and many are in the same time slot, so you might get to attend 6-7 out of 20 offered.  This year I wanted to conquer my DIY fears: stain, building, and tiling.
I learned how to do decorative shading with stain from Sawdust and Embryos (Beth and Nick).  It took a while but I finally got the hang of it!  I can't wait to try this technique on a piece of furniture someday.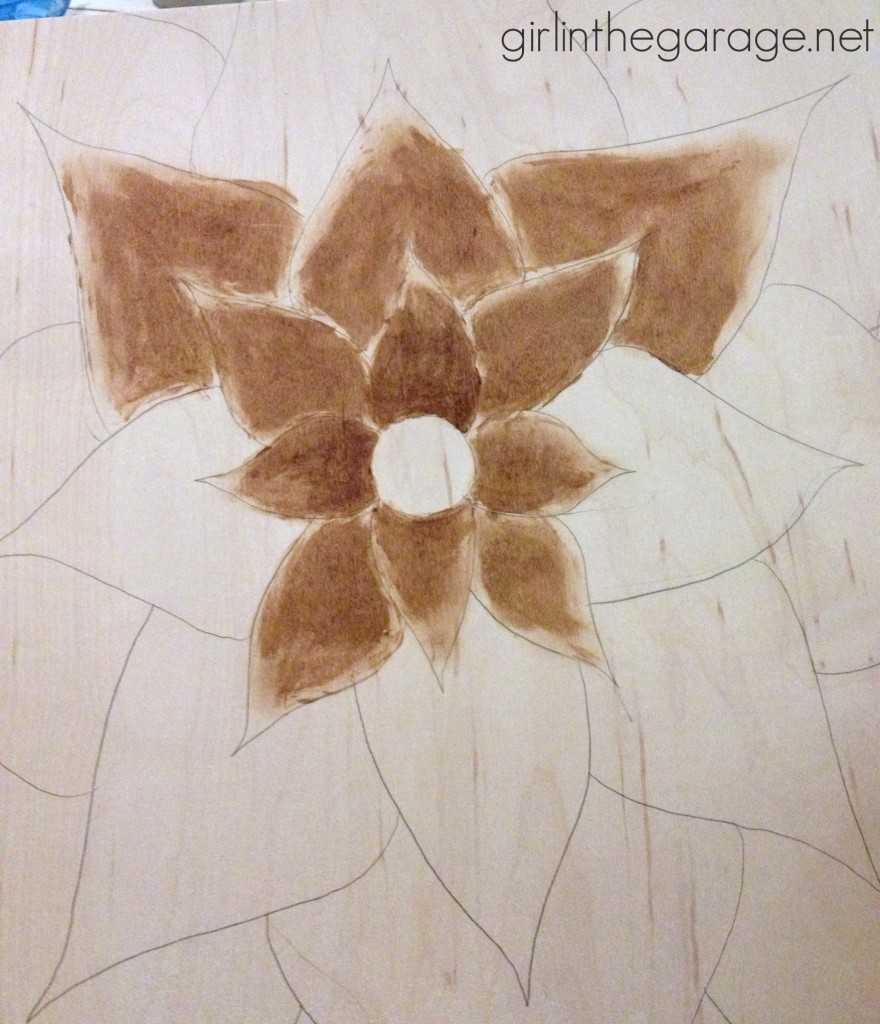 There were lots of sponsors, most of which had something to give away.  We each got to take home a new waterpik shower head just for posing in their "shower" booth.  Pretty awesome!  (I'm going to install mine soon and I'll post about it.)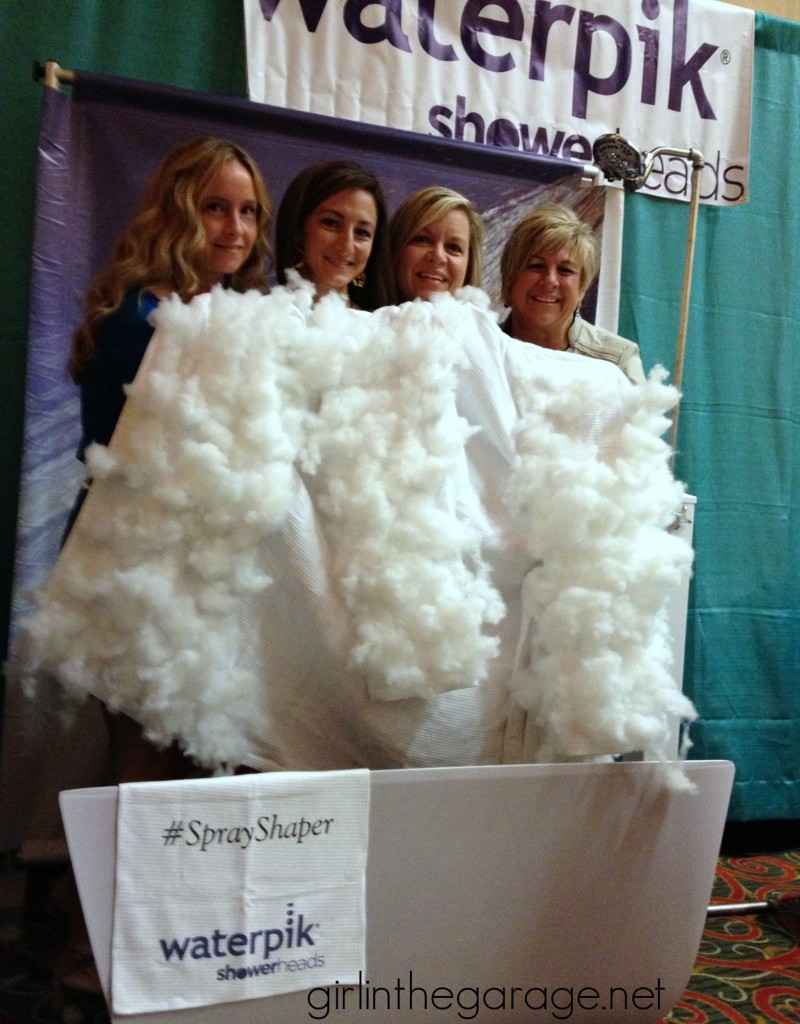 Online Fabric Store was a sponsor again this year, and they gave away all of these pillows in a contest.  I got to take home this one!  I absolutely love it.  They have so many gorgeous fabrics to pick from- the bird pillow was my other favorite.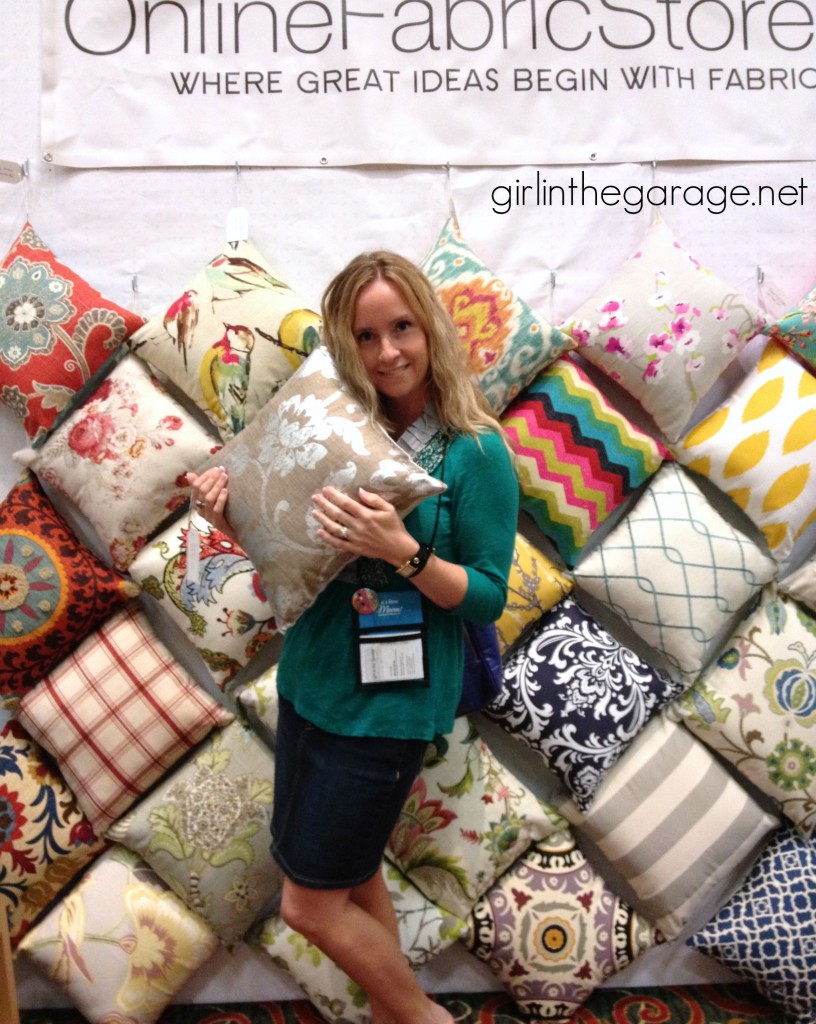 There was a fabulously decorated lunch with decor designed by Vintage Revivals and All Things Thrifty, complete with big balloons, succulent centerpieces, embroidery hoops, and bubble machines.  (The bubbles seemed to really like Jeanette!)
Photo above:  Front Row:  Me, Black and White Obsession, Sweet Pea, House on the Way.  Back Row:  Eat. Sleep. Decorate., Restoration Redoux, Inspiration for Moms, Snazzy Little Things, Designed Decor
I took a basic furniture building class taught by The House of Wood and That's My Letter – I helped build this coffee table!  The plans for this table are from Ana White and you can find them HERE.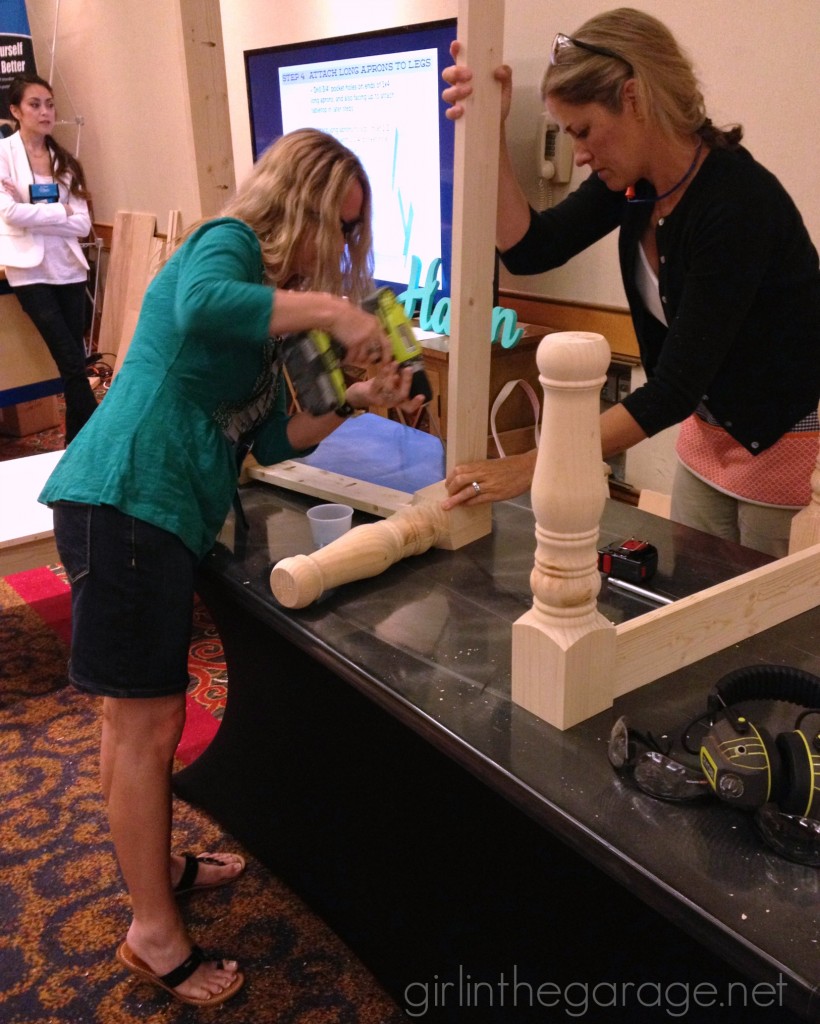 One of the classes I was most excited to take was tiling, and it didn't disappoint!   I met Sandra (Sawdust Girl) for the first time and she was an amazing teacher.  If we lived near each other I would want to be her apprentice so she could teach me everything she knows and we could hang out.  (Totally not in the stalker kind of way)  😉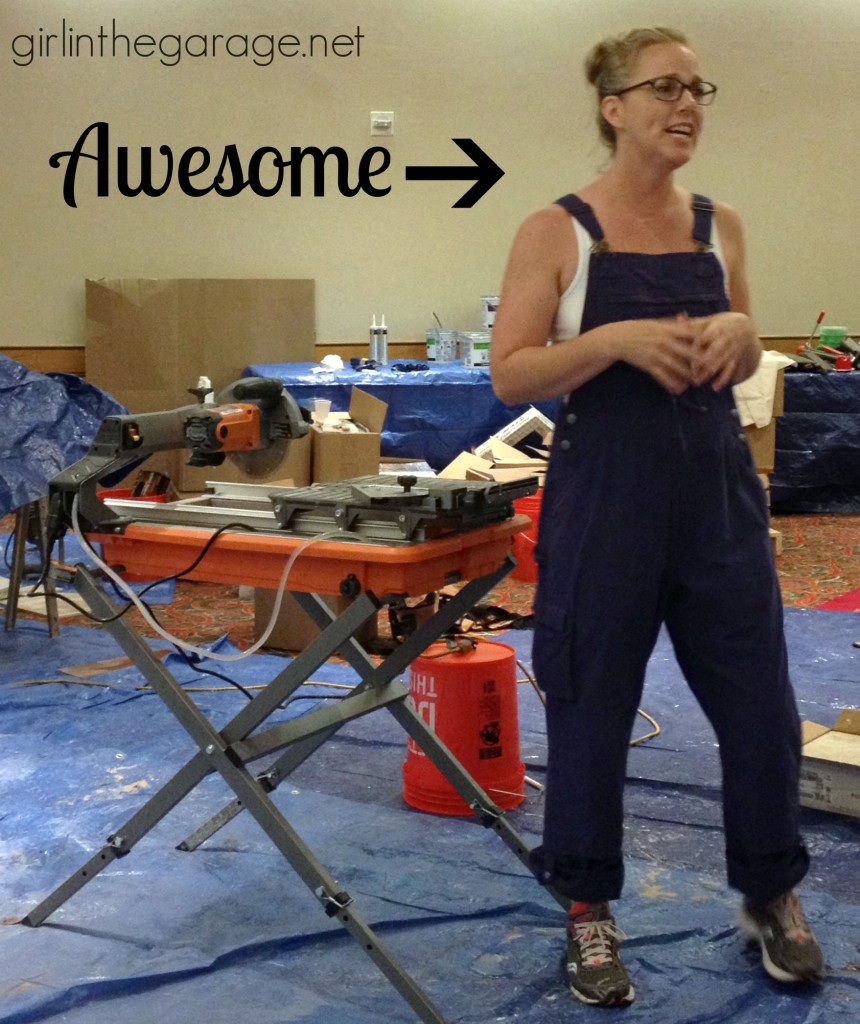 Friday night there was another party (what, a party at Haven?!) and we had to get a photo on the GMC truck.  Too bad it was pretty dark in there so the pic is fuzzy.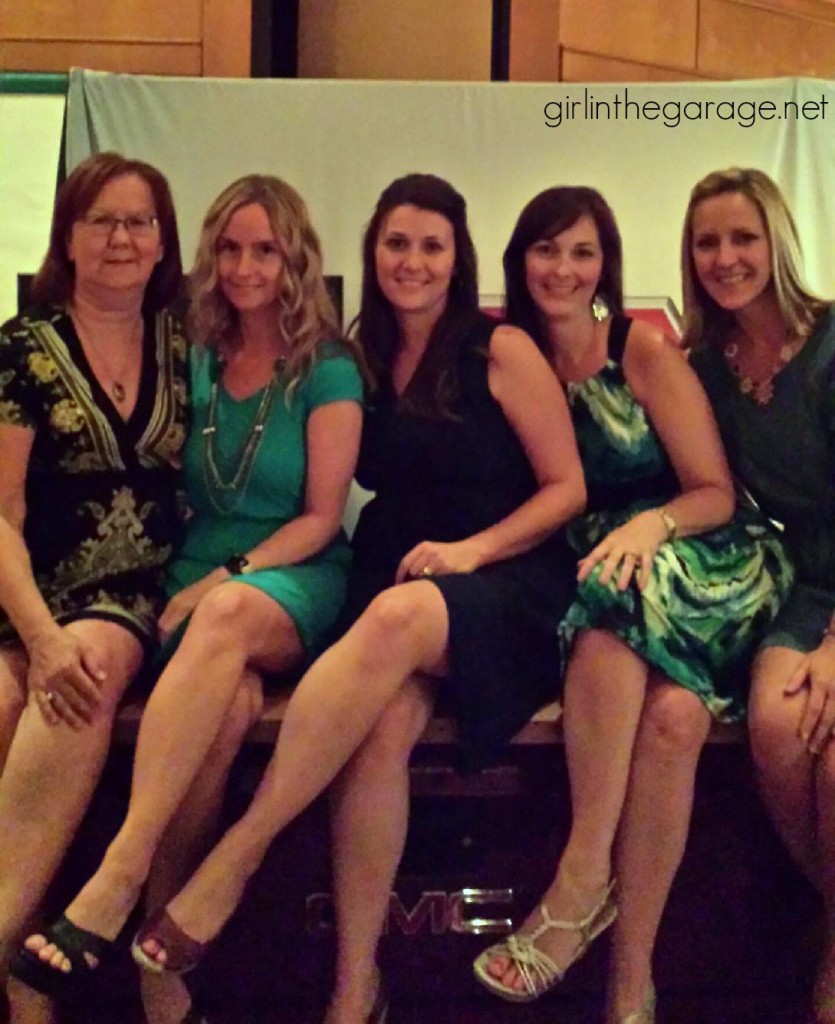 Photo above:  Petticoat Junktion, me, Farm Fresh Vintage Finds, Our Southern Home, At Home with the Barkers
I was so happy to see Amy from Eat. Sleep. Decorate. again – we met last year at Haven and have become good friends since then!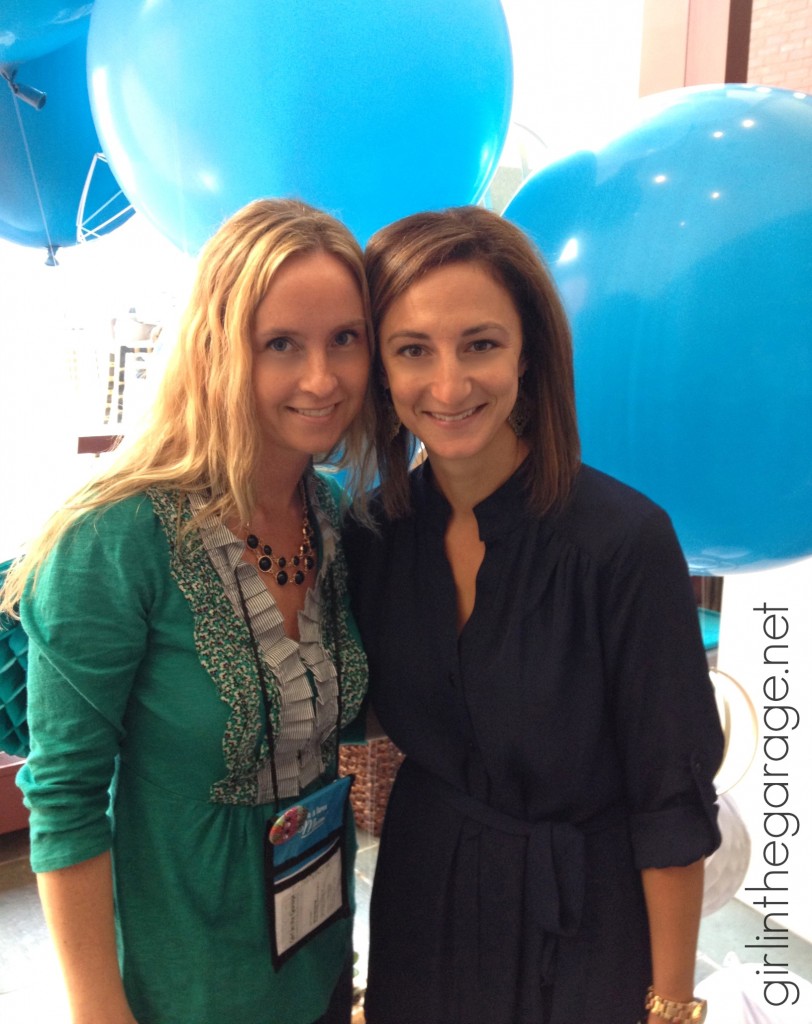 I also took really good classes about marketing, advertising, SEO, running your blog as a business, and photography.
The perfect kind of sign to have at a DIY/home blogging conference…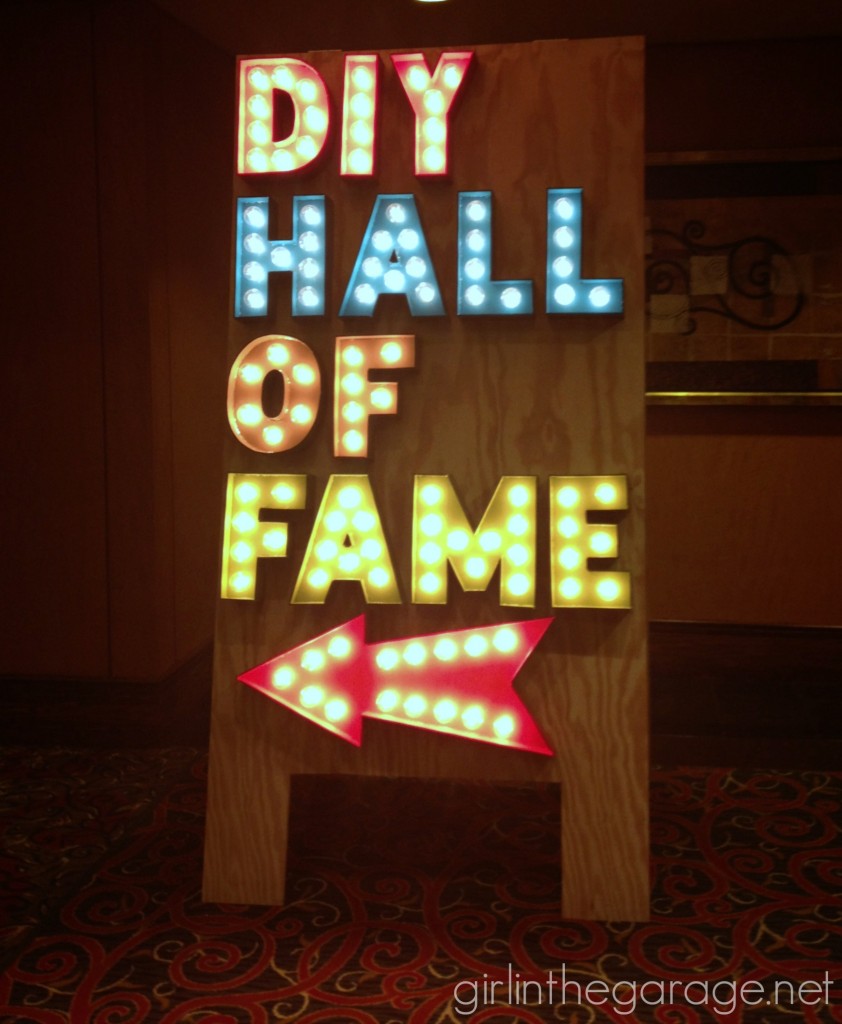 Me and my girl Ashley from Domestic Imperfection– one of the first blogs I ever read!  She's such a sweetheart and so down to earth.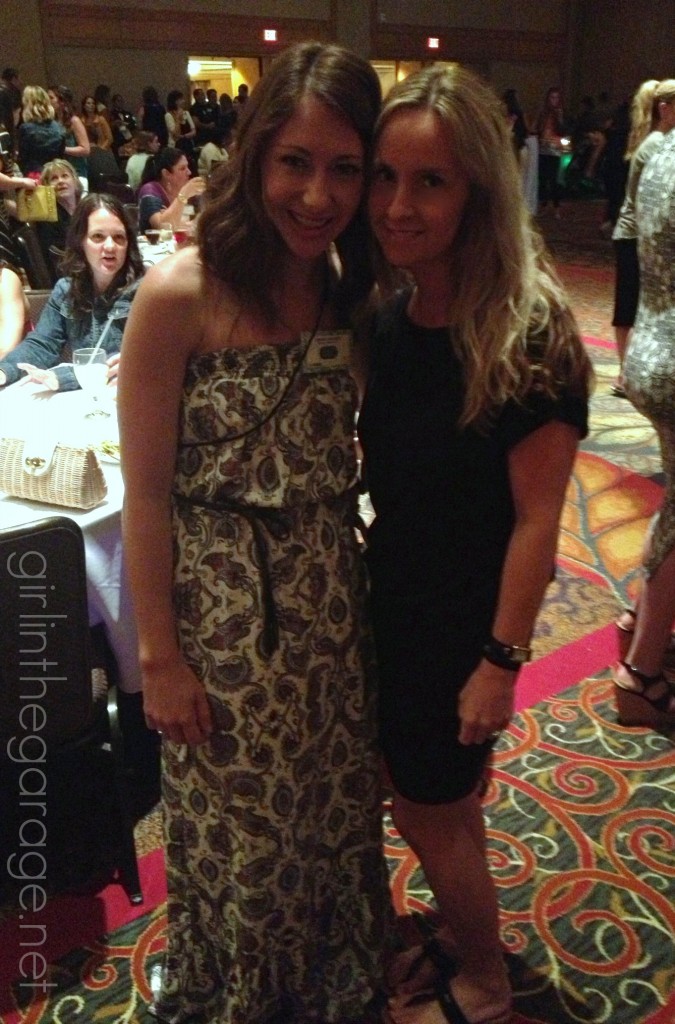 Haven isn't all about blogging!  There's a lot of fun things to do, like this photo booth at the Home Depot/Ryobi party Saturday night.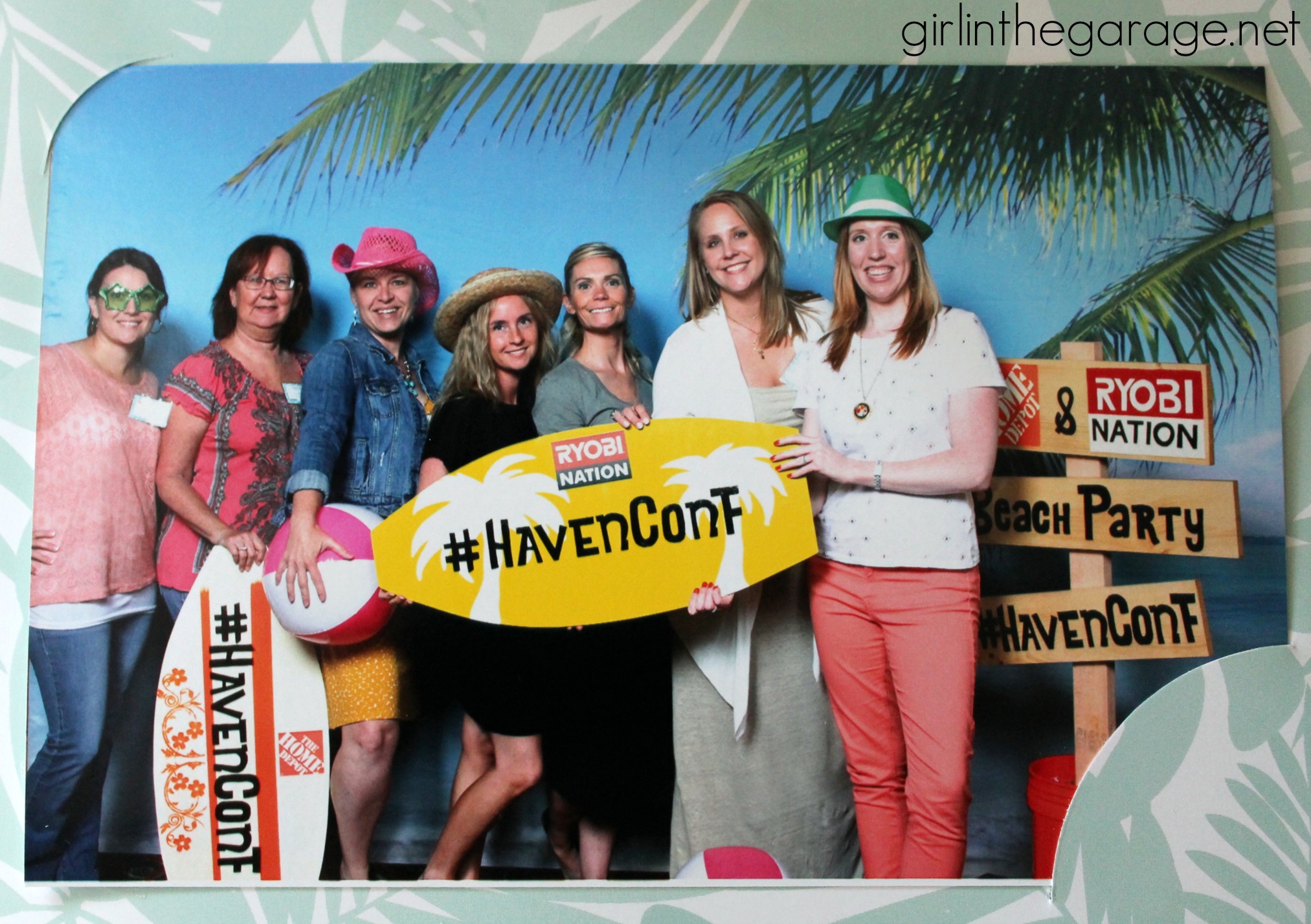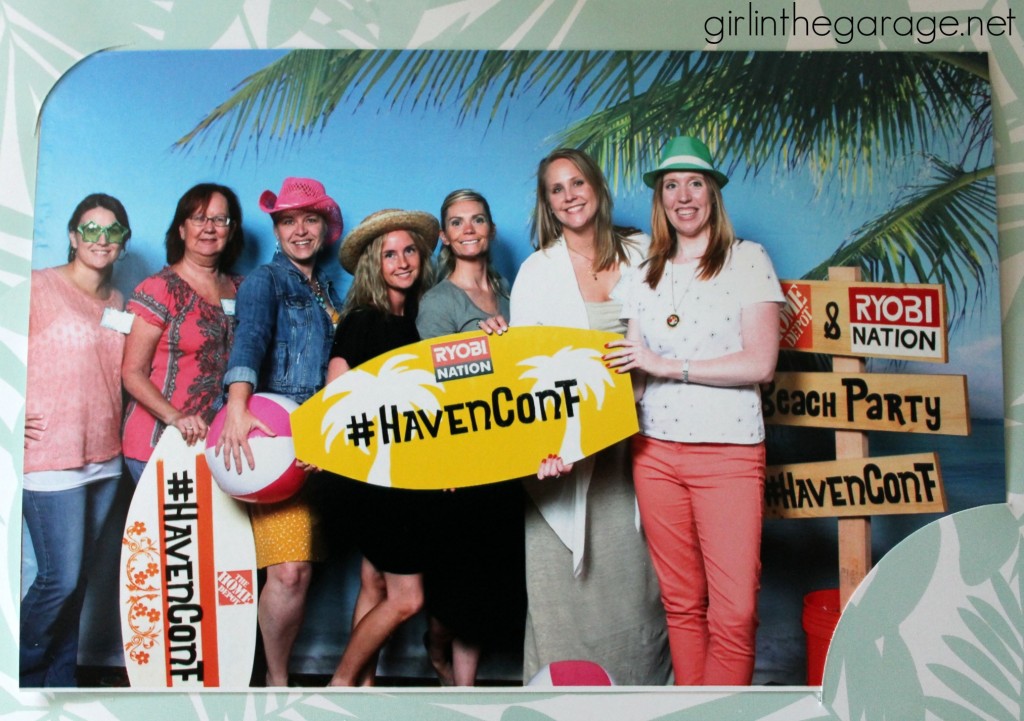 Photo above:  Farm Fresh Vintage Finds, Petticoat Junktion, Postcards from the Ridge, me, My Altered State, Unexpected Elegance, Rappsody in Rooms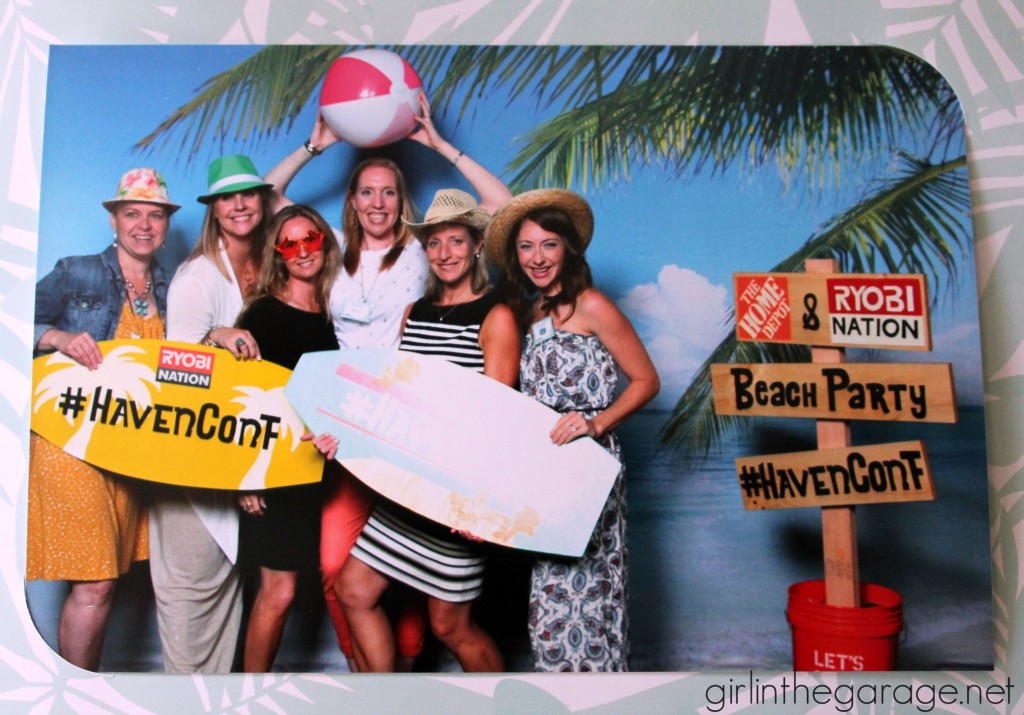 Photo above:  Postcards from the Ridge, Unexpected Elegance, me, Rappsody in Rooms, Sweet Pea, Domestic Imperfection
Haven seemed to fly by, but I have a lot of great memories, new friends, and pretty cool swag to show for it!
After I got home I also found out I won $500 to spend on stencils at Royal Design Studio – AWESOME!  You all know how much I like to use stencils on my projects.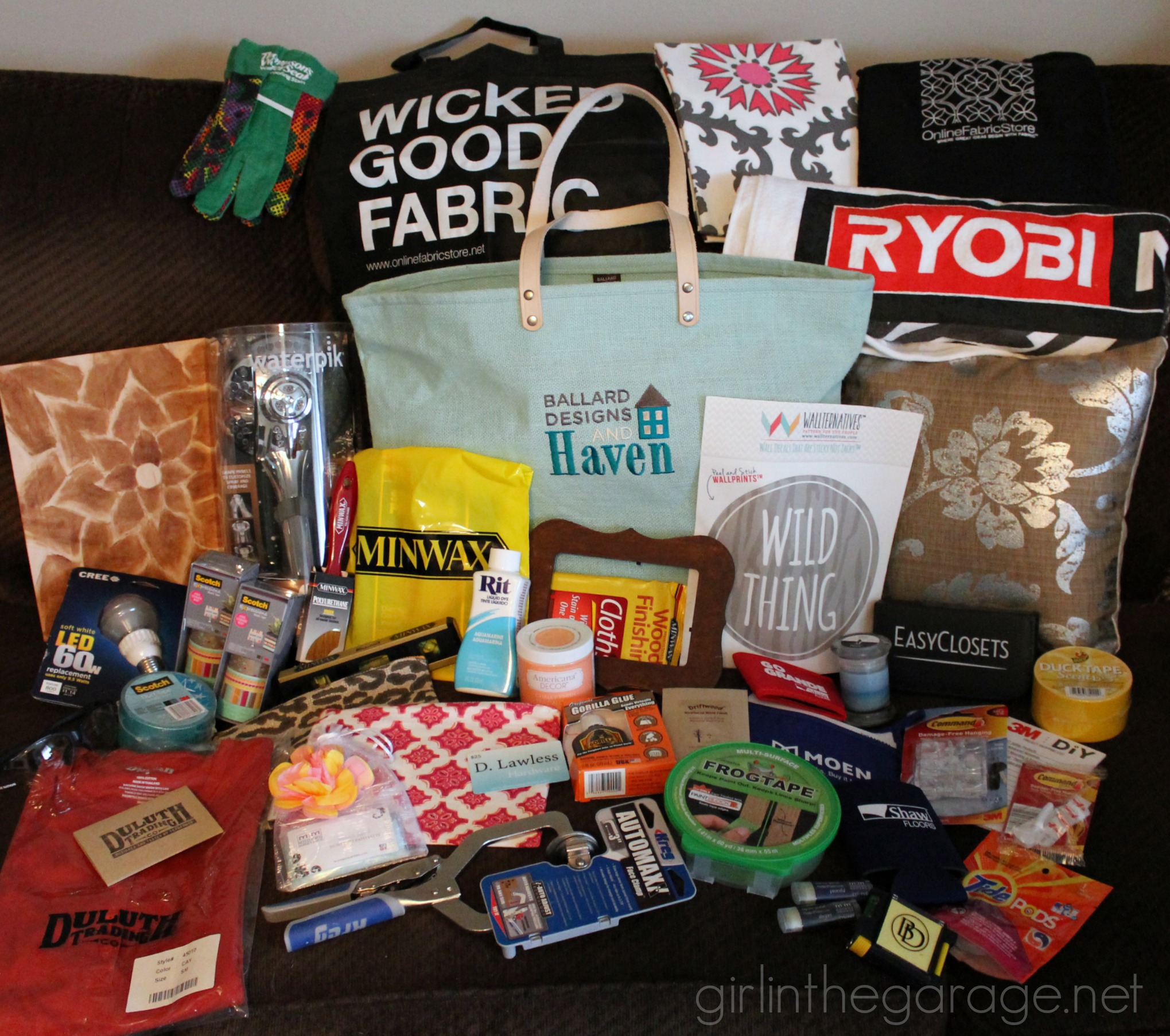 Tiling my backsplash has been on my to-do list for a long time but I was so intimidated and had no clue where to start!  After taking that class and getting to try all the steps myself I feel so much more comfortable now.  So I went to Home Depot yesterday and bought a Ryobi wet tile saw!  I'm going to do more research and hopefully install the backsplash in August – I'm so excited!  It will be my biggest DIY project ever!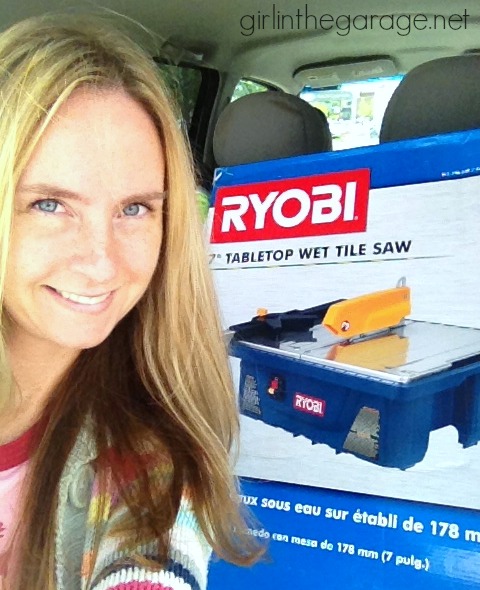 More than just a blogging conference or a girls' getaway, Haven is more about becoming empowered.  For a few days we have the ability to learn from experts in our field and hone new skills without feeling inadequate or embarrassed.  It's important to soak in as much as we can, so yes – many of us were sleep deprived because we stayed up late chatting and exchanging ideas.  These new skills and ideas will help us to become better DIYers and bloggers – and will hopefully inspire YOU, our readers, as well!
Jen
Just for fun, here's a video that was shared at Haven!
Join the GITG Community
When you join this thriving online community of 90,000 creative souls, you'll be inspired to discover hidden artistic talents and learn skills to boldly face DIY projects with confidence.
You'll also receive my free guide "Just Paint It: 7 Tips for Transforming Furniture with Confidence."