This shop is part of a social shopper marketing insight campaign with Pollinate Media Group and Wet-Nap but all my opinions are my own.  #pmedia #showusyourmess http://my-disclosur.es/OBsstV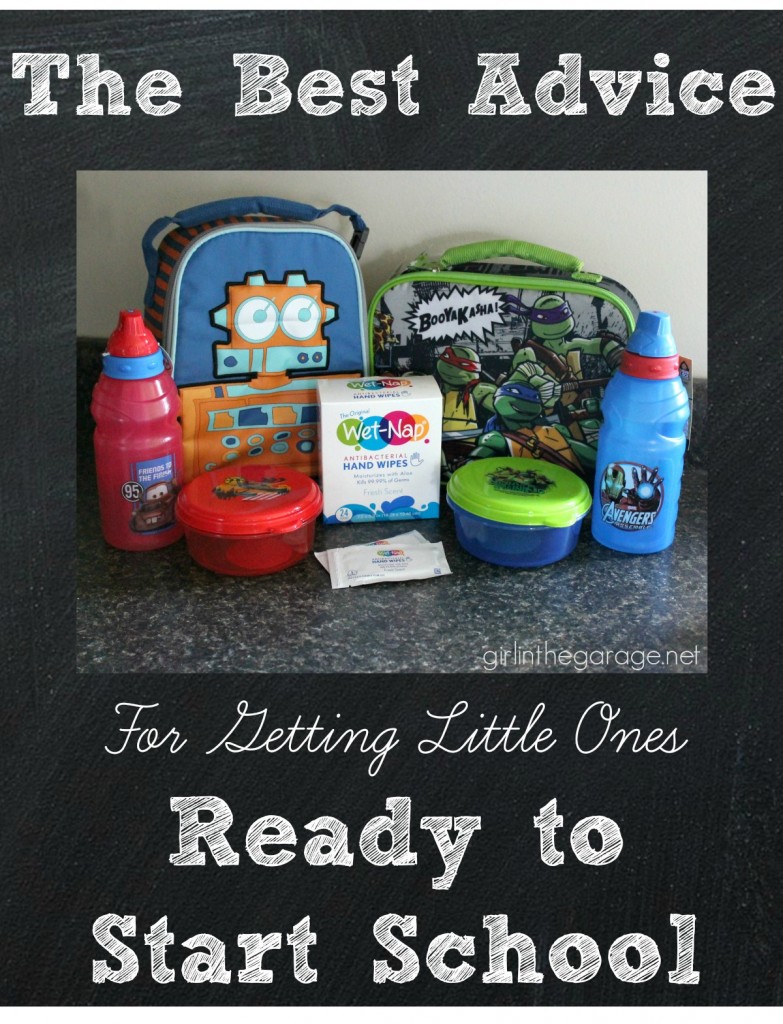 Both of my boys are starting school next month.  There's been some nervousness, a little freaking out, maybe a few tears – and that's just me!  The boys don't seem worried at all, or at least they're blissfully unaware.  (Even though we've been discussing it a lot!)  I'm mostly worried if they'll act independent enough and how they'll do during lunchtime, so we've started practicing a few things.
I asked my fabulous Facebook followers if they had any advice for getting kids ready for school, and of course they did!  I was blown away by some of their suggestions, so I'm sharing them here in case you have little ones starting school this year or even going back to school:
1.  Alice:  Check out your state's education website – they should have guidelines on what your child should know for their grade. Also, if you can afford to, buy extra of stuff and store it in a drawer/basket so if your teacher sends home a note that they need glue sticks/pencils, etc, you'll have it on hand. You might also check out your school's guidelines on snacks and lunches as some schools are very strict on what can be brought in.
2.  Jessica (from Gourley Girl & Guy):  I'm a 3rd grade teacher but have experience in K-4.  The best thing you can do right now is make sure they're on a schedule and have a routine that they can stick with for the next month or so. Being on schedule is the #1 thing to help a teacher and your child adjust!  And don't be too overwhelmed about the school supplies…or too territorial. Sometimes teachers have to combine certain things, but they're not doing it to give other people's kids your stuff.  Sometimes kids are too little to keep track of their own crayons (or whatever) so they put them in one bin to make it easier for the kids.
3.  Lindsay (from My Creative Days):  I would tell you first to relax and enjoy this time.  It goes by so fast.  My kids are going into 5th and 3rd grade and I am still the mom who cries on the first day of school because of how old they are getting.  There are so many "things kids should know" before entering kindergarten.  I think going over how to write their names, recognizing colors, shapes, letters and numbers are a great start.  They will be great and it is such a special time!!!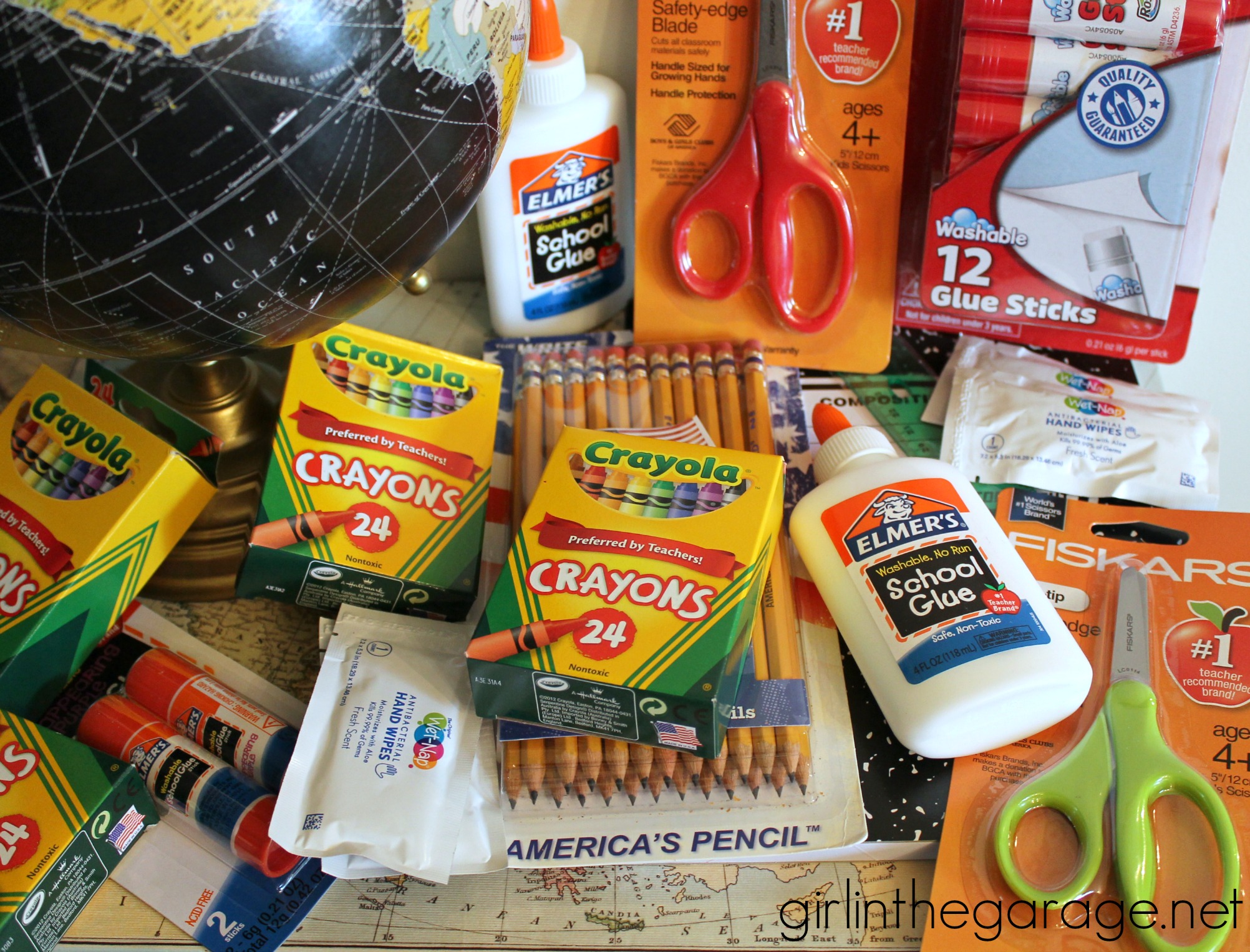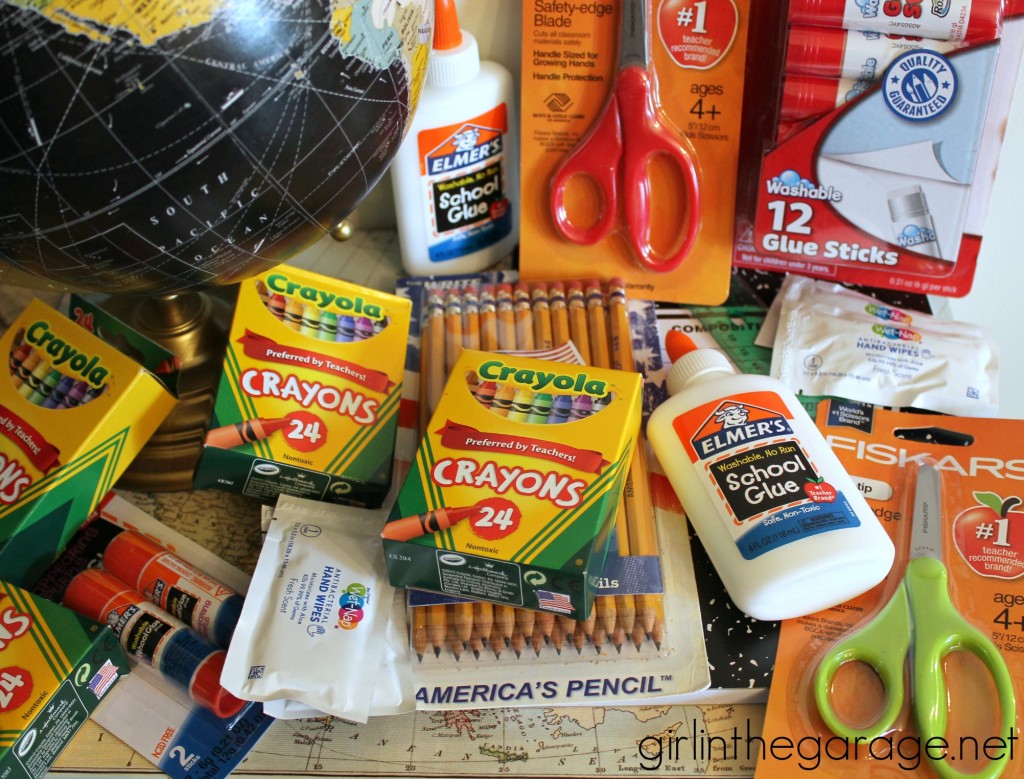 4.  Nancy:  Something I learned that sounds ridiculous.  Practice lunch.  Find out how long lunch is going to be. Subtract 5 minutes. And eat lunch in the allotted time using the food and lunch boxes and make it loud and chaotic.  Lots of distractions.  Leave 5 minutes for cleaning up.  My son wore ear protection for the first month or two.  NOISY!
5.  Brianne, 1st grade teacher:  I appreciate the "little" things. It is incredibly helpful when students can zip, button, and tie their own clothing articles.  Also opening their own milks and lunch/snack containers is helpful!  I know so many students who struggle with these things and miss out on a huge part of their lunch waiting with their hand raised to get the duty aid to open things for them! Academically the best thing you can do (imo) is read books and ask them questions about those books, practice writing/recognizing their name and other letters, and count to 100.  I'm sure they will do great!
6.  Jenni:  Live in the moment and not when the retailers say it's time to whip up a get-ready -for-school frenzy!
7.  Annette:  Top 5 things you can do to get ready:  1. Get on a good routine EARLY!  Early to bed, early to rise, dress, eat, wash up, brush teeth, THEN watch TV (if you allow it) so they're in the habit of moving quickly and efficiently.  2. Have all your supplies ready and label EVERYTHING!  3. Make sure your child has a backpack that is full-size. Your child is going to get all sorts of larger things to take home that won't fit in one of those toddler/preschool size packs.  4. Pack lunches that they can open/eat independent of help and don't involve a lot of time. (I worked as an aide once in an elementary school: Lunch can be traumatic for some little kids!  5. Buy extra school supplies while they're on sale!  You'd be surprised how much more expensive they are after those sales… Keep a box in the closet for emergencies!
8.  Mary Alice:  If anything comes home next summer put it in a ziploc and use supply again next year.
9.  Carol:  My children are now grown but I remember the checklist I used before each started Kindergarten.  We practiced opening a milk carton, tying shoes and carrying a tray with food on it.  It made a big difference!  Also, for a couple of years, they wanted to take their lunch.  I pre-packaged their lunch items in small szip lock bags except for sandwiches on Sunday night.  They picked out the veggie item and fruit item the night before, tossed it in the lunch box and then I added the sandwich and drink the next morning.  I moved on the bento boxes and that worked when they were older plus the Bento website has awesome ideas on what to pack for lunch.
10.  Kitty:  I'm a teacher.  No one will look upon you badly if you can't find everything on the list.  With this economy I haven't gotten everything on my list in years.
11.  Patricia:  Teachers love to get classroom supplies the beginning of 2nd semester also, especially tissues.
12.  Mel:  Label EVERYTHING with their name – even socks – you'd be surprised at the things they can lose.
Such great tips, right?!   I've already started buying school supplies (8 boxes of Crayola crayons, 12 glue sticks, 4 bottles of Elmer's glue, etc.) and then necessities that aren't even on the list – things that will make lunchtime easier.  Lunch boxes, small containers for food (some with freezer packs for fruit or cheese), cups with freezable inserts to keep drinks cold, and Wet-Nap hand wipes to make cleanup easy.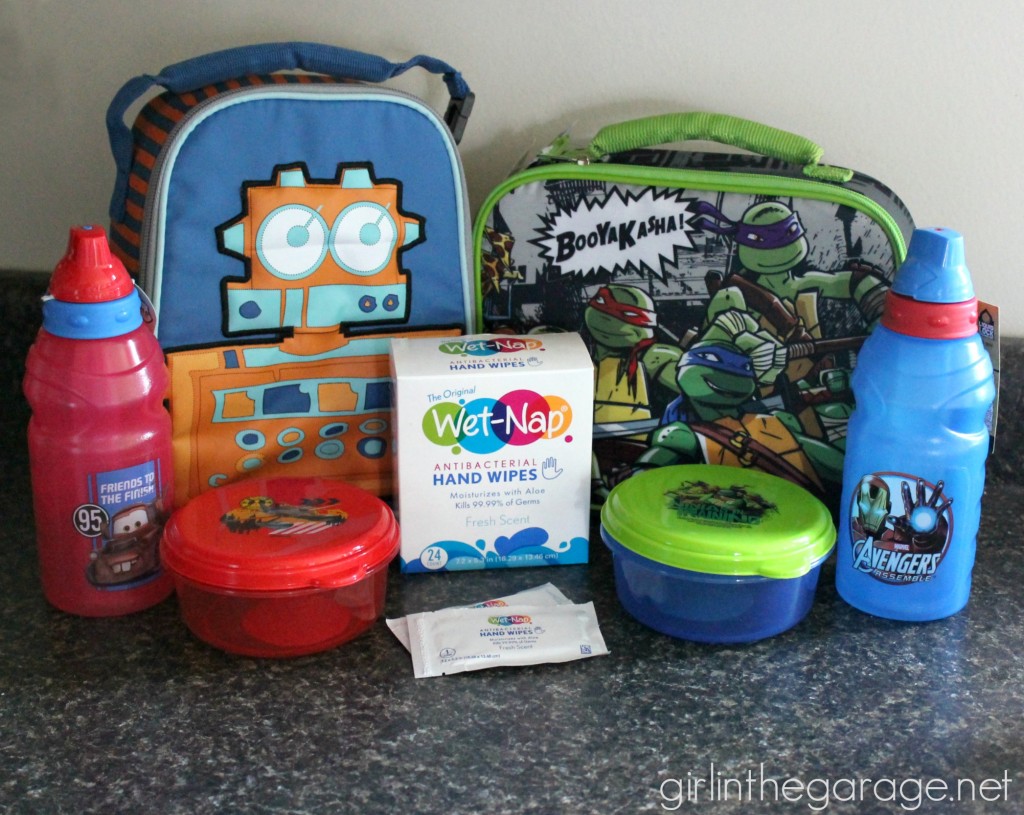 I picked the Wet-Nap Antibacterial Hand Wipes up from the napkin aisle at Walmart, since they have the lowest everyday prices.  Here are my cuties modeling their new Wet-Naps: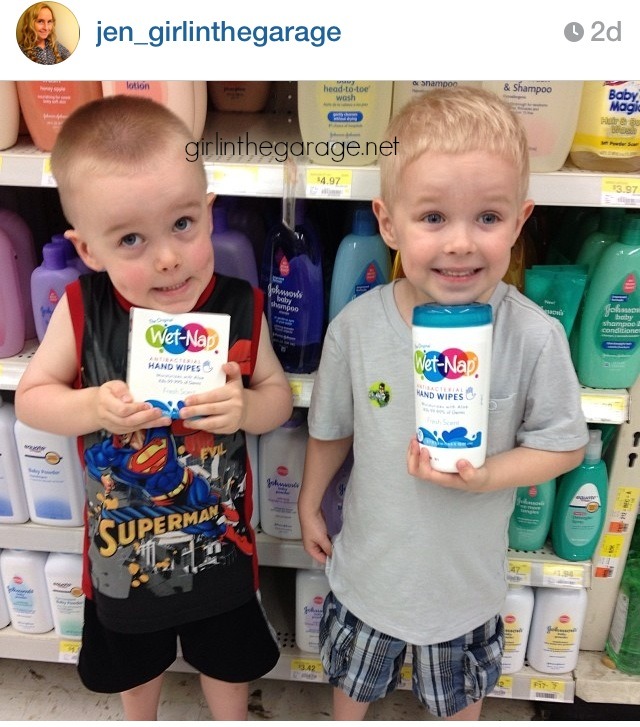 They're soft, strong, and they moisturize with aloe – great for little hands and grown-up hands too.   😉  I like that I can throw one in their lunchbox and not have to worry about them rubbing dirty fingers on their clothes – because let's face it, regular napkins just don't work as well.   And all those germs that are hanging out at school… yuck.  These will help keep my boys healthier too.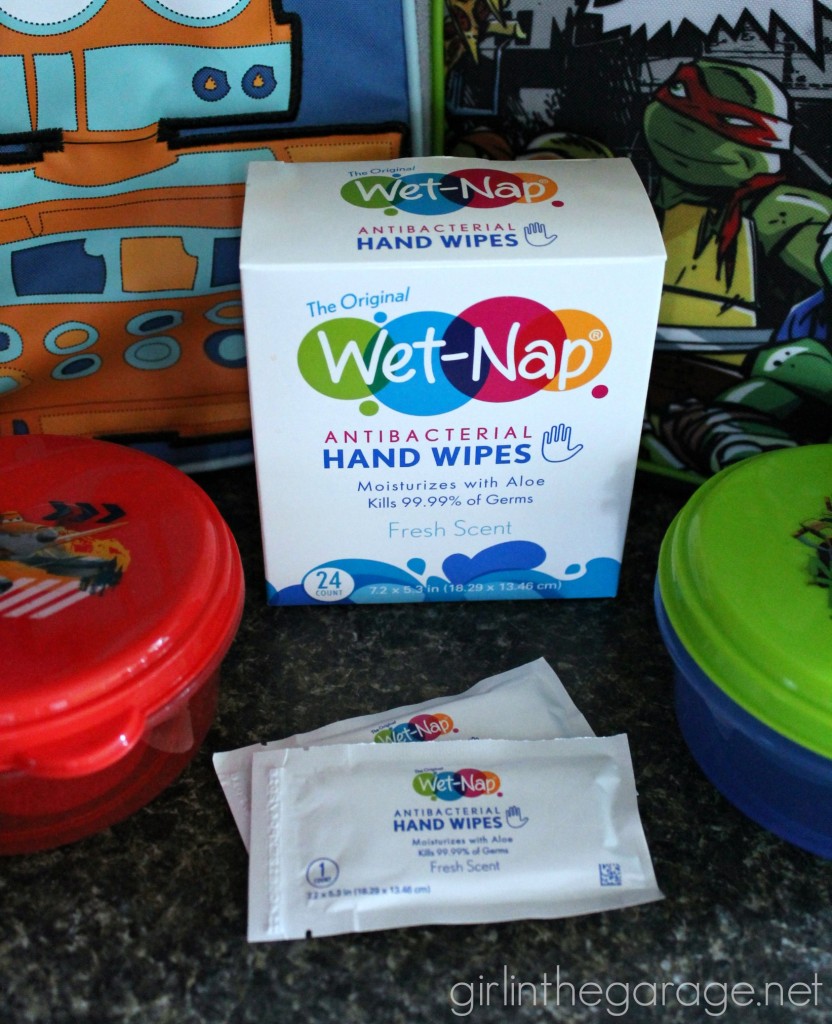 You can print a coupon HERE for $.55 off any Wet-Nap product.  Woohoo!
Do you have any other advice for getting kids ready for back to school?
I'd love for you to leave it in a comment below!
Jen
Join the GITG Community
When you join this thriving online community of 90,000 creative souls, you'll be inspired to discover hidden artistic talents and learn skills to boldly face DIY projects with confidence.
You'll also receive my free guide "Just Paint It: 7 Tips for Transforming Furniture with Confidence."