"This shop is part of a social shopper marketing insight campaign with Pollinate Media Group® and Rubbermaid, but all my opinions are my own. #pmedia #FastTrack http://my-disclosur.es/RgFrEH"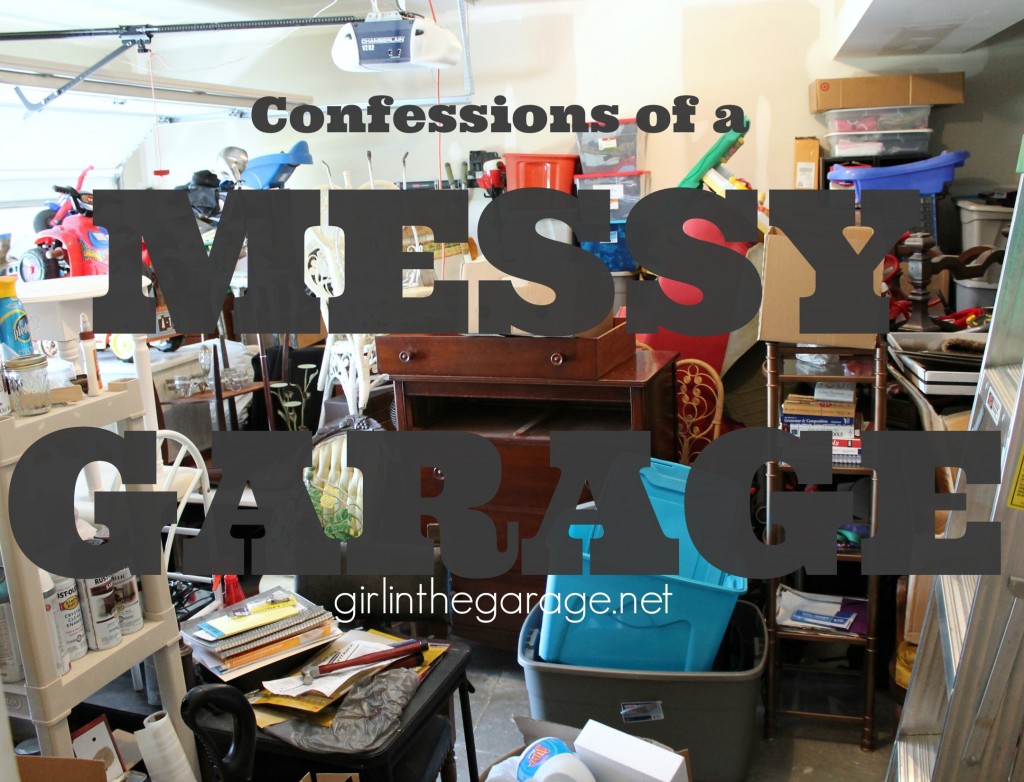 Friends, today I'm getting real.  Like, really real.  If you've been following my blog for at least a few months, you know I live in Indiana and we had the worst winter ever this year – which means I've had to paint furniture in the basement or in our living room ever since the cold temps arrived.  A couple extra pieces of furniture in the living room at one time (along with paint cans, brushes, sandpaper, cloths for cleanup, etc.) definitely decreases living space and increases frustration from the spouse!
Thankfully it's been slowly warming up.  But here's my confession: I still haven't been able to work in the garage.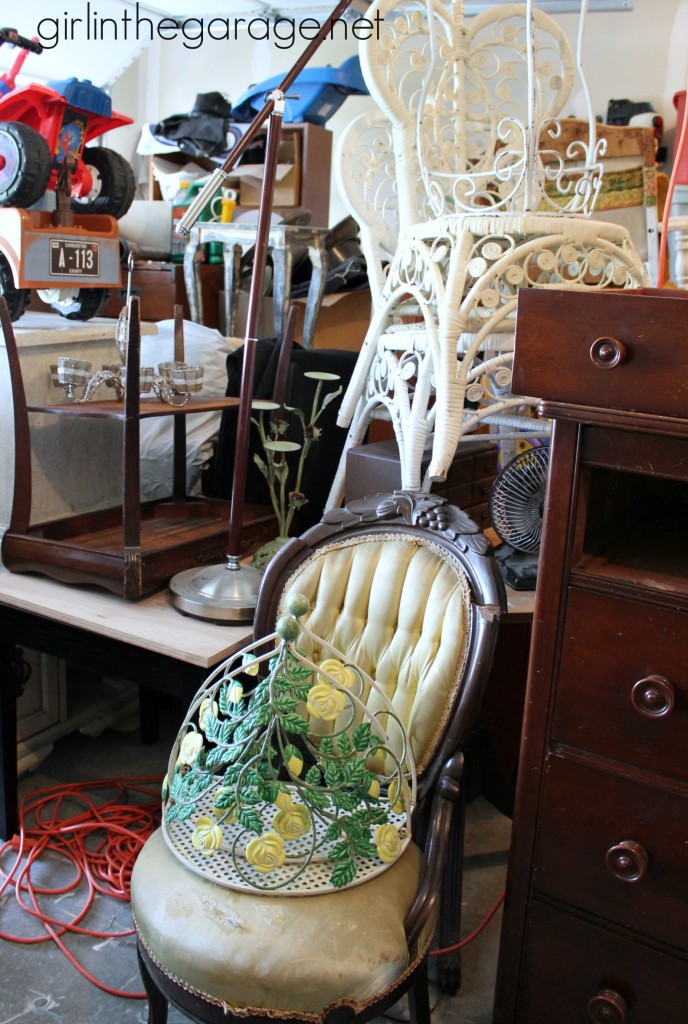 During winter, I still shopped at thrift stores when we weren't having a blizzard, and occasionally Craigslist and Facebook yard sale groups.  My stash kept growing but I couldn't keep up with painting it and then moving it to my booth fast enough.
So I made myself a promise a couple weeks ago – no new furniture.  No thrift stores, yard sales, Craigslist, etc. until I can clean up my act.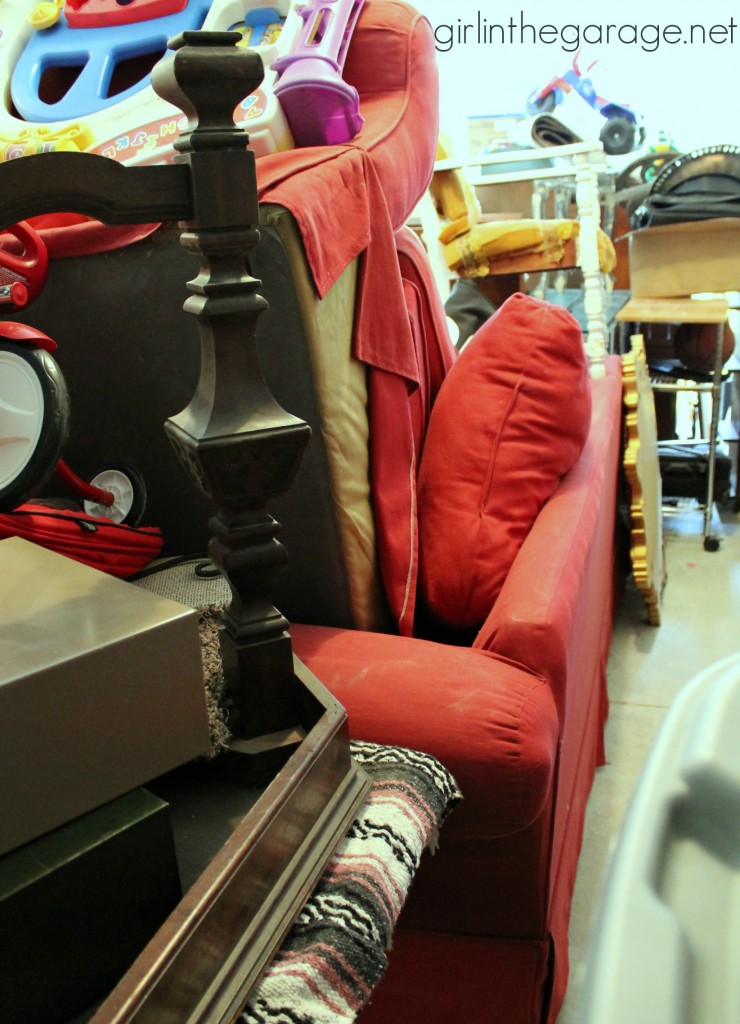 Granted, furniture only takes up about 35% of the items in my garage, but it definitely takes up the most space.  For example, that red couch and chair (above) are going bye-bye.  Three years is too long to keep something that big in the garage that you're not planning to use again!  Also going: two huge old TVs that I can't even lift by myself.
Below is an antique dining table (separated in halves).  I'm not getting rid of it, but one day I'll fix it up.  It's something I'm planning to keep for myself and you know how the personal projects are the ones that usually keep getting pushed to the bottom of the list…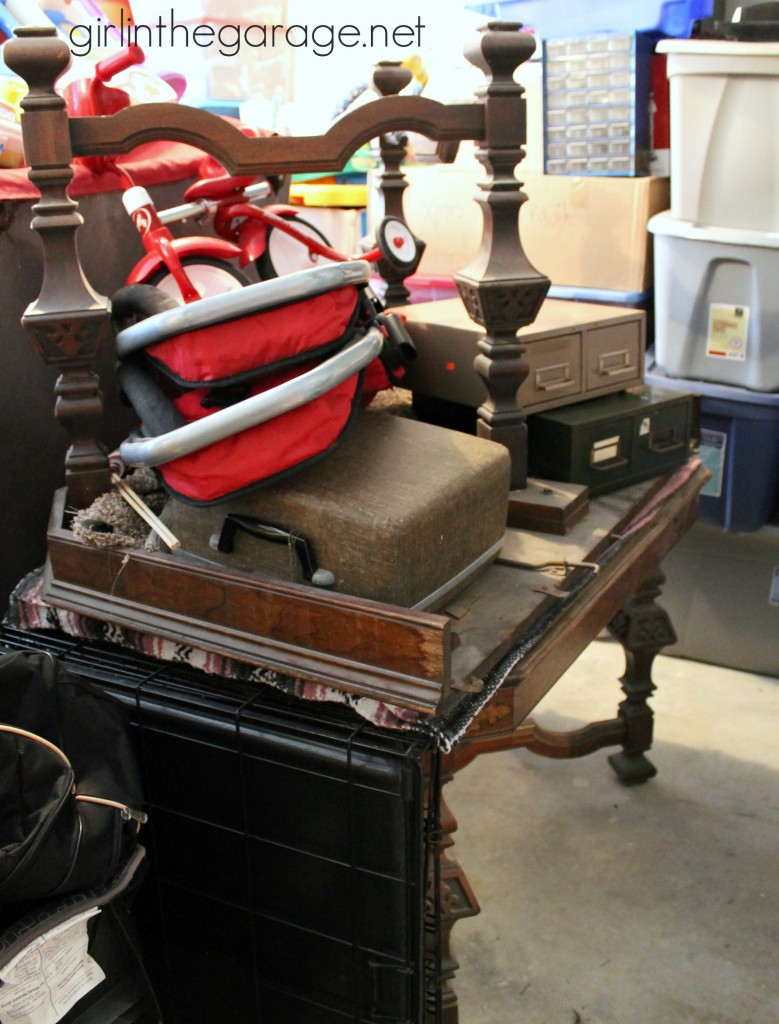 This large buffet has been waiting for some love since last summer.  Inspiration just hasn't come to me- it's actually a beautiful piece so I can't decide if it would look better painted or if I should leave it alone.  Behind it (you can't see it, but it's there) is an antique dresser that needs a lot of work – and there are many other pieces that I've almost forgotten about in my garage!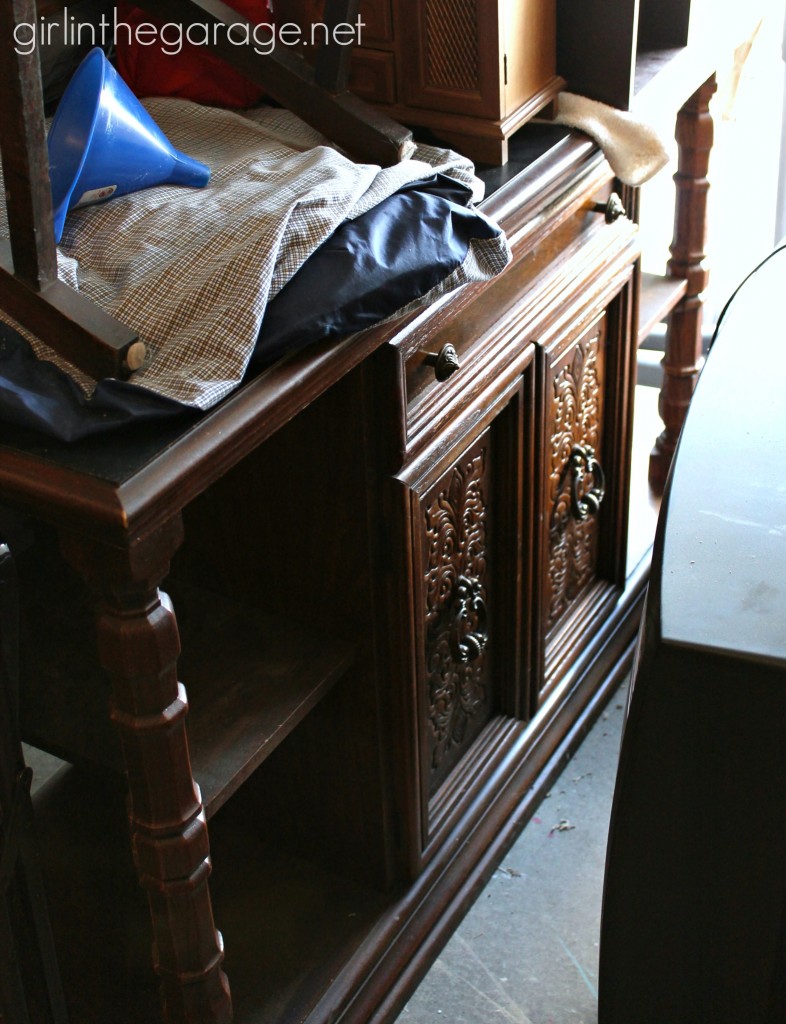 I spent the majority of my weekend sorting through boxes – about 25 of them.
About 12 boxes were cardboard diaper boxes of baby clothes, and I consolidated them into the three large plastic tubs below.  Cardboard boxes are neither sanitary for long-term storage or easy to stack up high!   Our boys are 4 and 5 but we've always debated whether we want to have another child – so I have tons of baby and toddler clothes, toys, necessities, etc.  They take up probably 35% of the items in the garage but I'm not ready to part with any of them yet…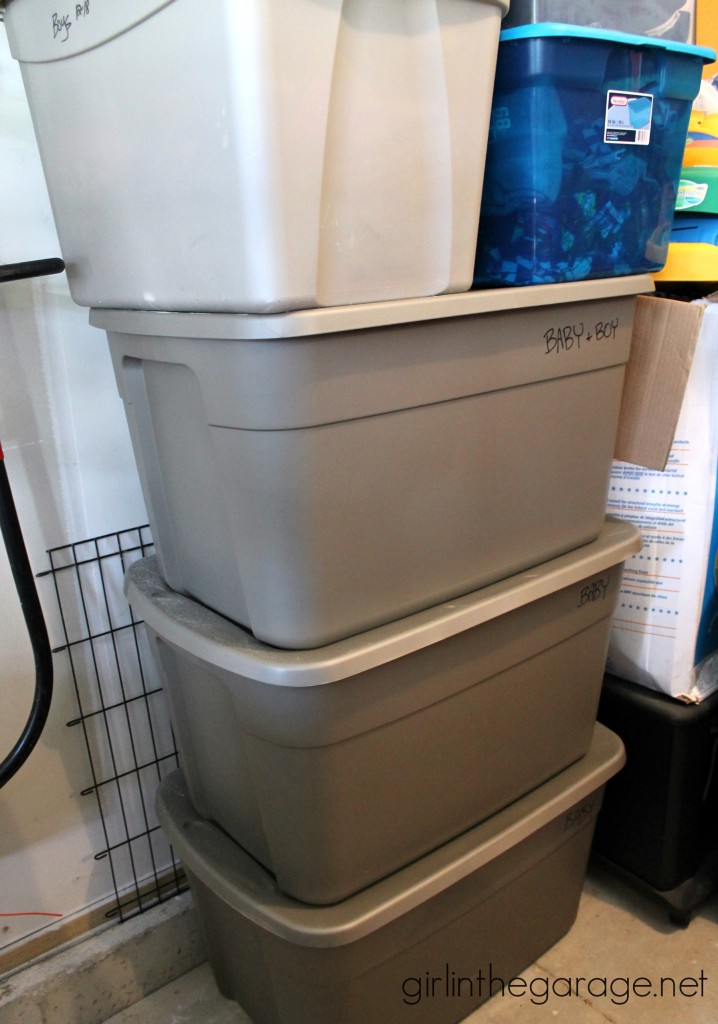 I also went through a bunch of mine and my husband's old clothes and random boxes of junk (things from past jobs, past schools, former hobbies).  I filled several bags for trash, giving away, and donating to thrift stores.  My garage still looks like a huge mess.  But I can walk through it, and I'm proud of the progress I'm making.  (There's even just enough room to paint again.)  Plus- I'm not done!  I promised myself an organized garage, and it will happen.  I'll keep you all updated on my progress over the next couple weeks – and I expect you to keep me accountable!
I also picked up a Rubbermaid FastTrack 5-piece garage organization system from Target to help me out.  I installed it myself onto the wall (because I'm a super DIY diva… Ha) – okay I did have to borrow a couple tools from my dad (only because I couldn't find ours in our messy garage) but I definitely did all the work hanging it myself.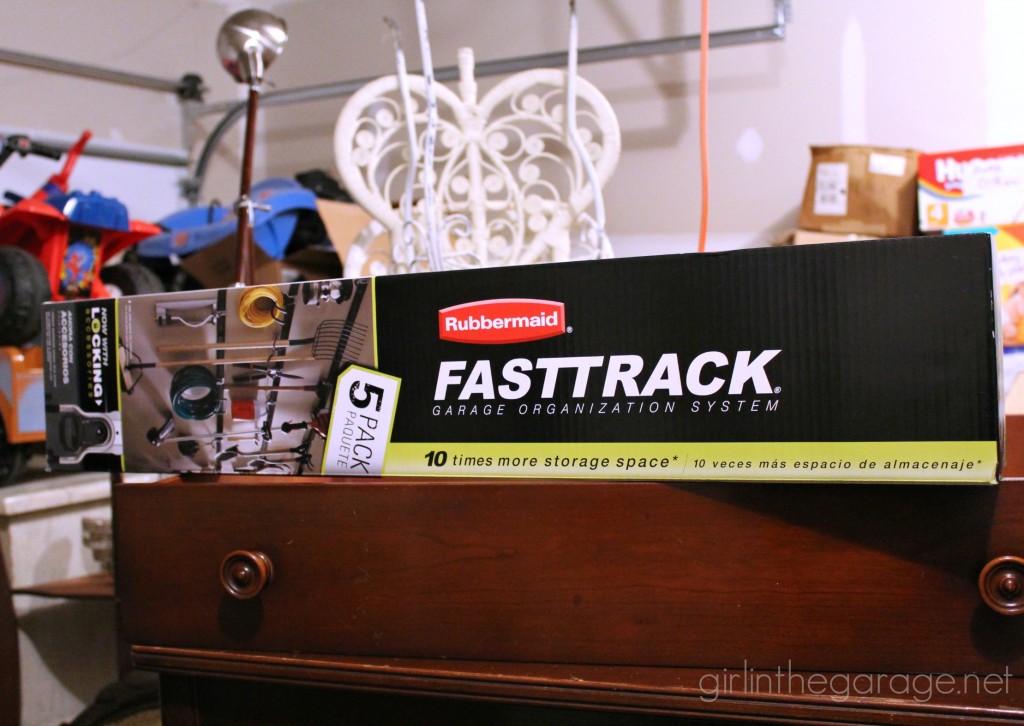 Just remember to measure several times and be sure to screw into the studs – the directions are very clear, it just helps to follow them.  😉  In the display they also sell little bags of the extra screws/anchors for installing the Rubbermaid FastTrack- I recommend buying one just in case!
I was able to hang our awkward weed whacker, hedge clippers, snow shovel, and watering can on the four types of hooks included.  Pretty awesome!  And another step closer to my organized garage.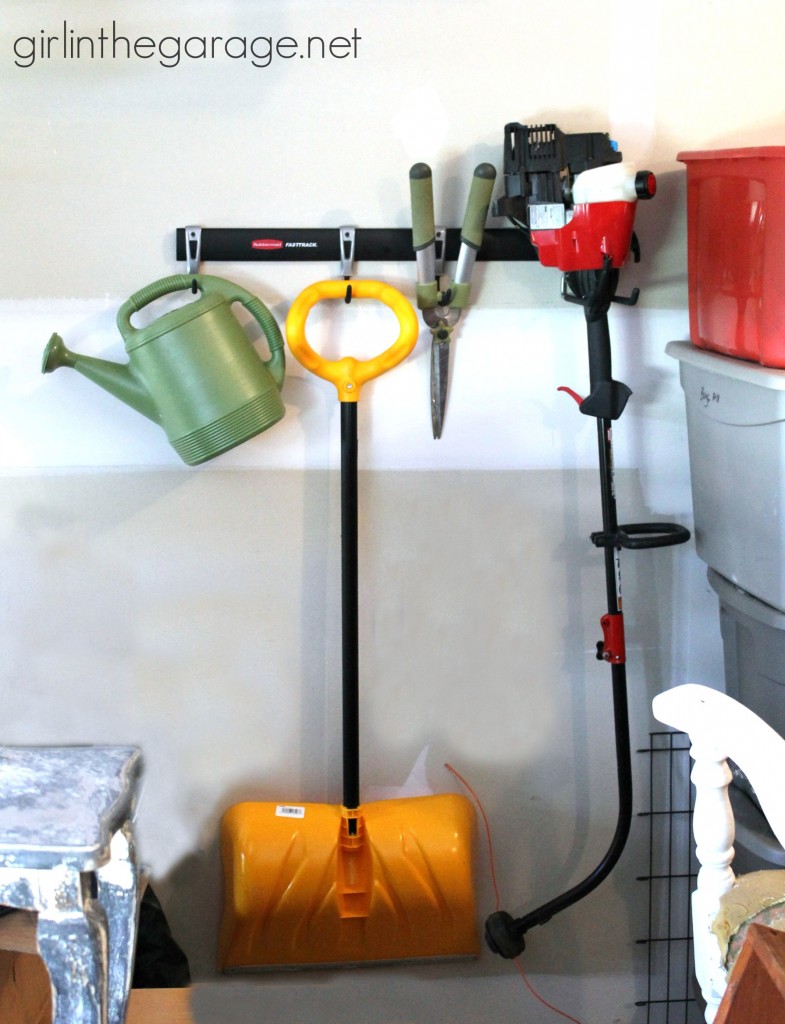 Even better, the Rubbermaid FastTrack is currently on sale in Target stores for $28.89 (vs. $33.99 reg.) from May 18-24 ,2014.
My garage organization tips so far:
1.  Don't hold on to items that you know you won't use again, especially the big ones that take up a lot of space.
2.  Don't store things in cardboard boxes.
3.  Consolidate- keep what's really necessary.  Do I need five storage totes of baby boy clothes?  Probably not.
4.  Separate items into piles for trash, donating to friends or charitable groups, giving to thrift stores, etc.
5.  Try to block out large quantities of time, and get someone else to watch your kids for a while.  If you're like me, it's easier to get a lot done when you don't have many distractions.
6.  Get help if you need it, especially if you have a lot of heavy items or want an impartial person to help you make decisions to keep/get rid of things.
7.  Buy storage containers and organizers to make life easier – like the Rubbermaid FastTrack.   😉
What other garage organizing tips do you have for me??
Jen
Join the GITG Community
When you join this thriving online community of 90,000 creative souls, you'll be inspired to discover hidden artistic talents and learn skills to boldly face DIY projects with confidence.
You'll also receive my free guide "Just Paint It: 7 Tips for Transforming Furniture with Confidence."