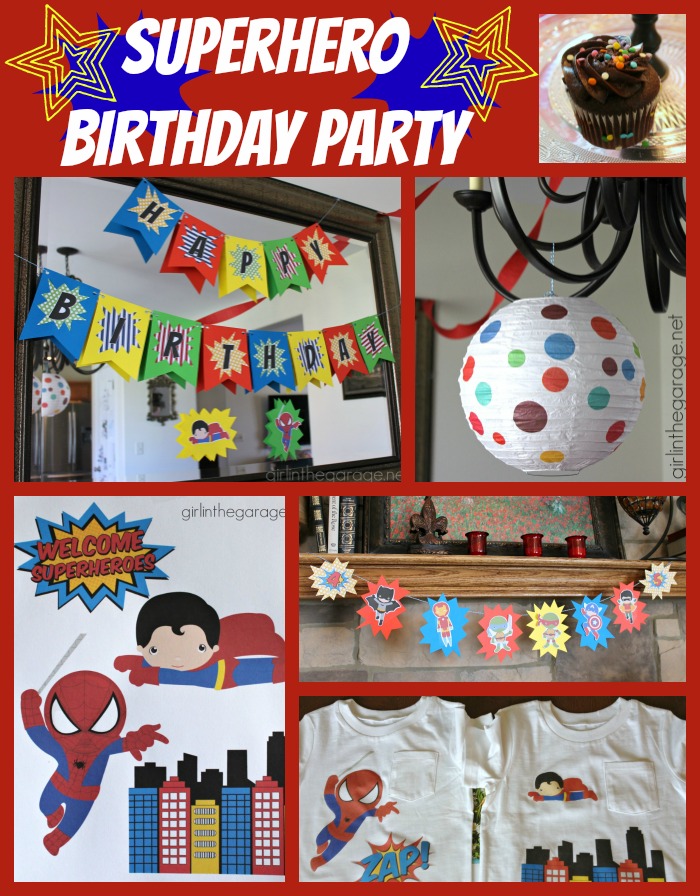 April is almost like Christmas around here.  Our boys' birthdays are only a week apart, so there's lots of celebrating going on practically all month by the time you factor in the official party (with out-of-town family coming to visit), dinner and a mini party on their actual birthdays, and other fun events (we usually spend one morning at Chuck E. Cheese sometime around their birthdays too).
This past weekend was their birthday party, and we chose a superhero theme because they love playing superheroes!  Especially Spider-man and Superman – and the Ninja Turtles, which my younger son calls "gingerbread turtles."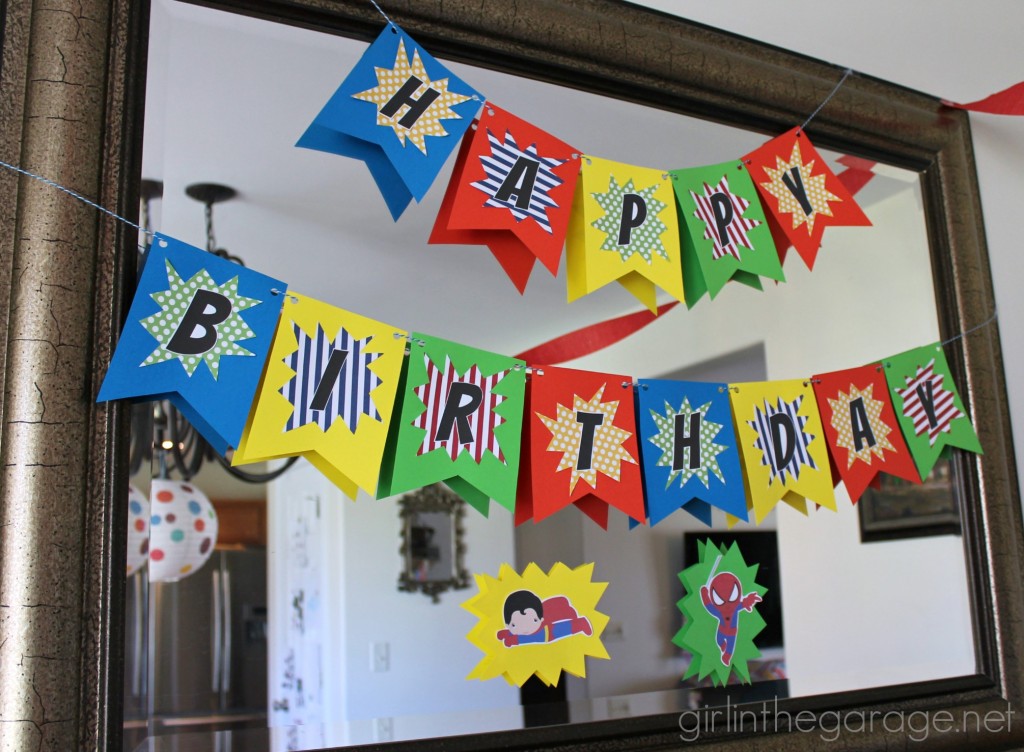 I bought some clipart from Etsy HERE and used them to make all the decorations myself.  (Well, except the hanging lanterns from Target.)  Here's how I made the Happy Birthday banner above:
Go to the PicMonkey website and hover over "Design" and then click on "8×10."
On the left check the box for "Transparent canvas" and click "Apply."
On the far left click "Tt" for text and then scroll down and click on "BANGERS" font.
Click "Add Text" and a box will open.  Type "Happy Birthday" and then drag the corners of the box to resize it to fit the area.
Above your image click "Save" and save it to your computer- then you can print it onto a sheet of paper, preferably cardstock.
Cut out the letters you've printed and glue them onto striped or polka dot scrapbook paper that you've cut into jagged shapes.
Glue those onto banner pieces that you've cut from solid cardstock.  (Cut a sheet into four equal rectangles, and then make two snips on the bottom to cut out a triangle.)
Punch holes in each corner and string together with baker's twine.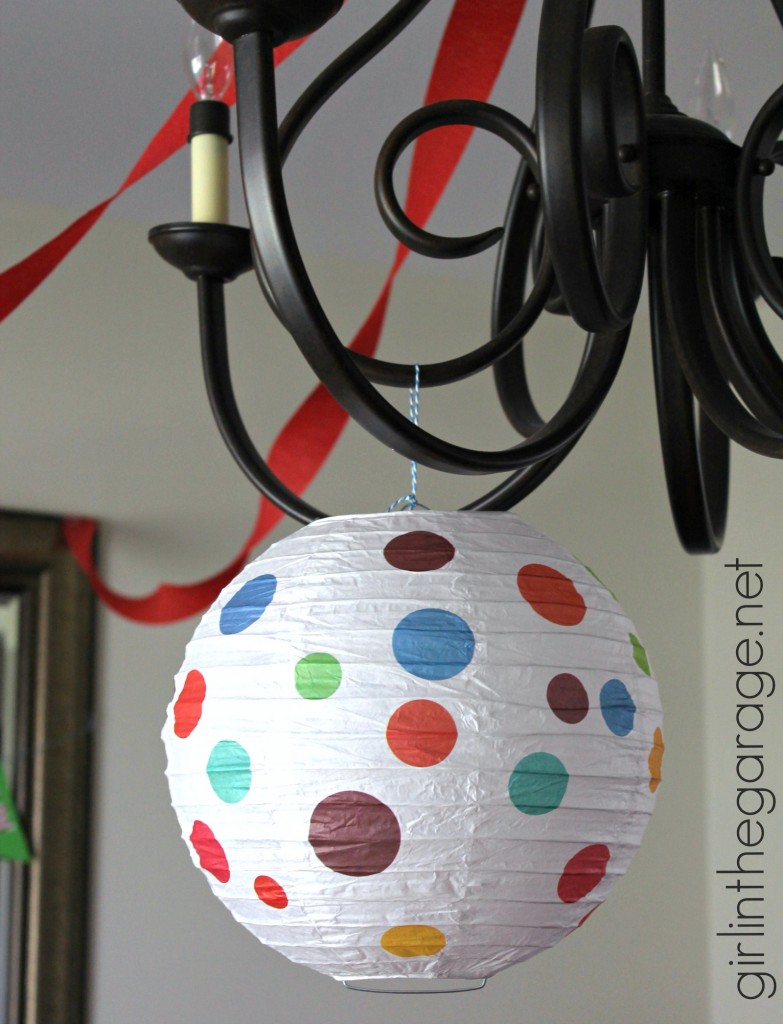 To print the superheroes, I pulled them into PicMonkey as overlays and could add several to an 8×10 image before printing onto white cardstock.  I printed eight small images on one page to make the banner on my mantel (scroll down two pics) and two larger superheroes on one page that I added to the sliding door below.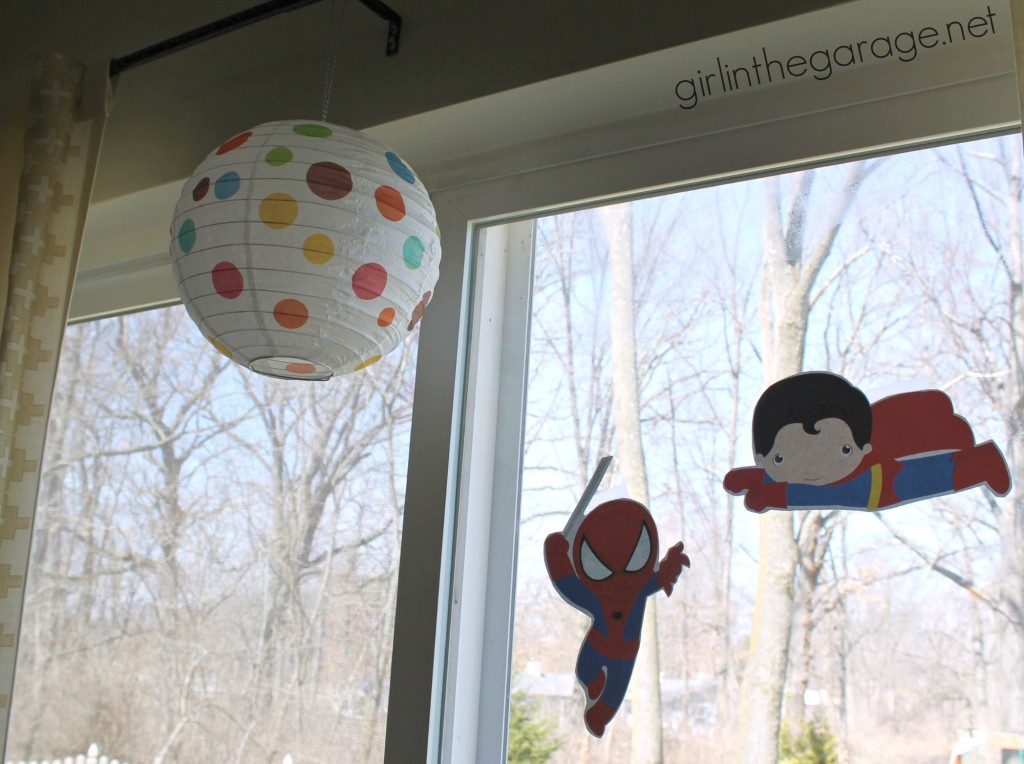 These images were cut out and then taped onto colored cardstock, and the baker's twine was taped on the back to make a banner.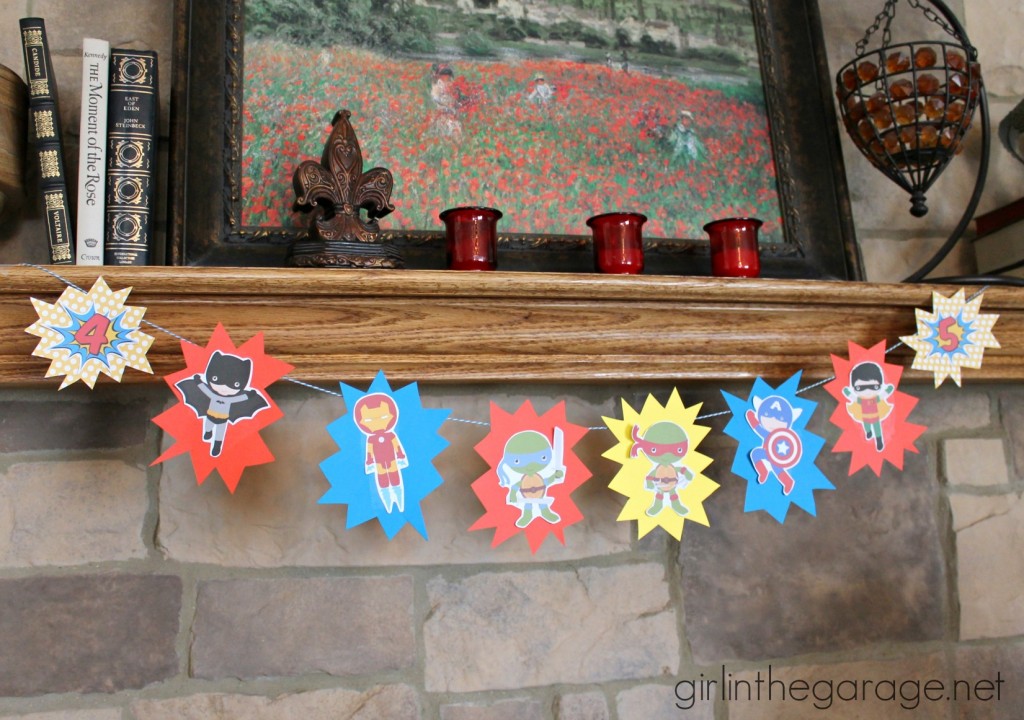 I made a sign for the front door (also 8×10 Design in PicMonkey, adding the images as overlays).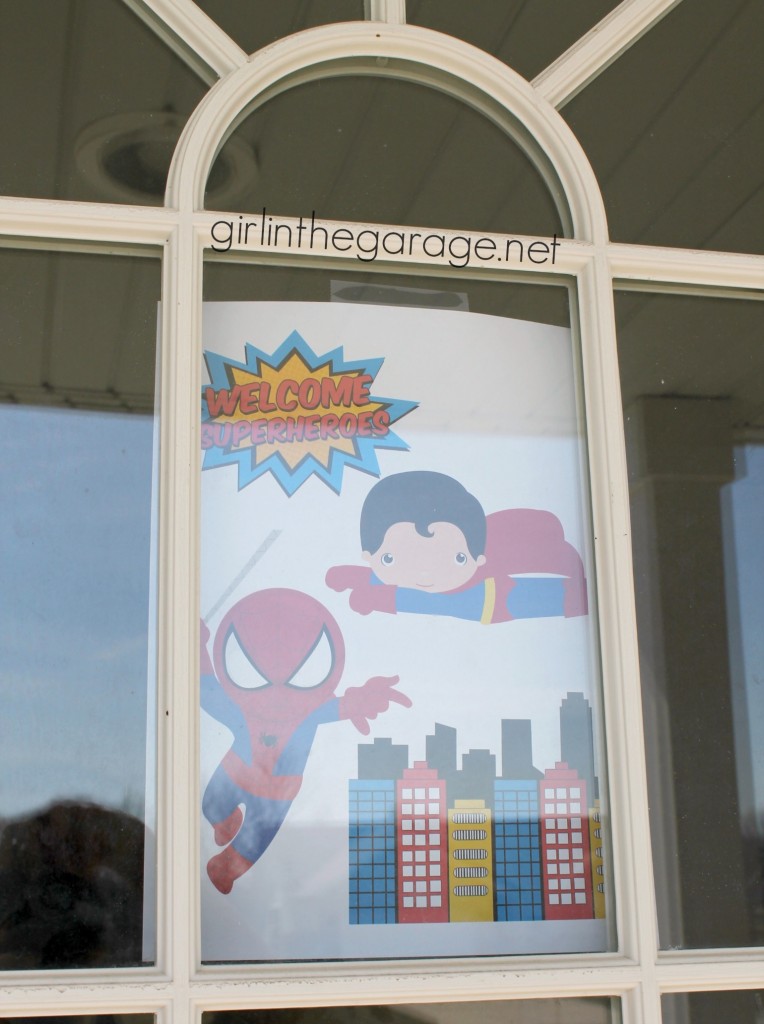 Here's a better view: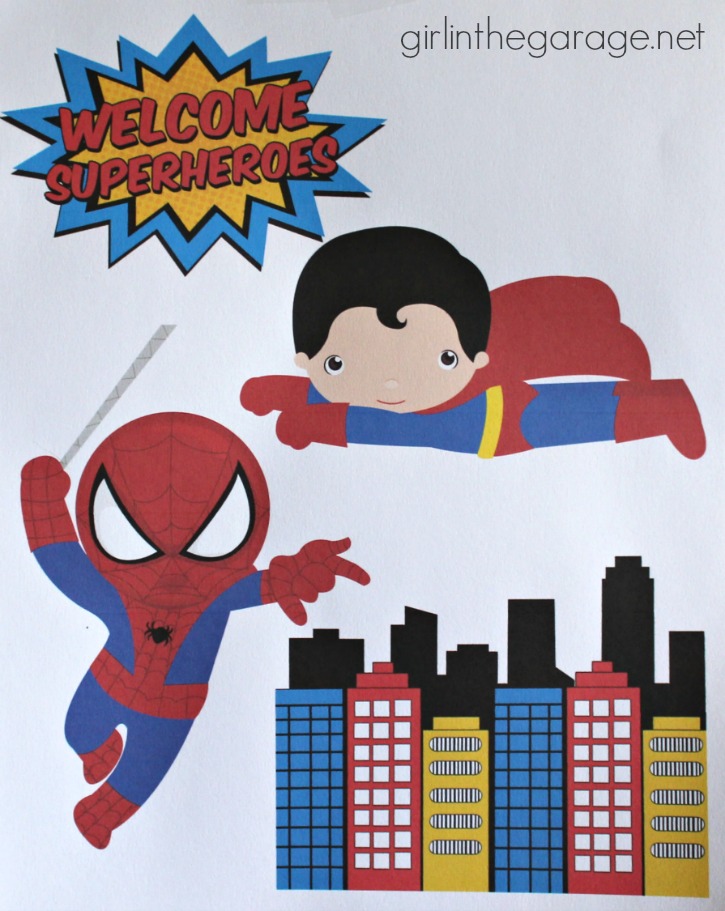 You can't have a kid's birthday party without cupcakes and sprinkles.  😉
I added a few cutouts by the gift area.
I made the boys t-shirts to match their party decorations – I designed them in PicMonkey just like the decorations and then printed the images onto iron-on transfer paper.  HERE is a tutorial for the birthday shirts I made for them last year.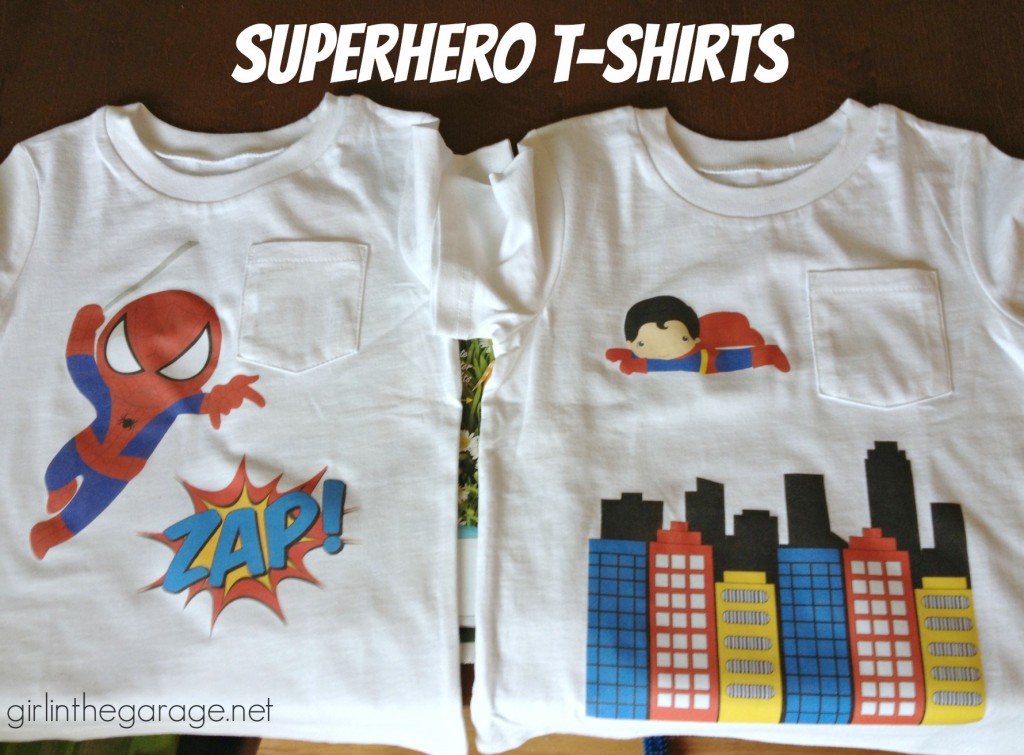 The cutest pic I got of the boys actually smiling and looking at the same time was taken with my cell phone.  Cute pic, but fuzzy.  Go figure.   😉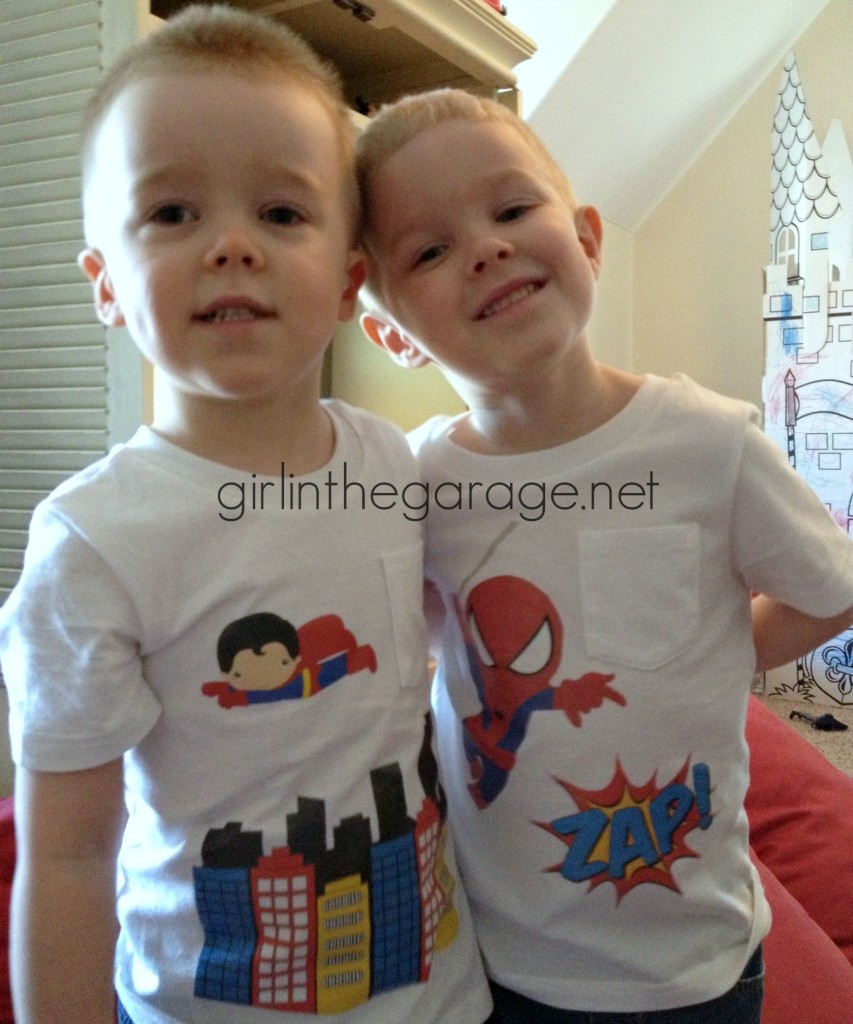 I didn't go all out with decorations this year since the party was pretty low-key with just family.  But the boys love everything- and that's what matters since we're keeping it up all month!
You can see the planes, trains, and automobiles birthday party they had last year HERE.
Jen
Join the GITG Community
When you join this thriving online community of 75,000 creative souls, you'll be inspired to discover hidden artistic talents and learn skills to boldly face DIY projects with confidence.
You'll also receive my free guide "Just Paint It: 7 Tips for Transforming Furniture with Confidence."