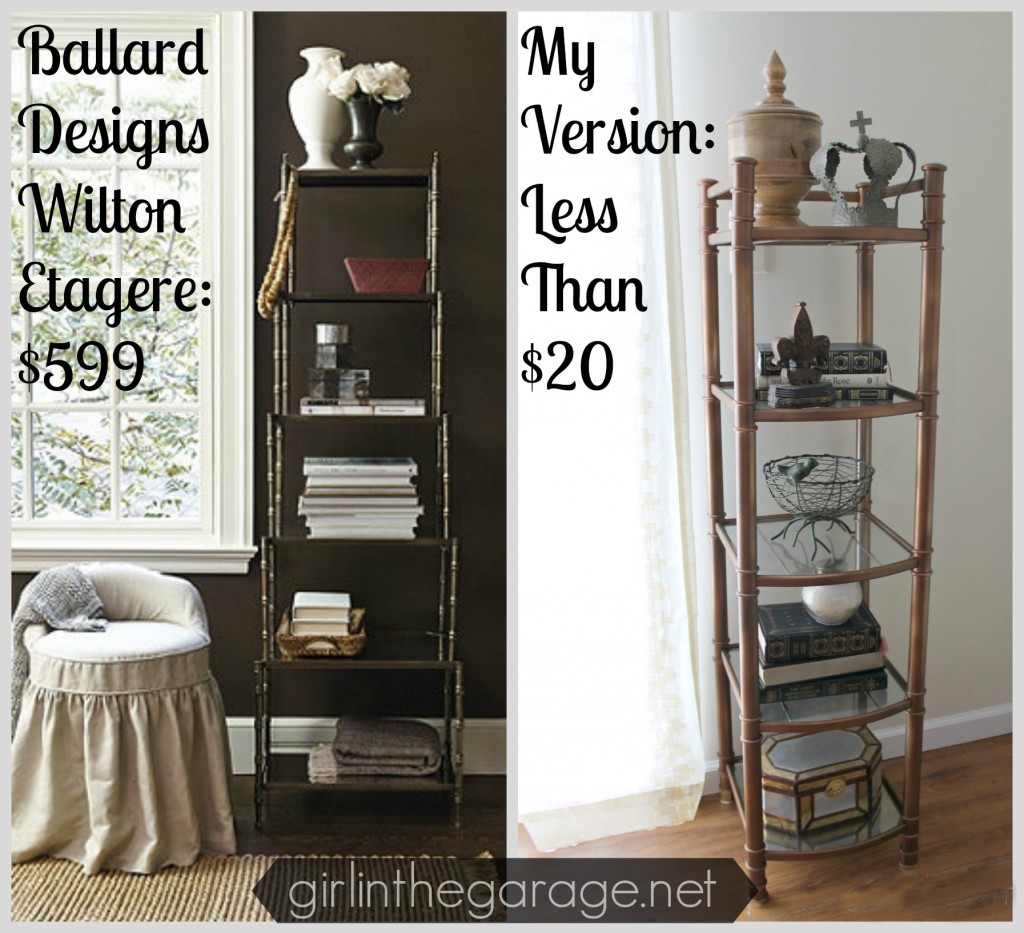 This week some of my friends and I have gotten together to recreate expensive items at popular home decor stores for a fraction of the cost.  This is my first "knockoff" or "inspired by" makeover, and it was pretty fun!  I saw the Wilton Etagere on the Ballard Designs website and had the perfect piece in mind… only it was in my parents' garage.  This tower used to be in their bathroom before it got a makeover last year, and thankfully they didn't mind me taking it.  So much shiny chrome!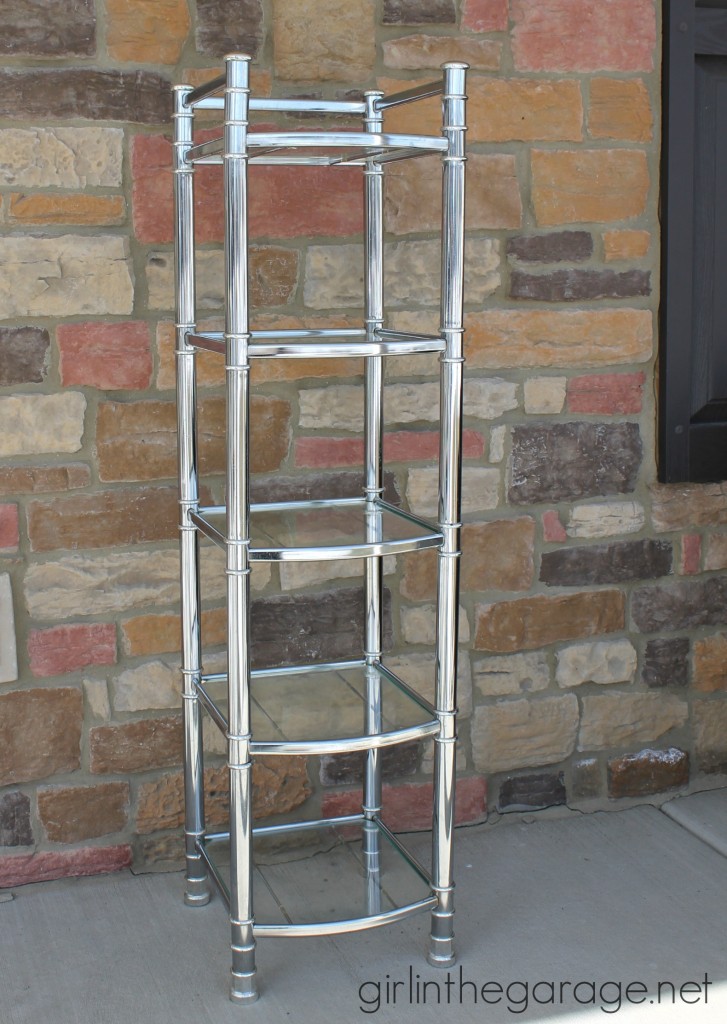 This shelving unit was free for me but you can find similar styles at many stores.  Here are a few I found online (#5 is just like the one I painted):
1.  Neu Home Contas Collection- Walmart
2.  Best Living Monaco Etagere – Walmart
3.  Powell Reflections Etagere (Set of 2) – Amazon
 (affiliate link)
4.  CreativeWare Tower – Amazon
 (affiliate link)
5.  Zenith Studio Accents Linen Tower – Amazon
 (affiliate link)
I used Rustoleum spray paint products for this makeover.
Metallic Vintage Bronze for the tower
Mirror Effect for the glass shelves
Crystal Clear Enamel as a protectant
On our first 50-degree day of the year (as the snow was starting to melt) I set up outside and got to work.  When you haven't been able to spray paint in 5 months, you forget how much faster it is than painting by hand!  I painted the tower and then the glass by following the directions on the cans, and then protected it all with the enamel spray.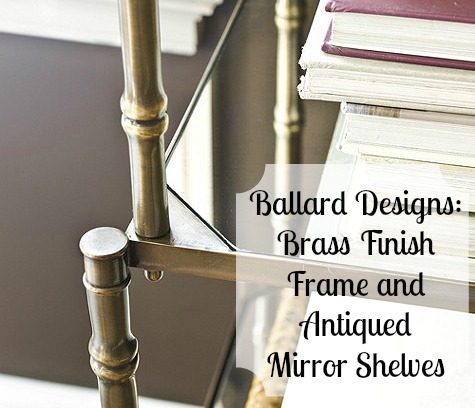 Even after 5 coats of the Mirror Effect spray, the glass shelves just have a hint of "mirror" on them.  I may end up giving them a few more coats when it warms up again.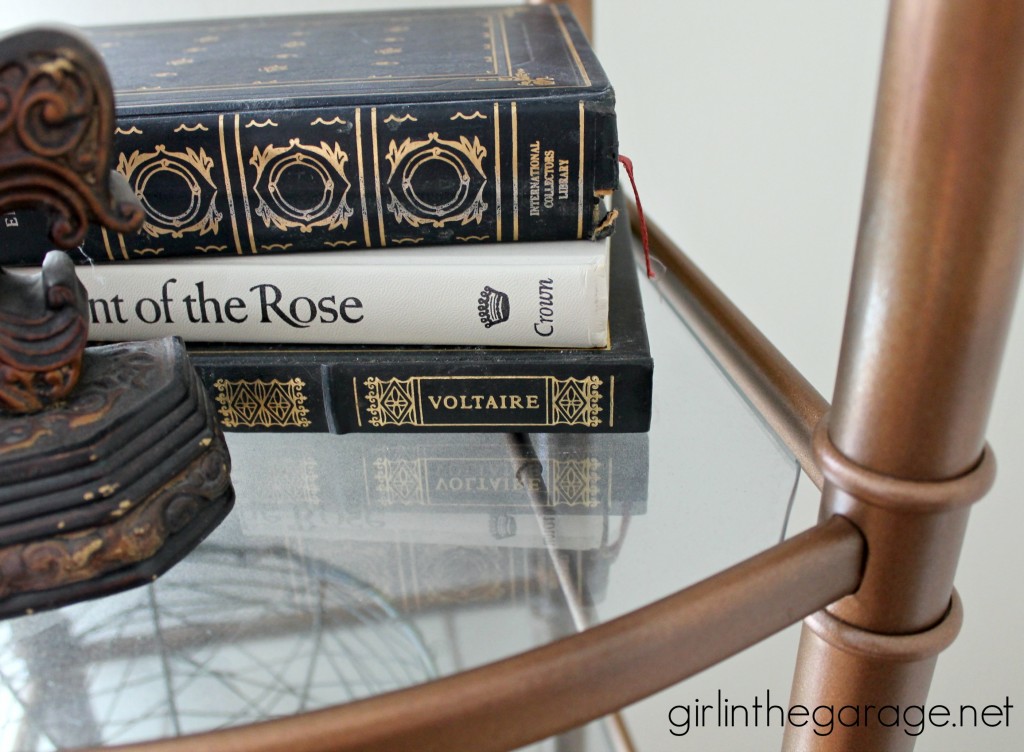 Is there anything you've been coveting at a popular store but can't bring yourself to overspend for it?
Have you made a "knockoff" before?  I'd love to hear about it!
And be sure to visit my friends below to see all of their "inspired by" pieces!
Jen
Monday March 17:
Tuesday March 18:
CONFESSIONS OF A SERIAL DO-IT-YOURSELFER
Wednesday March 19:
Thursday March 20:
Join the GITG Community
When you join this thriving online community of 90,000 creative souls, you'll be inspired to discover hidden artistic talents and learn skills to boldly face DIY projects with confidence.
You'll also receive my free guide "Just Paint It: 7 Tips for Transforming Furniture with Confidence."