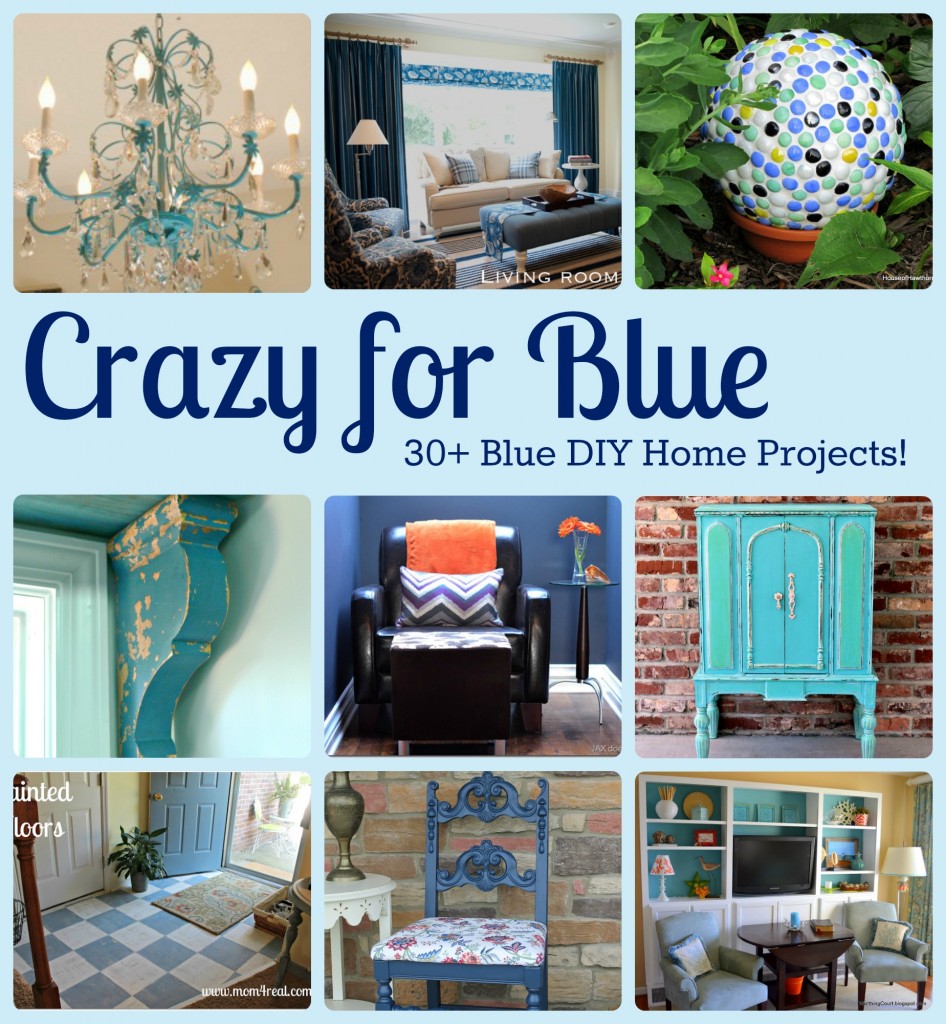 I've always been drawn to the color blue; it has a calming quality especially when used in home decor.  Blue is the color of the summer sky, the rolling ocean waves, robin's eggs, and the little box from Tiffany's filled with sparkly perfection.  My bedroom is painted blue and my  living room is filled with blue accents.  Check out these beautiful professionally decorated blue rooms:
Of course we'd all love for a designer to come and decorate our home but how many people can actually afford that?  (Not me!)  A great way to add more blue to your home decor is with DIY inspiration from some amazing bloggers.  Below are over 30 makeovers to drool over and be motivated by – enjoy!
Clicking any of the links below will take you to that blog post with more photos and details of the project.
*If you'd like to Pin any of the projects below, please click the appropriate link and Pin directly from that website.*
Beautiful Blue Rooms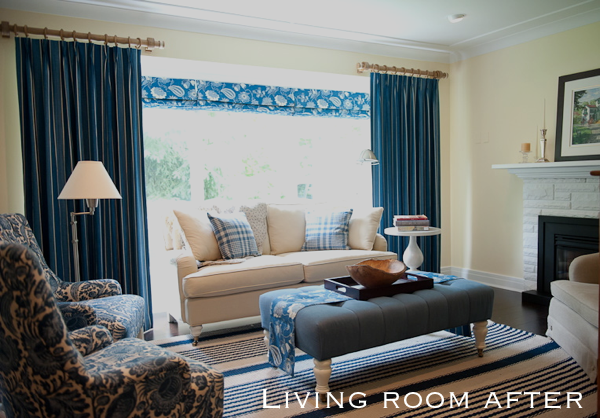 Cynthia Weber decorated a home with a cottage-style makeover and it is truly magazine-worthy!
~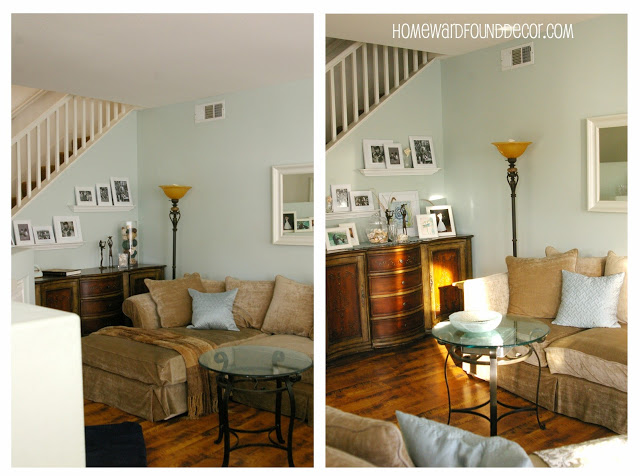 Deb from HOMEWARDfound Decor gave this blue living room a makeover by rearranging some items and creating zones.
~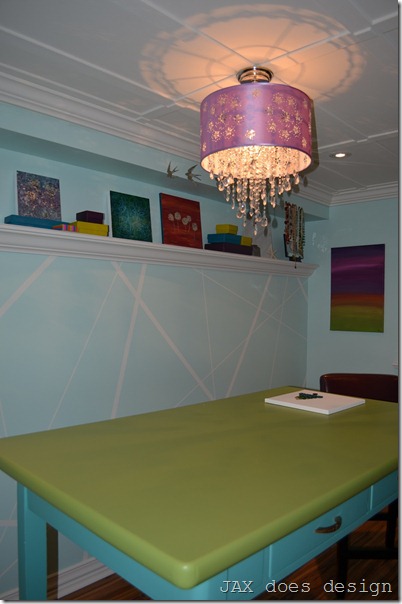 Kelly from JAX does design decorated her craft room with fun blue walls and a blue and green craft table.
~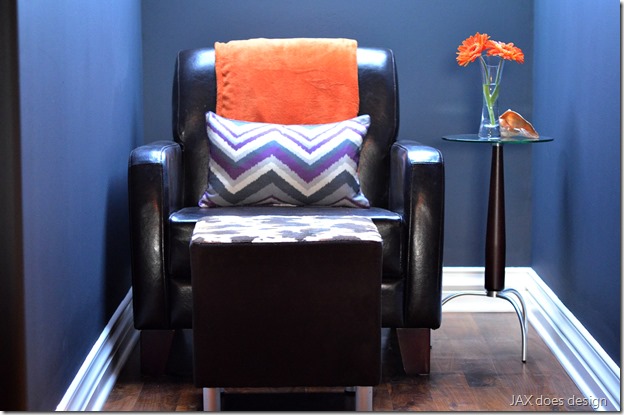 Kelly also created a blue loft space perfect for hanging out and watching movies.
~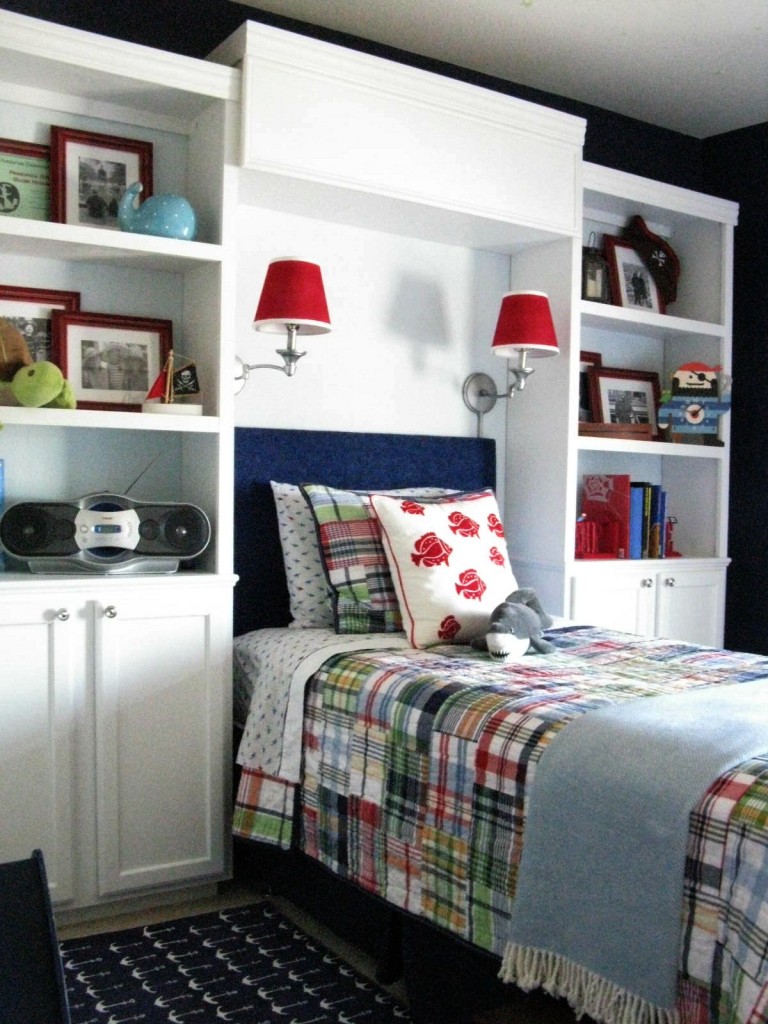 This little boy's room got a fun ocean-themed makeover (with lots of DIY projects!) by Laura at Inspiration for Moms.
~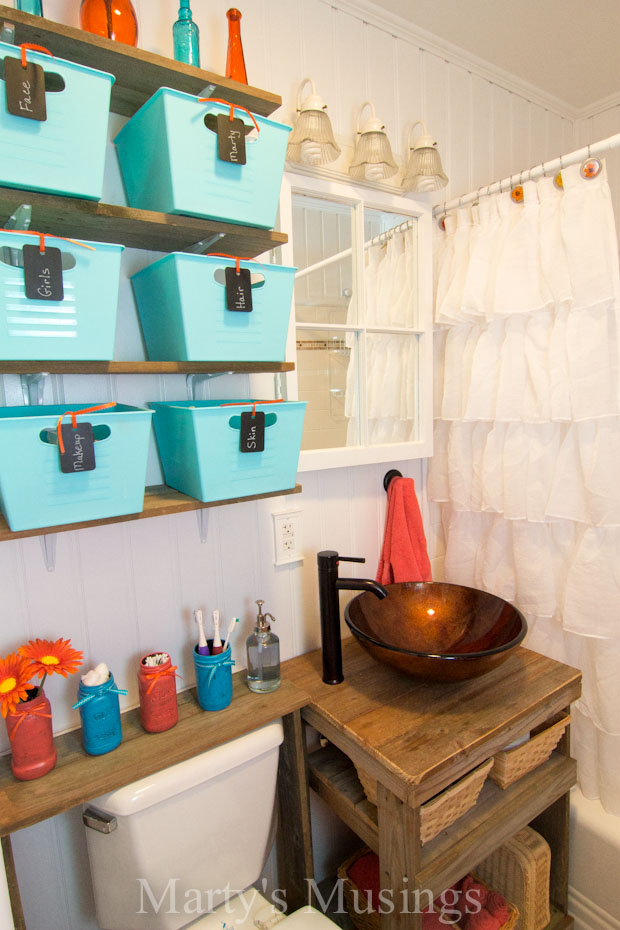 This bathroom redo by Marty at Marty's Musings began out of necessity but turned into a fun blue and coral project.
~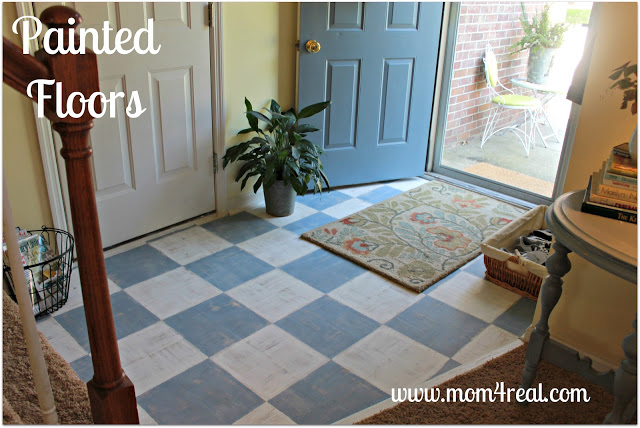 Jessica over at Mom 4 Real got tired of looking at the ugly parquet floor in her entryway… so she painted it!
~
Over at Worthing Court, Suzy really knows how to decorate with blue.  She added lots of blue in her master bedroom decor…
~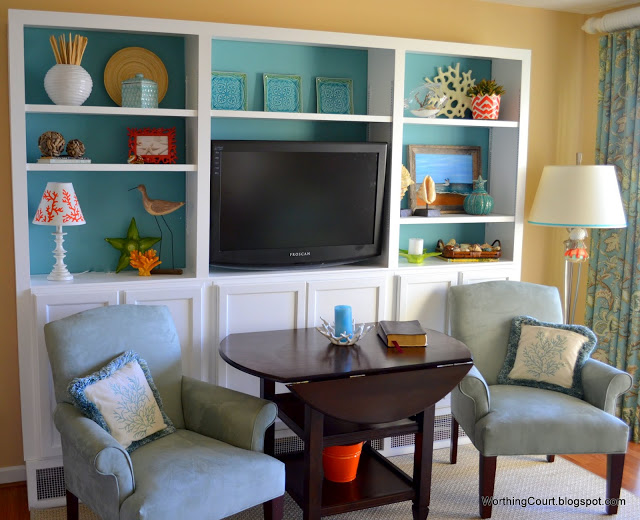 Also in her beach condo…
~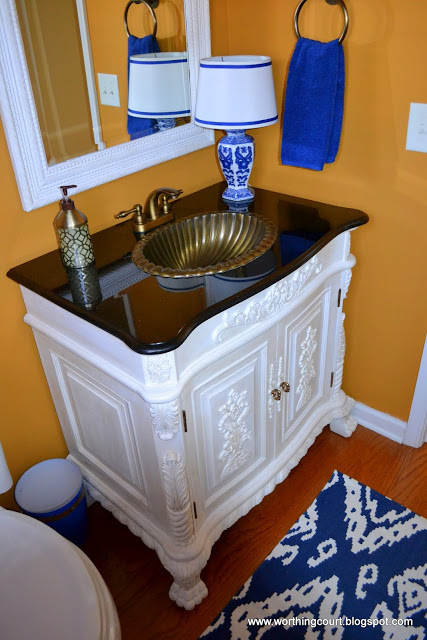 And in her lovely bright bathroom.
~ ~ ~
Home Decor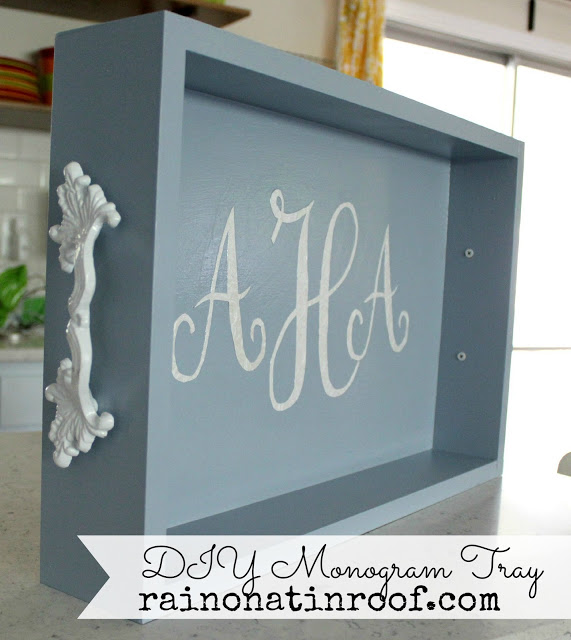 Jenna from Rain on a Tin Roof shares how to make a monogram tray, perfect for yourself or to give as a gift!
~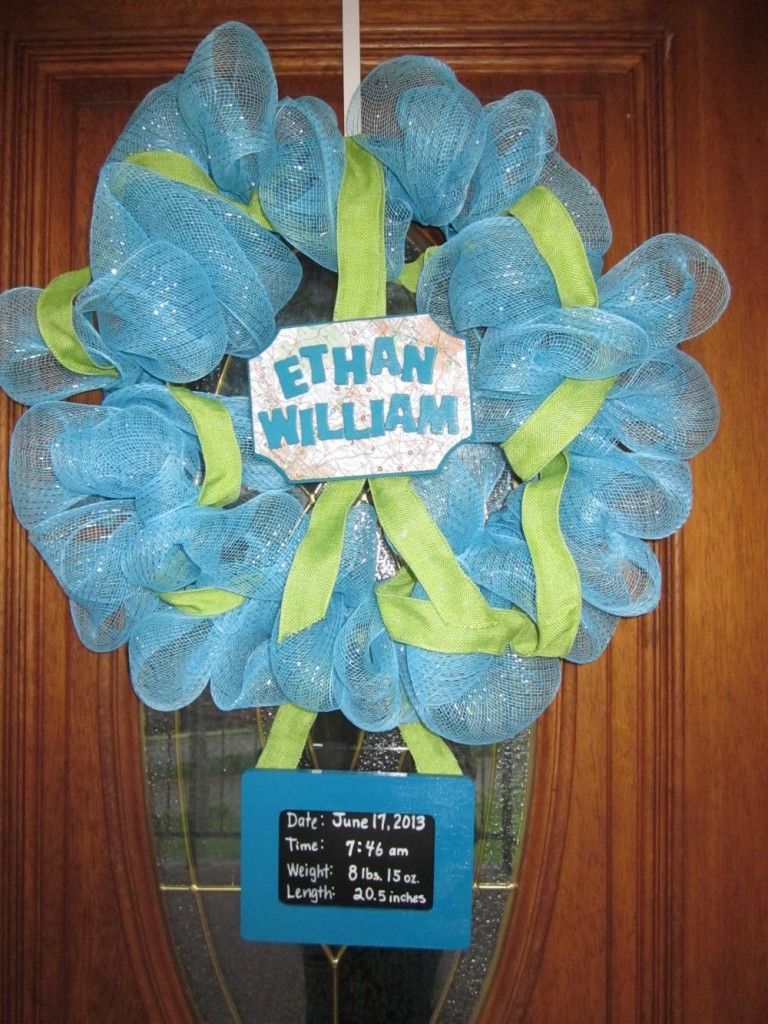 A new addition to the family prompted Sondra Lyn to make this celebratory wreath.
~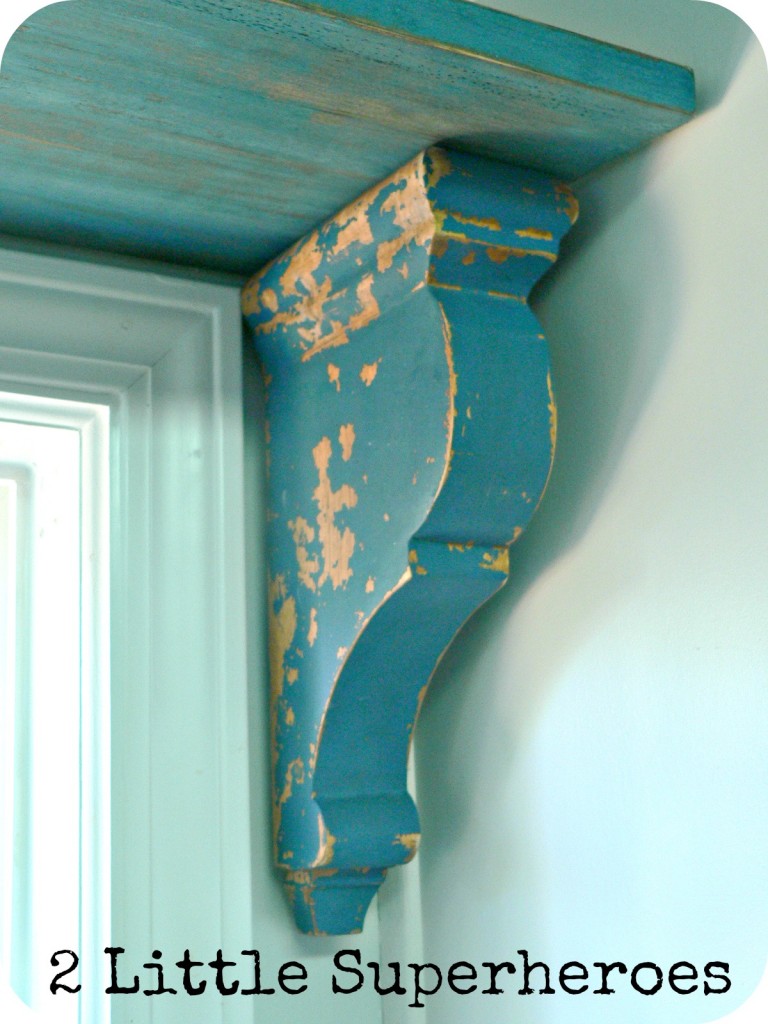 Danielle from 2 Little Superheroes built a shelf for her kitchen and then painted it a beautiful blue with milk paint.
~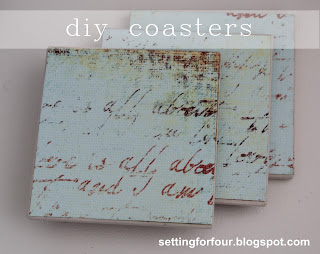 These DIY coasters were made by Heather at Setting For Four using an easy to follow method.
~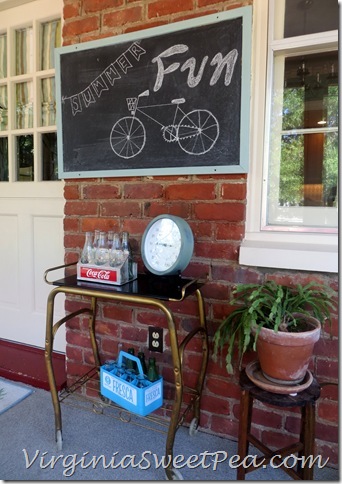 Paula turned an old cork board in a chalkboard over at Virginia Sweet Pea.
~ ~ ~
Lighting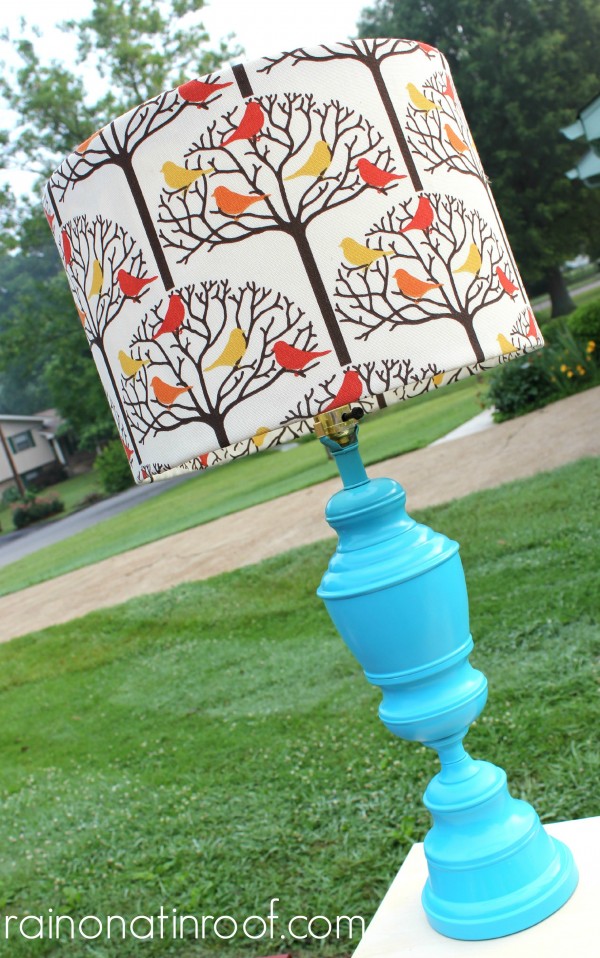 At Rain on a Tin Roof, Jenna gave an old lamp new life with blue spray paint and a quirky lampshade.
~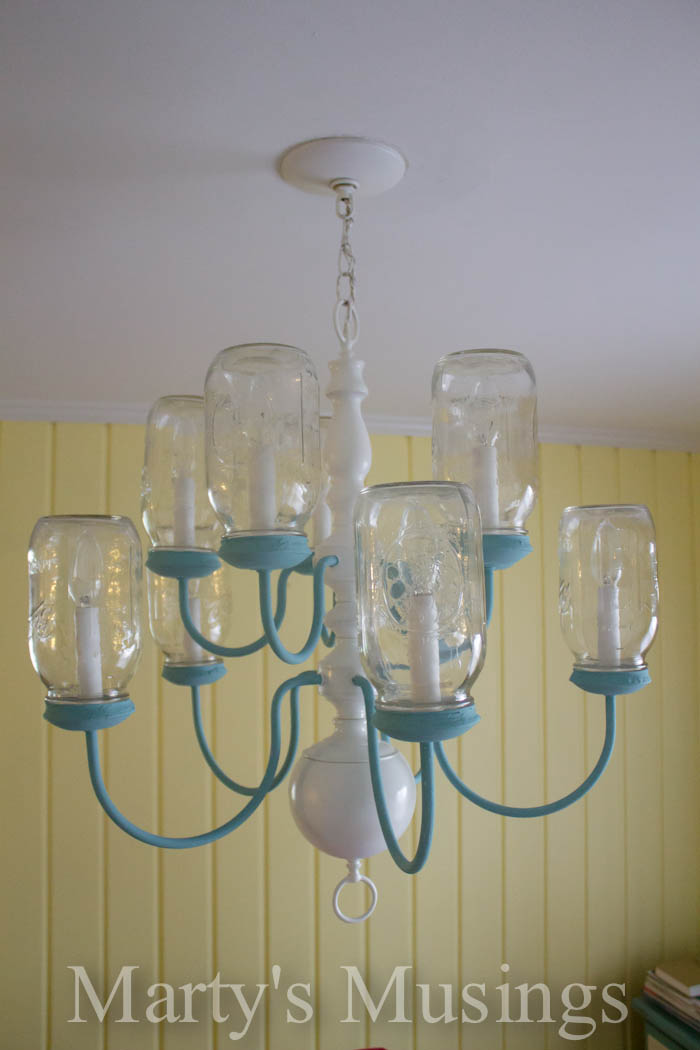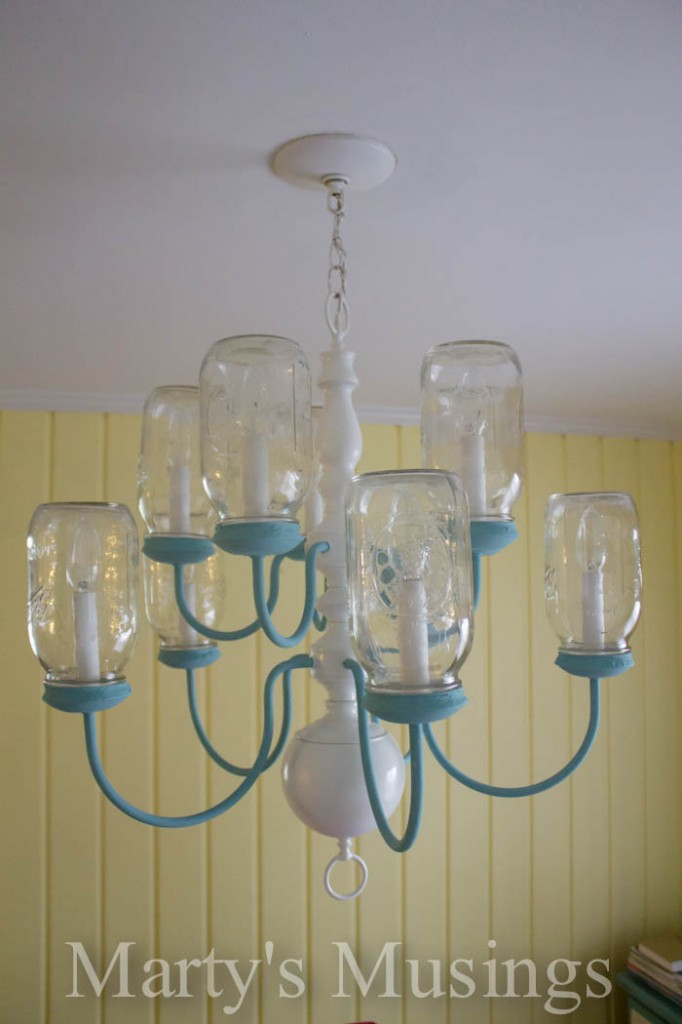 Marty gave this chandelier a major makeover with paint and mason jars over at Marty's Musings.
~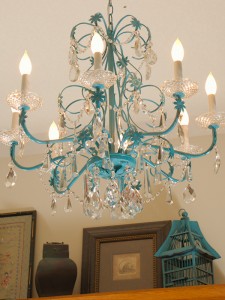 At Restoration Redoux, Shanna made this chandelier much prettier with turquoise paint!
~ ~ ~
Furniture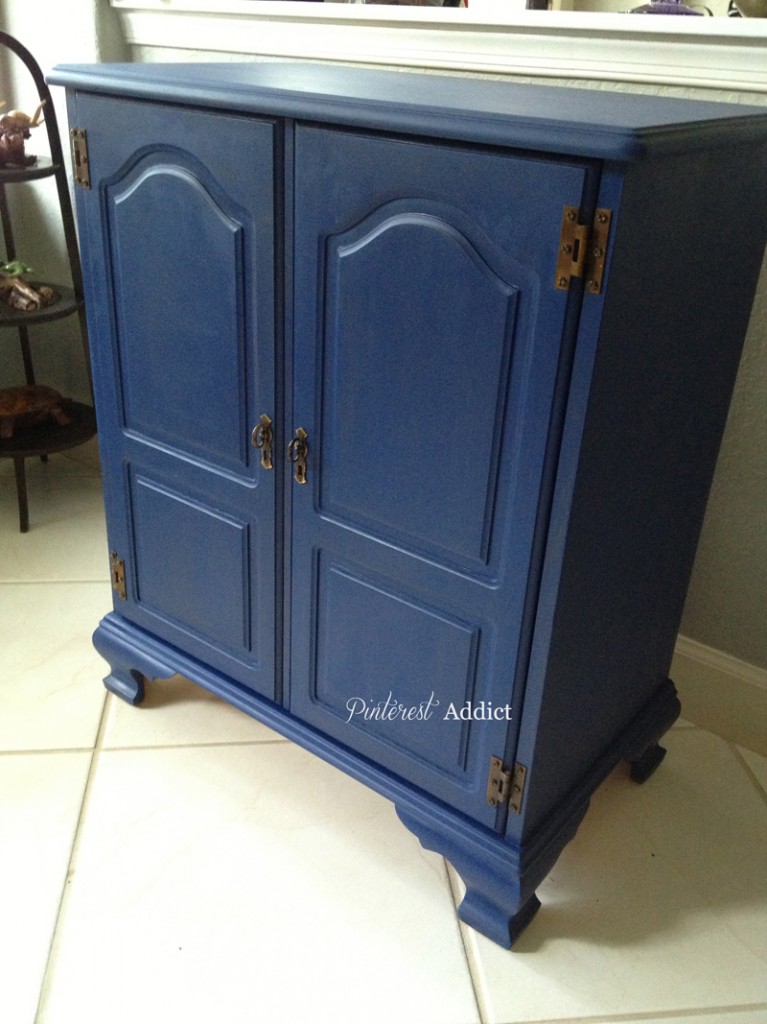 Pinterest Addict Eliesa painted this mini-bar a fabulous bold blue.
~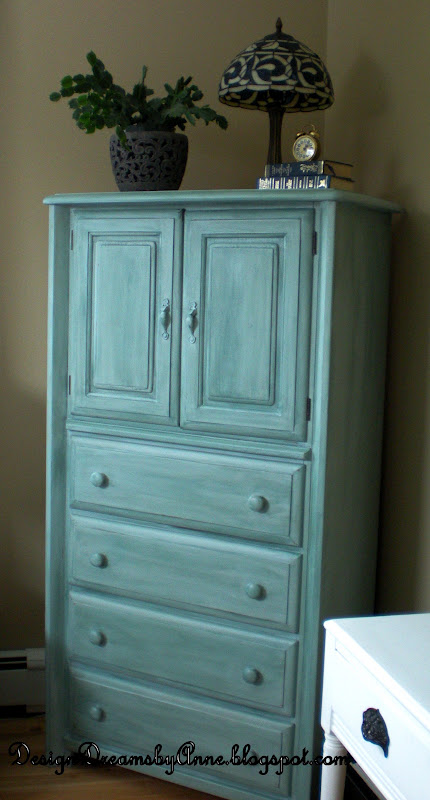 Anne worked hard to get the perfect shade of blue on her lovely armoire.
~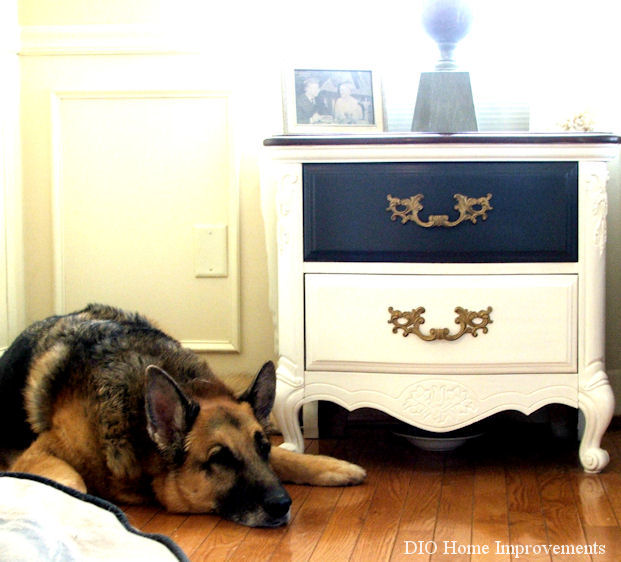 Dria updated this side table with just the right amount of dark blue over at DIO Home Improvements.
~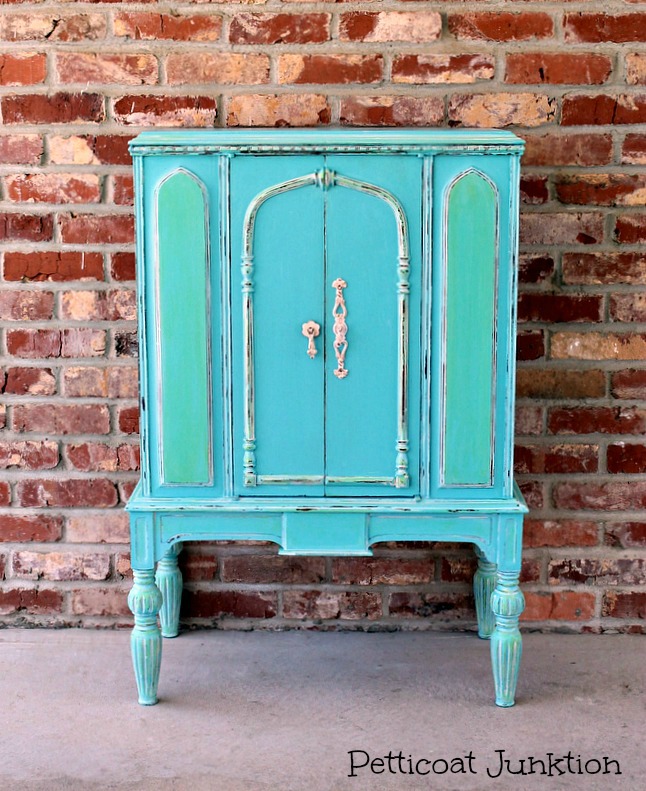 At Petticoat Junktion, Kathy made an unconventional decision to do a blue-green combo on this vintage radio cabinet…
~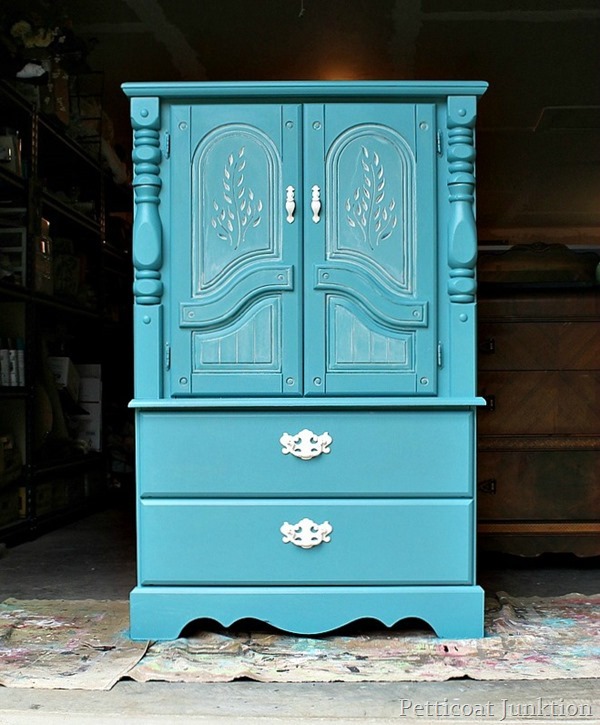 And she worked more magic on this blue and white armoire.
~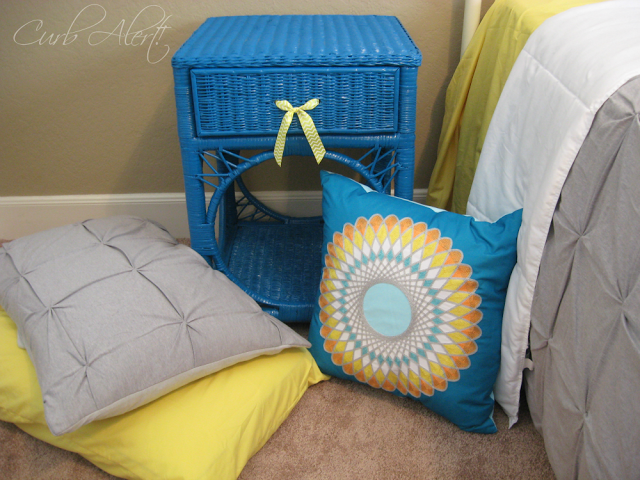 Tami from Curb Alert gave this wicker nightstand new life by painting it to match her daughter's bedroom decor.
~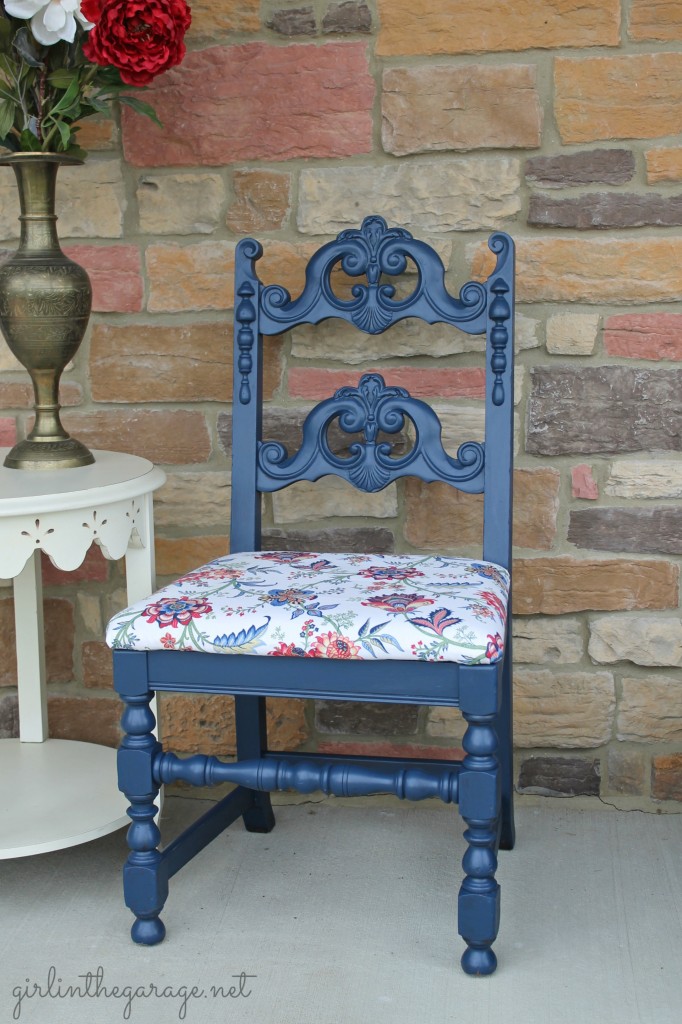 Girl in the Garage (that's me!) painted and reupholstered this chair and now the details really pop!
~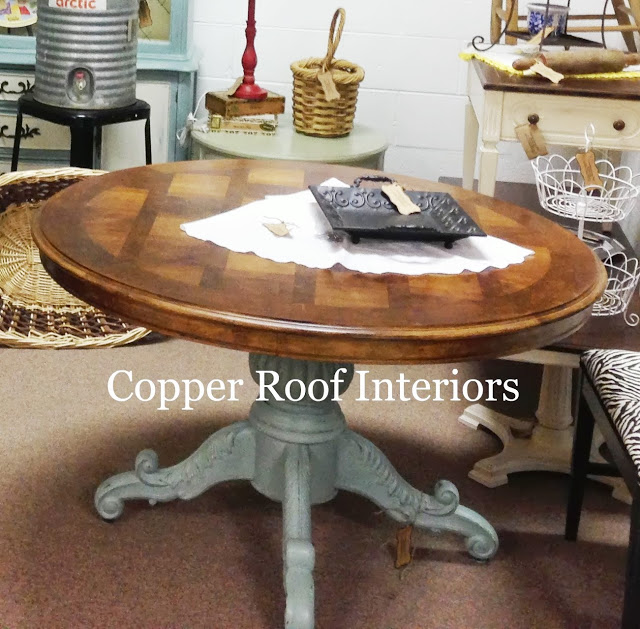 This table was refinished and the base painted a pretty pale blue by Kelly at Copper Roof Interiors.
~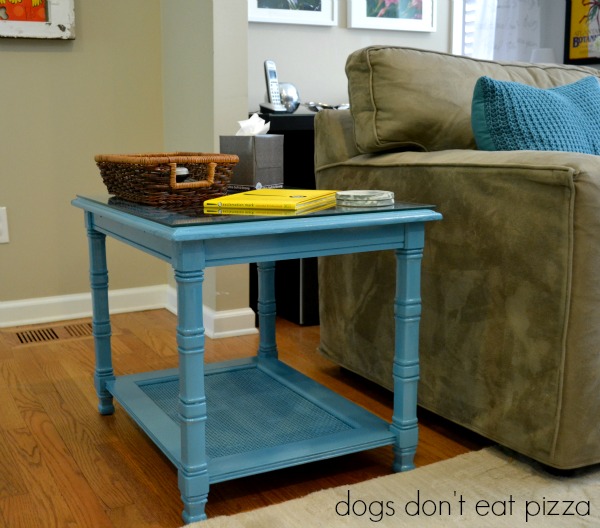 At Dogs Don't Eat Pizza, Karen rescued this side table, painted it, and then styled it three different ways.
~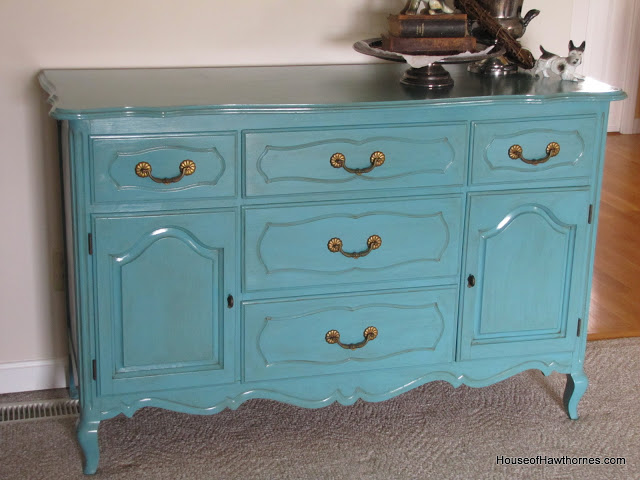 Pam at House of Hawthornes wanted a statement piece, so she gave this buffet a bright makeover!
~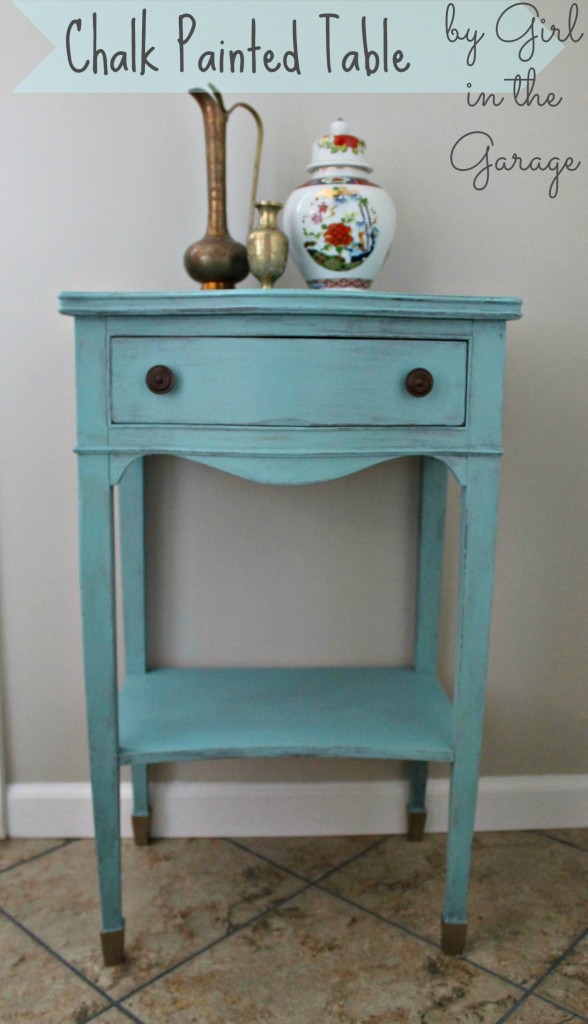 Girl in the Garage painted this table, distressed it, and then "dipped" its feet in gold.
~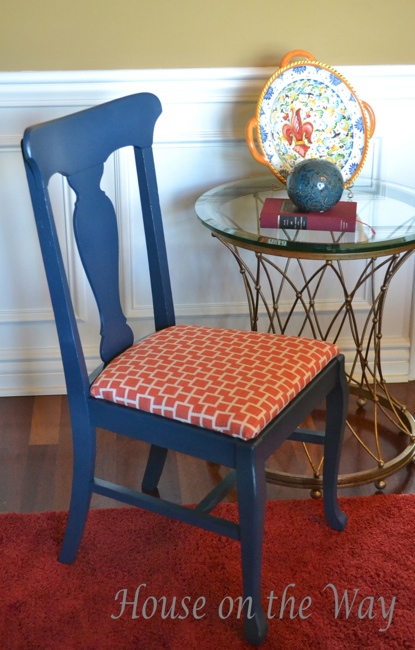 At House on the Way, Leslie updated this thrift store chair by using paint and fabric she already had at home.
~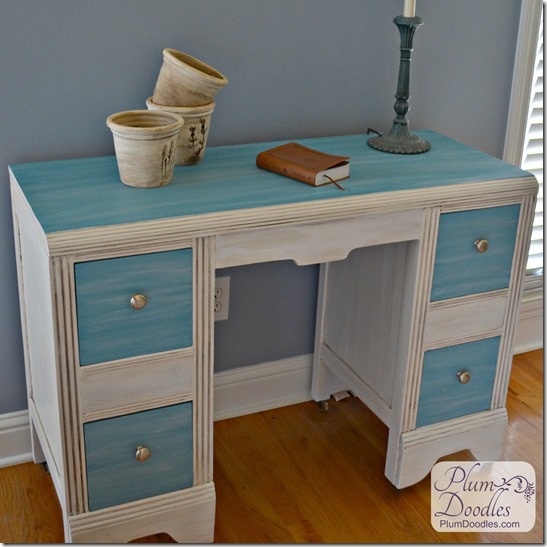 Sheila at Plum Doodles gave this desk a fun beachy makeover.
~ ~ ~
Outdoor Projects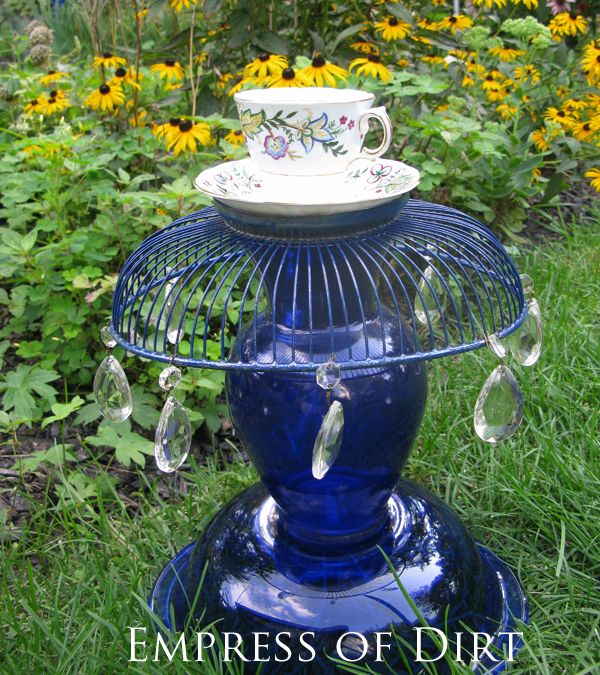 The Empress of Dirt, Melissa, made this garden art bird feeder.
~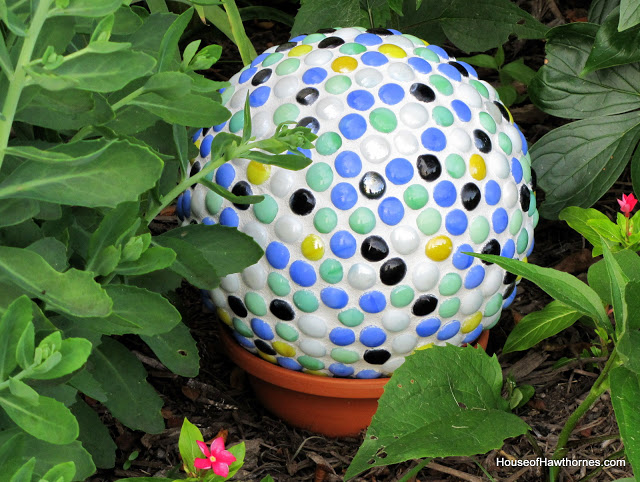 Creative Pam at House of Hawthornes made this mosaic garden art from a Goodwill bowling ball.
~
So friends, it turns out there is NO shortage of blue decorating inspiration out there!
What do you think – are you in the mood for blue?
Jen
Join the GITG Community
When you join this thriving online community of 90,000 creative souls, you'll be inspired to discover hidden artistic talents and learn skills to boldly face DIY projects with confidence.
You'll also receive my free guide "Just Paint It: 7 Tips for Transforming Furniture with Confidence."