This is a Sponsored post written by me on behalf of Miracle-Gro for SocialSpark. All opinions are 100% mine.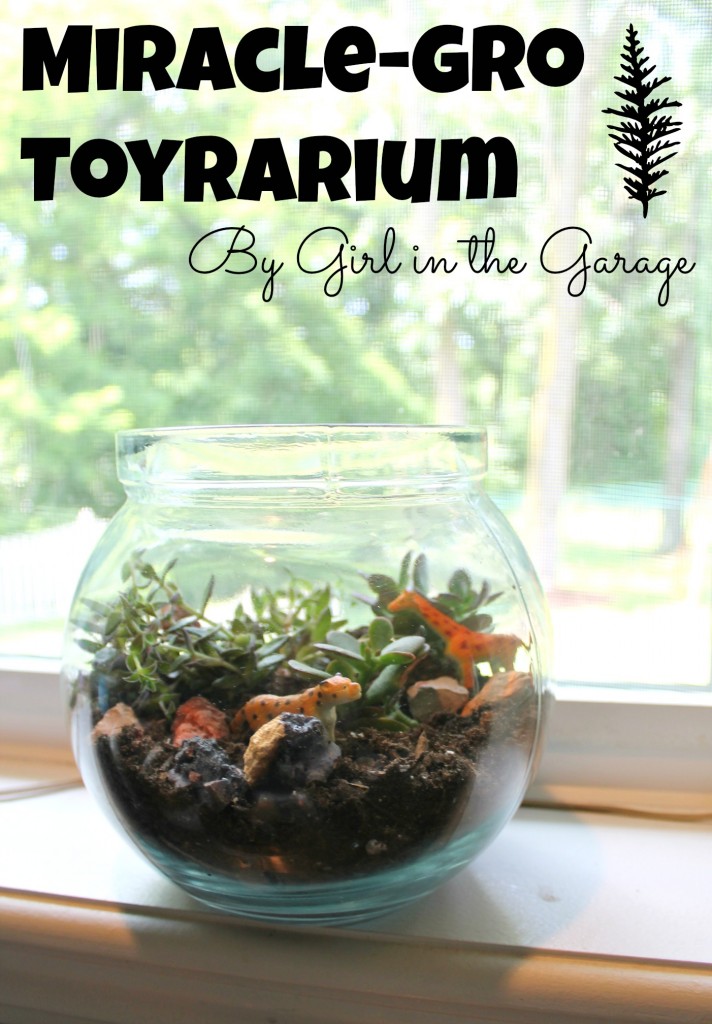 Despite my best intentions, I've been known to kill a plant or two.  Gardening just doesn't come naturally to me like painting does.  But when I heard about Miracle-Gro's Moisture Control Potting Mix, which doesn't require much maintenance or watering, I knew it was the perfect thing to bring some more life into the house.
To make gardening more fun and prove that it doesn't have to be complicated, The Gro Project encourages people with green or black thumbs to participate in simple, fun garden projects such as a Toyrarium, Ukelele Garden, or Origami Garden.
Since I have two little boys, I knew the Toyrarium would be a fun project that they would enjoy watching grow.

1.  Gather your supplies:
Miracle-Gro Moisture Control Potting Mix
Glass jar or bowl (mine was an old cookie bowl without the lid)
Rocks
A few succulents or cactus
Tiny toys – we didn't have any dinosaurs so we used a lion, giraffe, and cheetah (Roar)
2.  Layer the rocks in the bottom of the bowl.  Add a layer of dirt on top.  Make a small hole in the dirt and insert a plant after gently loosening up its roots.  Repeat with other plants.
3.  Add a few rocks on top (if desired) and then add your animals!
See, super easy!  And I only need to spritz it about once a week with a spray bottle.  I can also use the Miracle-Gro Shake n' Feed Moisture Control All Purpose Plant Food to keep the plants happy.  (And alive!)
For more inspiration, you can check out the Miracle-Gro website, Facebook page, and Pinterest page.  There are tons of articles and videos full of tips and tools for beginners and professionals alike!
Happy gardening!
Jen
Join the GITG Community
When you join this thriving community of over 7,000 creative souls, you'll be inspired to discover hidden artistic talents and learn skills to boldly face DIY projects with confidence.
You'll also receive my free guide "Just Paint It: 7 Tips for Transforming Furniture with Confidence."