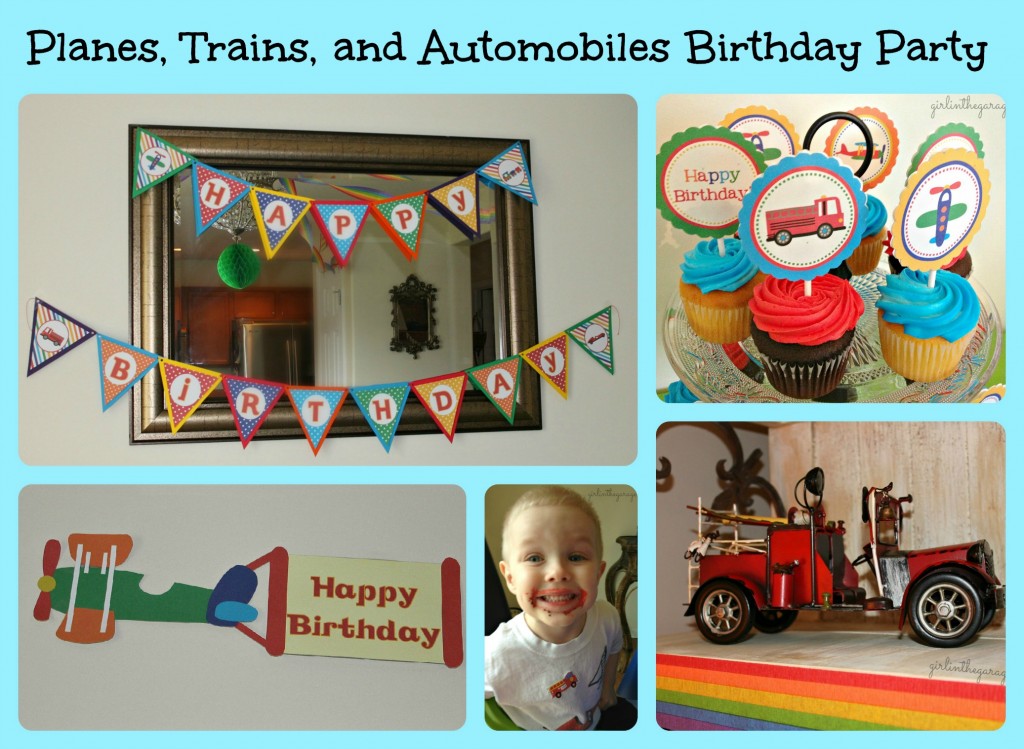 This weekend we had a birthday party for our boys (aka Double Trouble) who are turning three and four years old this month.  They love trains, race cars, airplanes, and fire trucks, so this was an easy theme to make both of them happy.  Here are some highlights of the party and ideas for how you can also throw a planes, trains, and automobiles birthday party.
Here is the kitchen decor:
The rainbow steamers and hanging paper balls are from Target.  The banner and cupcake toppers are from Kiyomi Designs.  The small wooden tree, cloud, and automobiles (see closeup in the second picture) are from Michael's and Hobby Lobby.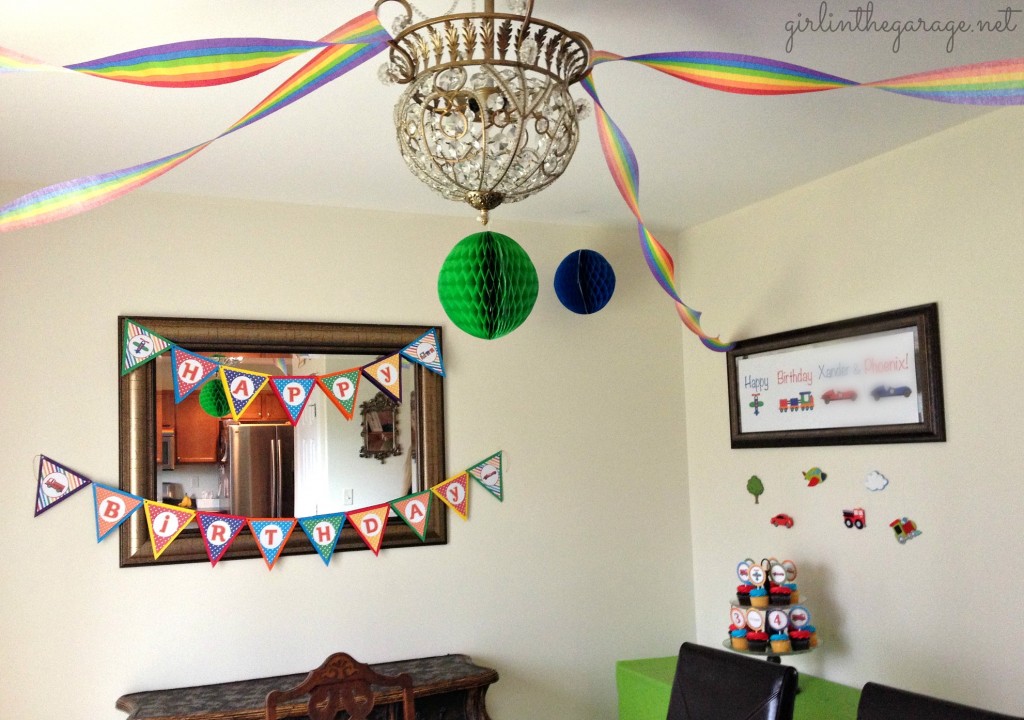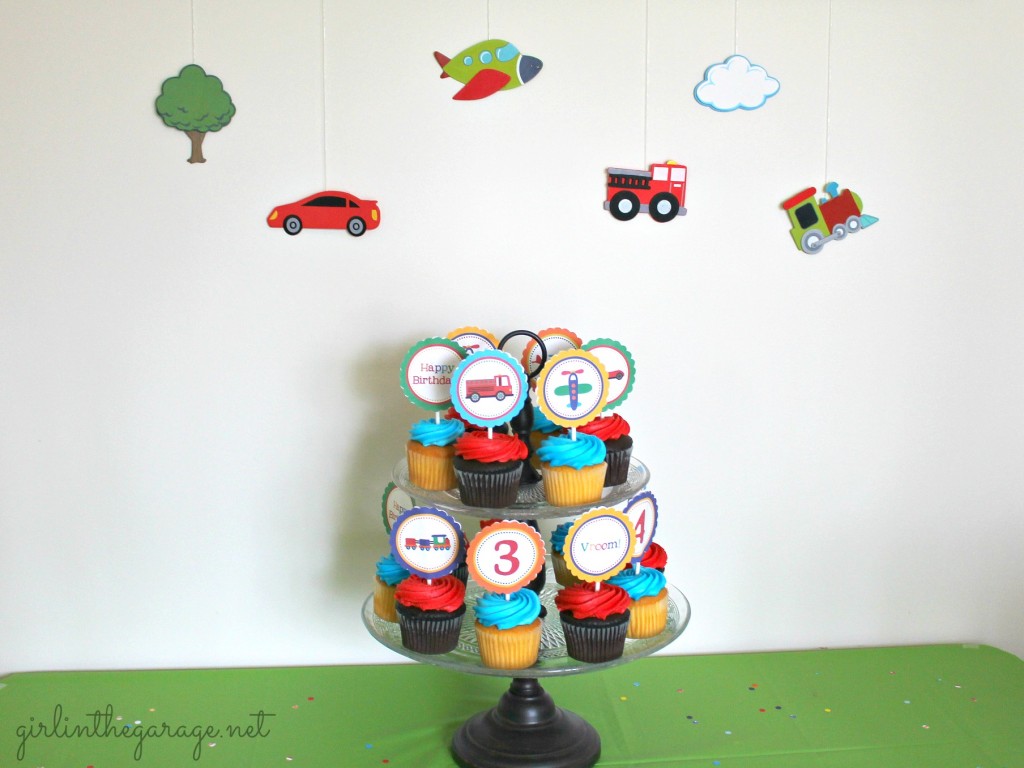 Here's a closeup of the adorable colorful Happy Birthday banner.  (I cut out larger triangles out of colored cardstock and used double-sided sticky foam squares to adhere them to the back of the printed banner for a 3D effect.)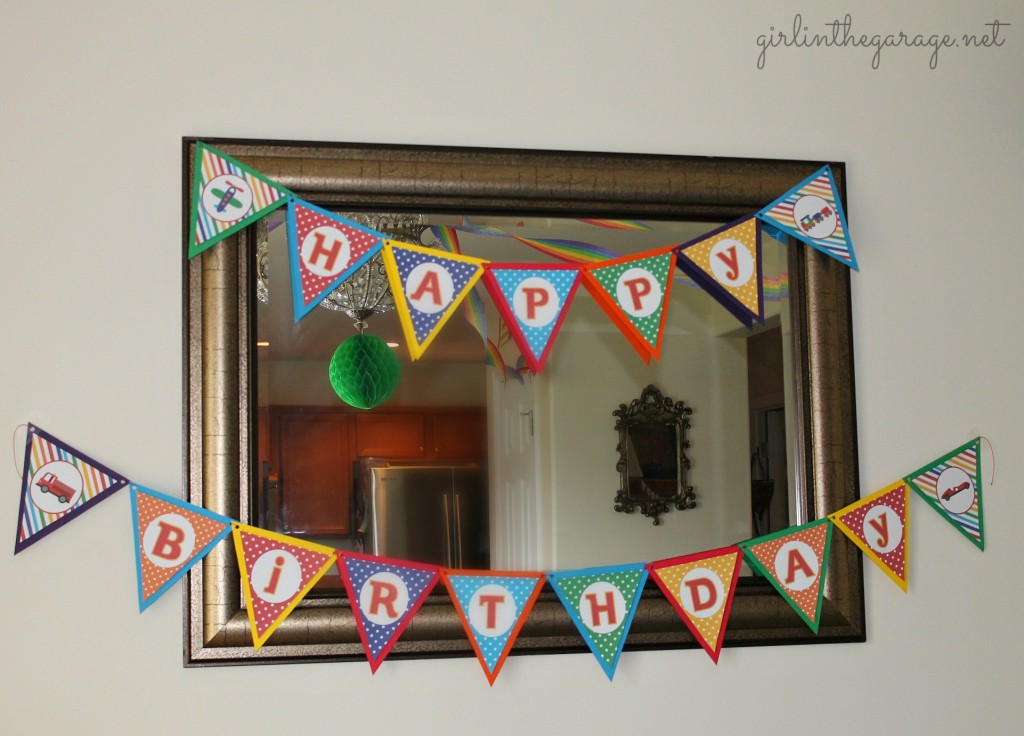 And the yummy cupcakes and super cute cupcake toppers…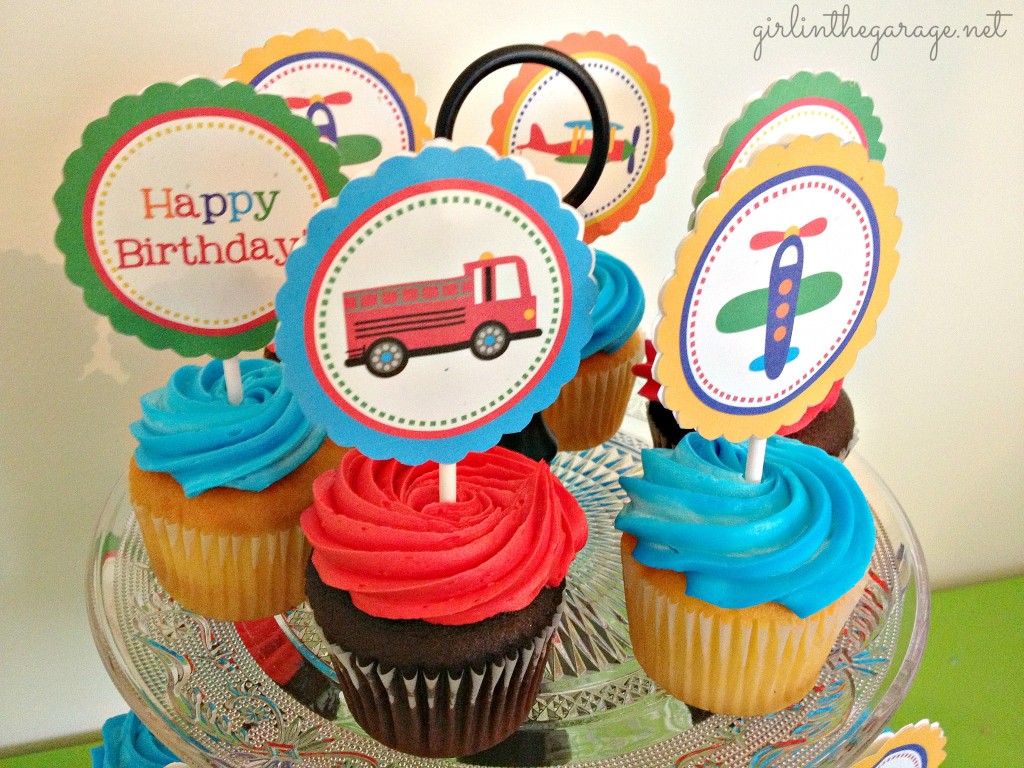 Airplane pulling a Happy Birthday banner (also from Kiyomi Designs)…

In the living room, there was a mini banner hanging from the mantle (with a picture of our older son when he was only 3 months old!)…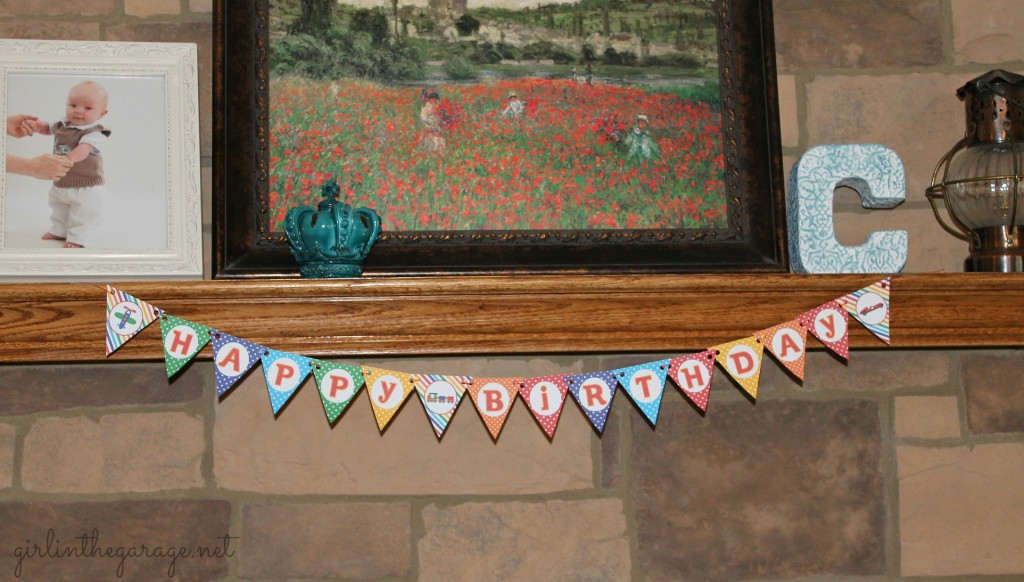 Also I set out a few automobiles as decor on the hutch…  (You can find a similar fire truck at Hobby Lobby.)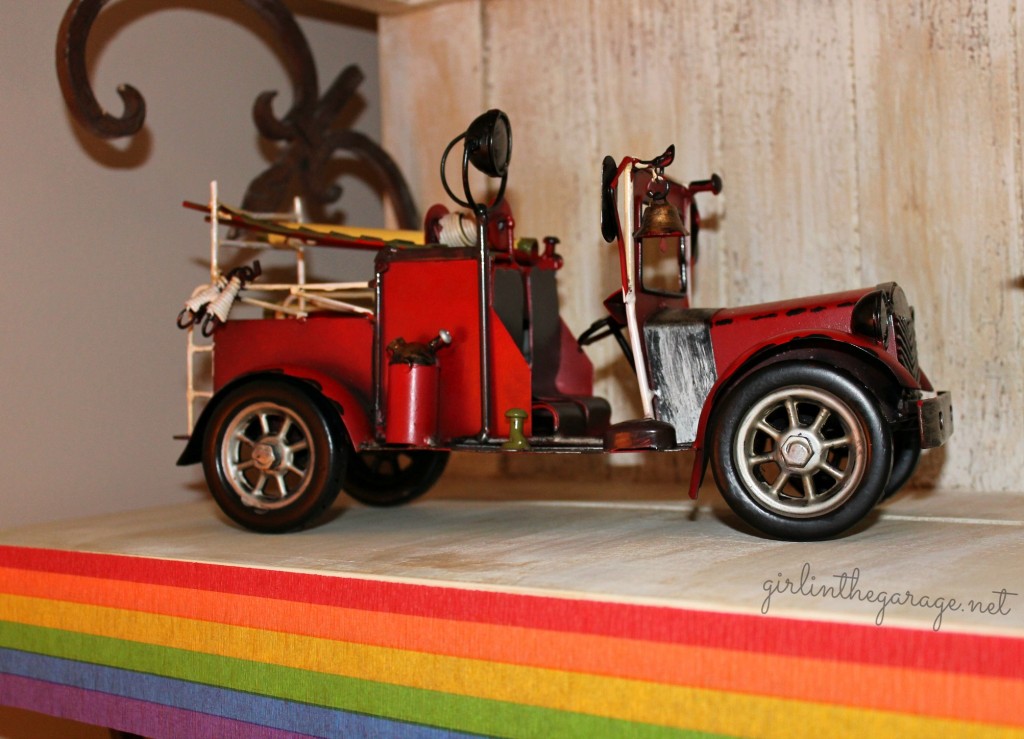 And who can forget the presents!  (Wrapping paper purchased at Target.)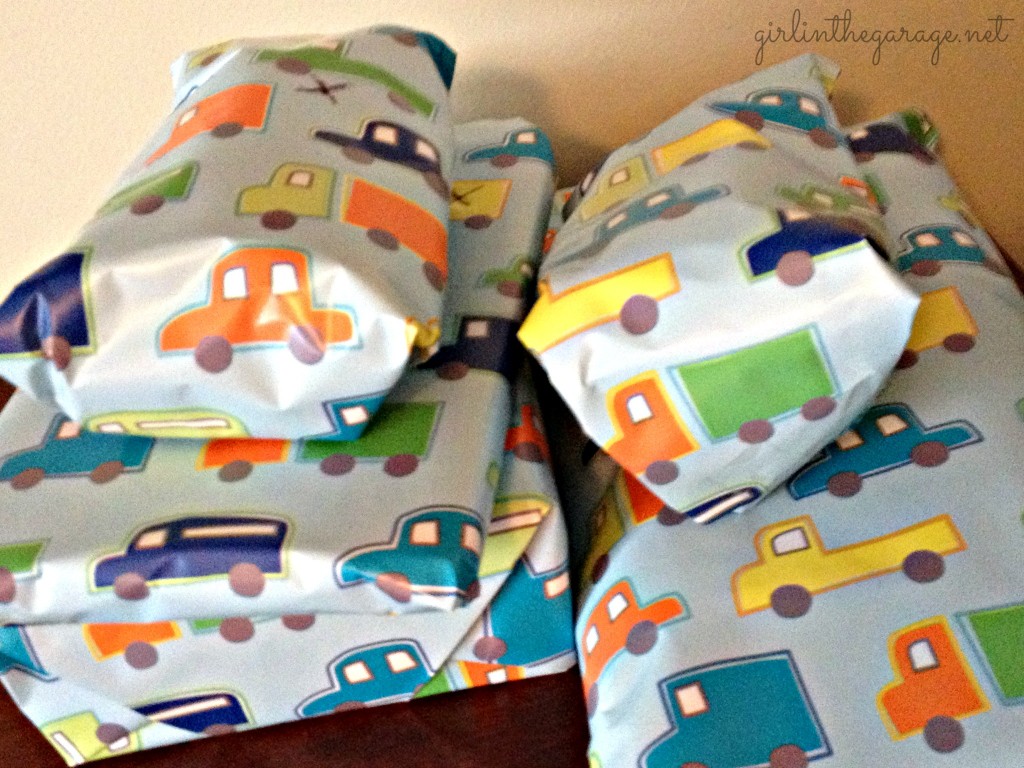 Now for some fun!
Playing balloons with their cousins…  (They're wearing the t-shirts that I made for their party; read about them here.)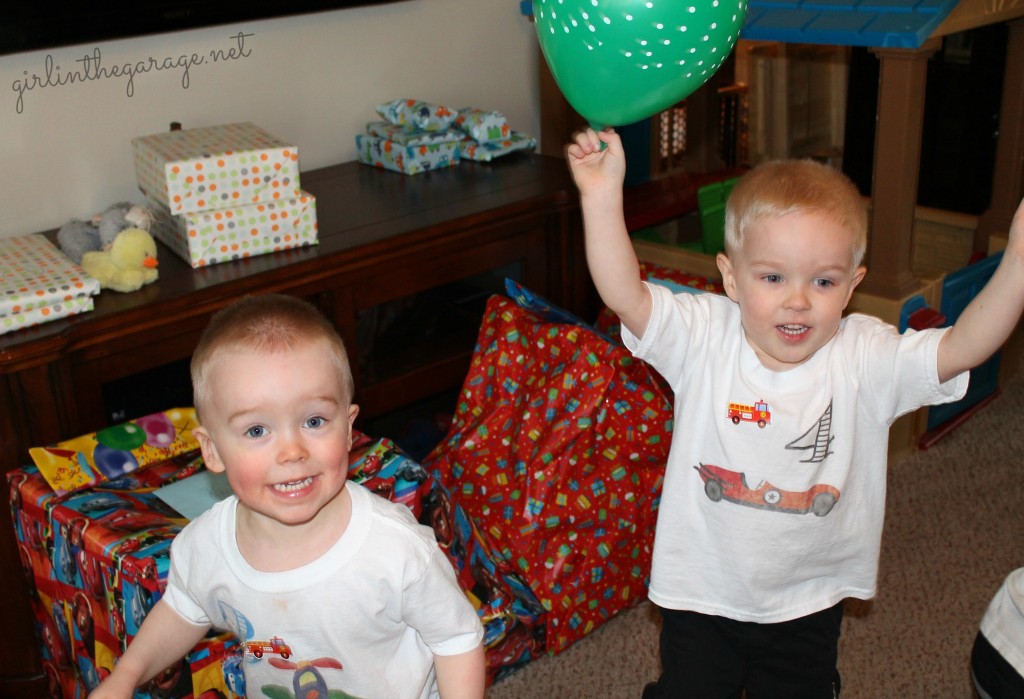 Singing "Happy Birthday" and getting ready to blow out candles…
Fully enjoying their cupcakes…  (They even got to wear and share cars/trucks stickers from Target.)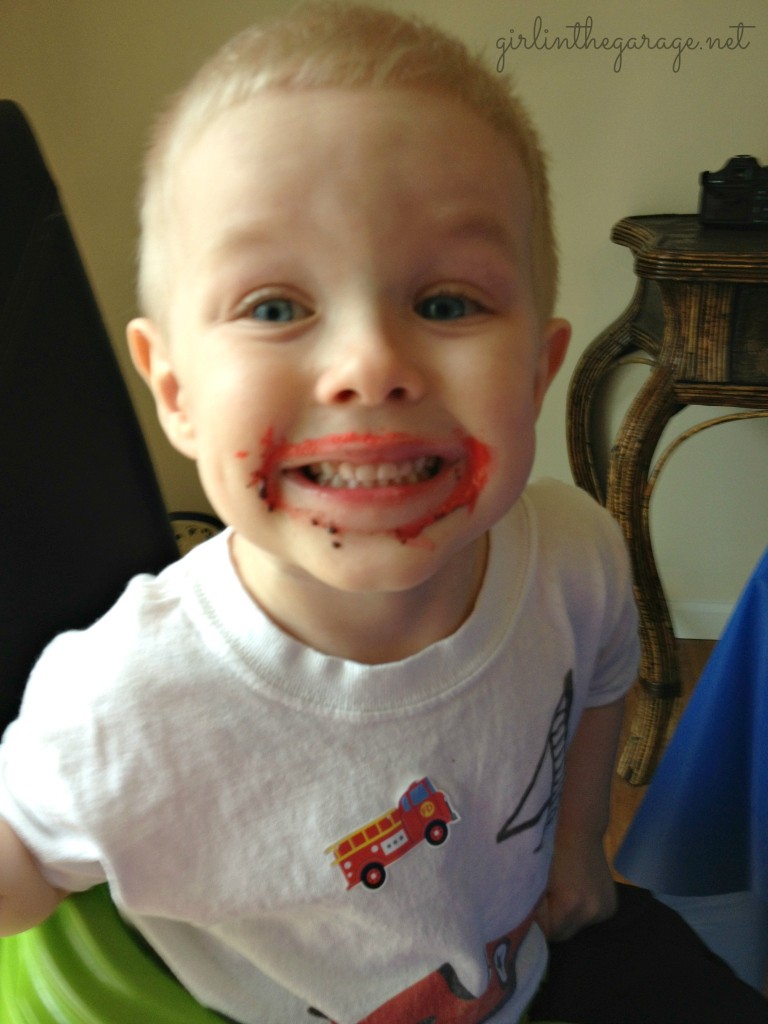 And of course lots of presents!   (Including their own battery-powered "automobiles.")
It was such a fun day and we were blessed to have so much family drive here from out of town to help us celebrate.  The boys loved playing with their cousins, opening all of their gifts, and they also really liked all the party decorations!
**Here's a special offer for Girl in the Garage readers: Kiyomi Designs, which created all the printable party decor, is offering a special discount code for 15% off any purchases in their Etsy shop!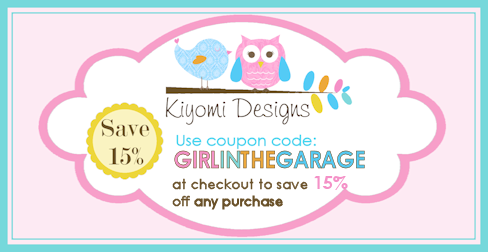 Kiyomi Designs is the place to find unique, custom designed invitations, greeting cards, stationery, business logos, and other fun printable items for birthday parties, baby showers, holidays, and special events that can be personalized to help make your special occasion memorable.  They offer both printed and DIY printable items at an affordable cost.  Many of their DIY party decorations come with easy to follow directions and/or tutorials to help you put together your own special party or shower.
I've also used their designs in the past and have never been disappointed.  They offer professional-quality products which can be personalized, and most of the printables are able to be downloaded and printed as soon as you purchase them.  Print them from your home computer onto white cardstock and just follow the simple instructions for assembly.  That's it – and since the party designs are emailed as a PDF file, you can print them as many times as you want!  Which means saving money over buying the lesser-quality decorations you'd find in a store.   And they're also great at customizing; if you don't see exactly what you're looking for, just contact them directly and they'll create it for you.  Here are a few samples of their other items available: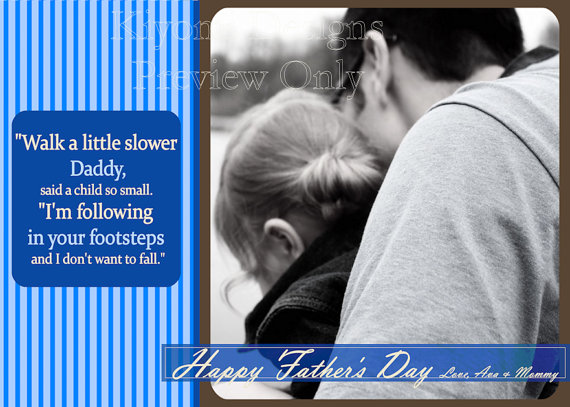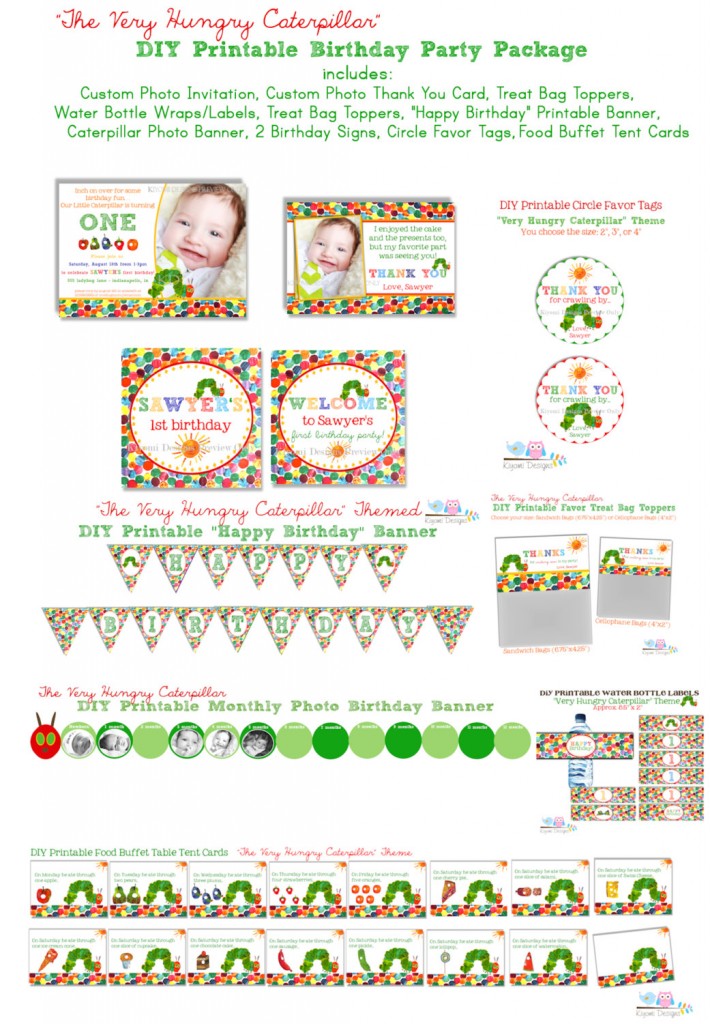 Here's hoping your next celebration is perfectly decorated and filled with friends, family, and happy memories!
Jen
Join the GITG Community
When you join this thriving online community of 90,000 creative souls, you'll be inspired to discover hidden artistic talents and learn skills to boldly face DIY projects with confidence.
You'll also receive my free guide "Just Paint It: 7 Tips for Transforming Furniture with Confidence."