For a while I thought I had a gallery wall in my living room.  Of course I didn't really know how to make a gallery wall, so I made my best guess and hung some pictures.  It served its purpose for over a year until I started seeing pictures of other people's gorgeous displays and I realized mine wasn't that great.  Also I still had a ton of unused space on the wall and many, many pictures needing frames and a place to be shown off.
My former gallery wall: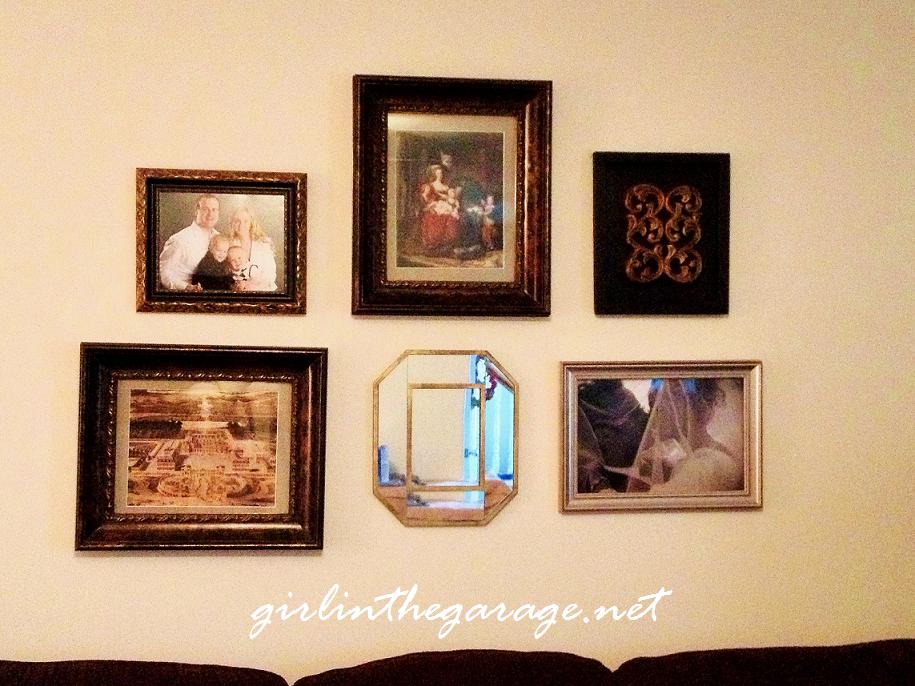 As you may remember, I'm in the middle of redecorating my living room and one of my goals is to add pops of color.  The first area that I worked on was an awkward entryway where I painted a large mirror to add some fun drama.  I decided to use the same paint to update a few small Goodwill frames for my wall.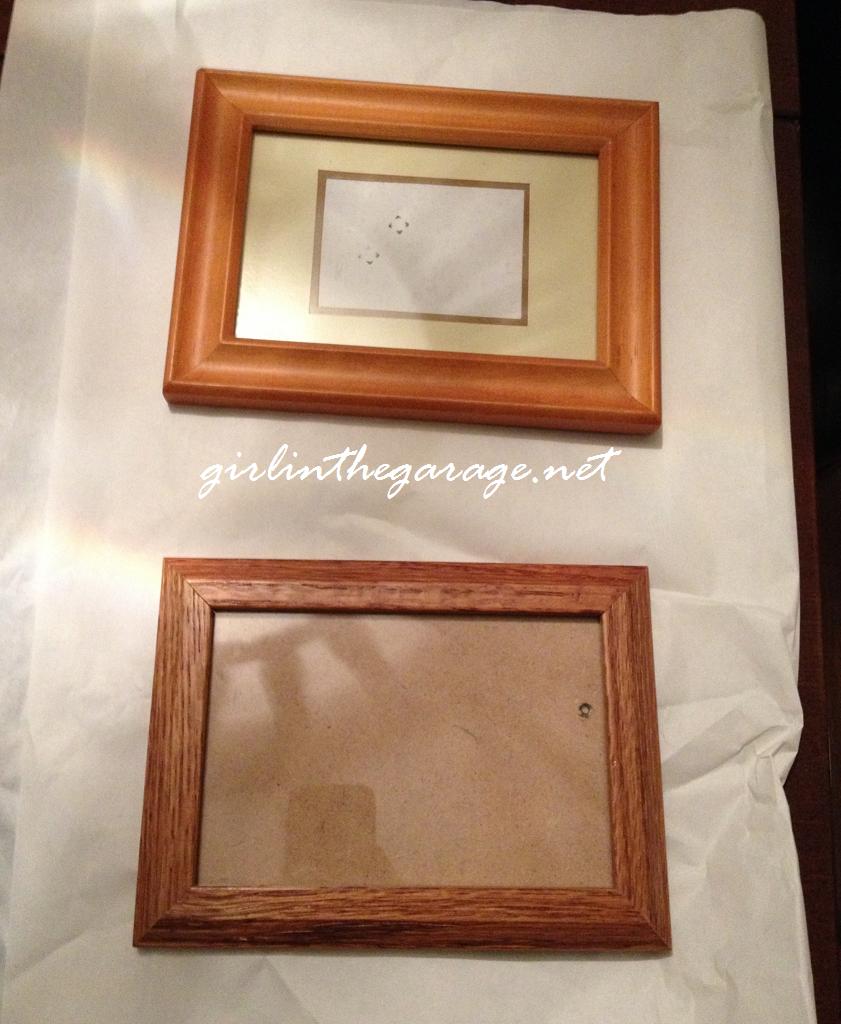 Because these were simple frames, they didn't have anything on the back for hanging.  They were also too thin to nail anything into, so I used my handy super glue and attached sawtooth hangers into the back- I ended up having to do this for four frames (three small and one medium), and I'm happy to say that after a week the super glue is still holding strong!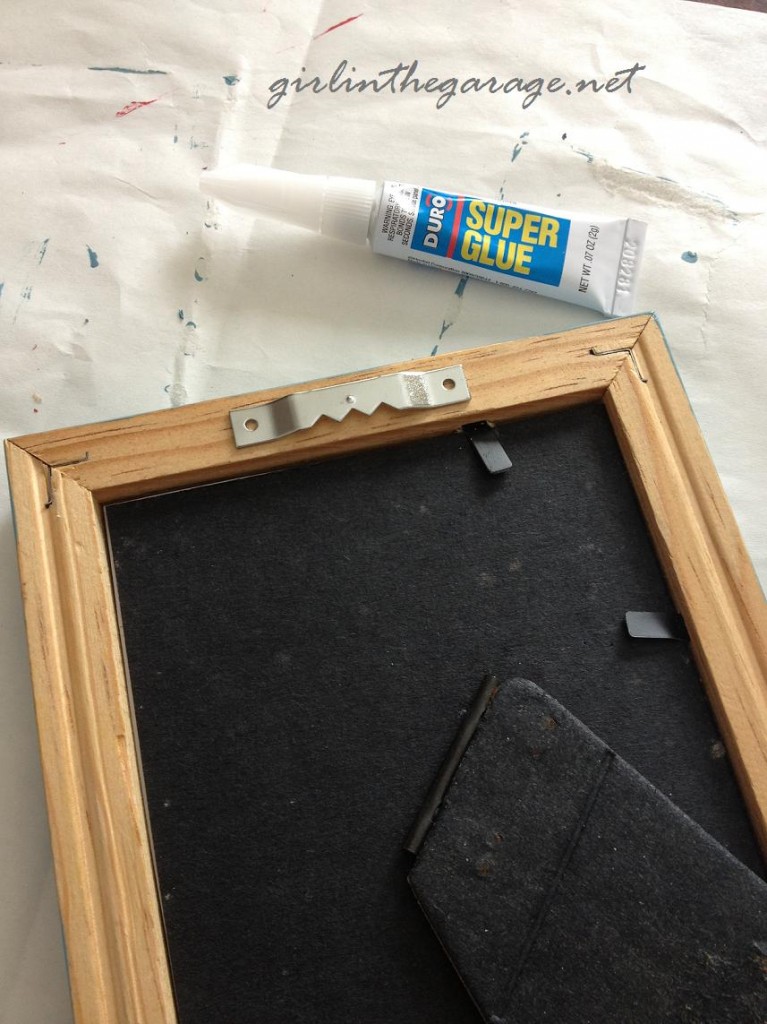 Then I measured the area above the couch where the gallery would be and marked the floor with handweights on the sides and placed the largest frames in the middle to determine height.  Then I started laying out all the pictures on the floor.  I had to move things around and take a few pictures away that just didn't fit well.  I remembered reading somewhere (Martha Stewart?) that one way to do a gallery wall is to leave a horizontal "line" open to separate the upper and lower frames – mine is about 2 inches.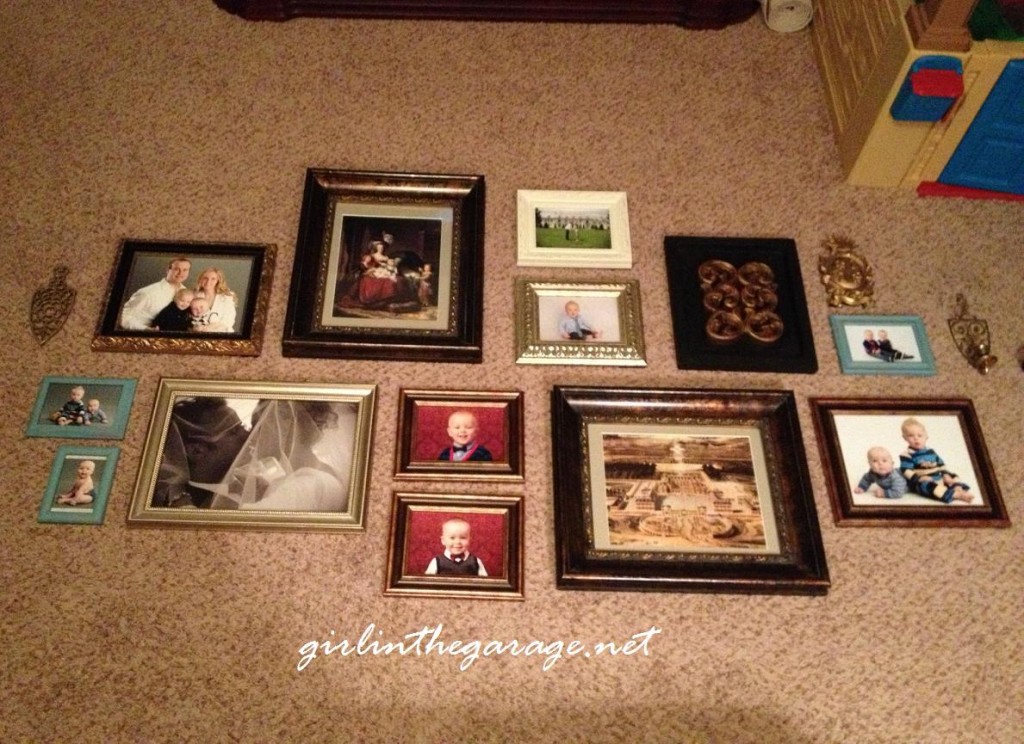 (Yes there is a kids playhouse in our living room, did you notice it before I said anything?)
Then I measured the middle of the wall over the couch and started hanging my pictures, beginning with the middle frames in the top row.  I worked down and over on the right side and finished with the left side.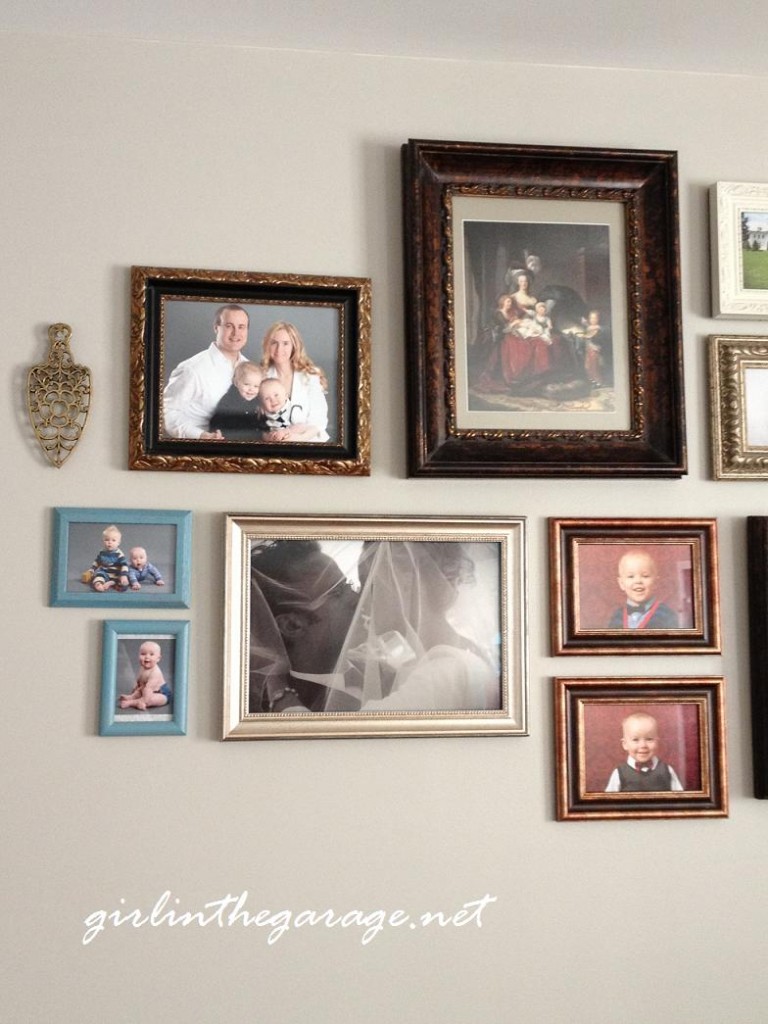 Besides the family photos above, there is also an art print of Marie Antionette and her children which I purchased while visiting Versailles a few years ago.  I think there's an ironic calmness to the picture considering the Queen's fate many years later.  (I told you I am obsessed with anything French!)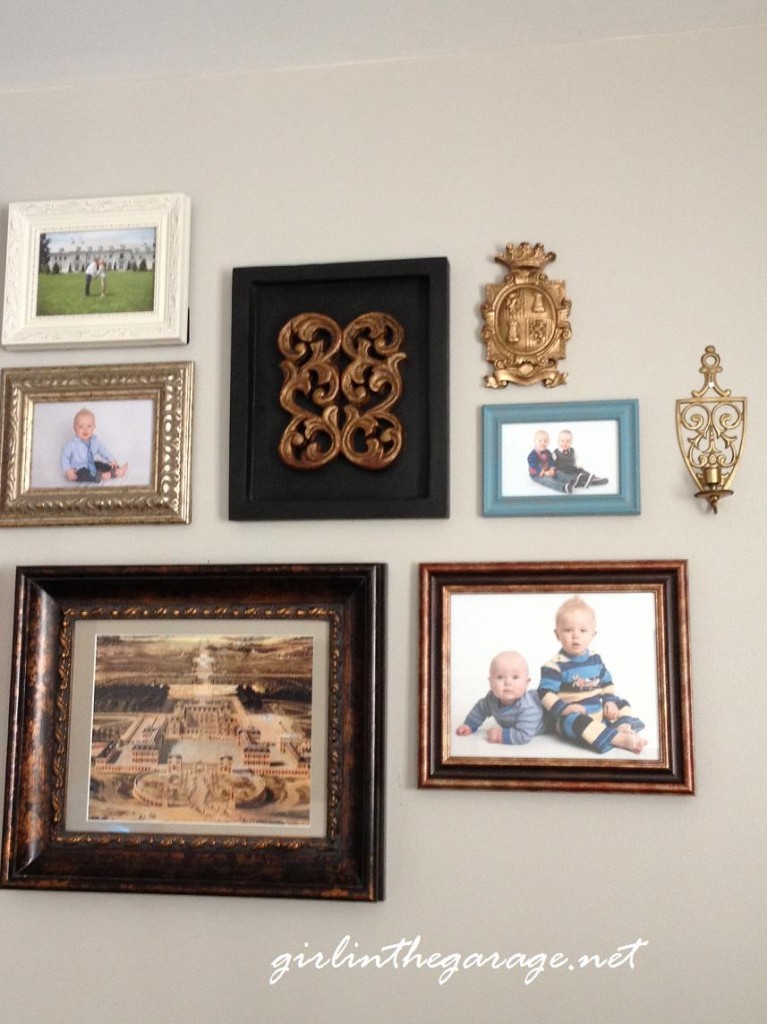 Again- more family photos (including one of our engagement pictures and a few more of our boys) and an artist's depiction of the palace of Versailles in approx. 1668.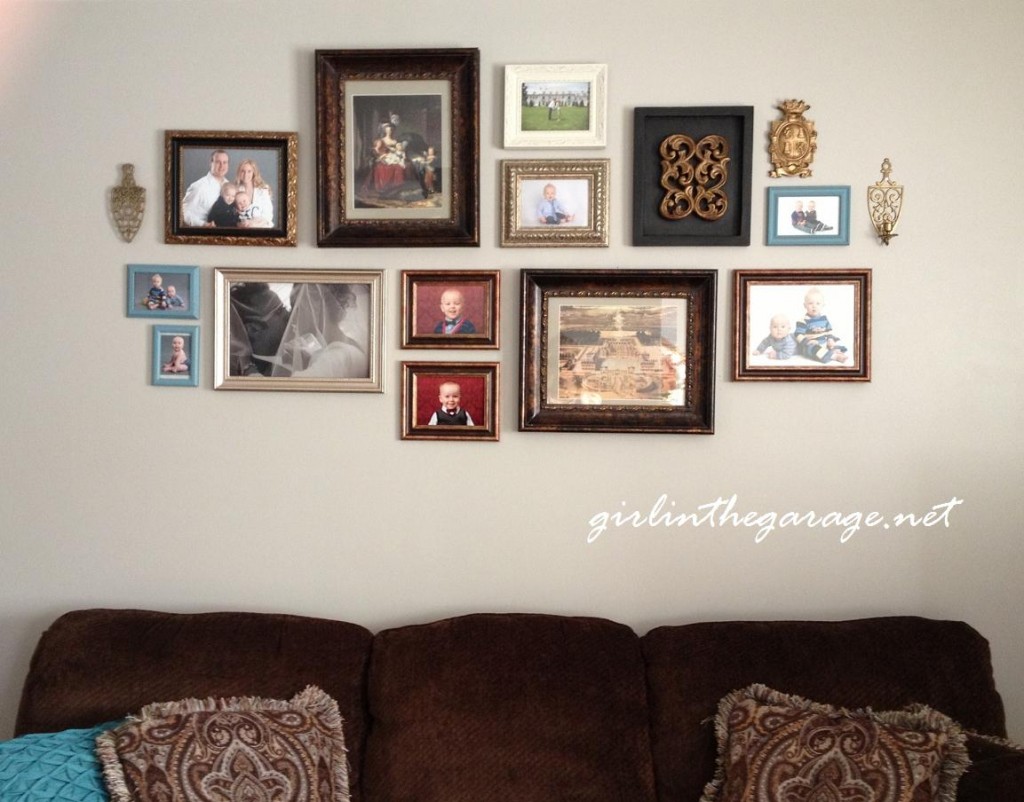 I really like how the painted frames add subtle pops of color – and I found a matching pillow at Target.  (My plan is to also make a few pillows- so be on the lookout for a future tutorial!)
There are many different ways to make a gallery wall in your home- whether you have a large or small space available, you can make it work!  Experiment with different arrangements on the floor before you commit, and remember you can make any frame work by using a few DIY skills.
         I hope you enjoyed this part of my living room makeover- see you soon for more tips and inspiration!
Jen
Join the GITG Community
When you join this thriving community of over 7,000 creative souls, you'll be inspired to discover hidden artistic talents and learn skills to boldly face DIY projects with confidence.
You'll also receive my free guide "Just Paint It: 7 Tips for Transforming Furniture with Confidence."