Chalkboard projects have been pretty popular for a while now, and although I love to see what other people create with their chalk and their boards, I couldn't see it as a project that I would enjoy doing.  You see, I kind of hate chalk.  There, I said it.  Yes I'm a mom of two adventurous little boys who love to make their fair share of messes, but chalk is one thing that I really do not like.  It inevitably gets in their hair, all over their bodies and clothing, and somehow ends up on me as well.  I shudder at the thought.  (I know, I need to chill out a little when it comes to chalk!)  Well that's one advantage of letting the boys visit nana's house… they can pretty much make any kind of mess they want- chalk or otherwise.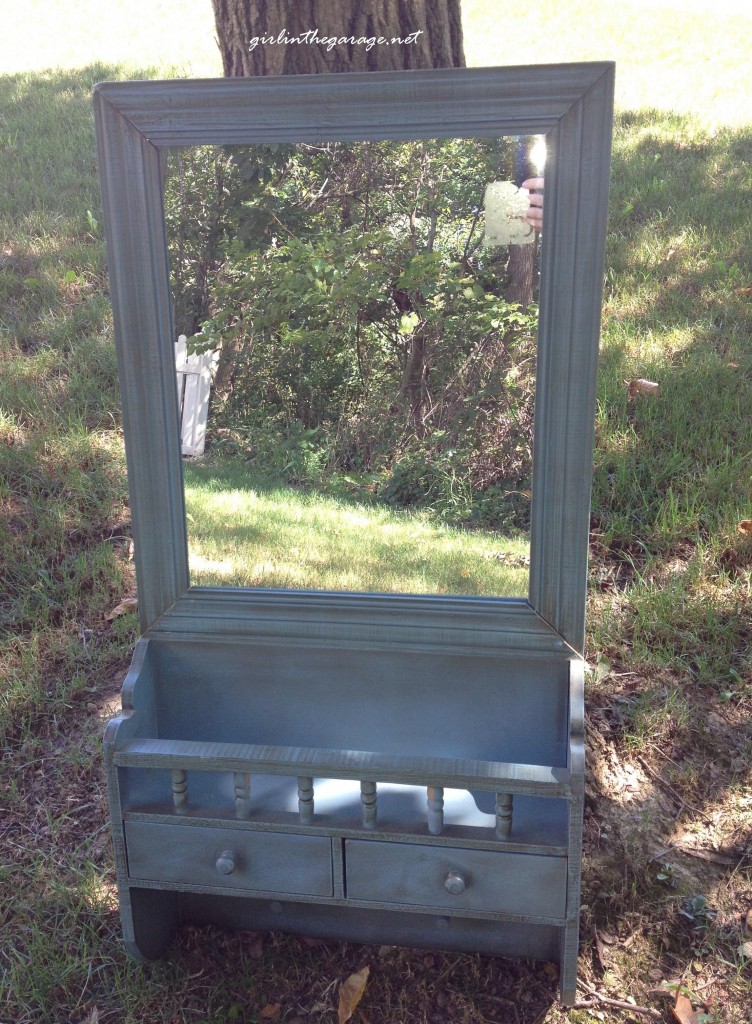 When I found this at Goodwill for $4.00, I knew I had to have it, but not for its intended purpose.  I definitely do not need another mirror in my house (I kind of have a collection going; I'm thinking of making a collage) and I wasn't keen on the chalkboard idea.  Instead I wanted to make a central area to keep mail, keys, etc. and write notes or reminders on a dry erase board.
First I had to glue a few pieces of the frame together to reinforce it due to minor separation.  I used wood glue and let it dry overnight.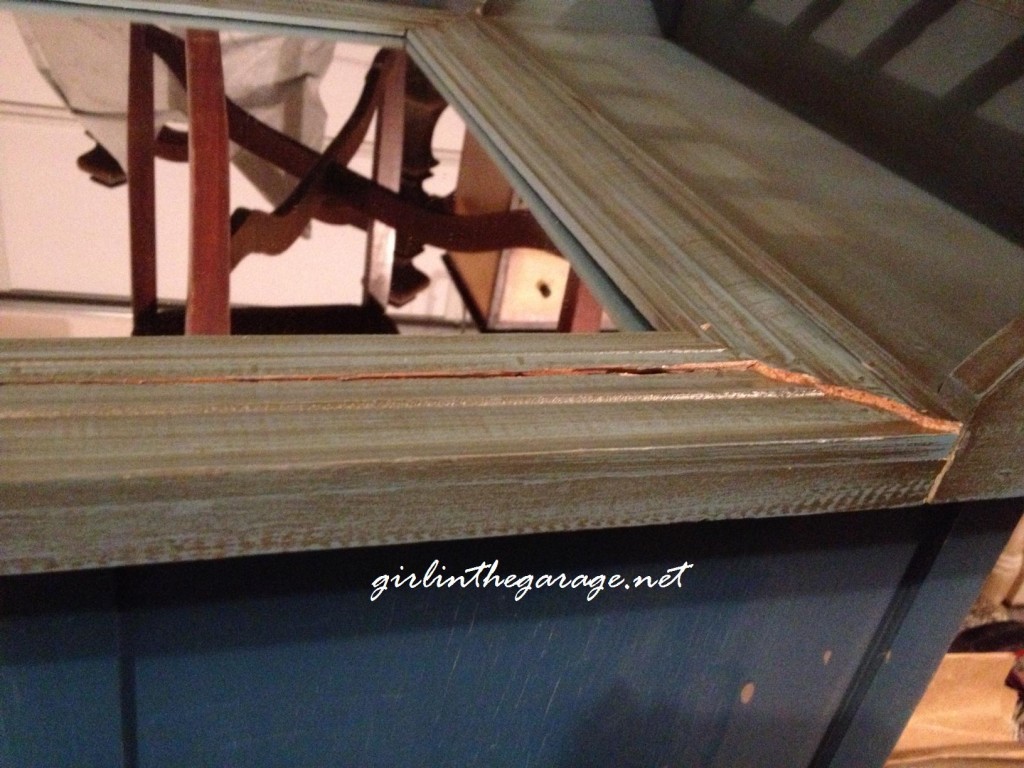 The next day I measured the frame opening and off to Target I went to buy a dry erase board.  I bought one that was also magnetic to add more versatility.  When I got home I carefully bent the nails back that were holding the mirror in place and slid the mirror out.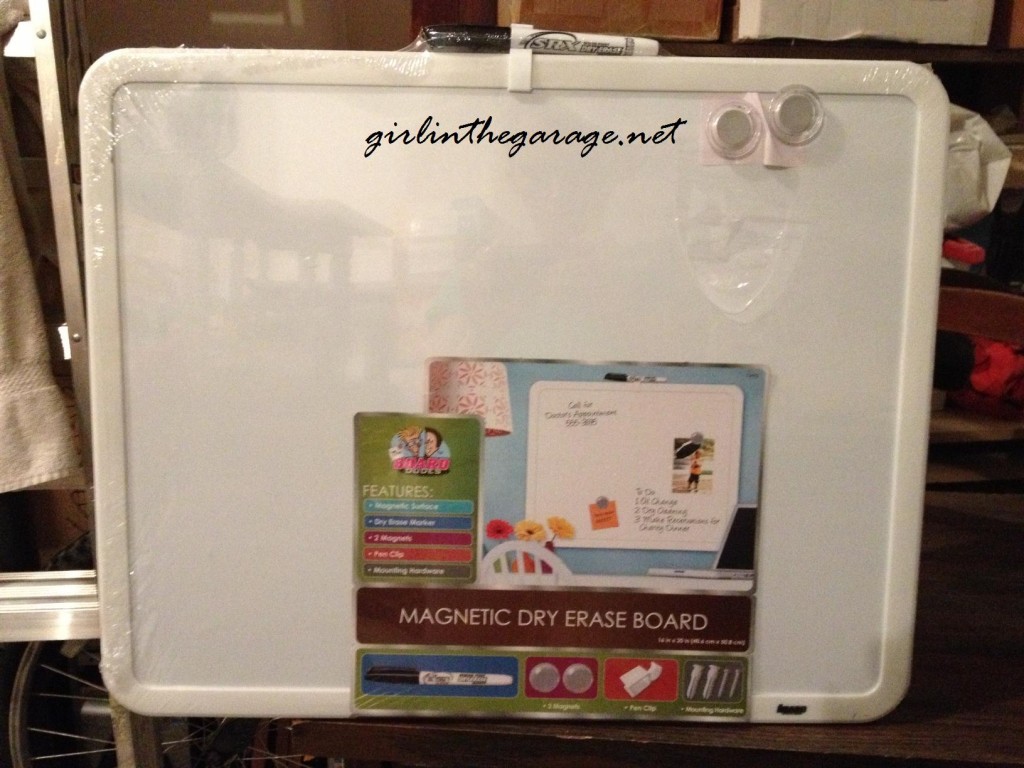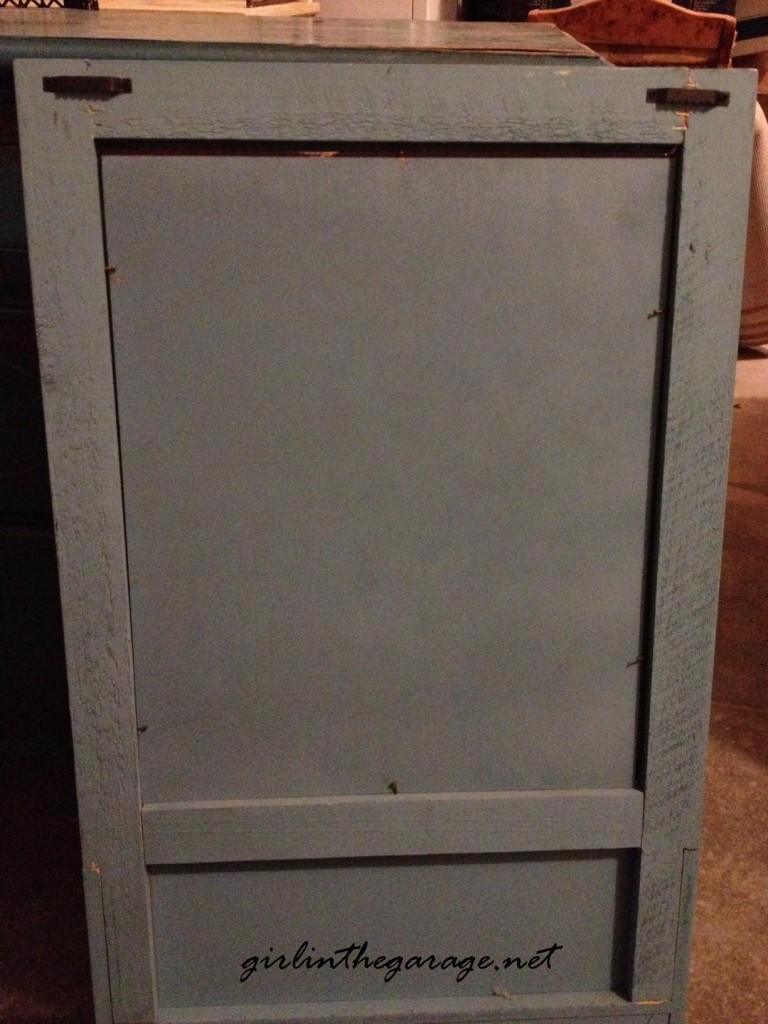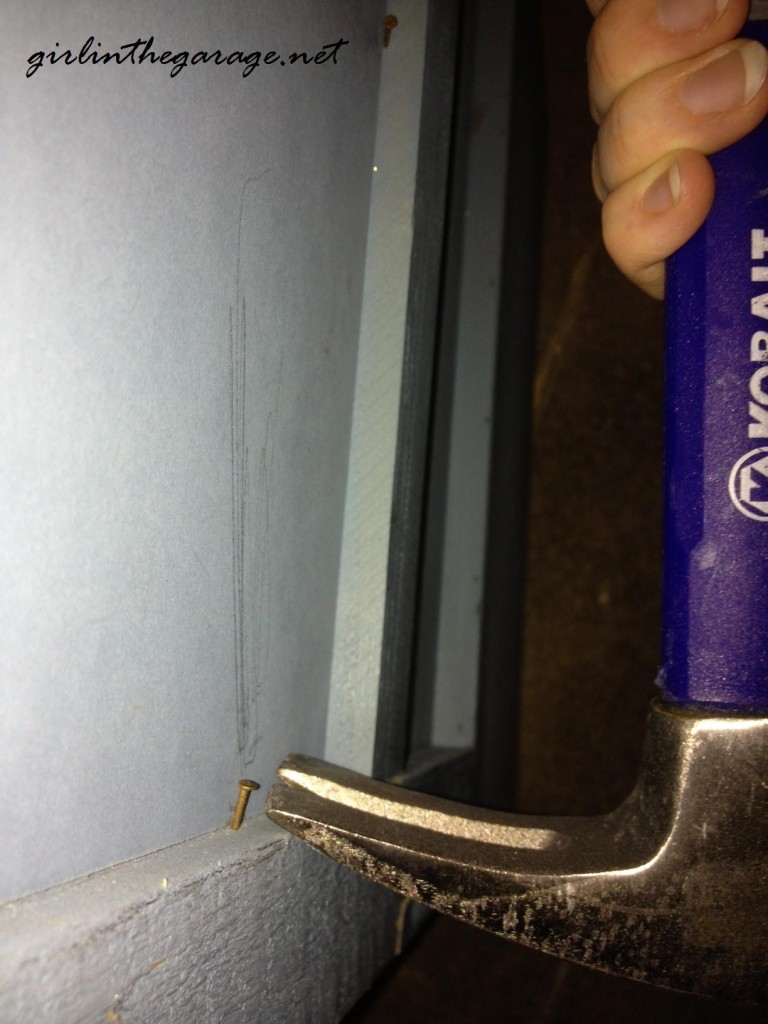 Then I removed the plastic casing from around the dry erase board.  I laid the mirror on top of the board and traced it with a pen.  Setting the mirror safely out of the way, I cut along the traced rectangle with large scissors.  This was not as simple as I thought, because the material of the memo board was actually very sharp around the edges if I didn't cut perfectly straight lines.  Yes I almost cut myself a few times on a couple small jagged edges. (Ouch!)  I have no pictures of my tracing and cutting, but I'm sure you can imagine.  (I promise I took pictures, but they vanished!  It's a mystery…)
Finally the piece was cut and I slid it into the space where the mirror used to be, adjusting the nails back into place to hold the board in.
I then flipped it around to have a look.  I actually really liked the wood painted turquoise, but now the white memo board was a bright contrast against it.  So I did what any crafty DIY'er would do and got out my trusty stencils.  I used a couple of fancy swirls and some white acrylic paint and solved my problem- and even though stencils and I sometimes have a love-hate relationship, I'm happy to report that they cooperated this time.
Now the white board flows with the white stenciling, I have a place to store our daily mail instead of piled on the kitchen table, and from somewhere in the back of my mind I momentarily debate letting the boys play with chalk… nah, we'll save that for nana's house.
What do you think of the chalk board craze?  Would you rather have a chalk board or memo board in your house?
Jen
This post can be viewed at: Diana Rambles, Happy Hour Projects, Funky Junk Interiors, Sew-licious, Nifty Thrifty Things, DIY Showoff, Keeping it Simple
Join the GITG Community
When you join this thriving online community of 90,000 creative souls, you'll be inspired to discover hidden artistic talents and learn skills to boldly face DIY projects with confidence.
You'll also receive my free guide "Just Paint It: 7 Tips for Transforming Furniture with Confidence."